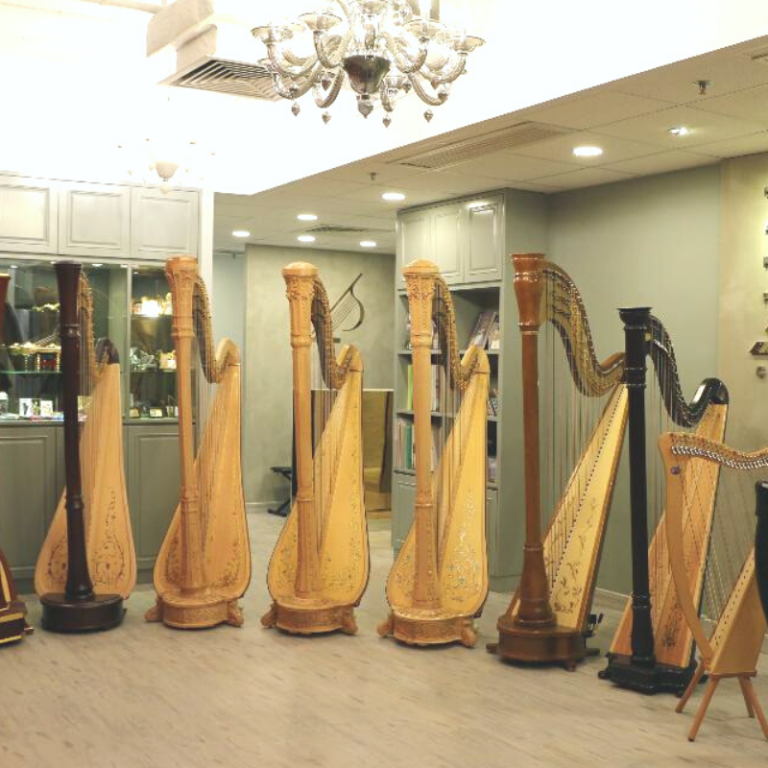 Premier harp organization: Hong Kong Harp Chamber Music
Contributed by Hong Kong Harp Chamber Music
Hong Kong Harp Chamber Music (HKHCM) was established in 2005 by a group of professional harpists and harp enthusiasts- that are highly experienced, well-trained, and dedicated to a single cause, the harp. Over the years, HKHCM has organized the First and Second Hong Kong Harp Festivals, Hong Kong International Harp competitions as well as numerous various concerts and master classes with world-renowned harpists.
Hong Kong Harp Chamber Music is very proud in nurturing the city's young musicians, either to become professional harpists or maintain a life-long passion in the harp. HKHCM participates in major international harp events and reputable harp competitions in Mainland China, Taiwan, Singapore, Thailand, Japan, Korea, Russia, USA, the Netherlands and France. Our students have achieved excellent competition results. Many were selected and invited to perform at prestigious stages around the world such as the Focus on Youth of the World Harp Congresses, Star of Tomorrow of the USA International Harp Competition, and harp festivals in Korea, Singapore and Taiwan.
We also attend to all harp-related needs including harp lessons, harp performances, purchase/hire of instruments, music books, accessories, maintenance and repair of instruments. Our friendly, comprehensive, speedy, responsive and quality service will guarantee peace of mind for its patrons. Our expertise and reputation has led us to be a service provider to the Hong Kong Academy of Performing Arts, the Music Department of Chinese University of Hong Kong, the Music Office of the Leisure and Cultural Service Department of Hong Kong, the Hong Kong Philharmonic, the Hong Kong Sinfonietta, the City Chamber Orchestra of Hong Kong, the School of Music of the Macau Conservatory, the Macau Philharmonic Orchestra, the Macau Youth Symphony Orchestra and the music department at various schools.
Our students have performed at various events including educational concerts at schools, service visits to elderly homes and fund-raising events for organizations and causes including the Evangelical Lutheran Church of Hong Kong, Medicins Sans Frontiers, Sichuan and Japan disaster relief.
Harp Learning
Hong Kong Harp Chamber Music nurtures music talents by customizing a holistic approach for each individual's needs. Group or individual lessons are available for students of age 3 or above. In addition to teaching skills, theory, sight-reading, audition and improvisation, our experienced teachers are most vigilant with implanting the correct posture and technique early in the learning to prevent bad habits from forming.
Besides preparing students for exams, recitals and competitions, we encourage them to learn a diverse repertoire. We organize annual student recitals for students to exhibit their accomplishments and share the joy of music with their parents and fellow students, and to cultivate confidence with the on-stage experience.
We pledge to groom our students to become passionate musicians who master the skills, and along with it, discover the pleasure and wit in the enchanting world of music.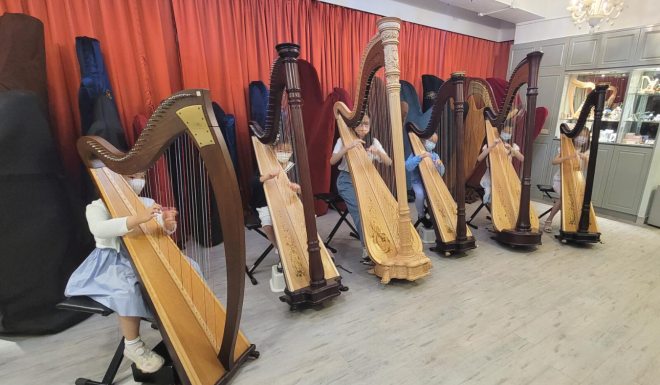 Harp for Beginners
●      Learn string plucking and basic harp techniques.
●      Develop correct harp posture, hand position and finger technique.
●      Student will be able to play some easy and simple songs after the course is completed.
 
Special Offer*
HKD $3,000 for 8 private lessons (30mins)
*Two lessons per week, Terms and Conditions apply.
Please contact us for available schedule.
For enquiries, please call 3741-0202 / 3741-0203 or WhatsApp to 6882-8431 or email to
[email protected]
.
Student Benefits
●      Enjoy discount on harps, books, CDs, strings and accessories.
●      Enjoy THREE 45-minute FREE harp practices per week.
●      Priority booking for use of harp/room or purchase of concert tickets.