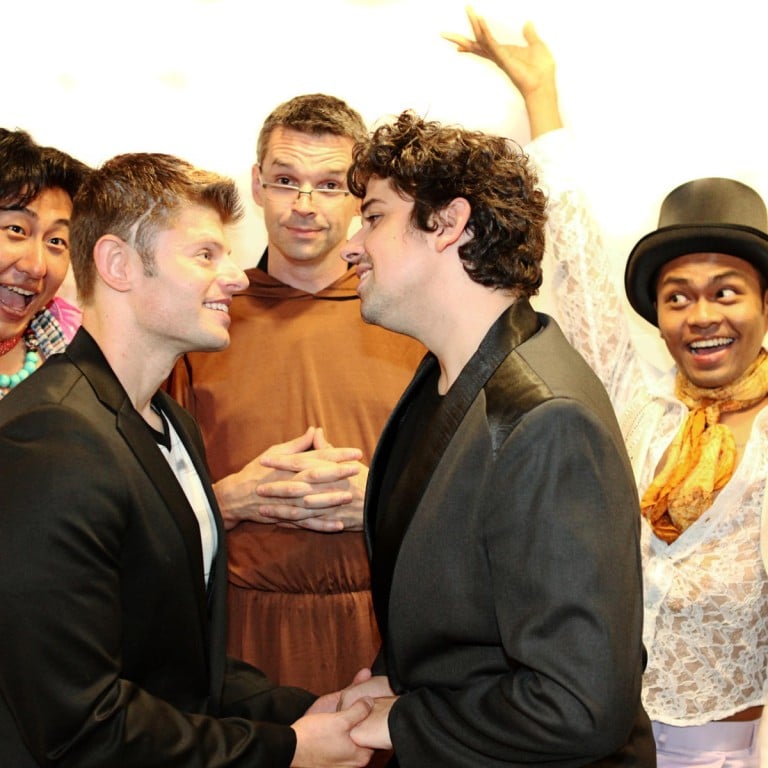 Hong Kong's Pink Season a time for the LGBT community to reach out
The Pink Season helps the LGBT community engage directly with all of Hong Kong, writes Charley Lanyon
This year's Pink Season, the more than two-month-long celebration of the lesbian, gay, bisexual, and transgender (LGBT) community in Hong Kong, takes place at a time when the community's public role is rapidly changing around the world.
Even though Hong Kong lags behind major cities in the West, the place of sexual minorities in our society and in the public eye is beginning to improve. Many in the community feel this Pink Season should be more than just a long party; it should start an ongoing dialogue, helping Hong Kong to evolve into a more equal and accepting place.
The celebration begins on Saturday, and will end when the Hong Kong Lesbian and Gay Film Festival concludes in December.
In May, Community Business, a non-profit organisation "dedicated to advancing corporate social responsibility in Asia", released Hong Kong's first in-depth survey of the community - and the LGBT Climate Study contained some surprising findings.
Among them was the disheartening statistic that 80 per cent of straight respondents said they did not think they knew a single LGBT person. Equally surprising was the finding that 18 per cent of professional LGBT respondents earned more than HK$50,000 a month, compared to only 4 per cent of Hong Kong's population overall.
Taken together, these statistics paint a contradictory picture. "The numbers show the LGBT community is already well established and influential in Hong Kong," says Pink Alliance volunteer Tay Her Lim, co-coordinator of this year's Pink Season. Yet the numbers also show most Hongkongers barely know it exists.
During Pink Season, the LGBT community is thrust into the spotlight, but as Lim says, the group doesn't disappear or retreat into the shadows when the festivities end: it already makes a significant difference to Hong Kong's identity.
If the Climate Study causes people to recognise the prominence of LGBT movers and shakers in the upper echelons of Hong Kong society, then Pink Season is the perfect time to reflect that the same is true for the city's cultural landscape. When the gallery openings, performances, concerts and dance parties come to an end, the artists and creators remain, contributing their individual creative vision to the vibrancy of Hong Kong all year round.
The LGBT movement is changing across the globe, becoming more public and accessible. Many in the community feel the time is ripe to step up and reach out. Pink Season is their chance. "I like to call it a two-month conversation with society about LGBT issues and community, where we showcase the best of the LGBT scene in Hong Kong," Lim says.
And if these next two months are any indication, the scene is in robust health. "We have 30 events this year, 30 per cent more than last year … we have art and photography exhibitions, theatre performances, pageants, drag shows … even a gay volleyball championship."
This is also a time for the community to educate their straight counterparts in a spirit of unity. "Our intention is to make this pride season more diverse and more accessible to straight people. We welcome everyone. This is what we want it to be in the future … we need straight people getting involved with our issues as well."
This year's programme is full of examples of collaboration between the gay community and their allies in the straight community. One of Lim's favourites is Samuel Lee's photography exhibition, "Love/Shows" in which Lee, who is straight, presents photographs of same-sex couples being affectionate with each other to make the point that love is universally recognisable.
Another example is , a play being put on by Wendy Herbert, director of WAG productions. The comedy was a hit when it debuted off-Broadway in New York and deals with the issues surrounding gay marriage as experienced by two engaged men in the US. For Herbert, the play has immediate appeal. "I'm not gay but I have two gay sons. I saw this play and I thought this is something I want to do … as the parent of gay men, it tackles an issue that I think is very important and isn't really covered in Hong Kong."
Herbert laughs at the idea that so many of Hong Kong's citizens are unaware of the contribution of the LGBT community to the arts in Hong Kong: "I can tell you right now, hand on heart, that there are many LGBT people being creative in Hong Kong." But for her, it is less about bringing the straight and gay communities together as it is about showing that the days of dealing with LGBT people in terms of otherness has passed. "It's the idea that it's here to stay now. So, rather than it be 'Oh here's the gay ones', eventually we've got to get to a point where it is not an issue, where what people do with their genitals in their bedroom is not the first topic of conversation."
For many, the highlight of Pink Season is the Hong Kong Lesbian and Gay Film Festival (HKLGFF), now in its 23rd year. This year, it is again under the directorship of Joe Lam, founder of gay lifestyle magazine
Lam says the tone of LGBT films is changing. "This year is very interesting … To be honest, before I became a part of the HKLGFF I never went to the festival. I thought it was always the same usual coming-out stories, but … this year the movies feature different characters from different backgrounds. A long time ago they didn't have stories about things like adoption … but today it is more about families and relationships."
While gay cinema has traditionally been a serious genre dealing with issues such as discrimination, Aids and the struggle for acceptance, this year's film festival is opening with a comedy from South Korea, .
Evan Steer, co-founder of nightclub Volume Beat and a gay fixture in Hong Kong better known by the stage name DJ Stonedog, agrees that LGBT issues are changing and the community is evolving quickly. "I've seen more positive stories about the LGBT community in the press. A couple of years ago every time there was a story about LGBT it was linked to Aids or … to somebody getting molested, or suicide; it was always a negative story. But now, particularly in the Western press, there are stories about community members who are succeeding." As a result, "maybe the gay scene is maturing; now it is more about being out and comfortable. It is an out movement," he says.
In Hong Kong, the lives of LGBT people may be improving, but there is a long way to go towards true social equality and equal protection under the law. Of special interest to the transgender community this year is a Dark Angel Production team presentation of the Cantonese opera , the first to deal expressly with transgender rights. In the opera, the struggles of a transgendered person fighting for their right to marry the person they love are compared to the struggles of a mermaid fighting against the traditional identities of the animal kingdom. The second show will end with a discussion about transgender and transsexual discrimination in Hong Kong.
Still, it's not all sanitised and serious. Pink Season will offer party people plenty of opportunities to cut loose and express their wild side.
Les Peches, the gathering for lesbian and transgendered women, founded by Betty Grisoni and Abby Lee as "a comfortable and safe place for queer women to meet and have fun", will be hosting one of its famous parties at LaKage on October 1. And Steer, who recently returned from London where he stocked up on pride memorabilia, says that Volume Beat will "look like a rainbow vomitedin it".
Just because Pink Season wants to be all-inclusive doesn't mean the organisers are getting rid of the sex.
There will be plenty of steamy films to be screened during the film festival, while mixed-media artist and photographer Norm Yip is curating a decidedly adult show for the Voxfire Gallery in Sheung Wan. Titled "Seven Deadly Sins", the exhibition is a collaboration between seven gay artists, each producing works inspired by two of their favourite sins.
Regardless of sexuality, for art lovers, film buffs, drama bugs and culture aficionados, Pink Season is a great time to be in Hong Kong. Or perhaps, thanks to the many talented people who make Pink Season what it is, Hong Kong is a great place to be all year round.
This article appeared in the South China Morning Post print edition as: Telling it straight