LIFE
Get more with myNEWS
A personalised news feed of stories that matter to you
Learn more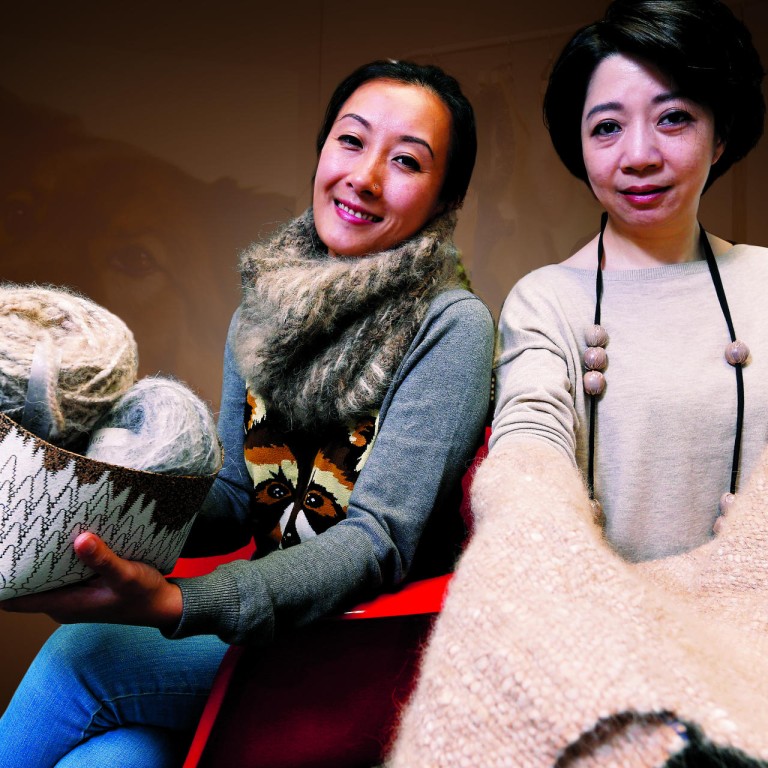 Hong Kong Social Enterprise Challenge teaches students to think outside the box
If it looks like wool, and it feels like wool, then it must be wool, you might think. But the silky, fluffy hat, scarf and gloves made by Wouf are in fact made with recycled dog hair sourced from grooming salons. The throwaway fur has been cleaned, spun and knitted, all by hand, to the design specifications of knitwear specialist Seth Yeung for Wouf's debut fashion collection.
Wouf is the brainchild of former design students Anita Lam Mun-yee and Margaret Lok Mei-yee, who got the idea when they took part in a social enterprise competition while studying at Polytechnic University.
"The first principle we learned at university is not to design for design's sake. Design is meant to find solutions," Lam says. "So we wanted to use something that is neglected, rather than new resources. I had six dogs at home, so I thought dog hair could be a solution. Primary research showed it is a potential material."
Lam says the process of making "chiengora", as it is called, is more environmentally friendly than producing cotton, which is a thirsty crop, and nylon, which is derived from petrochemicals. It's also "kinder" than the use of other animal fur. Plus, chiengora is 80 per cent warmer than wool and highly water-resistant.
Wouf, originally called Woof, proved to be no hair-brained scheme. It was a 2012 winner of the Hong Kong Social Enterprise Challenge, run by the Centre for Entrepreneurship at Chinese University's Business School. The contest is open to 27 post-secondary institutions in the city, has seen participation from 4,600 students and generated more than 800 social enterprise ideas since 2007. It's now in its eighth year and the deadline for submissions closed this month.
Wouf is exactly the kind of innovative and sustainable enterprise of which the challenge is hoping to encourage. Of the hundreds of ideas to spring from the contest, just 17 are still in operation.
In a report released this month, the Social Enterprise Advisory Committee found that 83 per cent of 174 such initiatives it surveyed were started primarily to create jobs for the socially disadvantaged. Among its recommendations for the way forward, it said social enterprises should strive to be more innovative and identify a broader target group in the local community, or even outside Hong Kong.
Lam describes Wouf as "locally sustainable and globally adaptable", but finds that innovative ideas sometimes get a cool reception. She and Lok encountered plenty of scepticism when they went looking for support for their venture. "Ninety per cent of people thought it was not going to work," Lam says. "I guess because it challenges existing perspectives."
The SPCA (Society for the Prevention of Cruelty to Animals) was the first organisation to show enthusiasm and offered to supply Wouf with discarded hair from its grooming division (a typical grooming salon discards about 200kg of hair a year, enough to make 170 cardigans).
"Then we started to think maybe it could work," Lam says.
Wouf received HK$240,000 from the competition and funds from other sources, and is now based at the InnoCentre in Kowloon Tong. The founders are working with Polytechnic University to develop technology to spin the hair - which varies in length and thickness - on a larger scale. Lam says, however, that it is not the intention for Wouf to be a mass-manufacturer; their venture was aimed at helping to make the world a more caring place.
Mingles Tsoi Ming-to, director of the Centre for Entrepreneurship who runs the challenge, says a social enterprise's success is measured by its impact on society.
"As a social entrepreneur, the primary mission is not profit. Profit is what drives the machine to keep going, but the ultimate mission is social. Our role is to try to inspire students to look at social enterprises, to think of business in a different way."
The enterprise challenge takes a three-step approach - education, competition and implementation - to coaching young entrants, who may initially have unrealistic goals, Tsoi says. The first stage introduces students to the broader social enterprise concept and pertinent global issues, through workshops, seminars, networking opportunities and visits in the community.
They will also get to grips with the nitty-gritty of financial forecasting, which may be challenging for some entrants. Despite the inherent business element, the competition also attracts students from disciplines such as law, medicine, political science and design.
For the competition stage, teams must submit a five-page business summary. After the judges' assessment, teams shortlisted for the semi-finals need to devise a complete 20-page business plan. Only six teams will go through to the finals, where two winners will emerge.
Tsoi says it's important for teams to back up their social mission with a sound business model, and organisers are trying to devise more sophisticated training and encourage students to think more creatively.
"We are trying to develop something like a design thinking approach to identify problems and create a feasible business model to tackle them," Tsoi says, adding that it could even include a form of barter or other mutually beneficial arrangement. "We are also starting to find more entrepreneurs to help form a pool of mentors, who can give advice to teams when they have problems that are very difficult for young people to solve."
Mentors are also important after the competition because, left to their own devices, the young entrepreneurs may find themselves out of their depth. "We don't stop after the competition. We continue coaching the teams after they become champions," Tsoi says.
The Social Enterprise Advisory Committee's report concluded that support organisations, the business and welfare sectors and academia had been crucial to the development of these ventures, and the government should continue to encourage cross-sector collaboration.
More effort should also be made to harness the creative energies of newly emerged enterprise categories, by encouraging innovative operational and ownership structures.
Social enterprises are increasingly taking on forms beyond job creation, the committee found. Some aim to solve problems related to environmental protection, heritage revitalisation, promotion of social cohesion and caring for the elderly, among others.
"In the past seven years we have seen a lot of environmental - upcycling, recycling - enterprises," Tsoi says.
He cites ATB Auto Art, a 2010 winner, as an example. "They developed a social enterprise by using aborted vehicle parts, like engines, seats, etc. They are not mass-produced goods but are a symbol to create awareness that an old part can become a new product. They have also been taking the concept to schools to spread awareness. That is also part of their revenue."
Auto Art creates upscale furniture from the parts, and teamed up with BMW Concessionaires (HK) to produce a range of furniture from old BMW parts that was displayed at the Hong Kong International Art Fair.
Elderly care interested Herman Chan Ho-man, who was raised by his grandparents. The former business student at University of Science and Technology set up Eldpathy with fellow students Nivey Tsang Ka-hing and Samantha Kong Wing-man.
Inspired by Dialogue in the Dark, an exhibition and workshop which allows people to experience what it's like to be blind, the venture offers an "elderly simulation programme" to give youngsters an idea of how it feels to be old and frail. It was a challenge winner in 2012.
"Eldpathy is a new way to change young people's thinking," Chan says. "It is a gift to have old people living with you. Many people think it's troublesome, so we want to turn them into 80-year-olds."
The programme is offered at schools and colleges, where students don a simulation jacket weighed down with lead that tips the scales at 10kg. Along with fittings that make the joints stiff, and hunch the back, movement is difficult. Special goggles make the wearer's vision blurred and yellowy. "When you try to use chopsticks, you find it's not so easy to reach your food to eat," Chan says.
Eldpathy works with volunteer retirees, who Chan says are well-educated, have time on their hands and can tell authentic stories for a more realistic experience. Social work students from Chinese University are also on board, helping to devise the programme.
"Their curriculum gives them little chance to train for their presentation, so this is a platform for them to gain experience. We don't need full-time staff because we have lots of flexible freelancers," Chan says.
Although Tsoi hopes to see more youngsters rising to the challenge, the number of applicants fell by more than 100 to 640 this year, the lowest participation rate since 2008. But that was within expectations for Tsoi.
"I'm not too optimistic about the numbers now because the students have another mission to drive them," he said before the deadline, in an obvious reference to the umbrella movement.
This article appeared in the South China Morning Post print edition as: Hair of the dog