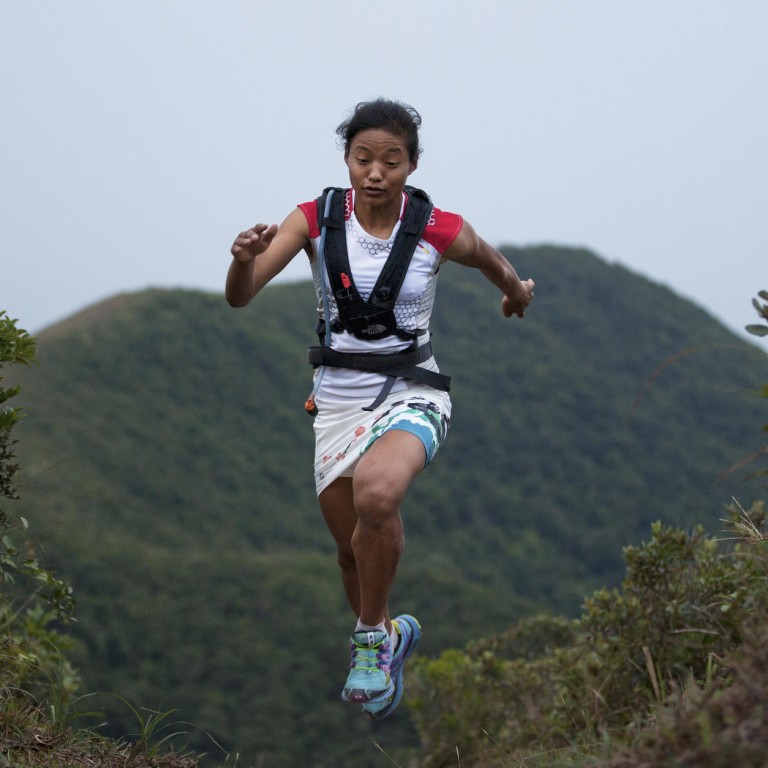 How a Nepali village girl became an ultramarathon champion via rebel army
Running up Lantau Peak from sea level in less than 50 minutes is a tall order, but to the diminutive Mira Rai, it's all relative. "Hong Kong is very modern, but the mountains are not very high," says the 23-year-old Nepali, who was in the city last month to compete in the Vertical Kilometre race to the summit.
Rai claimed victory in the women's category in a time of 48 minutes, 32 seconds. Two days later, she defended her MSIG Lantau 50 ultramarathon title, won two months earlier. This time she was defeated only by the world champion in the class, Stevie Kremer.
Rai's sporting achievements have been sudden and impressive. She took part in her first ultramarathon in Nepal's capital, Kathmandu, just last March, after being encouraged by a friend. She finished first and went on to win a second race in April. In September, she left Nepal for the first time to compete in two races in Italy. Against a global line-up of top long-distance runners, she was crowned champion in both events. Rai is now on track to become her country's first professional female elite athlete in the fast-growing sport.
It's been a meteoric rise for Rai, but equally remarkable is the path she took to get where she is today. It was a trajectory that began when she ran off to become a child soldier in Nepal's Maoist rebel army.
The second of five siblings from a poor village near the town of Bhojpur, eastern Nepal, Rai pined to free herself from the yoke of subsistence farming. "In the rainy season we could grow crops, but if the weather was not good it was hard to grow anything. It was a very difficult life," she says through a translator.
So at the age of 14, when she heard of a possibility to change her circumstances, Rai packed her bag and told her parents she was going camping for a few weeks. Instead, she spent the next two years living in a bamboo fortress with up to 600 rebel recruits.
"I wasn't aware of the politics when I joined. At school, the student union used to organise activities like camping and sports, which I was interested in joining. I didn't know it was really a Maoist campaign," she says. "My family situation was not good and I was just looking for an opportunity to do something else with my life."
An armed insurgency erupted in Nepal in 1996, when the Communist Party of Nepal-Maoist grew disillusioned with the parliamentary process and declared a "people's war". Their goal was to abolish the monarchy and establish a communist republic. The ensuing conflict raged on for more than a decade and claimed an estimated 15,000 lives.
Rai joined the Maoists just after they signed a peace accord with the government in 2006, although it was uncertain whether it would last. She was fortunate not to witness any of the horrors of the civil war.
According to the Coalition to Stop the Use of Child Soldiers, about 20 per cent of the 30,000 soldiers in the ragtag Maoist army were minors. The UN claimed the government also recruited large numbers. "About 10 per cent of those in the camp were around my age, and the female population was 20 per cent," Rai says.
In the 2008 documentary, , Suman Khadka of Save the Children says many joined due to the lack of opportunities in the countryside. Some girls took up soldiering to escape arranged marriages.
Manjushree Thapa, author of , told filmmakers: "They [children] could suddenly go out and join a group that was powerful. It was a personal rebellion as well as a political rebellion."
Most of the 100 or so farmers in Rai's village respected the Maoists' demands - basic rights to food, shelter and a better education for the poor - but feared and distrusted the guerillas. None of Rai's siblings followed her to the camp, and she remembers only one other woman from the village enlisting.
"Throughout the conflict, villagers were pressured by both the Maoists and the government, so they thought it was better to remain neutral," Rai says. "I was not like the others; I wanted to stand up and do something to change my destiny."
When she got to the camp, two days walk from the village, Rai was assigned to a group where the work included cooking and guard duties. She recalls being sent out to gather bamboo, used to strengthen the fortress, and make cottages and protective terraces.
Recruits were trained to clean and handle "all the weapons", she says, including rifles, knives and sticks. Shooting practice would take place twice a week. The daily routine included plenty of physical exercise, and later, more advanced army drilling. But cultural activities such as singing and dancing were also held.
At night, rebel commanders would give inspirational talks about how life would be better when they claimed victory. They glorified the brave acts of martyrs.
"Listening to the speeches made me believe in the cause, and that I could find a better way to live my life."
Rai says she was never scared of a possible attack by the Nepalese army. "Mentally, we were always prepared for the fact that we could die at any time, so we didn't care what happened."
Life in the camp was not unduly strict, she says. "Those who were not physically fit enough for the training, were really homesick or had family problems, used to leave the camp. Some people found it hard going and would just run away."
But the teenage Rai thrived on the fitness regimen, with the chance to take part in a number of sports, such as soccer, volleyball, karate and running - when they were not learning how to crawl quietly through the bush.
"Every morning we used to have to run for about an hour, and after that do a lot of physical exercise. We were also taught how to help those who were injured. I was more focused on being in a supporting role rather than a fighter," she says.
Their resident karate expert was the one who discovered Rai's hidden potential. She had an affinity for the martial art and worked her way up to the grade of brown belt. "During the grading from brown to black, we had to do a lot of running. My instructor found that I was good at it so I started to rethink my choice of sport. In karate, there is a lot of restriction, a lot of rules. But running is very open, very free, with no regulations. I can put all my energy into it."
Life was to take another unexpected turn, however, when the commander announced the camp was closing, and the rank and file would be decommissioned.
An agreement had been reached that the rebel soldiers could be absorbed into the regular army, and a screening process would take place. Recruits were interviewed by Maoist commanders alongside representatives of the army and the UN. Despite Rai's outstanding physical fitness, she was rejected.
"It wasn't fair because I was very sporty and good at training, but I knew I could do something else so I didn't object too much."
Rai was given 10,000 Nepali rupees and travel expenses to return home, but instead she headed to the nearest town where she had relatives.
"The Maoists hadn't really changed anything and I couldn't see any future in going back home. I wanted to stay in the town where I could get a job."
Rai remained in contact with her karate instructor, who later invited her to Kathmandu to stay with other runners.
"He gave us somewhere to live and provided training. But I never imagined I would be competing in ultramarathons."
Rai now lives with a friend in Kathmandu and, when not training, engages in self-study. She is supported by a fund that helps runners but says if she can get more sponsorship she would like to study sports education and English.
She says she never expected to win her first overseas race in September, but had a good trainer who gave her confidence. "And during the race, a lot of people were cheering me on, shouting 'Gurkha', which was also encouraging. I think that helped me to win," she says.
Rai won yet another race in Nepal last Sunday, and is now putting her feet up for a short break before taking on her next challenge.
"I want to set a record and establish myself. Then in the future I want to set up a club and open the door to other women who show an ability to be runners. I can inspire them and be a role model."
[email protected]
This article appeared in the South China Morning Post print edition as: Running down a dream