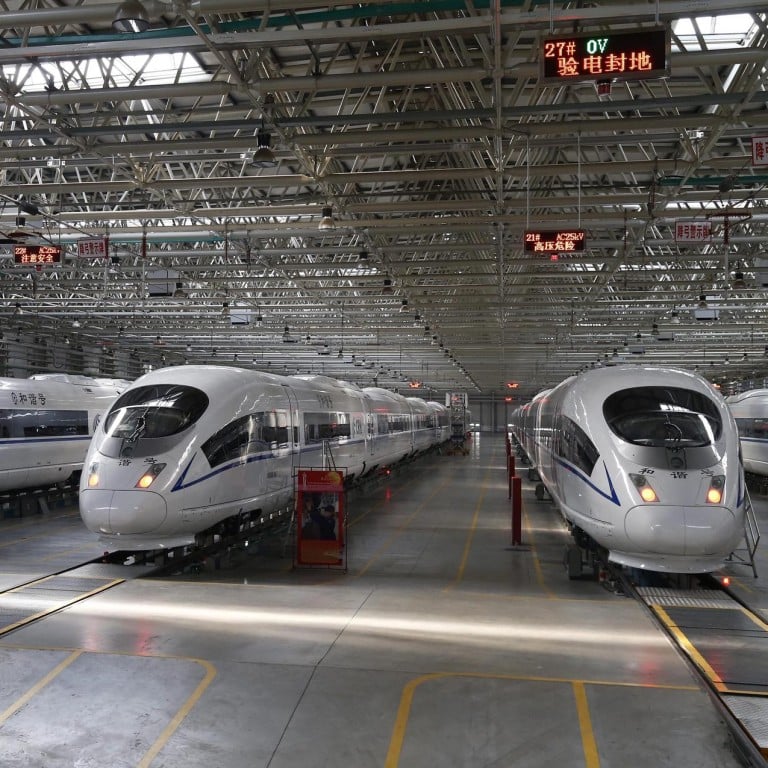 Wireless rail is on track as China seeks to develop world-first power system
Chinese researchers hope to create the world's first ambient power system for high-speed trains
China is developing wireless energy transmission technology to power its high-speed trains, in what it hopes will be a world first.
At least two proposals for the construction of the first-ever rail line with a wireless power supply are under review by the central government after scientists finalised them, according to researchers on the projects.
But "going wireless" poses some technological challenges that will not be surmounted easily or quickly.
Chief among them is the fact that, while it is currently possible to transmit energy without wires, it's not very efficient, especially at high levels and long distances.
There are also non-technical issues, including the high cost of the investment and strong opposition from both passengers and neighbours of the rail line, who fear high levels of radiation.
China has built the world's longest high-speed rail network, covering more than 11,000km by the end of last year, and the government has launched a global sales campaign to export the technology and rolling stock to other countries.
But the overhead power lines that serve the trains require frequent maintenance due to bad weather and rapid wear and tear.
Trains themselves also require maintenance, and the expensive pantographs - the apparatuses mounted on carriage roofs that collect power through contact with the overhead transmission wires - must be replaced every few months.
All of this adds significantly to operating costs, according to Chinese rail authorities.
Delays come most frequently from physical breakages or electrical short circuiting at the contact point.
The high-speed line connecting Beijing and Shanghai sustained 10 power supply failures in less than a month after it began operating in June, 2011. On September 21, nine trains were delayed on the same line with similar problems.
A team led by Professor Sun Yue, director of the Power Electronic and Control Engineering Institute at Chongqing University, recently proposed a 10MW wireless power system to the Ministry of Science and Technology to reduce the trains' operating costs and improve on-time performance.
South Korean scientists are building a 1MW experimental line but its capacity is still too low to be practical.
Sun said his system could "beam" more than 13,000 horsepower, or 9.7MW, to a train using resonant magnetic induction, enough to easily propel a fully loaded subway train or a high-speed train at 350km/h or more.
"But without government support we cannot develop a full-size prototype to overcome all the technical challenges of high-power wireless transmission."
China to date has bought most of its high-speed rail technology from Japan, Germany, France and Italy, but the wireless 10MW technology is new and has never been attempted by other countries.
"The solutions cannot be bought overseas," Sun said. "We must work hard to come up with our own technology."
Sun's design calls for the energy sending device to be placed on the railway track and the receiving coil in the train's undercarriage.
The system would require little maintenance and could function properly in almost any weather, including floods, Sun said.
The ministry was reviewing the proposal and, if accepted, a large national research project for wireless-power, high-speed rail and subways would be launched next year, he said.
Sun said his team was racing to solve some critical issues, such as reducing present energy loss in the system of about 25 per cent, and eliminating harmful radiation to passengers and people living near the line.
Upgrading an existing rail line with wireless technology would cost tens of millions of yuan, and the railways might stick with overhead wires due to budget concerns, Sun said.
Sun's team is seeking other practical applications for its technology. Last year it helped a Chinese home appliances company develop the world's first cordless kitchen blender and cooker.
The government's interest in wireless power for high-speed trains has attracted many other researchers, and the competition for funding is tough.
A team led by Professor Yang Qingxin at Tianjin Polytechnic University has proposed a different design that involves beaming coils installed in overhead power lines with receiving antennas mounted on the roofs of trains.
Zhang Xin, a researcher involved in Yang's project, said their proposal would be cheaper than Sun's undercarriage design as it required no retrofitting of rails.
But Zhang admitted their laboratory prototype was not nearly powerful enough to drive a high-speed train.
"We've achieved power output in the range 300kW to 500kW so far," he said. "We still need to solve many technical issues before testing it on a real line."
The Taijin Polytechnic proposal was selected as one of the top 10 promising technologies to change people's lives in future by the China Association for Science and Technology, and was exhibited at the China Science and Technology Museum this month.
Wireless energy transfer was an early dream in the field of electrical research, as demonstrated by the legendary inventor Nikola Tesla as early as 1891. But technical issues and safety concerns have limited its applications to small devices such as mobile phone chargers and medical implants.
Yu Xinjie , an electrical engineering professor at Tsinghua University, said it was essential that the government funded and supported such research, which had the potential to launch a new industrial revolution.
"China still lags behind developed countries in this area but with sufficient support we can catch up or even lead," he said. "But a more difficult task is convincing the public that it is safe. Though the radiation can be reduced effectively by shielding train passengers, it is still difficult to protect people outside or near the line. A lot of work is needed to address these issues."
This article appeared in the South China Morning Post print edition as: Wireless rail on track