Tencent
Get more with myNEWS
A personalised news feed of stories that matter to you
Learn more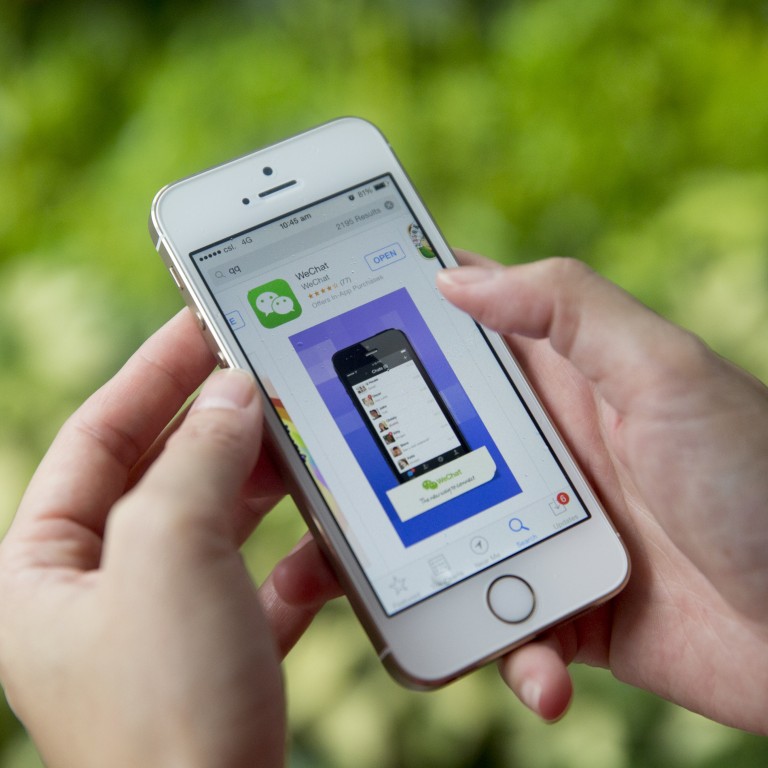 Tencent scraps WeChat global expansion plans despite strong profits
Chinese internet powerhouse Tencent is taking a step back on the aggressive international expansion of WeChat, its popular social mobile-messaging application known as Weixin in China.
That move, however, is expected to help Tencent accelerate the transformation of WeChat into a bigger online platform for products and services, which would make it a more potent operation to build up overseas.
Shenzhen-based Tencent, Asia's second-largest internet company after Alibaba Group, revealed that change in strategy yesterday after reporting a 50 per cent increase in fourth-quarter net profit, driven by significant growth in revenue from smartphone games through its Mobile QQ and Weixin platforms.
Pony Ma Huateng, the chairman and chief executive of Tencent, said that the company's goals this year included investments to improve delivery of online-to-offline (O2O) services to users through its highly used mobile platforms and expanding its nascent mobile advertising business.
Tencent operates the biggest China-based mobile social networks, with 576 million monthly active users on Mobile QQ last quarter and 500 million on the combined Weixin and international WeChat platforms in the same period.
The majority of Weixin and WeChat users are found in mainland China, Hong Kong and several countries in Southeast Asia, according to Tencent.
Tencent president Martin Lau Chi-ping described the way that the company has advertised and invested to acquire WeChat users overseas "has sort of come to an end".
"Right now, we do have presence in a number of different overseas markets … That is still growing sort of nicely, but not as fast as before," Lau said.
WeChat, which has about 1 billion total registered accounts worldwide, is available in more than 20 language versions to cover more than 200 countries and territories.
In 2013, Tencent set up an office in the United States to study that market and develop partnerships to engage more users there.
Lau said Tencent's new approach is to put more investments back into the mainland, where Weixin can be further developed into an ecosystem. That positioning could later help differentiate WeChat in the international markets from other social mobile-messaging applications.
Alicia Yap, the head of China internet research at Barclays, said in an investor note published today that Tencent "was well-positioned to capture the emerging mobile monetisation opportunities, leveraging WeChat and Mobile QQ's dominant position with a diversified exposure to entertainment, local services and targeted social advertising".
Lau said Tencent was taking a conservative approach to growing its mobile advertising business, after pilot campaigns started on the app's 'Moments' news feed with 10 advertisers in January.
"We're taking a step at a time very cautiously to make sure that we keep on improving our technology, as well as the balance between user experience and advertisers' needs," Lau said.
He said Facebook provided Tencent with a clear example on how "to build a very large advertising business on a social network", but added that the advertising market in China was not as developed as in the US.
Barclays forecast Moments advertising would generate revenue of about 42 million yuan for Tencent in the first quarter this year, based on the current scope of testing that covered 5 per cent of Weixin users on the mainland.
According to Tencent, the use of mobile payment on Weixin and WeChat has become higher than on its desktop-based Tenpay because of the greater options it offers. These included paying utility and phone bills, online shopping and taxi fare.
"We believe that Tencent's connection via its mobile platform to strategic partners, such as JD.com, 58.com, Dianping and Didi Taxi, will help drive the adoption and usage of Weixin payment in the long run," Barclays' Yap said.
Internet consultancy iResearch has forecast the gross merchandise value of the mainland's mobile payments market would reach 11.9 trillion yuan in 2017, up from 1.2 trillion yuan in 2013. It also said Alibaba and Tencent would dominate the mobile payments market.
In its filing with the Hong Kong stock exchange yesterday, Tencent reported that its fourth-quarter net profit grew to 5.86 billion yuan from 3.91 billion yuan a year earlier.
Revenue rose 24 per cent to 20.98 billion yuan, up from 16.97 billion yuan the previous year. Combined WeChat and Mobile QQ games revenue reached 3.8 billion in the fourth quarter last year.