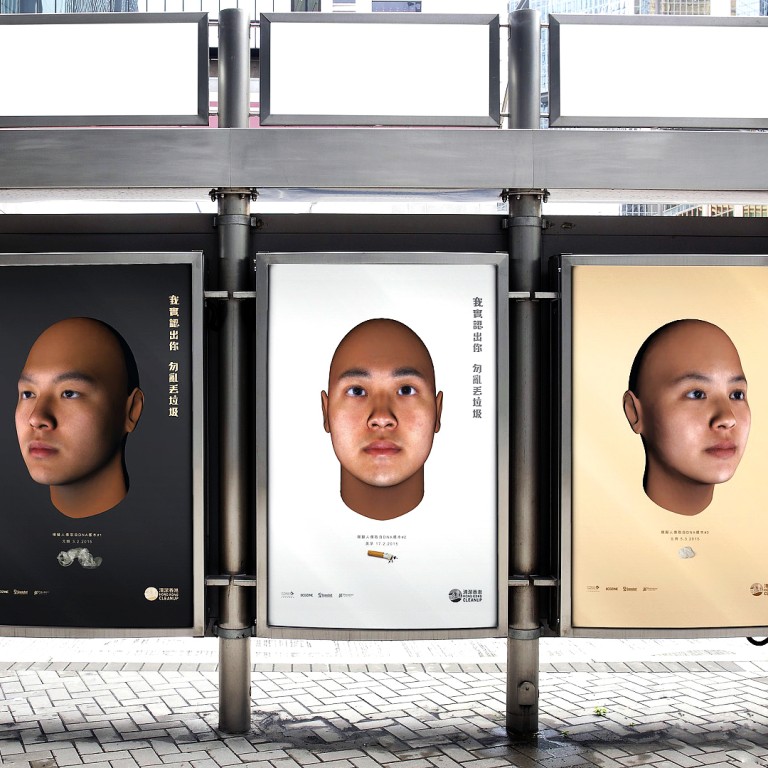 Hong Kong litterbugs shamed in billboard portraits made using DNA from trash
Success of media campaign to combat Hong Kong's littering epidemic is hailed, reaching over four million people on social media
A campaign that used DNA analysis to give a face to anonymous Hong Kong litterbugs, then posted representations of the faces on billboards across the city, has been a big hit on social media.
The Face of Litter campaign was launched on Global Earth Day last month for the Hong Kong Cleanup Initiative, organised by online magazine Ecozine and the Nature Conservancy. It was aimed at raising awareness of the extent of littering in the city by pinpointing those responsible and encouraging people to change their behaviour.
Last year, NGO Hong Kong Cleanup rallied 418 teams for a six-week challenge that saw 3,894 tonnes of litter from streets, coastlines and country trails, according to co-founder and CEO Lisa Christensen.
Marketing communications agency Ogilvy & Mather Hong Kong came up with the idea for the billboard campaign and enlisted US-based  Parabon Nanolabs. Ogilvy sent the company samples of litter found on local streets, including chewing gum, cigarette butts and a condom. Parabon used its DNA phenotyping system, SnapShot, to read tens of thousands of genetic variants from each sample. From that data, the company says, it can accurately predict ethnicity, eye, hair and skin colour, freckling and face shape.
 Reed Collins, the Ogilvy chief creative officer who led the campaign, says 27 facial composites were created from a combination of 24 DNA samples taken from litter and three controlled samples donated by volunteers.
The faces were used to create "wanted posters" and digital banners, which were displayed in high-traffic areas, including 10 MTR stations and at "the scene of the crime".
"Because age is impossible to determine through DNA alone, but still integral in creating an accurate portrait, DNA data has been combined with other factors, such as demographics based on the type of litter and where it was collected to determine the approximate age of the litterer," Collins says.
Christensen says that although DNA alone can only produce a high probability of what someone looks like, the purpose of the campaign was not to point fingers at specific individuals.
"It was intended to provoke a conversation to create positive social change for the people of Hong Kong. The prospect of this idea alone, we hope, will be enough to make people think twice about littering," she says. "Sadly, we suffer from a serious 'pick-up-after-me' mentality, and this simply must change."
A video and posts promoting the campaign, which ended earlier this month, reached just under four million users on social media, Collins says, and were shared across Southeast Asia, the US, and as far away as Brazil.
Collins says he is not aware of any other city launching such a campaign to tackle the scourge of littering. However, hundreds of apartment communities in North America use DNA samples from dog faeces to identify irresponsible owners and combat a different type of littering.
Residents in these communities must register their pets and submit faeces samples that are sent to a  company called PooPrints, which analyses the DNA and keeps records. Any dog dirt found in a community is sent to PooPrints, and the animal's owner identified and punished.