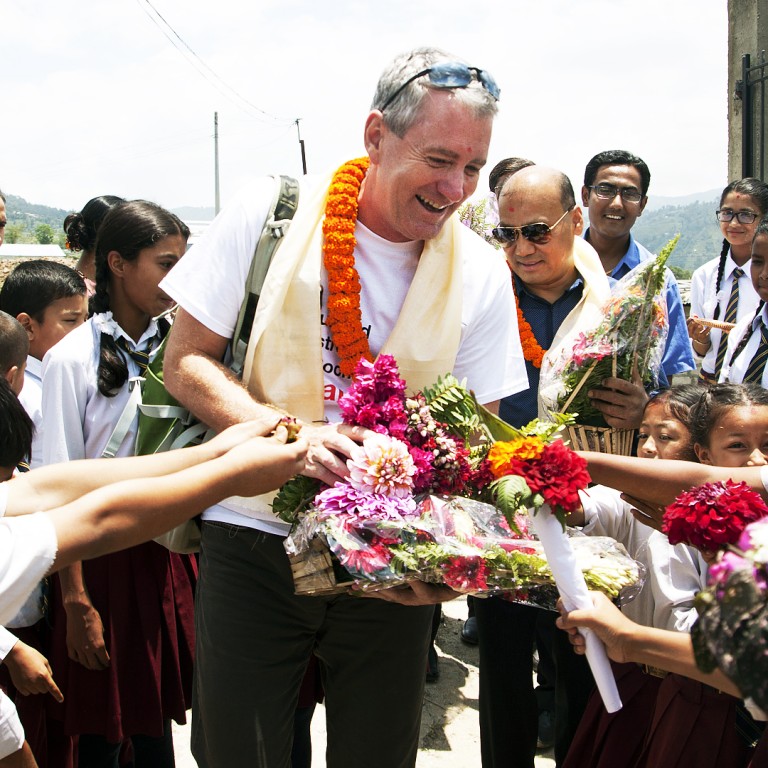 Hong Kong helps Nepal: quake wrecked homes but not dreams of education
On his first day in Nepal after deadly earthquakes struck the country, Hong Kong-based John Wood, founder of international education charity Room to Read, finds teenage girls determined to study despite living in tents after their families' homes were destroyed
My first full day in Nepal began with a briefing from the Room to Read Nepal team. Over an early breakfast I listened to our plans for the day: "We're going to visit students in our girls' education programme.  At the school we are visiting, we have 39 girls enrolled in our programme and support them to complete secondary school. Thirty-six of these young women had their houses destroyed in the recent earthquakes."
This did not sound like a harbinger of a happy day. I debated what a visiting guest should say to the young women who had experienced and survived such trauma. 
Shree Bajrayoginee Secondary School lies in the dusty district of Sankhu, on the distant outskirts of the Kathmandu Valley. As we made the long drive, our team shared with me that the 36 girls whose homes had been destroyed were living in the tent camps that I was now viewing through the car window. Despite this challenge, every one of these girls still shows up for school every day, and has been doing so since the day schools reopened following the twin earthquakes that struck the country this spring.
How, I asked, was this possible? Reema, the director of our girls' education programme, explained that her team of "social mobilisers" (our term for employed mentors who act as advocates for the girls in the programme) had been supporting these girls from day one - paying daily visits to the tent camps to offer trauma counselling to the girls and their families, while also encouraging them to prepare to return to school. "We want the girls to look forward rather than backward," said Reema. This was not an easy task for many families, and in many cases it took a series of long conversations. 
Fortunately, the girls on our programme are extremely motivated. Some had even approached the workers who were in charge of the earthquake clean-up, asking them, "Can you find my books in the rubble? Can you locate my school uniform?" Our local team was amazed that the girls never spoke about the loss of their houses, but rather focused their fear on not being able to return to school.
One young woman had her head wrapped in a burgundy scarf, but not for religious reasons. She had suffered a head injury when she was trapped in the rubble of her family's collapsed home for over six hours. Our staff had helped her get to a hospital and paid for her medical and surgical expenses. Despite this physical and emotional trauma, this girl did not want to miss a day of school and was there the day the doors reopened. A Room to Read staff member told me: "She did not wish to think of herself as a victim." And I could tell that immediately when watching her with her peers - she did not sit on the classroom periphery but  made sure she was right in the middle, surrounded by her friends.
When one told me that me that she wanted to be an engineer, I asked, "Is it intimidating to you that most engineers are men?" She replied with a shy smile and a gleam in her eyes, "Yes, that is true, and it is all the more reason I want to prove that girls can do it too."
In solidarity with Nepal,
John