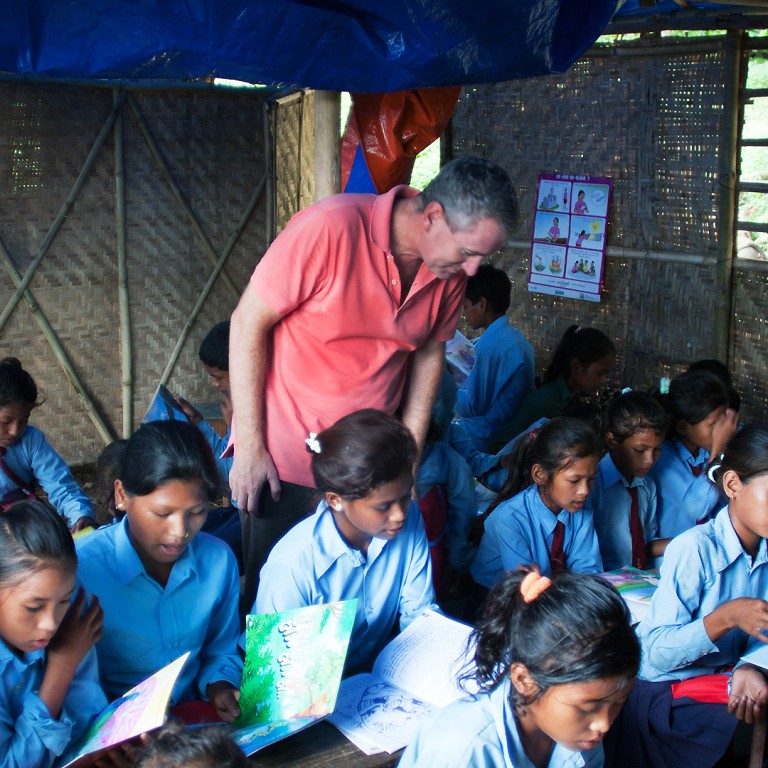 Hong Kong helps Nepal: quake-damaged schools wait to rebuild
'When my family's house was destroyed, I was sad. But what was even worse was when I saw that our school had been reduced to a pile of bricks,' headmaster tells Room to Read education charity's founder John Wood, as reality of recent Nepal earthquakes' impact hits home
The 62-year-old headmaster of the Shree Mandehunga Primary School was not the only one with tears in his eyes as he told our Room to Read delegation about the day the earthquake struck his village.
Charhare is a small farming settlement in the rural district of Nuwakot. On a normal day, it would be quite picturesque, with verdant hills above it and a cooling breeze blowing off the swift-flowing river below. But since Charghare is only 80 kilometres from the epicentre of the first of the earthquakes that struck Nepal this year , on April 25, today it looks anything but normal.
Four classrooms have crumbled to the ground. Four others are still standing, though major cracks in the load-bearing walls make them too dangerous for students to use. The only building still in use is the free-standing library building that Room to Read had constructed in 2013. Our local team proudly showed me the "Green Seal" government inspectors had placed on the outside wall as a sign that the building is safe for use.
The contrast between our approach (skilled engineers, high-quality construction materials, earthquake-resistant design and construction techniques) and the construction method that had been employed when building the other classrooms could not have been more stark. From the very beginning, our team designed Room to Read buildings to be ready for seismic shocks. And for the third time that day, we were visiting a community where the buildings Room to Read had constructed were not only still standing, but being used as temporary classrooms (as well as the centre for literacy and library activities).
The headmaster was clearly my kind of guy – what I call a GSD (Get S**t Done) leader. He expressed frustration that "many NGOs and government leaders visit us, but nothing ends up happening. If we had one classroom for every official delegation, our school would be 80 rooms by now." Most of the parents and teachers laughed in sad confirmation.
The parents had done their part. They'd already cleared away the rubble so that the site was ready for rebuilding. And they were not afraid to "ask for the order": would Room to Read help them rebuild their school so that their children would no longer be stuck in an open-air, overcrowded "temporary learning centre?"
Our Nepal country director promised them we'd try to help - though first we had to make sure we could raise the money. At that moment every set of eyes in the library turned to me. I felt my breath catch in my chest. 
"I promise you we will try our hardest," I said. "We know that tens of thousands of people who have enjoyed travelling in Nepal want to help your country in this time of need. Hong Kong, where my wife and I live, has very close connections to Nepal; and donations from generous Hong Kong supporters have made up 15 per cent of the total funds donated to Room to Read over the past 10 years. Our supporters from around the world are absolutely behind you as well. Please give us some time. I promise you we will do our best. Not only for your community, but for all the communities we visited today."
I left these site visits saddened by the desperate condition of the schools I had seen and more in awe than ever at the power of nature. But I also had a skip in my step as I thought about the resilience of these communities. Rather than being incapacitated by the earthquake they had cleared away the rubble and were eager to rebuild, and the children were ready to learn. They are ready. The only question that remains is: are we?
In solidarity with Nepal,
John
Five ways you can help Room to Read bring education to hundreds of communities in Nepal
 
2.
Volunteer with the charity's Hong Kong chapter, which will be raising funds for the Nepal Earthquake Fund for the rest of this year (email
[email protected]
). If you're not in Hong Kong, the charity has many other chapters across the region—and the world. Get involved at
www.roomtoread.org/GetInvolved
3. Attend Room to Read's Hong Kong "Night for Nepal" this autumn. We're also looking for auction prizes and raffle donations.  
4.   Take the lead – rally your co-workers to support a school, or devote your next marathon or other sporting event to the cause.  
5.
  If your company donates to disaster relief and reconstruction, become an advocate for Room to Read. Just email
[email protected]
and Room to Read will send you the necessary information to help make the pitch.