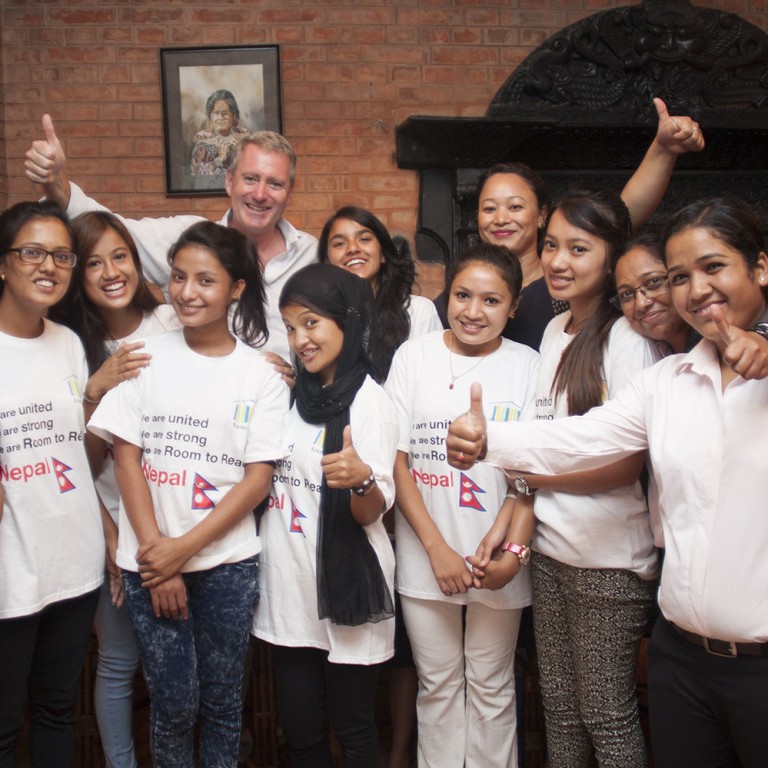 Hong Kong helps Nepal: five ways to 'build back better' after quakes
After his visit to earthquake-damaged Nepal, John Wood, Hong Kong-based founder of international education charity Room to Read, considers how to tackle the challenge of rebuilding schools and communities
In the aftermath of the catastrophic Haiti earthquake in 2010, former US president Bill Clinton urged the world to "build back better". If and when future tremors struck, he asserted, there would be far less devastation and far fewer casualties if the decimated structures were rebuilt with earthquake safety and sustainability in mind.
The jury is still out on how well the global community performed on this goal. While billions of dollars (close to US$13 billion was pledged and almost US$6 billion in official aid was disbursed to Haiti) flooded into the country, much of it has allegedly been misspent or left sitting in bank accounts - potential energy never made kinetic. Celebrity visitors brought media attention, but there have also been accusations of mismanaged donations and outright fraud. 
As the Room to Read team in Nepal and I travelled together this week, we were in constant conversation about what lessons the world could take from Haiti - and also the lessons we've learned from our own past mistakes. We asked: how can we be part of assuring that the rebuilding in Nepal will be a success story of which the world can be proud?
Together with our global colleagues, we have devised some core strategies as we tackle the challenges ahead and move towards getting one million students out of their "tent schools" and back to the normality of learning in their classrooms.  
1. Be transparent with investors. In our view, no investor should ever have to ask the question: where did my money go?  NGOs should be candid and clear about their goals and budgets. We are providing our investors with very detailed plans for our work in Nepal and we're also allowing them to adopt specific projects. We believe that when investors see a direct causal link between what they give and what we achieve, they will be more compelled to act. We want and expect our investors to hold us accountable for deploying their donations effectively and efficiently.
2. Communicate and collaborate with other NGOs. When the left hand does not know what the right hand is doing, chaos can ensue. Our team has met other leading education NGOs and multilateral agencies like Unicef. We are exploring how we can leverage each organisation's unique strengths in a collaborative effort and where it makes sense to avoid having our programmes overlap geographically.
3. Don't forget the government. Government ministries, especially at the provincial level, often have very dedicated staff and a tremendous amount of information on areas of greatest need. We do not believe that the "non" in "non-governmental organisation" means that NGOs should ignore the government. In fact, when we've initiated literacy programmes and opened schools and libraries, Nepal's Ministry of Education has always been our partner, providing the needed teachers, who we further train, and paying their ongoing salaries. In the aftermath of the earthquake, we are following guiding principles of our core DNA: coordinate with the government from the beginning, build trust and create serious, systematic change.
4. Focus resources. Our heart goes out to all 39 districts hit by the earthquakes and we'd like to help all of them. But budgets are always going to be limited, as are staff resources. We've therefore made the decision to focus all our initial rebuilding efforts in the province of Nuwakot, within which over 90 per cent of school buildings were damaged or destroyed. (Overall, 30,000 buildings were destroyed and 15,000 damaged in Nuwakot.) By not spreading our efforts and our funding too thin, we can make significant progress in one large, heavily impacted district - ensuring an entire community of children can return to school and their normal lives - before moving on with the same focused approach to other similarly impacted districts.
5. Think big. I have always believed that "bold goals attract bold people", a mantra drilled into me by Bill Gates and Steve Ballmer during my Microsoft years. We believe the scale of the response needs to be commensurate with the enormity of the tragedy. So we're setting big goals - for our programmes and therefore, for our fundraising. And we're asking the world to respond in kind.
Our team has learned a great deal from our data-driven analysis over the years – what we have done well, what we can do better, and how and when we should adjust our approach. The above strategies have emerged from our 15-year track record, and we offer them to the world in the hope that we can indeed "build back better" in Nepal.
PS - I am also posting my final thoughts on the trip, as well as photos, to my 379,000 followers on Twitter (@johnwoodRTR) , and hope you will join us.