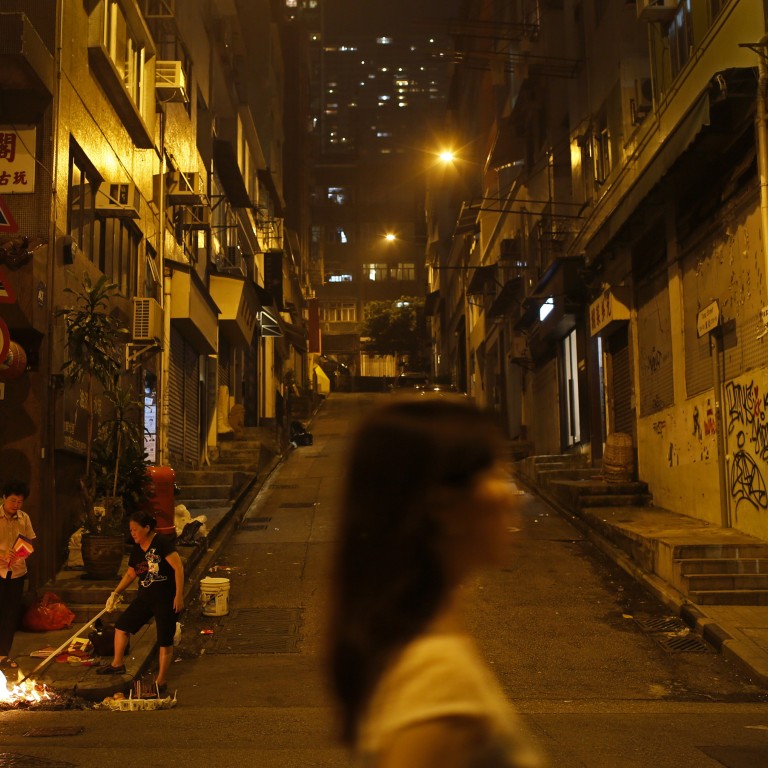 Hong Kong's Hungry Ghost Festival: all you ever wanted to know
The origins of the festival, the rituals that mark it, things you shouldn't do, and how to stay lucky - plus what to see of the festivities
Halloween lasts a single night, but in parts of Asia, including Hong Kong, ghosts are said to roam the earth for the entire seventh month of the lunar calendar.
Accounts vary but it's generally believed that during the ghost month, the gates of hell open and restless spirits emerge to haunt the living. Benign spirits visit their families for feasting and entertainment.
In 2017, the seventh lunar month begins on August 22. The eerie activity peaks on September 5, the 15th day of the lunar month, known as  Yu Lan, or Festival of the Hungry Ghosts. After two weeks of wandering the earth, the spooks are weary and ravenous, so it's especially important on this day to keep them appeased.
Celebrated by the Chiu Chow community in particular, members of whom trace their roots to Guangdong province, it has evolved into a time to make offerings to ancestors, and appease malignant spirits walking among them.
Here are some things you should know about the ghost month and activities taking place around the city.
What are the everyday rituals?
The first sign of ghost month in Hong Kong is the smell of burning paper, usually in tin cans, often alongside incense sticks, candles and offerings of food on the pavement or in common areas of residential buildings. Hell banknotes and paper goods – ranging from cars and mobile phones to clothing and houses – are burned as offerings for ancestors and restless wanderers to use in the afterlife. Foods including fruit, meat and pastries represent a feast for ancestors, and ensure other spirits don't get hungry or angry. Candles and lanterns help them find their way back where they came from.
Why would they be angry?
In Buddhist scripture, there are many realms of hell. Besides the inhabitants of the lowest realms, there are restless spirits who were not ready to leave the earth, did not get a proper burial, or were treated badly by their families. So the ghost month serves as a reminder to honour filial piety.
What are its origins?
The evolution of the festival is disputed, but its roots date back more than 2,000 years. In Taoism, the festival falls on the birthday of  Lord Qingxu, the celestial official of earth. This deity's role is to judge the deeds of the living, who pray for his forgiveness during the ghost month, when he also releases the deceased from suffering. In Buddhism, the festival is associated with  Mulian (or  Maudgalyayana), a chief disciple of Buddha. The story goes that he organised a ceremony on the 15th day of the seventh lunar month to appease the spirit of his mother, who had been reborn in the hungry ghost realm of hell.
How significant is the ghost month in Hong Kong and China?
In 2011, the ghost month was listed as part of China's intangible cultural heritage. In Hong Kong, the occasion has been closely associated with the  Chiu Chow community for more than 100 years. The community hosts events in many parts of the city, including a festival, lion dances and Chinese opera performances.
What to avoid during the ghost month:
Many activities are said to bring misfortune during this time, especially after dark. These include:
Disturbing offerings left out for the spirits – don't sweep them up.
Leaving clothes outside to dry. A ghost might try them on and leave behind its negative energy.
Avoid swimming. The ghost of a drowned person might pull you under the water.
Don't urinate on a tree, as it will offend the spirit living inside. Also, remember to stay away from the woods at night.
Don't take photos at night in case you capture a spirit.
Don't leave external doors open at night. It is an invitation for ghosts to enter.
Don't get married – it won't be a happy ending.
Don't talk about ghosts during their special month because it may cause offence.
Stay lucky during the ghost month:
Most importantly, keep them well fed with offerings outside the home.
Keep the lights burning bright at home, and on balconies or other outside areas. Ghosts lurk in the shadows.
Sprinkle rock salt on the floor outside your front door. Spirits are said to be afraid of it.
Visit temples or churches to pray for the deceased.
What else?
The ghost month is observed in some form or another in many Asian countries, including China, Malaysia, Thailand, Cambodia, Singapore, Japan, Vietnam and India.
Ghost month events in Hong Kong
One of the highlights of the festival is Chinese opera, usually held in pop-up theatres, to praise the deities. 
This year, the Federation of Hong Kong Chiu Chow Organisations is holding the following events over three days at soccer pitch number one in Victoria Park, Causeway Bay:
The Yu Lan Festival Exhibition, Yu Lan thematic displays, thematic 3D photo shooting are, vegetarian snacks
Date: 1 to 3 September;
Time: 10am to 8pm
"Hong Kong Blessings" ceremony
Date: 1 September;
Time: 1pm to 3pm
Yu Lan festival offerings competition for families
Date: 2 September;
Time: 1pm to 5.30pm
Festival treats competition
Date: 3 September;
Time: 1pm to 6pm
Royal Asiatic Society Hong Kong will host an event on the evening of September 12, open to non-members for HK$200.
The rundown includes an illustrated talk at the Hong Kong Maritime Museum and a visit to a temporary theatre on Moreton Terrace, Causeway Bay.
 .