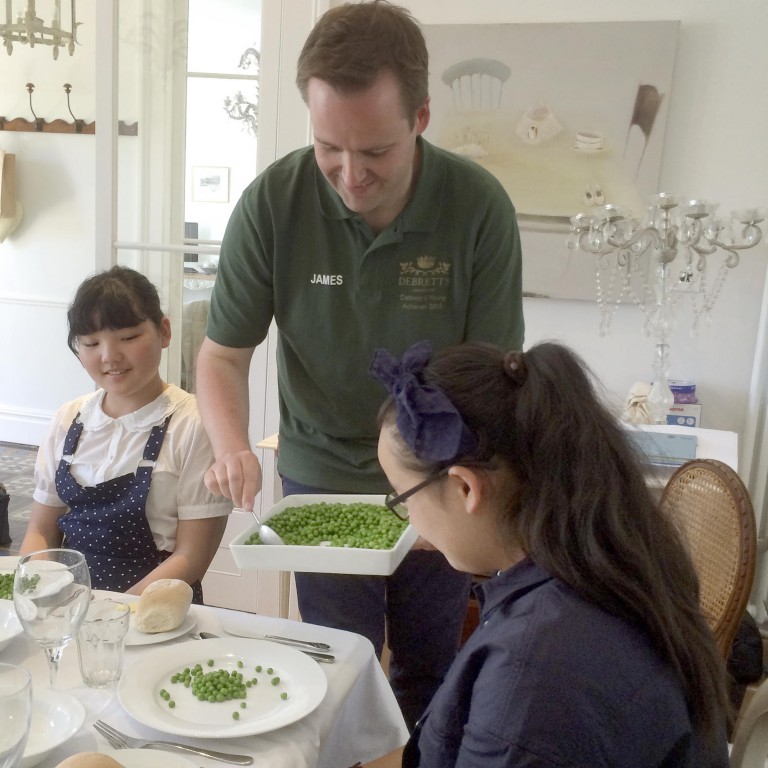 Dos and don'ts from Debrett's: wealthy Chinese buy etiquette training from blueblood British firm
Companies teaching manners and proper bearing are focusing on China's growing ranks of millionaires
The business of etiquette training is booming in China with a number of companies offering to coach wealthy clients in the art of conversation, dress and dining.
According to Boston Consulting Group, China has the second highest number of millionaires in the world at 2.4 million in 2013, up from 1.5 million the year before. As a result, after buying their yachts and luxury brand handbags, they are looking to differentiate themselves through soft skills.
It's something Sara Jane Ho, founder of finishing school Institute Sarita has seen with her clients - mature women and debutantes who already have their Hermès bags and are aspiring to more sophisticated social skills.
Another British culture and etiquette company, Seatton, helps train businessmen and women looking to differentiate themselves from others by knowing how to use cutlery, tie a tie, and make eye contact.
But perhaps the granddaddy of etiquette training is Debrett's of London.
Started by John Debrett in 1769, the organisation was probably the first to record the who's who in aristocracy, including the backgrounds of lords and barons with The Peerage. It wasn't until the mid-1900s that the group began to develop a series of guides called The Debrett's Handbook on traditional British etiquette.
It does not have direct links with royalty, but is often asked about how to address the royal family or baronets, knights, earls and countesses. Even the HM Passport Office in the UK uses Debrett's services when it comes to issuing passports to the royal family.
The organisation made its way to China and Hong Kong at the end of 2013, working with clients in Beijing and Shanghai. In the past six months, Debrett's has turned its attention to Hong Kong, serving individual and corporate customers.
"We are teaching people to build soft skills in the workplace to empower them when they are in unfamiliar situations," explains Craig Wilkinson, Debrett's Asia chairman, adding that these skills would help one feel more comfortable when networking or meeting people from different countries.
Financial institutions in Hong Kong have hired Debrett's to train their teams of private bankers in the art of business etiquette, such as how to dress, and wine and dine clients. Many of these private bankers are in their late 20s, have been promoted from bank tellers and are now dealing with clients for the first time, adds Cheriese Chan, Debrett's business manager. "We teach them how the table is laid, what order to use forks and knives, how to eat certain foods on the table that may look awkward," Wilkinson says.
Not surprisingly, a lot of interest in China comes from tai-tais who are keen to give an appearance of sophistication, not only in wardrobe styling, but also when politely savouring scones and pastries at afternoon tea.
"It's a well-known and talked about British custom, so it's a way for clients to learn more about British culture and a good way to be hospitable and entertain people," says Wilkinson. "It's a way to get to meet and greet people."
Debrett's also holds a Young Achiever programme for youngsters, most of whom are ethnic Chinese, who are studying in Britain or living there for extended periods of time. The programme teaches students about dining etiquette, afternoon tea, as well as how to give good impressions at interviews for universities. Wealthy Chinese have also inquired about a parent-child dining etiquette programme that Debrett's is planning to develop.
"There are a lot of etiquette schools, but a lot of clients in China like us because we have a history and have connections with the royal family," Chan explains. "Our clients are upper society Chinese. Socialising in China is changing. The second generation is returning home from university and they are quite Westernised, but companies [in China] don't quite understand how to serve them so they need our help," she says.
Even property management companies in China are having their frontline staff trained by Debrett's to politely handle requests from clients.
These courses are not cheap - £3,500 (HK$42,000) for a half day or £5,000 for a full day with a maximum of 15 attendees. Private classes are also available.
"We're mostly helping wealthy businessmen and their families who have moved to London and are looking to present and integrate themselves into the local community, and want to feel more comfortable in entertaining," says Wilkinson.
The company is even fielding requests from second-tier Chinese cities such as Changsha and Chengdu.
On November 9, the company will release The Debrett's Hong Kong 100 (disclosure: is a media partner), highlighting 10 people in 10 sectors such as food and drink, architecture and design, business, technology, fashion, media and sport. The event's official launch will take place on November 10 at the British consulate in Admiralty.
Wilkinson say it will be the first in a global series that will include cities such as New York and Sydney.
"Hong Kong was chosen as the first city because we have business here already, and it felt like a good place to start," explains Wilkinson.
"This isn't a rich list, it's a list of people who have achieved a great deal in their lives and have inspired others to achieve."
Debrett's 10 dos and don'ts for diners
Napkins should be placed on the lap as soon as you are seated. When you leave the table, leave the napkin unfolded on the table, to the left of the place setting.
Sit a comfortable distance away from the table, so that with the elbows bent the hands are level with the knives and forks.
Sit up straight, sit square with hands in the lap and do not fidget. Do not put elbows on the table.
Make sure others have been offered anything they might want from the table, such as butter, water, salt or pepper. Help yourself last and never stretch across people.
Do not begin eating until everyone has been served, unless the host or hostess gives their permission for diners to start.
Eat at a relaxed pace and pace yourself to match your fellow diners.
Keep your mouth closed and try to avoid making noises while eating, either with implements against the plate or teeth, or with actual ingestion of the food, such as slurping soup.
Talking while there is food in your mouth should be avoided at all costs - even when you have a conversational gem up your sleeve.
When you have finished, place your knife and fork - with the tines facing upwards - together on your plate.
If you are confronted with a plateful that is not to your taste, try to soldier on to avoid hurt feelings. Always compliment the cook.
This article appeared in the South China Morning Post print edition as: Refining China