LIFE
Get more with myNEWS
A personalised news feed of stories that matter to you
Learn more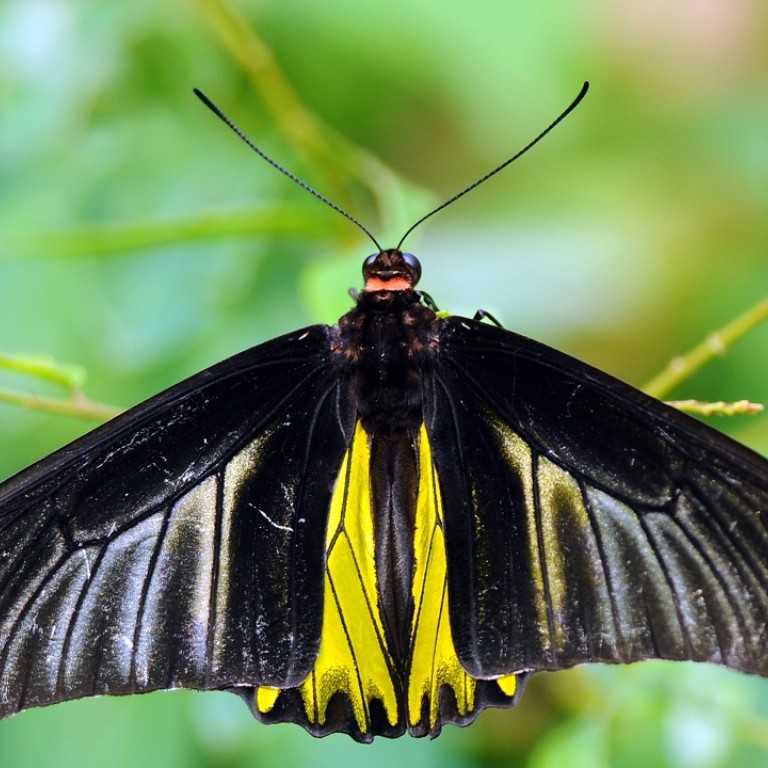 On a wing and a prayer: Hong Kong butterfly reserve's future uncertain
Fung Yuen Butterfly Reserve, run by volunteers, is a shining example of community conservation, but its funding is as insecure as when it started
As one of Hong Kong's most successful community science and conservation projects celebrates its 10th anniversary this week, its founder and "unpaid CEO" says he has no idea what the future holds for Fung Yuen Butterfly Reserve.
"The lack of security is very worrying," says Dr Yau Wing-kwong, who is about to submit a funding proposal to try to secure another two to three years for the reserve near Tai Po, which provides a precious habitat for more than 200 species of butterfly and an education service for thousands of visitors every year.
"Local people come with their kids for a visit. Then they take photos. Then they buy a book and become volunteers or get involved," says Yau, who calls it the Hong Kong butterfly effect.
Such is the power of this effect that a decade on from its humble origins as a small community reserve set up by a few volunteers, the centre is almost unrecognisable. It now runs ambitious scientific programmes with schools and universities, operates youth group projects, employs six staff and trains hundreds of butterfly volunteers. Last month, about 5,000 people attended its butterfly festival, and on a recent weekend, it hosted leading butterfly experts from Macau, Japan and Taiwan, at a conference at Chinese University.
Not bad going for a group of enthusiasts from the Tai Po Environmental Association operating on a shoestring budget. Their original ambition was simply to protect butterflies from foreign collectors who came to the Fung Yuen valley and removed not just the butterflies but also the host plants, despite that fact it was designated as an area of Special Scientific Interest in 1980. When the government saw the work the group was doing, it agreed to a pilot project in 2005 based on the Scheme for Management Agreement. The association negotiated a reasonable rent for the land from local owners in the community and agreed to manage the habitat conservation, while the government would provide the funding.
"Many people moan about the government [and conservation] but we got the project going first and then went to government. Private land can still be conserved under this tripartite agreement," explains Yau, who was once referred to by Chief Executive Leung Chun-ying as "the Butterfly-man".
Engaging with the community and getting local people to buy into the scheme has been key to Fung Yuen's success, and the reserve still has a charming authenticity about it. It is a beautiful, tranquil site combining forest and former farmland, with countless butterflies fluttering around. There are well thought-out information panels, but if the footpaths are a little uneven and the toilet facilities a little basic, the reserve makes no claim to offer a slick visitor experience. At Fung Yuen, nature remains the attraction, and it is what first drew volunteers Ngan So-fong and her husband and keen photographer, Geoffrey Li, to the site 10 years ago.
"My young son was scared of insects and would cry if he saw a bee or a grasshopper," recalls Ngan.
They introduced their son to the wonders of Fung Yuen when he was four years old and the family became volunteers, planting shrubs and tending them with water from a nearby stream every Sunday. Eventually, their son became so confident he started helping out with tours.
"I felt I had grown up with Fung Yuen Butterfly Reserve and so had my family," says Ngan, and the couple continue with their volunteer duties once a month. Ngan explains there was another example of the local butterfly effect when Yau discovered she was a teacher at the nearby Hong Kong Institute of Education. She helped Yau set up student programmes at the reserve and it eventually became a formal part of the trainee teacher's curriculum.
"I am very happy because now ecology and nature is embedded in the curriculum for all our preschool teacher courses, so the next generation will benefit from their knowledge," says Ngan.
The Institute of Education is not the only establishment benefiting from Fung Yuen. Colleen Chiu Yuk-lin joined the reserve as a volunteer in the early days and is now a full-time manager for education and visitor projects, which includes many schools and colleges.
"In the early days we only saw a few hundred visitors a year. There wasn't even a nearby minibus stop and we had no proper paths, but now we have more than 10,000 people each year," she says. The profile is also changing, towards families with young children wanting to learn more about their natural environment.
"We have also helped about 155 inner-city schools install butterfly gardens within their campus, including Munsang College in Kowloon City. They are located close to Kowloon Park, so we designed a garden to attract the butterflies, but the students did all the planting," she says . The garden is now a central feature of the campus.
The reserve is a rare Hong Kong conservation success story and Professor Chu Lee-man of the Chinese University of Life Sciences, whose students participate in programmes at Fung Yuen, thinks there is something special about it.
"They don't just do species conservation or habitat conservation, they do both," says Chu. "That makes them unique." He points out that urban sprawl could be a threat to the reserve. High-rise residential buildings have recently been completed on Fung Yuen Road, less than 50 metres from the reserve's entrance.
"Fung Yuen is now overshadowed by these huge residential tower blocks," he says. "It's so sad there is not at least a buffer zone between them and a designated area of Special Scientific Interest, but if anything it just re-emphasises how important Fung Yuen's role is in preserving this small patch of butterfly heaven."
The threat of encroachment from development is not the only concern for staff at Fung Yuen. They have to combat the interminable spread of the Mikania vine, which can destroy the host plants vital for butterfly survival. There are hill fires, butterfly catchers, human vandalism and the chronic shortage of money that limits everything they do.
Despite the impressive 10-year track record of educating students and members of the public, protecting a site of Special Scientific Interest and undertaking serious scientific research, the reserve is still operating on a shoestring budget. Short-term core funding is up for renewal, and while signs are encouraging, there is no core stability for this precious habitat and successful education centre.
"Our staff turnover is too high because there is no long-term security. If we lose funding, I lose my job but the problem is, I love it and it is very worthwhile, so I keep hanging on," admits manager, Colleen Chiu.
"If we had improved funding I would like to extend the education programmes from secondary schools and universities to primary schools," she adds. Founder Yau also regards the current funding arrangements as a major limitation to their ambitions.
"I would like to see a five- to seven-year funding plan in place so we can plan ahead," he admits and regrets that instead, loyal staff like Chiu, who they have trained over many years, have to start considering alternative employment every two years.
"Many green NGOs undertake public education and awareness, but we are actually contributing to the ecosystem and providing a habitat for butterflies. We are giving back to nature," says Yau, who is interested in replicating the scheme elsewhere but would have to think very carefully about the financial considerations before doing so.
"I hope this can be replicated elsewhere," says Pun Sui-fan, better known as "Hydrogen", a long-term expert adviser to the reserve and recognised as one of the finest local photographers of butterflies.
"But there is no money. You need support from the community, from government, from NGOs, but most of all, you need heart." There is clearly no shortage of that quality at Fung Yuen Butterfly Reserve, though it seems unfortunate that this rare model of conservation success cannot be put on surer footing.
Perhaps the Fung Yuen Butterfly Reserve will remain a metaphor for much of Hong Kong's remaining natural environment – an enchanting and fragile oasis, mostly protected by unpaid enthusiasts with very few resources, facing a range of imminent threats including the never slackening pace of urban development.