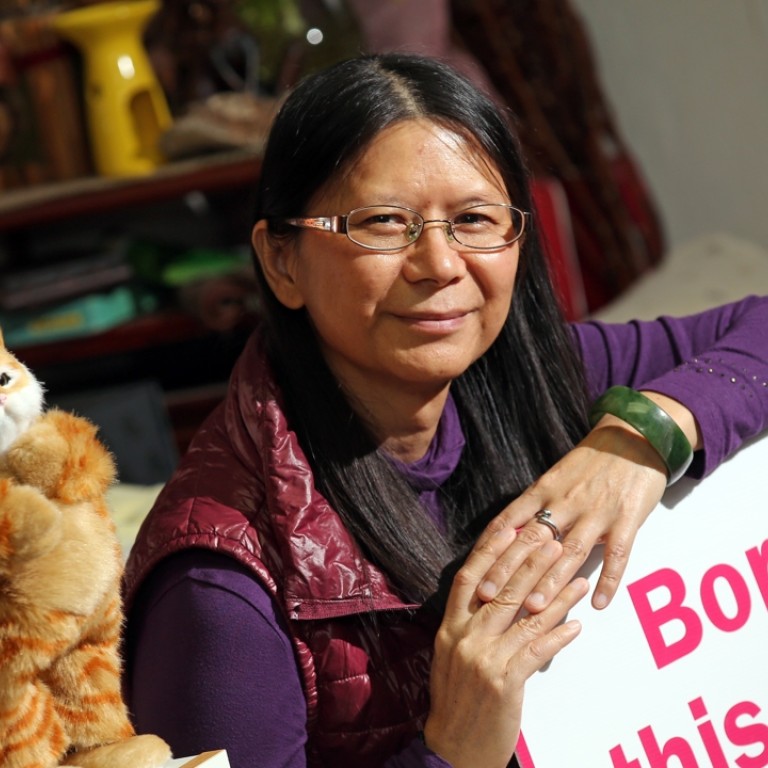 No child should endure my ordeal, says sex-disorder Hongkonger forced to be a boy
Born neither male nor female, bullied as a child and driven to attempt suicide by repeated anatomical operations, Small Luk hid her bodily ambiguity for 20 years until a proper diagnosis allowed her to choose surgery and live as a woman. Now she wants Hong Kong to change laws so 'intersex' babies don't have their sex decided for them, like hers was
Small Luk is a survivor.
Born neither fully male or female, Luk was one of seven people operated on as children at Hong Kong's Kwong Wah Hospital in the 1970s to correct their anatomies – and the only one still alive. The rest have killed themselves – an indicator of the stigma and trauma they faced.
He, too, tried to kill himself before he was in his teens, so harrowing was his childhood. It's an experience Luk hopes to ensure others born in a similar state don't have to endure any longer in Hong Kong.
Luk is what is called intersex – someone with genitalia, reproductive organs and sometimes a set of chromosomes that do not conform to what's expected of either sex.
Born with vestiges of male genitals and so classified as male, it was only in his teens, when he started to develop breasts, suffer stomach cramps and see blood in his urine that Luk was diagnosed as genetically male but suffering from a condition in which the body is resistant to hormones, such as testosterone, that control the development of male traits. And Luk was 36 before a physical examination revealed an undeveloped uterus and vagina, allowing doctors to classify Luk as hermaphrodite.
Acting on his doctors' advice, he eventually had surgery to remove his male genitalia, began treatment with female hormones and now lives as a woman.
An activist for the welfare and rights of intersex people, Luk, now 50, founded a group, Beyond Boundaries – Knowing and Concerns Intersex, five years ago to work on the issue. In February 2015, she addressed a United Nations meeting in Thailand on the rights of intersex people and used the occasion to come out as an androgynous person.
She wants Hong Kong laws changed to end intrusive and irreversible treatments, included forced genital normalising surgery and "conversion therapies".
Countries like Germany and Australia allow parents to leave the gender blank on a child's birth certificate. In Hong Kong, however, parents are required to obtain a birth certificate for their child within a year of their birth, on which must be stated their sex.
"My previous gender as a male was decided by my family and doctors," Luk says. It was a decision that brought untold misery.
Because Luk lacked the correct anatomy, he had to urinate like a girl. He was sent to the urology unit at Kwong Wah Hospital, where he underwent more than 20 operations between the ages of eight and 13 to construct a urethra – the duct that conducts urine from the bladder.
"The surgeries were done during the summer holidays so as not to disrupt my studies," Luk recalls.
Doctors managed to insert a tube in his penis, but because blood circulation in the area was poor, the wounds never healed properly and were easily infected, and leaks developed when he urinated.
That's a devastating situation for anyone and even more distressing for a child; when he was 12, Luk found it so unbearable he tried to kill himself in hospital and was later tied to his bed.
"The doctors told me my surgery failed again and asked me to come back next summer. So I attempted suicide," Luk recalls. "I made a second attempt one year later. I tried to walk into oncoming traffic but people pulled me back from the road."
After the last operation at the age of 13, Luk refused to put himself under the knife again to have his genitalia reconstructed.
As he grew up, he tried to maintain contact with the six other children who underwent similar operations about the same time at Kwong Wah, "but they all eventually killed themselves", Luk says.
Luk was an effeminate boy and, not surprisingly, became a frequent target of bullies at school.
"Decades ago, cubicles in school and public toilets were only separated by low walls, so other boys could see me squat down to pee. They made fun of me, pulled down my pants to see and beat me up after school," he says.
In his teens, when he started to develop breasts, suffer stomach cramps and see blood in his urine, Luk was diagnosed as suffering from androgen insensitivity syndrome - resistance to male hormones.
The syndrome is among more than 70 conditions that come under the umbrella term intersex, which refers to people born with a reproductive anatomy that does not fit typical definitions of male or female. For instance, a person might look female but have mostly male anatomy. Or a person might develop both male and female genitals.
Luk left school after Form Three and got a job so he could be financially independent and would not be forced into more operations. Then aged 16, he did odd jobs before securing an internship at China Light & Power as a technician.
"All the guys worked bare-chested in the sweltering boiler room but I had to keep on my thick overall as I had breasts."
When he was eventually found to have undeveloped female sex organs and was classified hermaphrodite, doctors explained to Luk that because his body did not respond to androgens, his brain continued to signal for increased production of the hormones – raising his chances of getting testicular cancer to six times the norm. That led to surgery to remove his male genitalia.
"My family always wanted me to be a male, as I am the eldest of four siblings. I didn't tell my parents before I did the surgery since they would definitely have objected."
Since then Luk has been taking female hormones, and says she prefers being a woman.
Through studying part-time after work, Luk not only passed the public exams but went on to earn degrees in social work and traditional Chinese medicine as well as a master's in gender studies. She now runs a holistic treatment clinic in Tsim Sha Tsui, using her knowledge of Chinese medicine and social work as well skills in hypnotherapy.
The cruelty and anguish Luk endured growing up led her to become an activist for the welfare of intersex people.
If a baby is born intersex, doctors will typically persuade parents to make a choice about the child's sex before they are a year old and then carry out operations on their genitals so they conform with the chosen sex.
Luk is appealing to the Hong Kong government to educate the public about intersex conditions, extend anti-discrimination laws to cover intersex people and stop foisting surgery on intersex children without consulting them.
Some intersex conditions will lead to illnesses, but doctors can treat the conditions without touching the genitalia, she says, adding that androgynous people do not necessarily face health problems.
"[Intersex] people should have the right to leave their genitalia intact and choose their gender, whether male or female or intersex. The choiceshould be made when the person grows up."
Joseph Cho Man-kit, a lecturer in gender studies at Chinese University, agrees.
"Doctors should delay surgeries on intersex children. Some intersex conditions can be fatal and medical intervention is warranted. But others should be allowed to make the choice themselves after they grow up, Cho says.
"Due to the rigid classification in Hong Kong, people are either male or female. Doctors think that if they don't help the children make a decision early [and perform the necessary operations], they will be subjected to lots of stress in life from being neither female nor male.
"But this [stress] can be alleviated if there's enough counselling.Children should be given counselling about how to see themselves and whether they should tell their school and others about the condition. But such services are lacking in Hong Kong."
Dr Ng Man-lun, a former psychiatry professor specialising in sexology, says that from a medical and psychological perspective, it's best is not to fix the sex of intersex people.
"Even if you operate on them, the surgeries can be meaningless medically. I know some androgynous people [abroad] who live normally without having a fixed gender. Sometimes they wear male clothes, sometimes they wear female or neutral clothes. They have sex lives. They cohabit without a problem," he says.
Overseas experts have long argued that intersex people can live as a non-male or non-female or as third-gender people, Ng says. He has tried to raise the issue with legislators, but they were too shocked to consider it.
"Hong Kong's social mores and culture do not allow people with ambiguous gender to live a normal life. Society forces them to fix the gender early on. Otherwise, which public toilet can [the intersex child] use? People will also discriminate against the child if the gender is not fixed. That's why parents and doctors want to decide for the child as soon as possible."
However, problems arise after the child grows up and has regrets, Ng says.
Frustrated by the public's confusion about intersex people, Luk is keen to establish their unique identity. "We are often wrongly mixed with transgender people," she says.
Some transgender groups try to include intersex people under their banner, but Luk rejects such efforts. "We do not accept that at all. Transgender people are not born with their condition ...
Transgender people have their own agenda in equating us with them. As androgynous people, we are allowed to choose our gender without undergoing any operation. But transgender people must complete their sex realignment procedures before they can change the gender [designation] on their ID. So they want the government to [classify] them as intersex people,as many of them don't want to complete all the surgeries," Luk says.
"Muddled public perceptions of intersex people will only increase our distress."
Billy Wong Wai-yuk, the executive secretary of the Hong Kong Committee on Children's Rights, acknowledges that "local awareness and education about [intersex children] is zero".
Still, she says: "Our committee does not think that the child's gender should be left blank on their birth certificate like in some Western countries, as it might not be in the best interests of the child. In Hong Kong, once such a baby is born, it will be seen as an emergency case and the birth willtrigger cross-departmental involvement, including endocrinologists, paediatricians and other medical professionals. They will do tests to try to see which sex the child is more slanted towards and suggest a sex to the parents.
"They should develop a gender identity of either male or female, otherwise they cannot integrate into society."
Luk clearly faces enormous odds in her quest to win acceptance for the intersex community.
A guide to the differences between intersex, transsexual, and transgender
Although intersex people tend to be grouped in the LGBT (lesbian, gay, bisexual and transgender) community, the terms transgender, transsexual and intersex have nothing to do with sexual preferences or orientation.
Intersex:
This refers to a person born with indistinct or ambiguous sexual anatomy or with traits of both sexes, making it incorrect to define them as either male or female. Some widely cited researchers
estimate that
about 1.7 per cent of live births are intersex, while Billy Wong of the Hong Kong Committee on Children's Rights quotes a far lower figure of one for every 4,500 children as the global average.
Transsexual: This refers to people who do not identify with their biological sex at birth (the sense of being "born in the wrong body") and wish to realign their gender and their sex through medical procedures including hormone treatment and surgery.
Transgender: This is an umbrella term describing people with identities that challenge conventional notions of gender or shift between the genders. Although this can involve medical intervention or social changes, it is not always the case. Transgender people may identify themselves as being gender neutral or multi-gendered. A cross-dressing man who is attracted to women may also identify himself as transgender.