Thailand
Get more with myNEWS
A personalised news feed of stories that matter to you
Learn more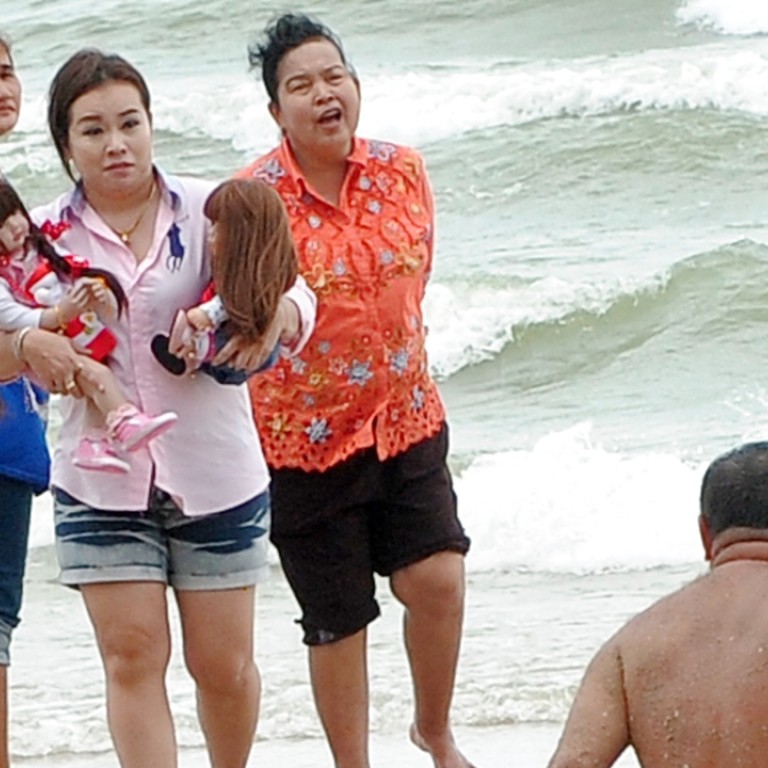 Why Thais lavish treats on 'angel dolls', and what sparked a creepy craze
Ancient beliefs lie behind recent Thai trend of buying pricey 'lucky' toddler-sized dolls and treating them to foie gras, Botox injections and airline travel, but it was a popular radio host who sparked the craze. Meet Tukta, Nong Aoy, Justin and Millionaire, and the women who dote on them
Tukta, with her braided pigtails, long lashes and rosy cheeks, is enjoying a day of pampering. Wearing gold bracelets on both wrists, she's just had chocolate cake at a cafe and is about to watch a film at a multiplex in downtown Bangkok.
According to her "mum", Tukta loved the cake and will enjoy the movie, but we'll have to take her word for it. Tukta, whose name means "doll" in Thai, is literally a doll.
That hasn't stopped Wimonrat, a young Thai office worker who asked that her full name not be used for fear of being ridiculed, doting on the toddler-sized plastic toy as if it was her real daughter. She wines and dines Tukta, sitting the doll at restaurants tables with a plate of food in front of it, takes it on trips, and tucks it in at night. She does everything for the doll that she would do for a normal child – short of breastfeeding it. "She is too old for that," Wimonrat says with a giggle.
Tukta is a luuk thep, or "child angel", and Wimonrat believes the doll is alive, in a sense, animated with the spirit of a childlike angelic being that entered the plastic toy during a blessing ritual performed at a Buddhist temple on the outskirts of Bangkok. By pampering the doll, Wimonrat seeks to gain karmic merit – and get lucky. "If I take care of her well, she will make me lucky. I believe that," she explains. "I'm happy to do it. I love dolls."
She's not alone. Thailand has been gripped by the outbreak of a new trend – equal parts fashion and superstition – in which men and women from all walks of life coddle and indulge lifelike dolls as if they were their flesh-and-blood offspring. Many of them spoil their child angels rotten, treating them to lavish meals, taking them on foreign holidays, and buying them expensive gifts. Many luuk thep have their own little dolls and other toys to play with, while several shops sell a variety of accessories for them.
Luuk thep
dolls, most of which are high-quality imports and can cost up to 100,000 baht (HK$22,000), occupy a place between lucky charms and cuddly toys. They serve as potent talismans for Thais obsessed with the vagaries of their fortunes, for which they constantly seek supernatural remedies: with amulets, through making merit, by beseeching spirits at shrines. The dolls, which are often made up to look eerily similar to real children, can also serve therapeutic purposes by keeping their owners company and offering them hope and comfort in troubled times – this in a nation where the economy has been stagnant and the ruling military junta brooks no dissent.
"When I feel lonely, I play with Tukta, wash her hair, and watch TV with her," Wimonrat, who is single, says. "She loves soap operas."
Two of the young woman's friends, too, lavish attention on their own dolls. They bought their luuk thep from Mae Ning ("Mother Ning"), a popular Bangkok doll collector who uses ritualised incantations to ask the Hindu goddess Parvati to breathe life into her factory-made dolls before she offers them for "adoption" to customers.
"When you raise children, some of them turn out to be stubborn," Mae Ning explained in a filmed interview. "But child angels don't talk back to us and give us headaches."
Luuk thep devotees have been around for years, but the phenomenon became a national craze only late last year when Bookkoh Thannatchayapan, a popular radio host, went on a television talk show with his doll, Wansai, telling viewers he owed his renewed success in the entertainment business to "my son".
WATCH: The angel doll trend has spread to Hong Kong
"The first day I got Wansai, I took him shopping for new baby clothes. Right after I paid for his clothes, I got a call that my cancelled radio show was back on air," he said. "I feel Wansai really lives." Bookkoh regularly posts pictures of himself with the doll on social media, tenderly cradling it in his arms, or posing with it in the company of his extended family. "I love him as my son," he says
In Thailand's celebrity-obsessed culture, such glowing endorsement of any new superstition that promises fame and fortune can make it mainstream in a heartbeat.
And mainstream the child angel fad has duly gone. Several businesses, including restaurants and beauty salons, have been offering promotions for people with luuk thep dolls. Thai Airways, the country's national carrier, has announced that passengers can buy extra seats for their dolls on some of its flights if they don't want their mollycoddled dolls to be treated as carry-on luggage and stored in overhead compartments. The airline serves in-flight refreshments to the dolls.
Supavadee Tapmalai, a Bangkok socialite, flies first class and always takes Nong Aoy with her. "Wherever I go, she comes with me," says Supavadee, a flamboyant dresser who owns a popular boutique in northern Bangkok. She lovingly babies her doll, which was made in South Korea; it is treated to custom-designed dresses and sparkling bijou jewellery. "Aoy is a fun-loving girl; she loves to travel," Supavadee explains, cradling the toy in her arms like a delicate newborn. "She has a sweet tooth. She loves raspberries, strawberries and chocolate."
Given that Nong Aoy, whose name roughly translates as "Sweet Little Sister", can't speak or communicate with her in any way, except perhaps telepathically, how does Supavadee know what the doll likes or wants? "I just feel it," she asserts. "I also know because when I do something for her and I get a lot of money and customers that day in my shop, I see that Aoy is pleased.
"Sometimes, when I have expensive items in stock that I'm not sure I can sell, I talk to Nong Aoy: 'This item is very hard for mummy to sell, can you help me please?'"
Like Aoy, almost all luuk thep dolls have distinctly Caucasian features (many are blue-eyed and blond) – testament to fashion-conscious Thais' love of fair complexions, prominent, silicon-enhanced noses, and round eyes accentuated with colourful contact lenses. Does that mean the dolls have Caucasian spirits residing in them too? "I'm not sure," Wimonrat concedes. She believes, though, that Tukta is a vessel for the spirit of a fetus she miscarried a few years ago.
Luuk thep
dolls are merely a modern twist on traditional Thai
kuman thong
("blessed golden boy") clay figurines, which have been made in the likenesses of male children and have for centuries functioned as the spiritual guardians of Thai households. The figurines are regularly propitiated with votive offerings: meals, sweets, sugary beverages and various forms of entertainment. In olden days,
kuman thong
were often fashioned from the dry-roasted remains of stillborn fetuses so their souls could gain a new lease on life.
"I used to look after kuman dolls," Supavadee says. "Then about two years ago, Nong Aoy came into my life." A customer brought the doll into her shop and Supavadee, enamoured by the rosy-cheeked doll, offered to buy it. "I didn't have to go looking for Aoy," the socialite says. "She came looking for me."
The doll could hardly have found a more devoted surrogate parent. Supavadee, 40, dotes on Aoy round the clock. "I doll her up according to her moods," she says. "Originally she had black hair, but recently she has taken to following a trend by teenage girls who dye their hair." Aoy now sports purple locks on one side, green locks on the other, and a reddish bang at the front. The doll's toenails are painted in similarly gaudy fashion with a rainbow of colours.
Like many trendy teenagers today, Aoy also wears a nose ring. Frequently, Supavadee dresses Aoy in outfits identical to hers. One recent afternoon, the pair wore straw hats with bouquets of plastic flowers and pink feathers on them.
Supavadee has had the doll's nails and hair done at a beauty salon, and recently she had Aoy receive Botox injections. She also treated the doll to a lavish dinner of foie gras at an expensive restaurant. "I went for a Botox treatment myself and I did not want her to feel left out," the socialite explains. "I like to give Aoy positive experiences so she is happy. We understand each other."
That doesn't mean Aoy never misbehaves. "Sometimes she breaks wind in her sleep," Supavadee says, seemingly in all seriousness. Aoy has a boyfriend. He is Rungroj, a pouty, mop-topped luuk thep that belongs to a Thai singer. "They're a celebrity couple," Supavadee says of the two dolls, which have both been featured prominently on Thai social media, thanks to their owners' unceasing promotion of them.
Fortunately, Justin and Millionaire, Supavadee's other two
luuk thep
dolls, aren't envious of Aoy for hogging the limelight. Justin, a toddler-sized toy made in the United States, is a doe-eyed doll with fluffy brown hair and with its own visage printed all over its custom-made royal blue jumper. Millionaire, a doll from France, has cerulean-blue eyes, platinum-blonde hair and plenty of bling on him, as befits his name.
"Justin is cute and laid back. He loves to cuddle," Supavadee says. "Millionaire is a bit of a tut," she quips, using a Thai slang word for transvestite. "I hope he'll make me a millionaire."
Each of the three dolls has its own savings account, into which Supavadee deposits 5,000 baht every week for its personal allowance. "Sometimes I ask them for favours in return," she says. "Recently I got three expensive designer bags in my shop and I asked them to help me sell them fast. All three bags sold out the same day."
Supavadee is a single mother, but her 15-year-old son, Juju, is fine with his mother's devotion to her dolls. "I see them as my younger siblings," says Juju. "I like to play with them and sleep beside them." The dolls, he adds, have helped him get better grades in school.
If
luuk thep
dolls are taken to Professor Phitak Siriwong's classes, though, they will have to do more than just help their owners get better grades. They will need to master the coursework themselves. Phitak, the dean of management science at Bangkok's Silpakorn University, has recently announced to his students, partly in jest, that they're free to bring their child angels to classes provided the dolls submit papers, too. If they don't, their owners will be held responsible.
"I want students to take responsibility for their successes and failures," Phitak says. "Many of them, especially those at the PhD level, are obsessed with trying to find superstitious solutions to their troubles with their studies. Some of them pray to [the elephant-headed Hindu god] Ganesha for academic success; some of them now put their faith in luuk thep dolls."
Many other Thais, too, are beginning to look askance at this latest flare-up of rampant superstition in the predominantly Buddhist nation. The National Office of Buddhism has warned monks against performing the blessing ritual that is supposed to turn dolls into haunted objects by inviting dead children's souls to reincarnate in the toys. In tandem, police have been cracking down on the sale of imported dolls on the grounds that many sellers have failed to pay duties on them.
Meanwhile, on social media, sundry citizens have been ridiculing the lengths that luuk thep owners go in ostentatiously pampering their dolls. Cynics have been posting images of baby-faced dolls in "humiliating" situations, like being fed dog food. Others have offered their services to help surrogate luuk thep parents get rid of their needy and domineering dolls by "murdering" them for a small fee.
Supavadee isn't amused. "These things upset me," she says, flicking through mocking Facebook images of luuk thep dolls on her iPhone. To fight back, she's just gone on a popular television talk show to sing the praises of Nong Aoy. "She is just a baby. She doesn't hurt anybody," Supavadee says. "It doesn't matter to me what other people think of us."