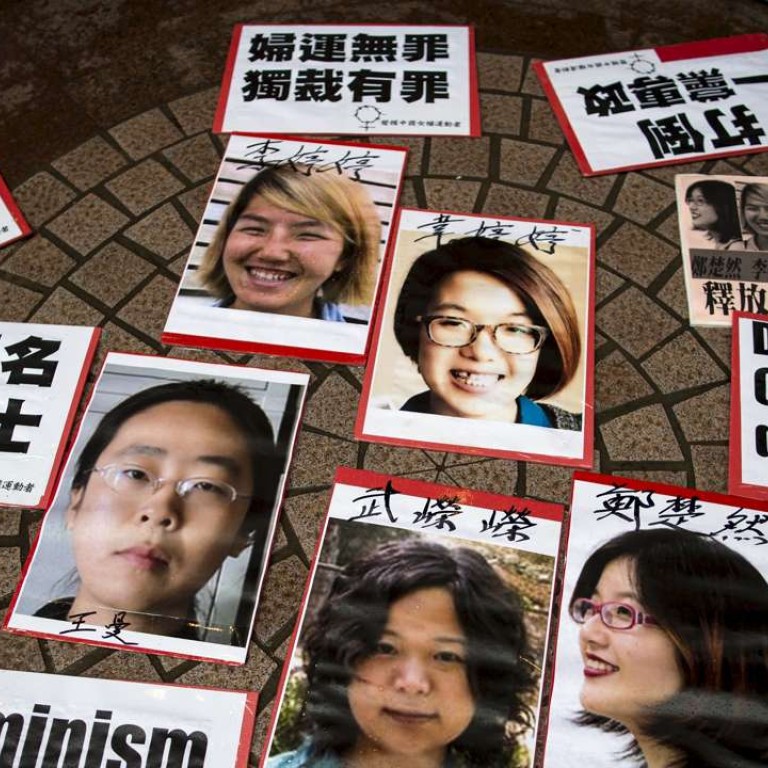 China's Feminist Five unbowed a year after detention, says activist in Hong Kong for forum
Women held in Beijing to foil protest against sexual harassment on Chinese trains are crowdfunding to place Guangzhou metro ad about same issue and using social media to promote gender equality, fellow activist says
Chinese feminist activists who caught the world's attention with their creative antics have vowed to take their fight online following their detention in Beijing last year.
Xiao Meili, a member of the Feminist Activist Group, told a Hong Kong academic symposium that the group had discovered social media was an effective alternative to street protests, something she said none of them would dare attempt now for fear of being arrested.
On March 7, 2015, Beijing police arrested five of her fellow activists – who would come to be known as "the Feminist Five". Their alleged crime was "picking quarrels and provoking trouble", a blanket charge that, in their case, was linked to their plan to stage a protest on International Women's Day against sexual harassment of women on public transport.
Li Tingting, Wang Man, Wei Tingting, Wu Rongrong and Zheng Churan were detained for 37 days without being charged and subjected to endless interrogations and thinly veiled threats, Xiao said. The police were still refusing to drop the case a year after their release, meaning the five continued to live on edge and had trouble finding work, Xiao said. Their account on Weibo, China's answer to Twitter, had been shut down by Sina, owner of the popular microblogging site, Xiao said.
Xiao herself is a prominent activist in China who in 2013-14 walked the 1,900km from Beijing to Guangzhou to raise awareness of widespread sexual abuse on college campuses in China. She also took part in the Feminist Activist Group's 2012 protest against domestic violence, wearing wedding gowns smeared in fake blood, and the "Occupy men's toilets" movement to fight for more women's public lavatories.
She started her first online campaign when her five friends were detained. "I felt so useless. So I made face masks using their headshots and took pictures of me and my friends wearing them. I posted a picture a day until their release," she said at an event hosted by the International Symposium on Electronic Art. Hers was just one of many online campaigns for the release of the five, and which brought the international media's attention to their detention.
Since then, the group have discovered they can use social media to spread the message of sexual equality to a nationwide audience, as well as to raise funds. One of the five detained, Zheng, now makes her own snappy and humorous videos about gender issues and post them a new Weibo account.
They are crowdfunding for a project to place an ad in a Guangzhou metro station to raise awareness of sexual harassment on trains, the same cause that saw the five detained in Beijing last year.
"There is very little room in China to do this sort of thing but you can find it if you keep trying," Xiao said. Li Tingting's girlfriend, for example, used a popular dating app for Chinese lesbians to spread word of Li's plight during her detention.
Xiao said she was allowed to come to Hong Kong without any trouble from the authorities even though the Hong Kong police are on high alert to prevent demonstrations during National People's Congress chairman Zhang Dejiang's visit to the city.
She said the timing of her visit was not an act of protest. "I didn't even know he was in town, until I was stuck in the traffic jam in Wan Chai," she said.