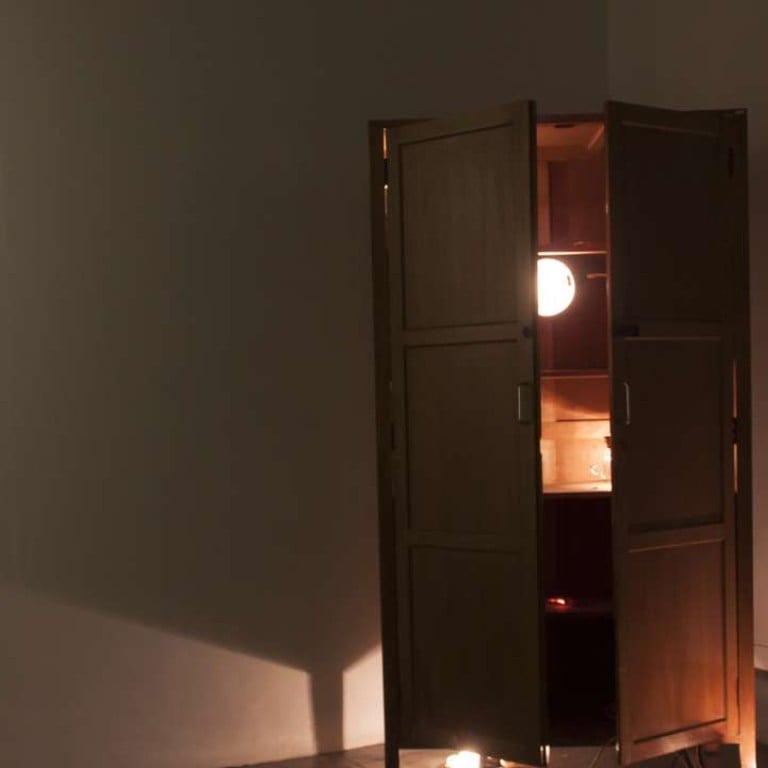 Hongkongers get peek at the things local artists collect
A new exhibition at Hong Kong's 1a Space featuring odd objects of no particular commercial value donated by artists – including an old wooden drawer and old-fashioned light bulbs – attempts to change public preconceptions about collecting
A new exhibition poses the question: What do Hong Kong artists collect? They certainly don't collect things such as the diamond-encrusted Hermes handbag that sold for more than HK$2 million at a local auction this week.
In fact, they seem to go for very odd things without obvious artistic value and little chance of financial appreciation, at least according to the show at the non-profit 1a Space.
But "Pseudo Collection – what do artists collect", as the first half of the title suggests, is not quite what it seems.
Curator Enoch Cheung explains this is an attempt to unsettle certain preconceptions about collecting, such as private ownership and the owner having total control over the collection.
"I am down as one of the eight participating artists in the show even though I don't show any work here. As the curator, I have 'crowd-sourced' items from different artists by asking them to donate very specific things. So my marks are all over the exhibits," Cheung says.
"The project is also more than the physical exhibits. It is about my conversations with each artist about collection, too. These thoughts are 'collected' by me in a booklet distributed to each visitor."
The idea came from a 2013 exhibition in the same venue called "I think it rains", where three curators, including Cheung, were invited by the Berger Collection to collaborate with artists and writers. "That gave me a taste of putting together a show where curators are allowed to be heavy-handed. 'Pseudo Collection' is a follow-up," Cheung says.
In case there is any doubt, Cheung points out that this is "a concept-based show". In fact, this is a convoluted intellectual exercise that results in an exhibition that is visually underwhelming and bordering on self-indulgent at times. One of the exhibits even points a self-accusatory finger at the concept-first approach.
Cheung had asked photographer and academic Edwin Lai for a piece of text that said something about his work. What Lai picked was a low-resolution scan of his artist statement for a 1991 artistic project. Cheung enlarged it and hanged it on the wall in 1a Space and the result is completely illegible.
"This is more about the relationship between an artist and the curator. I wanted to collect his artist statement and he gave me this. It's interesting because he said visual art has to be about the visual first, rather than the statement behind it," Cheung says.
For those who enjoy conceptual art, some of the pieces are stimulating nuggets that may make you go, "ah ha!".
Lam Tung-pang, known for his drawings on wood and installations using found objects, handed over an old wooden drawer that he used to keep his toys in.
Cheung explains that Lam wanted to give him a space to fill in with ideas, like a museum space: "Even though he owns it, he doesn't want to be responsible for its treatment and he wants me to decide how it is treated here." Instead of filling it, however, Cheung decided to park it in a new chest of drawers from Ikea.
One of the loveliest exhibits is Amy Chan's Cabinet of Curiosity. Chan is a trained lighting designer, theatre practitioner and a medical doctor. Her contribution is an old cabinet filled with old-fashioned light bulbs. The lights are plugged in and they dim and brighten to a silent rhythm.
"She is obsessed with lights. She has a whole warehouse of light bulbs, especially ones that are endangered, " says Cheung.
"This installation is based on a previous project she did with a musician, with the lights dimming and brightening along with the soundtrack. But here the sound is taken away and we only have the lights and it's as if they are breathing.
"She said this was not nostalgia, but simply an urge to hang on to something that is about to disappear."
Photographer Paul Yeung's item is probably something everyone who has borne a grudge can relate to. It is a warning letter from a former boss who did not approve of his approach to an assignment.
"Yeung was simply trying to stick to his photographic principles, so he disobeyed his boss," Cheung says.
Perhaps keeping the letter for years has helped lessen Yeung's indignation, for he has chosen to deconstruct the letter for the exhibition by removing and adding words, creating a completely new work of art and depriving the audience of the voyeuristic delight of seeing a private row exposed.
There are a number of genuine, collected pieces, too. Photographer Lau Ching-ping is showing a few vinyl records in his possession to make the point that there doesn't have to be any relationship between an artist's work and an artist's collection.
Jeff Leung, the curatorial executive, presents the only work in the show by a famous, collectable artist. But even this work by Xu Bing is unusual. It is an exercise and instruction book on how to create Xu's famous made-up characters that the mainland artist handed out at a workshop in Hong Kong.
Other works included are by artists Tse Ming Chong and Frank Chan.
It all makes for an exhibition that may not be much to look at but as Cheung says, it's the artists' thoughts he aims to collect here, not their work.
Pseudo Collection – What do artists collect, 1a Space, Unit 14, Cattle Depot Artist Village, 63 Ma Tau Kok Road, To Kwa Wan. Tue-Sun 11am-7pm. Until July 22