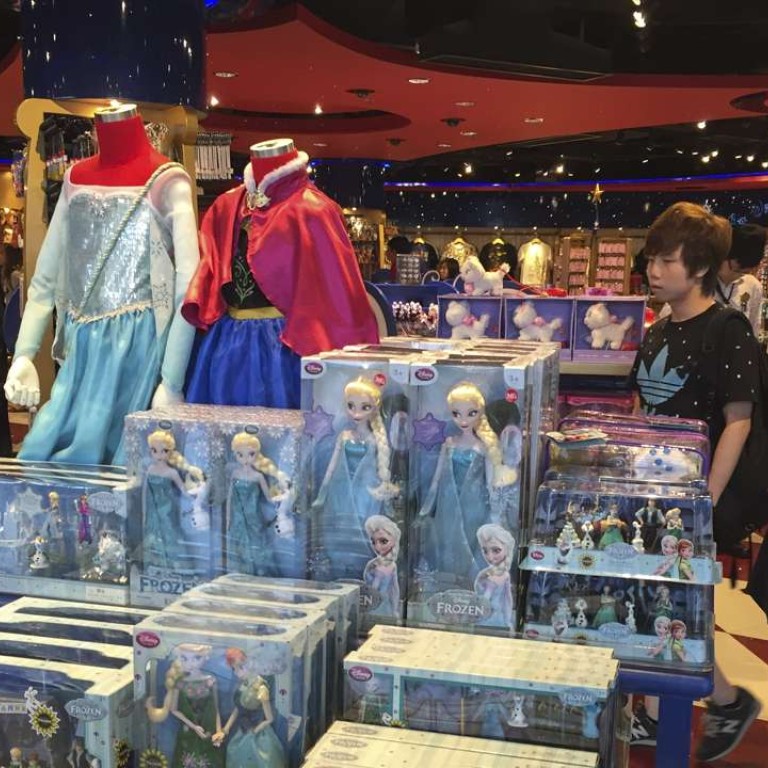 Hong Kong firm making Disney toys in China under investigation for mistreating workers
They are the dolls cherished by little girls the world over – princess figures of Anna and Elsa from the hugely successful Disney film Frozen. Behind the glamour of the fairy-tale heroines sold in Disney stores and theme parks worldwide is a cruel reality: thousands of migrant workers living unacceptably harsh "Cinderella" lives in the factories that make the toys.
One Hong Kong company called Tai Nam Industrial that produces thousands of Frozen toys a day and has manufactured for Disney for years is under investigation after claims that it breaches labour laws and treats workers unfairly.
New York-based China Labor Watch says conditions at Tai Nam's Zhenyang factory in Qingxi Town, Dongguan, were "horrifying", with workers having to work 66 hours a week for hourly wages of between US$1.30 and US$1.50.
In a report titled the "Dark World of Disney", the pressure group, which placed an undercover investigator in the factory for a week in May, says some migrant workers work non-stop for 11 hours with only a one-hour meal and rest break.
"Workers don't complain about overtime and in fact are looking for more overtime hours. This is because their wages are too low, and the only means of raising their income is by working more overtime," the report says.
Living conditions are "terrible", it says. "Sixteen workers share a 16 square metre dormitory room. The bathrooms have only cold water. There are no showers and workers have to use a bucket or pan to take a bath."
At peak season, workers do 100 hours of overtime a month, according to the report – well in excess of the maximum 36 hours of overtime stipulated by China's labour laws.
Among the toys made at the Zhenyang factory are an Elsa Music Snow Wand and a "Do You Want to Build a Snowman?" jewellery box, which sell in overseas toy stores for the equivalent of HK$133 and HK$256 respectively.
As Disney began its investigation into the report's findings, we visited the factory to speak to workers drawn from some of China's poorest provinces, interviewing workers over the course of two days.
Sitting down to a bowl of noodles at a restaurant outside the factory at the end of a long shift, a 29-year-old worker from Hunan describes the harsh working conditions.
More than half of the current workers in the factory were temporary hires, he says, even though temporary workers should only made up 10 per cent of the workforce under Chinese labour law.
"The workers have no contracts and are sent by a labour centre," says the worker, who like all employees spoke on condition of anonymity for fear of reprisals. "When the factory has fewer orders, those workers are kicked out."
The worker, who has been at the factory for 18 months and has a permanent contract, says: "It's very hard to earn a living wage here. We work 11 hours a day, six days a week and sometimes at peak season we work on Sundays as well – much more than most factories.
"If we work all the overtime we can we get 3,100 yuan (HK$3,624) at the end of the month, which is about 2,900 yuan after deductions for social insurance and dormitory rent. And that's only if you work every hour you possibly can."
Basic pay at the factory is the area's legal minimum of 1,510 yuan per month, but with overtime most workers say they earn between 2,000 and 3,000 yuan – but only by working beyond the legal overtime hours limit.
A 31-year-old worker from Guizhou province, who has worked in Zhenyang for two years after working in other factories in southern China for nine years, says: "The dormitories are unbearably hot here. They are the worst I've ever been in.
"Summers are so hot here but we have 12 workers in each small room and only a couple of electric fans to keep us cool. We're packed like sardines in a tin and it's impossible to sleep on summer evenings."
He complains that the men's dormitory blocks had only 24 squatting toilets for 320 workers. "There are always queues and it's very hard to find one you can use in the mornings or evenings before and after work."
A 48-year-old woman worker says she and her husband pay 150 yuan a month to live in an apartment outside the factory. "The dormitories are crowded and have broken windows – workers have to stuff them with paper to keep warm in the winter," she says.
"We have to carry on working here because we come from a very poor village and we have a son in university who we have to support."
Assembly line workers say they are set production targets of 1,200 plastic princess figures for
Frozen
toys with the promise of an end of month bonus of 200 to 300 yuan, but the targets are almost impossible to achieve.
"It's a very tough place to work and it's hard to earn enough to get by," says a 44-year-old worker from Henan province who has been at Zhenyang for five years. "These days, as I get older and a bit slower, I struggle to earn 2,000 yuan a month."
The undercover investigator who infiltrated the factory says: "If a worker comes to the factory one minute late, or leaves one minute early, they are fined half a day's salary. If a worker is absent for three days, they are automatically fired.
"The bosses are not only harsh but they are mean. At most factories, bosses give their workers a few hundred yuan each at Lunar New Year. At Zhenyang, they are each given a red envelope containing just five yuan."
Zhenyang is just one of a vast network of subcontracted factories across China producing toys for Disney. An estimated 75 per cent of toys sold worldwide are still made in China, even though other low-skill, low-pay industries have migrated to countries such as Bangladesh, Vietnam and Cambodia.
However, the factory is clearly struggling to find enough workers to man its production lines and has banners outside its main entrance promising a 300 yuan bonus for new hires.
China Labor Watch estimates each worker in China earns less than two US cents for each toy he or she makes. In some factories they earn only one 2,000th of the retail price of the toys.
The group calculates it would take a toy factory worker in China 7,000 years working 11 hours a day, six days a week, to earn what Disney CEO Roger Iger makes in one year, based on his US$47.7 million pay in 2014.
Pointedly, workers at Zhenyang were aware of the new Disney theme park that has opened in Shanghai after broad coverage in the Chinese media – but say they have no chance of ever visiting it.
"I've seen the news about Shanghai Disneyland on the TV and I grew up watching Disney on TV. I'd love to go if I had the time and the money," says a 25-year-old woman worker.
"It's just a dream though. Shanghai is a long way away and all I can think about is making enough to pay my bills and send something to my family back home."
The bill for a couple with one child to visit Shanghai Disneyland, including food, drink and souvenirs, is estimated by the Beijing Youth Daily newspaper to be 2,763 yuan – a month's wages for a worker at Zhenyang.
Until consumers start to demand better working and living conditions for the people who make Disney toys, there will be no happy ever after for the migrant workers toiling in factories like Zhenyang, China Labor Watch says.
"The beautiful world of Disney is merely a fairy tale," its report concludes. "The real world is one where evil has triumphed over good and where profits triumph over conscience. It is the management behind Disney who are the real villains."
The report is the second in the space of seven months by China Labor Watch into conditions at the Zhenyang factory and a spokesman for Disney acknowledged "violations" by the manufacturer.
"In response to the report from China Labor Watch, external investigations were immediately conducted as well as additional checks by our own investigators," the spokeswoman said in an e-mail.
"Violations were identified and we continue to work with the licensees involved to fix these issues. We will pursue all our available contractual remedies to help ensure that our requirements and expectations are met."
Tai Nam is based in the Golden Dragon Industrial Centre in Kwai Fong and owned by David Chu Kei-kwan, who refused to comment on the report. His secretary said: "I have checked with Mr Chu and he says he is sorry but he has [no] comment and he does not want to talk to you about this issue."
This article appeared in the South China Morning Post print edition as: The cinderella workers