Google
Get more with myNEWS
A personalised news feed of stories that matter to you
Learn more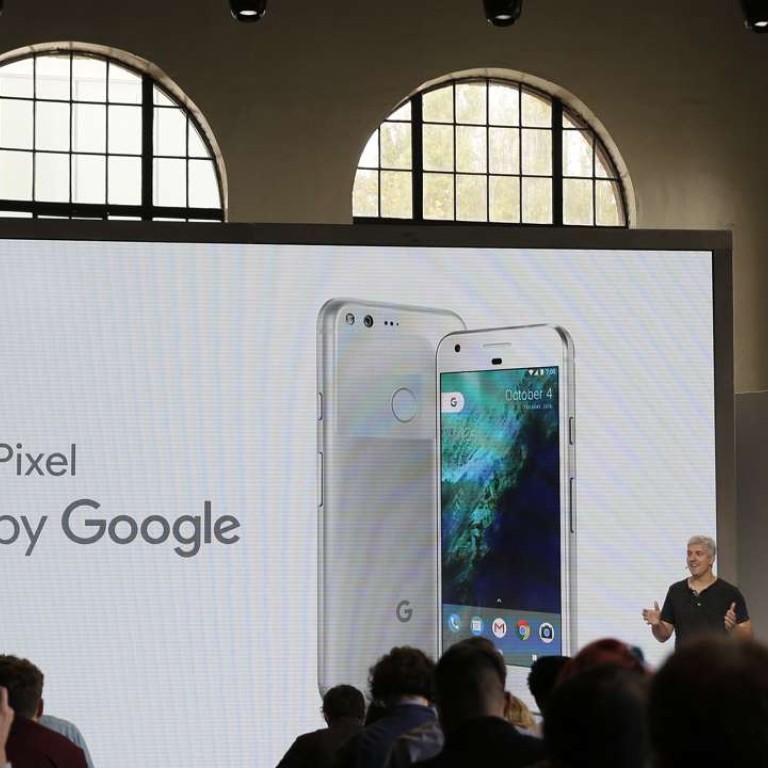 Update

|
The battle for smartphone supremacy: Google unveils new Pixel phone and VR headset to take on Apple and Amazon
Pixel phone to challenge Apple supremacy at high-end market
Google ratcheted up its rivalry with Apple and Amazon by unveiling new smartphones, an internet-connected speaker that channels a digital assistant, and other gadgets the company hopes to make indispensable
The devices announced Tuesday are part of Google's bold move to design and sell its own hardware, instead of just supplying Android and other software for other companies to make products. Google's previous attempts at hardware have had limited distribution and included such high-profile flops as its internet-connected Glass headgear.
This time around, Google is betting that it can design software and hardware to work seamlessly with each other. That's an art Apple mastered over the past 15 years as it turned out finely crafted iPods, iPhones, iPads and Macs.
Borrowing another page from Apple's book, Google is backing its expanded product lineup with the biggest marketing campaign in its 18-year history. The company isn't disclosing how much it will spend, but made it clear the ads touting products "Made by Google" will be ubiquitous during the next few months.
"They have done some advertising in the past, but it's never been with this kind of 'let us take care of everything for you' way," Gartner analyst Brian Blau said. "This is more like Apple's way of doing things."
The new phone starts at a price of $649, and Google is working exclusively with Verizon Communications in the United States, Google executives said at a launch event in San Francisco.
Google's decision to launch with a single carrier echoes Apple's agreement to launch the original iPhone with AT&T, a deal that gave Apple unprecedented control over the look of the phone and how it worked.
While most vendors other than Apple use Google's Android operating system, the company has for years toyed with various approaches to building its own hardware without alienating manufacturers such as Samsung Electronics, the world's top smartphone maker.
Google also announced a "Daydream View" virtual reality headset, which will be available in November for $79, in time for the end-of-year Christmas and New Year holiday shopping season.
Google hardware chief Rick Osterloh announced the Pixel phone shortly after the event began, adding that the camera was the best available on a smartphone. The new phone can get a 7-hour charge in 15 minutes, the company said.
Pixel phones will come in black, blue and silver and will have 5 and 5.5 inch (12.7 cm and 14 cm) screens.
Google's virtual reality headset is cheaper than other options in the market.
Alphabet's Daydream View is a headset and controller for viewing virtual reality media with a smartphone. At $79, the price is well below products from HTC Corp. and Facebook Inc.'s Oculus, which cost hundreds of dollars.
Google has had some success distributing its Cardboard device, an even cheaper VR viewer with fewer capabilities. The new headset will enable a broader range of VR experiences, like gaming and movies. The controller could also help match some of the features of higher-end VR devices.
Google has sold another line of phones, called Nexus, since 2010, but the devices have gained little traction in a market dominated by Samsung Electronics.
Because its mobile software is available so widely, Google has struggled to distinguish its own devices, said analyst Jan Dawson of Jackdaw Research.
Google "wants to have this end-to-end experience, but it's not clear that people really want that," Dawson said.
The launch coincides with the release of Daydream, software that Google hopes will replicate the far reach of its Android mobile operating system. By making its VR gadgets cheap, the company aims to get its system used by as many people as possible.
Still, the only phone that currently works with Daydream View is Google's new Pixel smartphones, which were also released on Thursday. Google had to meet certain hardware and software requirements, like display latency and heat dissipation, to operate VR on phones, Android chief Hiroshi Lockheimer told Bloomberg in a recent interview. More Android phones will be compatible with the viewer soon, according to the company.
"The significance of Daydream is it should move the VR theme forward because it raises the hardware bar on phones needed for VR," Gene Munster, an analyst with Piper Jaffray, wrote in a research note. "In 3-5 years most Android hardware will be Daydream-enabled."