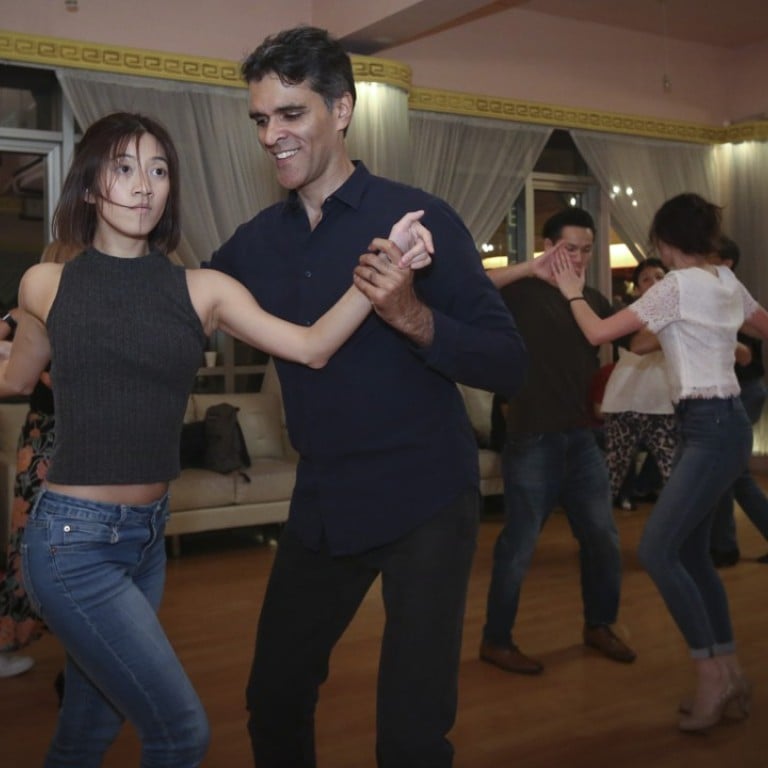 A history of Hong Kong's love affair with Latin dance, from salsa to kizomba, the top instructors and where to strut your stuff
After its sanitised beginnings in colonial Hong Kong, Latin dance really took off after the handover, when devotees Bo Ko Si-liu and Ricci Yasin started holding salsa parties. Now fans can dance the night away from Monday to Sunday
At a club in Causeway Bay on a recent Saturday night, a group of men and women have gathered to dance. And although they come from different countries and from all walks of life, they have learned to express themselves through the common languages of salsa, bachata and kizomba.
Welcome to Hong Kong's thriving Latin dance community, whose members meet in different venues across the city every night of the week. Anyone can join in the fun.
During colonial times, a sanitised version of Latin dance was prevalent in Hong Kong. In her 2008 book,
Ballroom, Boogie, Shimmy Sham, Shake
, Julie Malnig writes that the British codified and standardised Hispanic dance culture because it was easier to market and distance from its African origins. As a result, Hong Kong's early exposure to Latin dance came mainly through the ballroom, and the essence of Latino culture was lost.
However, the city's Latin dance scene was galvanised in 1997 by a ponytailed Chinese teacher named Bo Ko Si-lui. Bo, who hosted Salsomania nights and Cuban-style salsa classes at the Viceroy of India restaurant in Wan Chai, had spent 20 years in Spain, where he fell in love with the seductive moves. (Bo mysteriously receded from the scene several years ago.)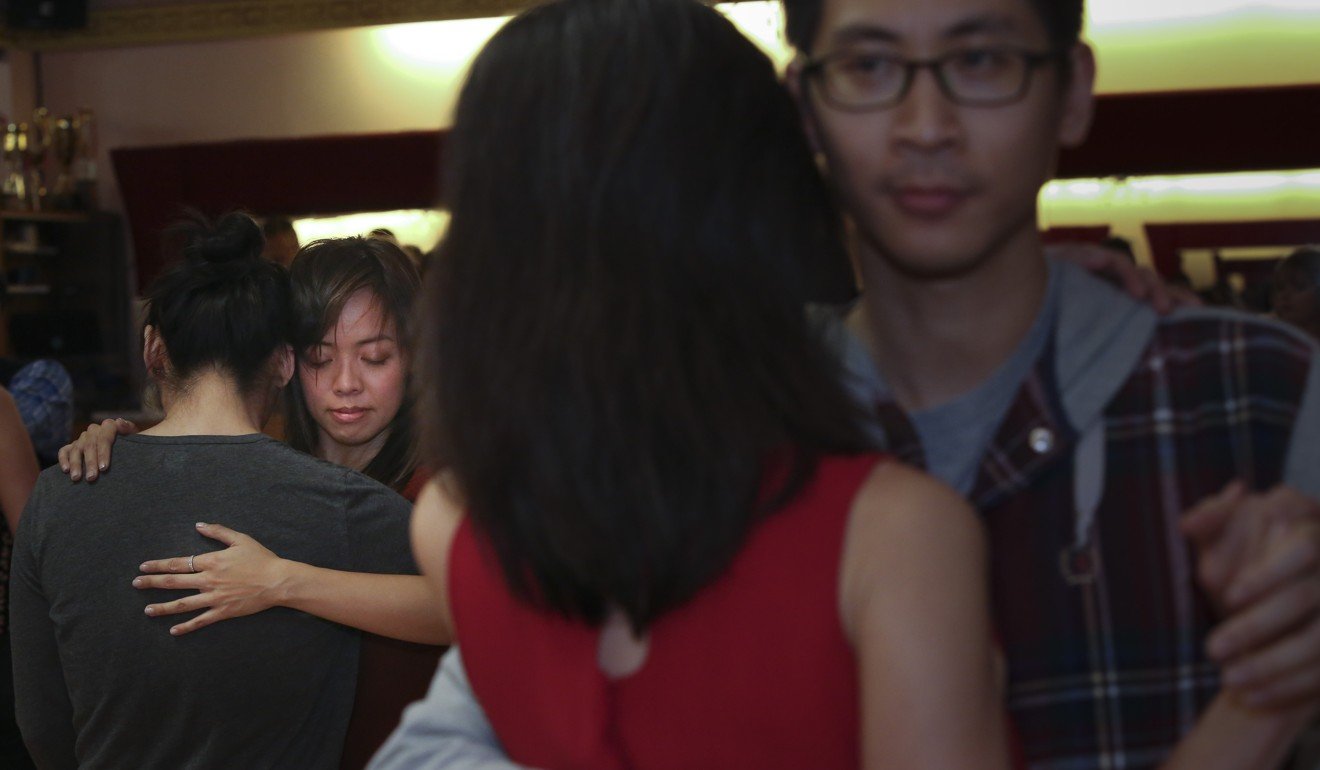 One of Bo's students, Dekai Wu, a professor at Hong Kong University of Science and Technology, recalls that before Bo came along, the city's Latin dance community comprised only a handful of students who got together at the Fringe Club. "He was the only one who was really teaching salsa dance. He had a passion for it. Quality dance or not, nobody else was proselytising it," Wu says.
"The British had this whole thing of making everything into a game, a sport. Here when people find out I'm a musician someone would say 'What grade are you?' There are certificates, exams, associations, societies, clubs … It's the street form of this music and dance where the soul of it really is."
Hong Kong salsa teacher Franky Wong says he was first exposed to authentic Latin dance when he attended university in Canada in the early 1990s, and realised it was very different to what he'd learned in Hong Kong. "My instructor had an idea, 'Let's go to the Latin club in Victoria' [Canada]. We thought that were we going to kick ass.
"We got there and my jaw dropped. The people were not doing anything related to what we did. We both called it Latin, but our Latin was based on the syllabus designed by the British and was catered for competition. In that club, I thought, all the people were very creative … they really danced. I saw all of the Mexicans. They were so happy dancing with all of the beautiful girls, blond, and taller than them. I got the perception, this is the Latino culture."
Colombian dance teacher Rossana Estrada, a newcomer to Hong Kong, describes Latino culture as fun and festive. "The main idea of it is that, at a party, it doesn't matter if you are a professional dancer or you just know one step, you can dance the whole night because you are there to have fun."
Salsa originally gained popularity in New York during the 1960s. Although based on Afro-Cuban genres, particularly the mambo, salsa became a style in its own right through innovations in composition and instrumentation, scholars and musicians say.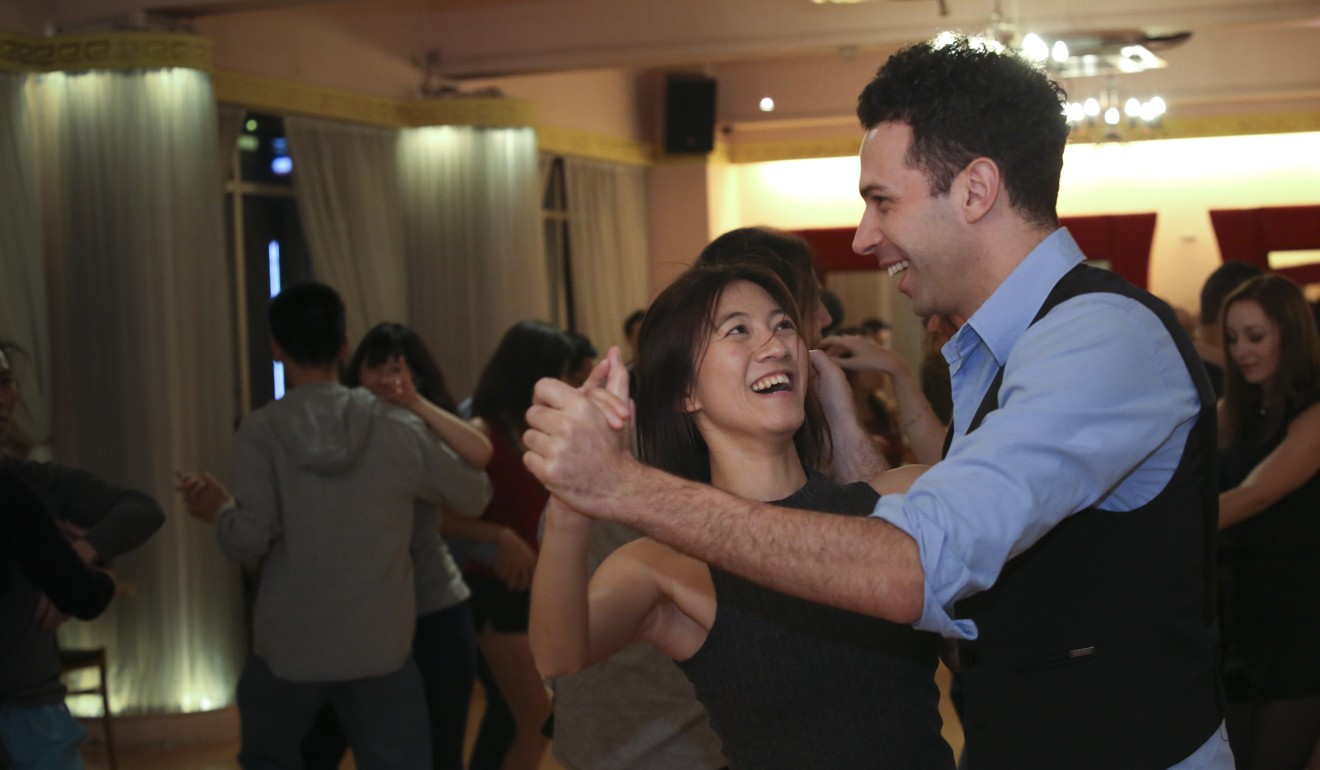 In 1997, Ricci Yasin came to Hong Kong after finishing his studies in London. Yasin had learned the salsa style called On1, known for its many intricate turn patterns. Along with Bo, Yasin was instrumental in helping Hong Kong's Latin dance scene mature stylistically.
Yasin had become familiar with salsa in Cuba, and after returning to London encouraged his friend and co-worker, Joseph Ennin, to learn the dance. When Yasin moved to Hong Kong, Ennin continued to study salsa, eventually winning a European salsa championship. Trophy in hand, Ennin moved to Hong Kong to help his friend promote salsa parties.
"At the time Ricci was starting a big party in Times Square. Before it started I was dishing out the flyers with him, on the streets, everywhere," Ennin recalls.
The two worked to develop the scene and organise parties during the peak of Hong Kong's salsa craze in the late 1990s, when up to several hundred people might turn up to a party.
Around this time, Franky Wong returned to Hong Kong seeking authentic Latin dance culture, eventually tracking down Yasin for lessons. Before long, Yasin, Ennin and Wong had become the city's main Latin dance instructors and party organisers.
On1 remained the main form of salsa practised in Hong Kong until a decade ago, when Alex Amoroso arrived from London, bringing the On2 salsa style.
To the casual observer, On1 and On2 may look similar, but that's not the case, Amoroso says. "The two styles are nothing alike." Although On2 uses turn patterns, the timing is different and there is an added focus on footwork, known as "shines". Amoroso insists that On2 offers a better connection to the various rhythms played in salsa music.
Another form, which has evolved into one of the world's most popular Latin dances, is bachata, which originated in the Dominican Republic.
Shirley Kent teaches bachata in Hong Kong. It's a sensual dance to throbbing beats and looks like salsa on steroids. "Salsa will always be around, but more people like bachata. Dancing bachata is romantic, it's graceful," says Kent.
Despite the intimacy on the dance floor, it doesn't need to go further. Yasin, who now also teaches bachata, says: "I always tell my students, it's your prerogative how close you want to come. I teach them how to adjust their frame to give the guy a signal. There are ways of adjusting your style to not be so close."
Bachata is not the sexiest dance on the floor; that accolade belongs to newcomer kizomba, a social dance from Angola, and often described as the "African tango". It has fewer turns and spins than salsa.
Dave Vainqueur started teaching kizomba in Hong Kong two years ago and has made his mark with a teaching style that focuses on musicality. He says traditional kizomba is easier to learn than salsa.
Kizomba has become a hit in mainland China, too, where there are regular conferences and festivals focused on the dance.
Internationally recognised kizomba expert Nelson Campos says: "Kizomba is becoming more and more popular around the world and the Chinese dancing community has embraced this wave of kizomba."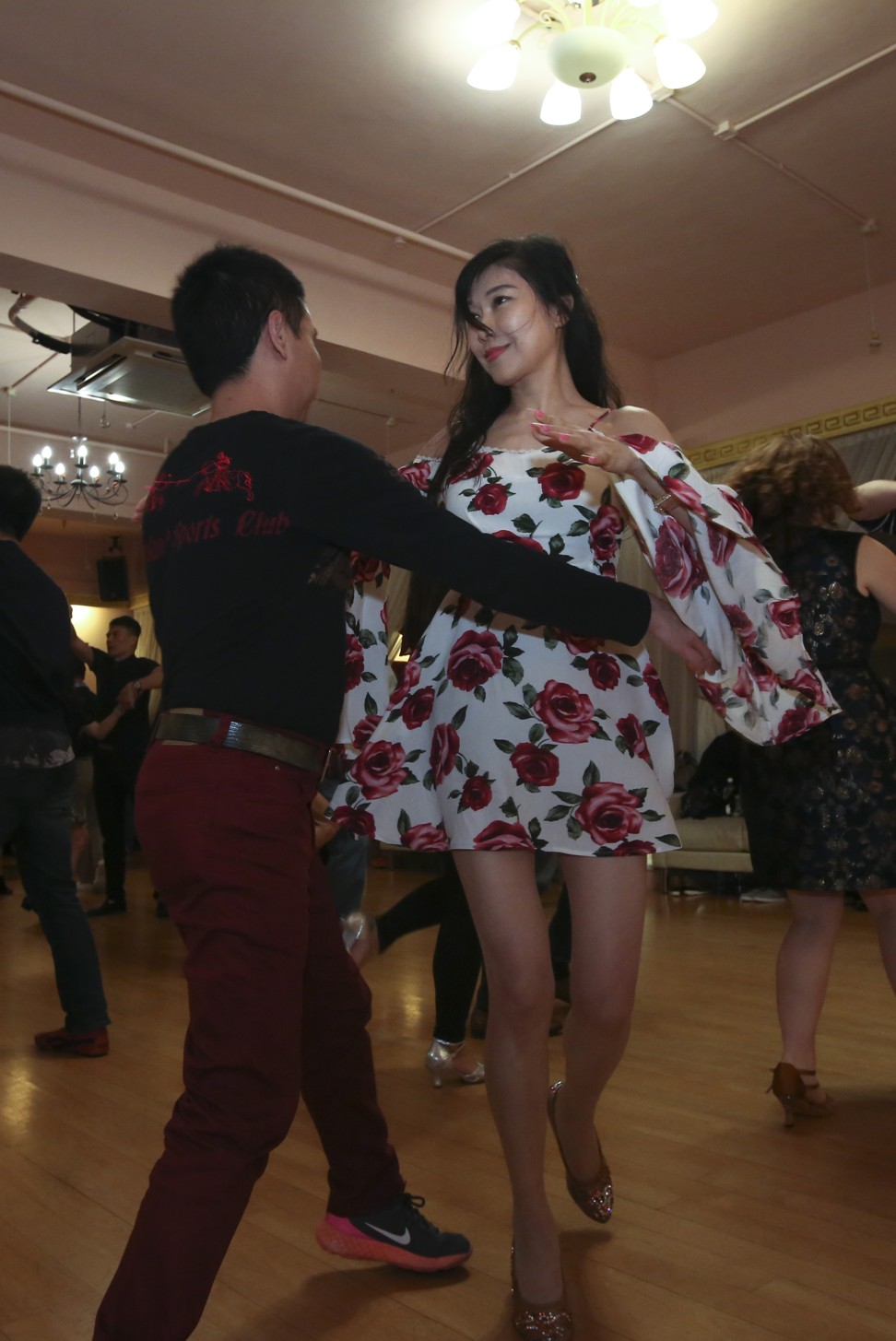 Anyone new to Latin dance may be apprehensive about the possibility of finding they have two left feet, no rhythm or no coordination. It's an initial period of awkwardness known as "salsa hell".
Javed Rasool, a Hong Kong-based teacher who started dancing in 2005, says salsa is easy to learn, but difficult to master: "It needs dedication; it needs passion."
Rasool hosts parties several days a week, each beginning with a lesson. "If you really want to learn salsa, then you must learn at studio classes. At the parties, we don't teach technique, we just teach funky moves. Those who are really interested, we ask them to come and join the classes, in the studio is where we teach with all the proper technique."
No one is too old to learn. Community regular Mrs Tsim, who goes along with her husband, started dancing at the age of 60. "We like Latin music. There is no syllabus to learn and no fixed partner needed. Salsa keeps our mind and body healthy," says Tsim, who is now 77.
WHERE TO GET YOUR LATIN FIX IN HONG KONG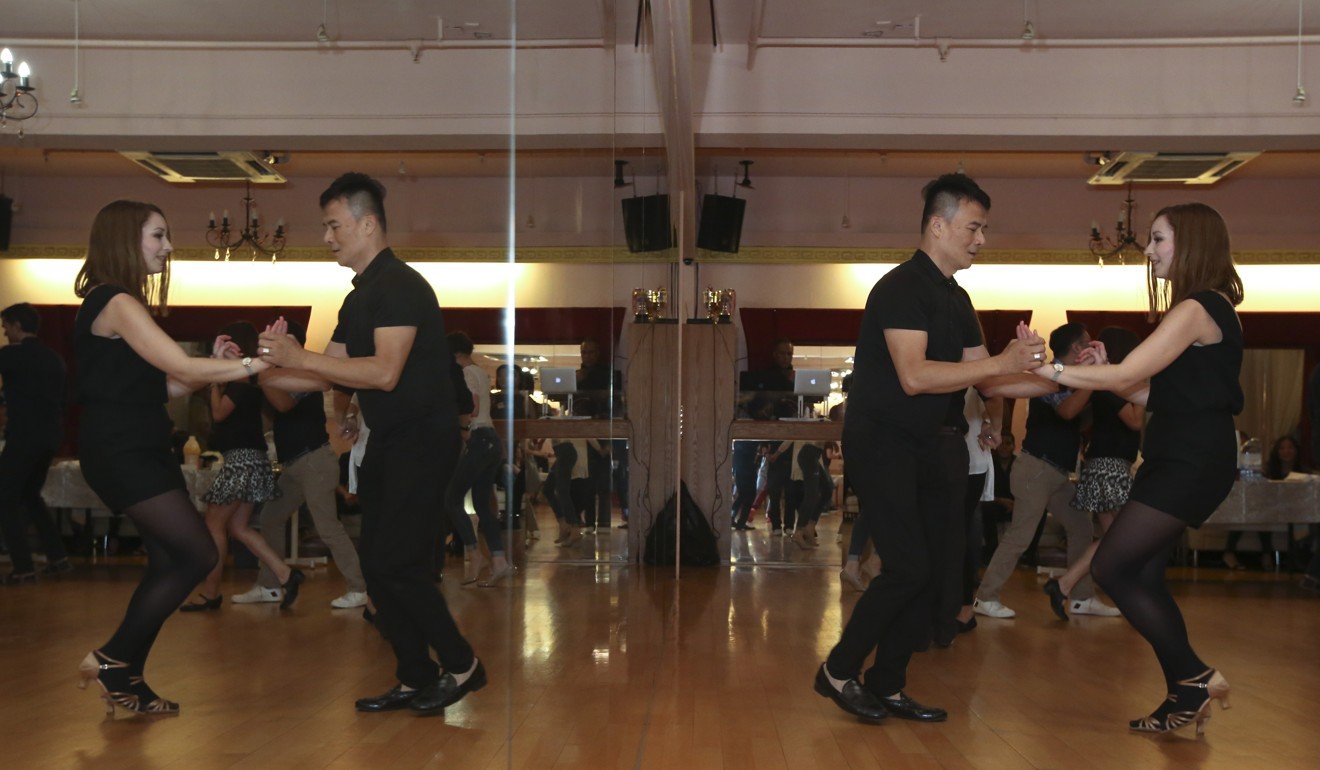 Monday
After Work Salsa
Rula Bula, 58-62 D'Aguilar Street, Central, tel 6389 6213.
Party starts at 8pm. Salsa lesson at 8:30pm, party until late. Free entry. Hosted by Javed & Robson.
[email protected]
; dancewithstylehk.com
Monday Kizomba Social
Picada 2/F, LKF29, 29 Wyndham Street, Central, tel: 2526 7538. Lesson with Dave starts at 8:45pm. Free entry.
Tuesday
Viva la Salsa
Volar, B/F, 38-44 D'Aguilar Street, Central, tel: 9634 9770.
Doors open 8pm. Salsa class: 8:30pm. Party until 1am. HK$150, includes two drinks. Hosted by Dancetrinity.
[email protected]
; dancetrinity.com
Afro Latin Party
Mezcalito, 27/F, 18 On Lan Street, Central.
Kizomba fusion with Davis 9pm to 10pm. 10pm until late, kizomba tarraxa, semba salsa, bachata zouk music & dance. HK$130, includes one drink. facebook.com/daviskisombahk
La La Latin
Picada, 2/F, LKF29, 29 Wyndham Street, Central, tel: 2526 7538.
Classes 8:30pm to 10:30pm. HK$120, includes one drink. Hosted by Rossana
Cuban Nights
Ce La Vi, 25/F California Tower, 32 D'Aguilar Street, Central, tel: 3700 2300
Wednesday
Sensual Wednite
Bar Six, 6/F Parekh House, 63 Wyndham Street, Central, tel: 9522 0093
Bachata, kizomba and zouk. HK$100, includes one drink, HK$150, includes two drinks. Hosted by Shirley.
[email protected]
The Funkiest Salsa Party in Town
Fire & Ice, 9 Lan Kwai Fong, Central. 9pm until late. Free entry. Hosted by Joseph.
Thursday
Kizomba Party
Danzstage, 20/F, 148 Electric Road, Tin Hau, tel: 9030 5565.
10pm until late. HK$120. Bring your own drinks. Hosted by Ricci.
[email protected]
; facebook.com/rysalsa
Salsa Nights
Rude Bar, Upper Basement, 79 Wyndham Street, Central, tel: 2950 9608.
Friday
Salsaman Social
Danzstage, 20/F, 148 Electric Road, Tin Hau, tel: 9410 8652.
Hosted by Franky. From 8:30pm. Lesson from 9pm. Bring your own drinks.
[email protected]
; WeChat ID: hksalsa; facebook.com/salsamanhk
Salsa Fever
Morrison Restaurant & Bar, 284 Queen's Road Central, tel: 6389 6213.
9pm until late. Free entry. Hosted by Javed & Robson.
[email protected]
; dancewithstylehk.com
Latin Beat Party
Mahalo Tiki Lounge, 29/F, QRE Plaza, 202 Queen's Road East, Wan Chai, tel: 2488 8750.
Saturday
Saturday Night Live Salsa Party
20/F Richmond Plaza, 496 Jaffe Road, Causeway Bay, tel: 9030 5565.
Lessons from 9:30pm with guest instructors, party from 10:30pm to 2:30am. HK$120. Bring your own drinks. Hosted by Ralph & Ricci.
[email protected]
; facebook.com/snlhk
Saturday Night Latin Fever
Picada, 2/F, LKF29, 29 Wyndham Street, Central, tel: 2526 7538.
10pm to 2am. Free entry.
Sunday
Las Noches Locas
Mazu, UG/F, 8-11 Lan Kwai Fong, Central, tel: 9410 8652.
7:30pm to 1am. Dance lessons 7:30pm. Free entry. Hosted by Franky.
[email protected]
; salsamanhk.com
Salsa Fusion
Rula Bula, 58-62 D'Aguilar Street, Central, tel: 6389 6213.
Lesson from 8:30pm, party starts at 9:30pm. Free entry. Hosted by Javed & Robson.
[email protected]
; dancewithstylehk.com
Instructors
Sherman Mosquito (salsa, bachata)
dancemos.com
Ricci Yasin (salsa, kizomba, bachata)
facebook.com/rysalsa
Dave Vainqueur (kizomba)
facebook.com/davidkizombahk
Javed Rasool (salsa, bachata)
dancewithstylehk.com
Franky Wong (salsa, bachata)
salsamanhk.com/
Joseph Ennin (salsa, bachata, kizomba)
facebook.com/joseph.ennin
Alex Ameroso (salsa, bachata)
hk.dancetrinity.com
Rossana Estrada (salsa, bachata)
rossanaestrada.com
Shirley Kent (sensual bachata)
facebook.com/BachataHK
Stella Wang (Latin jazz, salsa, bachata)
ladanz.com
This article appeared in the South China Morning Post print edition as: rhythm of the night