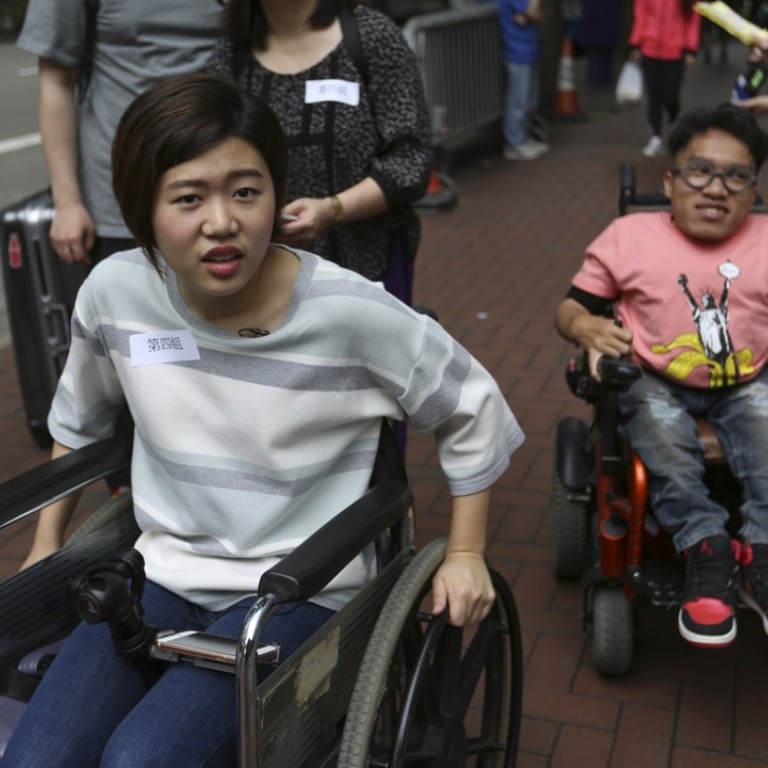 Why Hong Kong is so hard to get around if you're in a wheelchair or blind, and what could be done to make city more accessible
Outdated and ineffective government regulations, profit-hungry property developers and ill thought out designs make the city far from barrier-free, as we discover on a half-day wheelchair challenge
As if navigating the crowded streets of Hong Kong in a wheelchair isn't frustrating enough, there are far greater obstacles to overcome. To better understand those barriers, I took up the challenge of completing six tasks while in a wheelchair – and soon understood how inacessible Hong Kong is for those, such as the disabled and elderly, who use one to get around compared to Japan, Singapore and many European countries.
Supposedly barrier-free facilities are not designed from a user's perspective, wheelchair users say – something architects blame on inflexible and outdated government regulations.
Rachel Cheung tackles the wheelchair challenge
One of the challenges set by Arts with the Disabled Association Hong Kong and WYNG Media Award Masters was to take a photo inside Wan Chai Computer Centre. It sounds simple enough, but it becomes almost impossible in a wheelchair.
I circled the building, pushing myself through the crowd, before finally finding an obscure wheelchair symbol in the alley near Southorn Playground. There's another building between the alley and the Computer Centre, and we wouldn't have known the buildings were connected if the organiser had not told us.
I wheeled myself towards it, turning in to a dark doorway, only to find the gate shut. I then tried my luck at the back of the building, from the car park where a cargo lift was located. Reaching the lift means going through five doors and up a long ramp, by which time my arms were aching. Once in the lift, the door wouldn't close. To make matters worse, calls to the management office at a number listed on the wall went unanswered.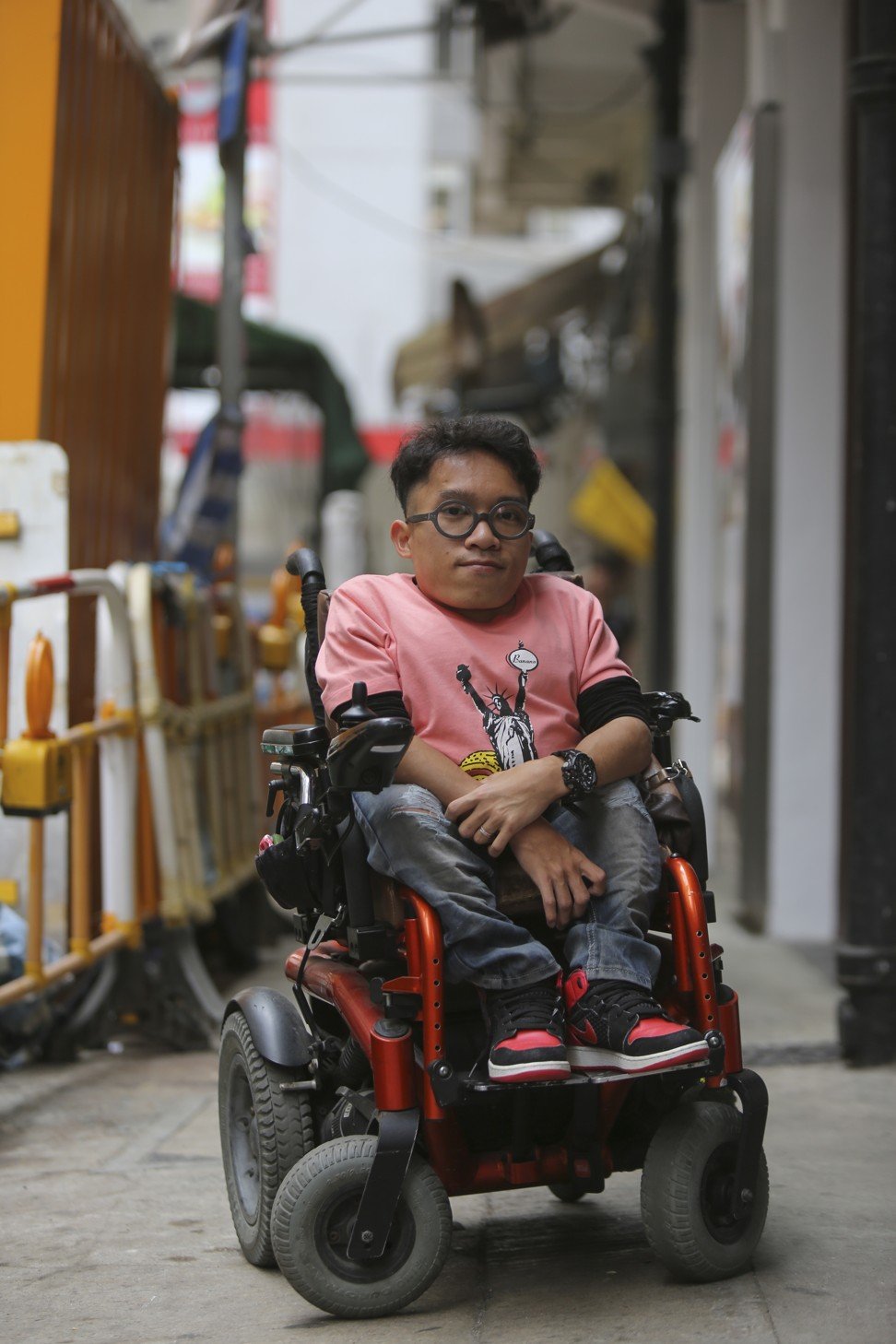 Wheelchair users face such frustrating scenarios on a daily basis, says Kevin Cheng Kai-man, a wheelchair-bound photographer with the disabled association. Cheng was charged with assigning the tasks to help participants understand the challenges.
"Wheelchair users need to spend a great deal of time planning their route whenever they are heading out onto the streets," says Cheng. It's also essential to be quick-witted because there are often unexpected obstacles to overcome. On numerous occasions he has got off an MTR train to find that the only lift is being worked on, forcing him to go to the next station.
"Designers only put the facilities in place to fulfil requirements. They don't truly consider how they can build an inclusive environment," says Cheng.
Jason Ho Ka-leung, who sits on the executive committee of the Hong Kong Blind Union, agrees. Ho, who is visually impaired, says there is a lack of attention to detail in urban design. "Even though lift buttons have numbers in Braille, some are wrong," he says. They may not match the actual floor numbers.
The Buildings Department's Design Manual – Barrier Free Access was last revised in 2008, and lists rules and guideline for architects. For example, the section on handrails specifies the required shape and dimension of handrails. Architects need approval for building plans from the Buildings Department before construction can begin.
Older buildings constructed before 2008 are the hardest to access because, unless they undergo major reconstruction, they are exempt from the rules. The manual also contains suggestions for best practices, such as an identifiable access route and uniform steps on a staircase. But since they're optional, they are not often implemented, Ho says.
The Buildings Department said in a response to SCMP.comthat the manual has been regularly reviewed.
Although it's the architects' job to draw up building plans, they are not entirely to blame for poor accessibility. Kenneth Ip Tze-chung, who designs residential buildings and hotels, says one practical problem in enforcing barrier-free access is pressure from real estate companies.
"Property developers want to maximise their profits, so barrier-free access is not a priority for them. When architects go farther than the minimum requirements stipulate, they see it as a waste of gross floor area."
In one case he encountered, a corridor had been built precisely to the required minimum width, and it was accessible by wheelchair, so it had to be rebuilt.
"Most of the difficulties stem from the inflexibility of the manual and the sometimes overly strict requirements. Hong Kong's approach to the provision of barrier-free access comes in the form of a checklist. This means there is little leeway," says architect Joey Yim Man-chung.
Taking a prescriptive approach rather than a performance-based one, where the code sets objectives and architects are free to find ways to meet them, makes it easier for the government to review the provisions. However, this fails to recognise the unique challenge of each project and stifles creativity. Furthermore, Hong Kong, with its limited space, is precisely the kind of place where innovative solutions are needed to improve accessibility.
Germany has similar barrier-free access rules, but gives some leeway provided that there is a feasibility study and representative bodies of people with disabilities are involved in the process. In Hong Kong, design proposals that do not meet the department's prescriptive standards can be presented to the Advisory Committee on Barrier-Free Access, which advises the department on the value of the proposal. However, architects say they rarely do that, as it could take a long time.
Countries such as Singapore and Norway have taken a more comprehensive, and arguably superior, approach to improving accessibility for people in wheelchairs – called "universal design". The term was coined by architect Ronald Mace in the 1980s. A polio victim confined to a wheelchair from the age of nine, Mace envisioned a world of equal access. Universal design refer to features that are usable by most people to the fullest extent possible without spatial adaptation.
Applied to architecture, universal design goes beyond the traditional approach of providing features as solutions for wheelchair users or the visually impaired. Instead, it aims to create an environment that addresses people of all needs and ages. Norway issued an ambitious action plan in 2009 by aiming to have the entire country universally designed by 2025.
"The government wants to move away from a way of thinking in which the individual is defined as the problem and special measures for people with disabilities are the main solution," the Norwegian government's action plan states.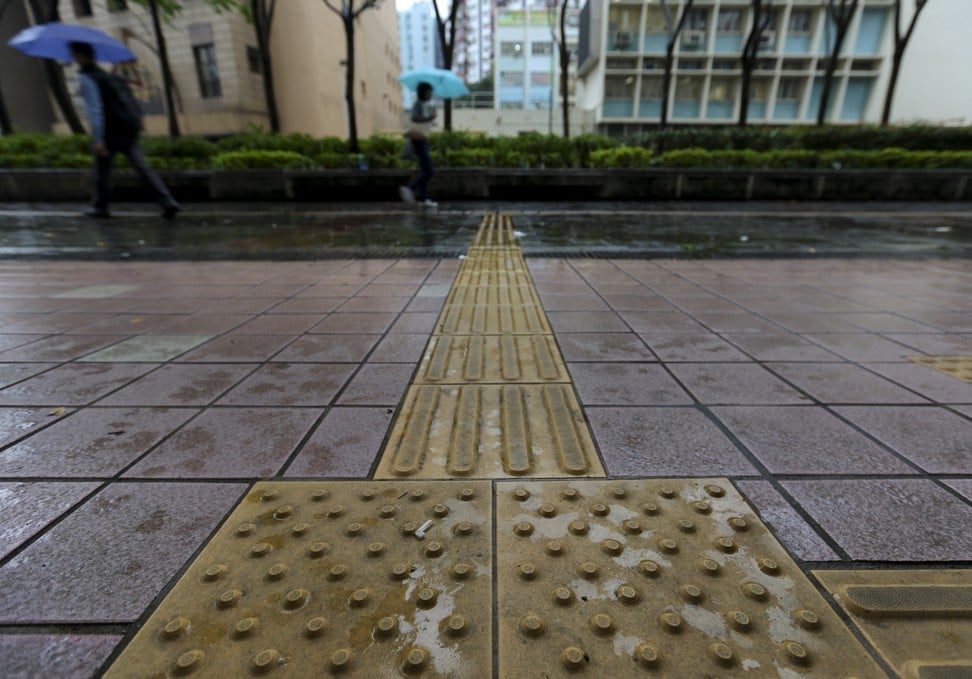 It also acknowledges the importance of cross-sectoral efforts in implementing universal design, a quality that is notably missing in Hong Kong. That's one of the main reasons local barrier-free designs are not consistent. For example, breaks are found in tactile paving between areas under the purview of different government departments.
Elsewhere in Asia, Singapore has a Universal Design Department within its building authority and updated its building codes on accessibility in 2014.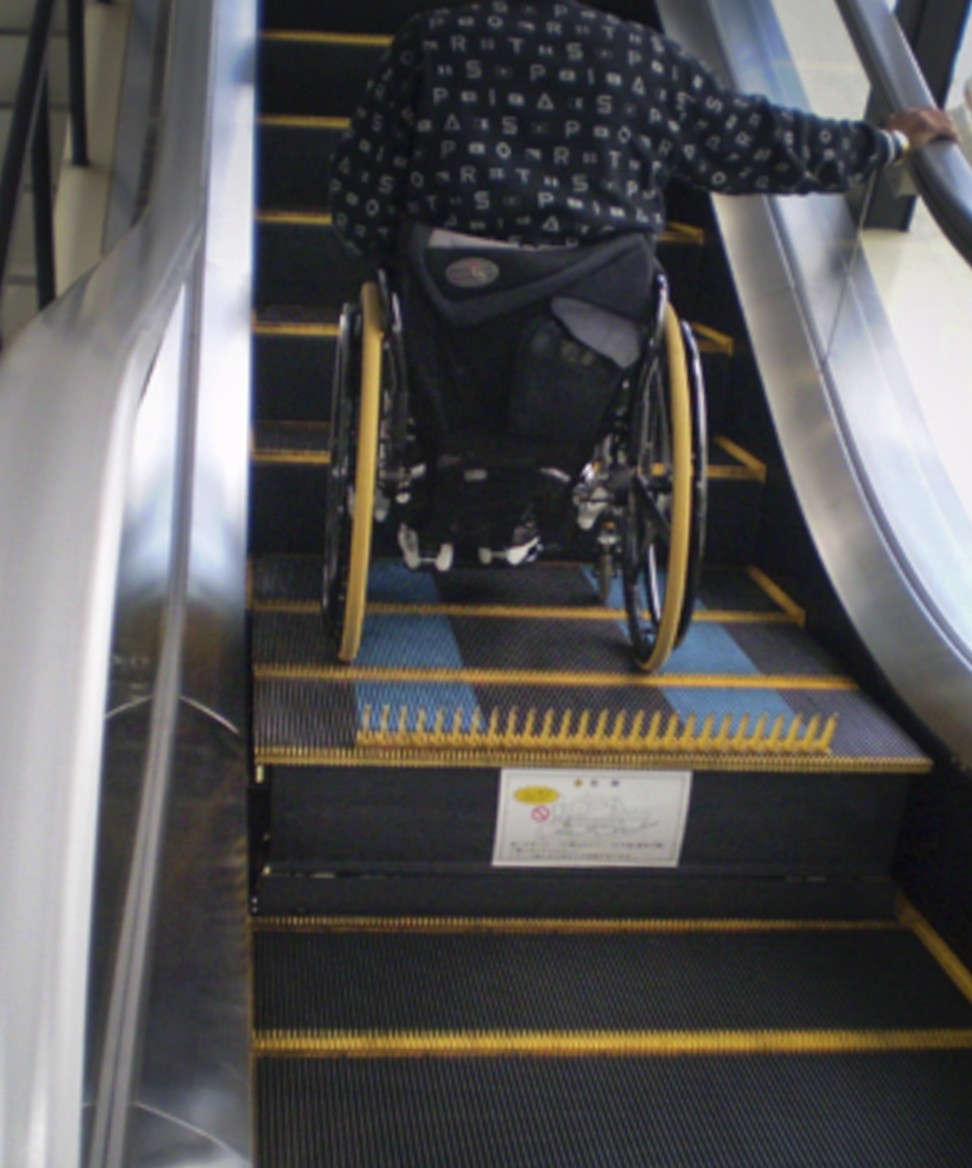 Taiwan has extended the principles to public transport and established awards to encourage innovative design. In Japan, a leading country in terms of accessibility, all escalators and toilet cubicles in airports are wheelchair accessible.
Architect Joseph Kwan has been advocating the concept in Hong Kong for more than two decades and believes it is viable to incorporate it in new developments. "Apart from wheelchair users, it also caters to people with strollers, pregnant women and the elderly. This can be up to 40 per cent of the population and thus a lot more cost-effective," Kwan says.
Given that universal design is a wide-ranging concept, the government might find it difficult to assess the accessibility of buildings. But Kwan says this can be overcome by forming a committee of experts to review building plans.
Another way to encourage more accessible design is to offer incentives to property developers. Currently, they can gain gross floor area concessions by adding green and sustainable features to their projects. Kwan believes the same policy should apply to accessibility. The only question that remains, Kwan says, is whether the government has the political will.
"It has to be government-led. You cannot rely on property developers to take the initiative because they only care about the cost," he says.
To architect Sammy Yee Kin-hang, what's more crucial is not how the code is written, but communication between architects, users and government in order to build an inclusive environment together.
Yee has also participated in simulation activities. He was walking down a staircase wearing a pair of goggles that blurred his sight, and a straitjacket that forced him to bend his back, when he realised the importance of having contrasting colours on a staircase – one of the rules in the manual and a feature many architects find aesthetically unappealing.
He believes the barrier-free access code is merely a tool to help architects consider the needs of minority groups, rather than a definitive standard. "Ultimately, I hope architects will not just stick to the code but go beyond it," he says.