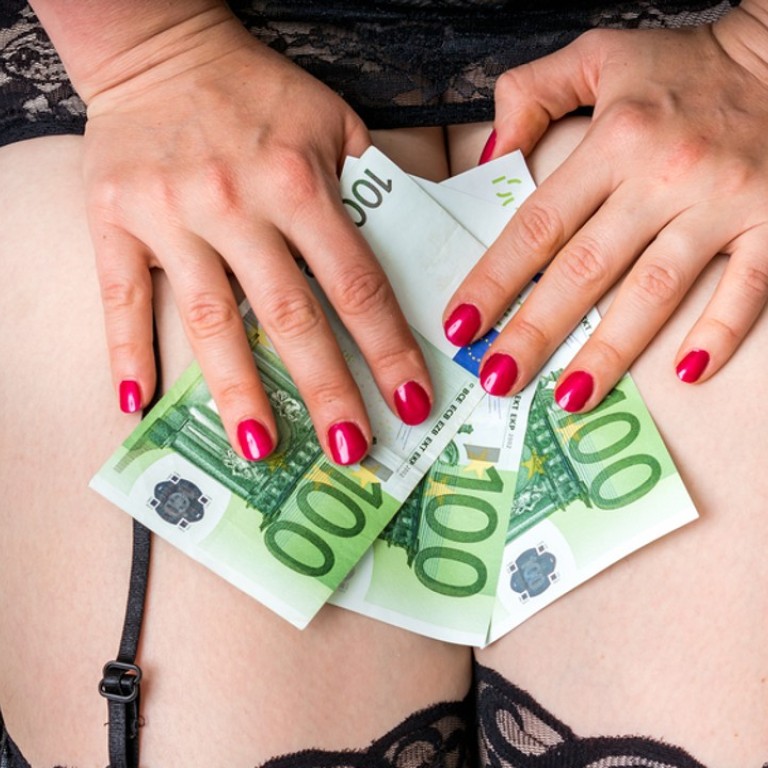 The 'findom' fetish in Asia: pay pigs, money slaves and why men don't want sex with the women they hand their cash to
The shadowy practice of financial domination – findom for short – has spread to Hong Kong's kink scene and even into China, but what sort of thrill do the men who spend thousands just to be teased and abused get?
Imagine regularly receiving money from distant admirers without having to lift a finger. A fetish called "findom", short for "financial domination", lets some women do just that – their clients, called "pay pigs", lavish them with cash and gifts for kicks, but no sex.
The costly kink is now being seen in Hong Kong, with local and visiting "dommes" offering findom services on the classified advertising site Backpage. And it's spread to China as well.
"It's a rather niche practice, even for us, and seems to be mostly online," says a source in the Hong Kong kink scene who requests anonymity. The source adds that BDSM (bondage, discipline, sadism and masochism) practices emphasise safe play and managing emotional and physical risks, and "with findom, I imagine the same should apply."
Frank negotiations are vital to avoid problems down the line, the source continues, highlighting the need for appropriate rules – such as monthly transaction caps or the exclusive use of clients' disposable income or put-aside cash for entertainment.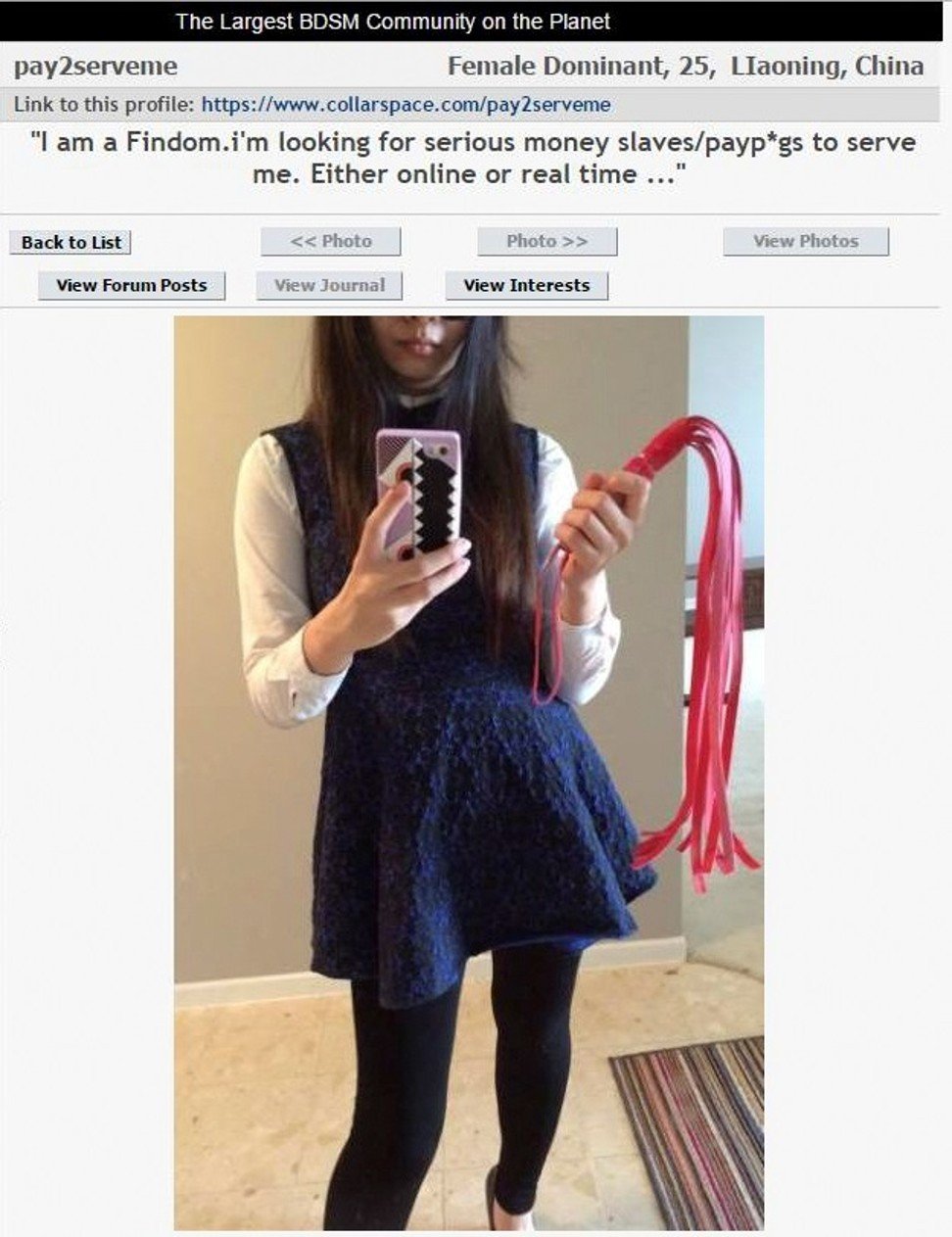 Like Hong Kong's findom scene, China's is shadowy. But Chinese findom practitioners are out there. One enterprising woman, who goes by the name Pay2serveme, operates out of Liaoning in the country's northeast.
The 25-year-old, seen in her profile picture with a whip in one hand and a smartphone in the other, says she is looking for serious money slaves or pay pigs. She accepts seemingly any form of tribute: Amazon gift card, bank transfer, Western Union, Moneygram and Paypal, among other methods.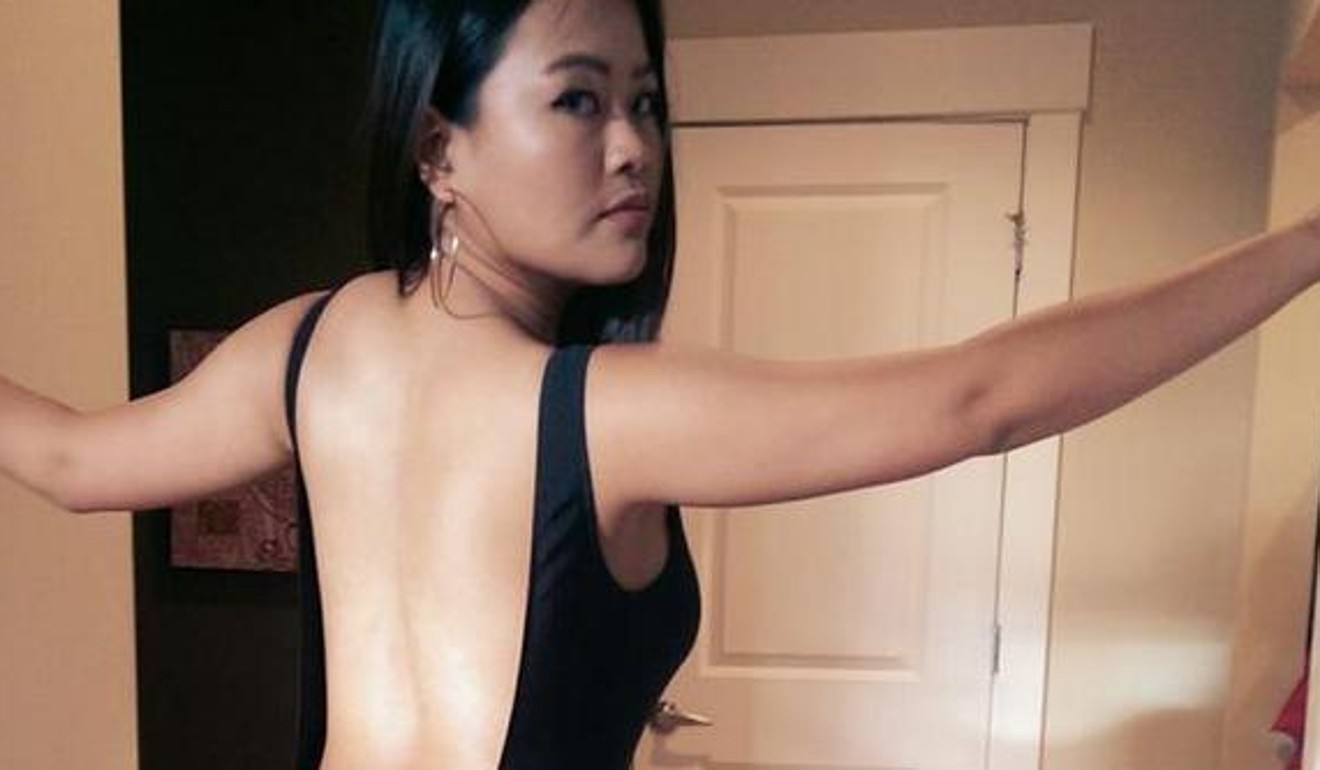 One well-known Asian findom practitioner is Philippines-born, Seattle-based Sydney Max Lee. Lee, 26, who goes by the name Astro Domina, has been in the game since December 2011. "Obviously I wasn't super successful back then, but it was the beginning of everything," she says.
After she started sharing online, submissive men began queueing up, lured by her dominant alpha Asian persona amplified by her willingness to share her life over social media. Her face and curves help, too, and she cuts a contrast with many other Asian women. "They're light-skinned, really skinny. What else? Kind of flat around the chest and no butt at all."
When asked why she got into findom, she says: "I just love the idea of a man who is willing and grovelling and on his knees right in front of me, handing over all of his money. It's a euphoric feeling – it's a type of power exchange that I just love."
Lee is a mix of four ethnicities: Chinese, Filipino, Spanish and Egyptian. Raised in Manila, she migrated to Seattle when she turned 21. And by cornering the curvy Asian domination market, Lee has become a rich woman.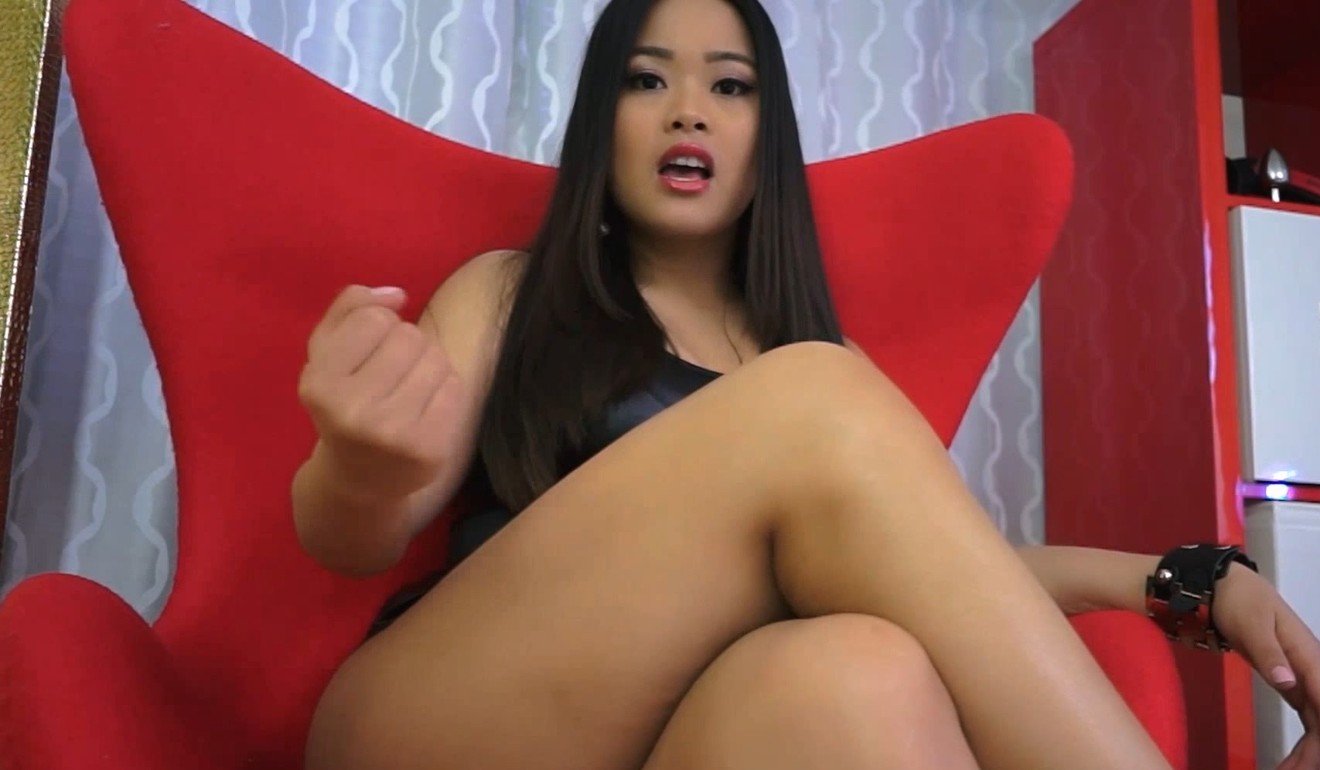 "In one session, I have made everything from US$3,000 to US$20,000. It goes up and up and up," she says, pegging her annual earnings at US$300,000.
Despite her professional emphasis on tributes, she looks down on the gold-digging findom practitioners she calls "rinsers". In her view, a dominatrix must avoid seeming money hungry and greedy. Her own attitude is motherly. Regarding her slaves, she says: "They're my little puppies. They're my little pets. And I feel like I'm the mum and they're my kids, and so I feel that I nurture them."
According to dominance blogger Mixtrix, many findom clients are highly successful. Their well-paid work involves much managerial responsibility and because of this, "they crave the ability to let go and have someone else be in charge", she says.
Being freed from the need to play that stressful role feels good, according to Mixtrix, who has a full-time live-in house slave.
For fellow blogger and money slave Massimiliano, 40, findom is thrilling and he loves the abuse – the sensation of being teased by beautiful women so that he loses control of his actions and his money.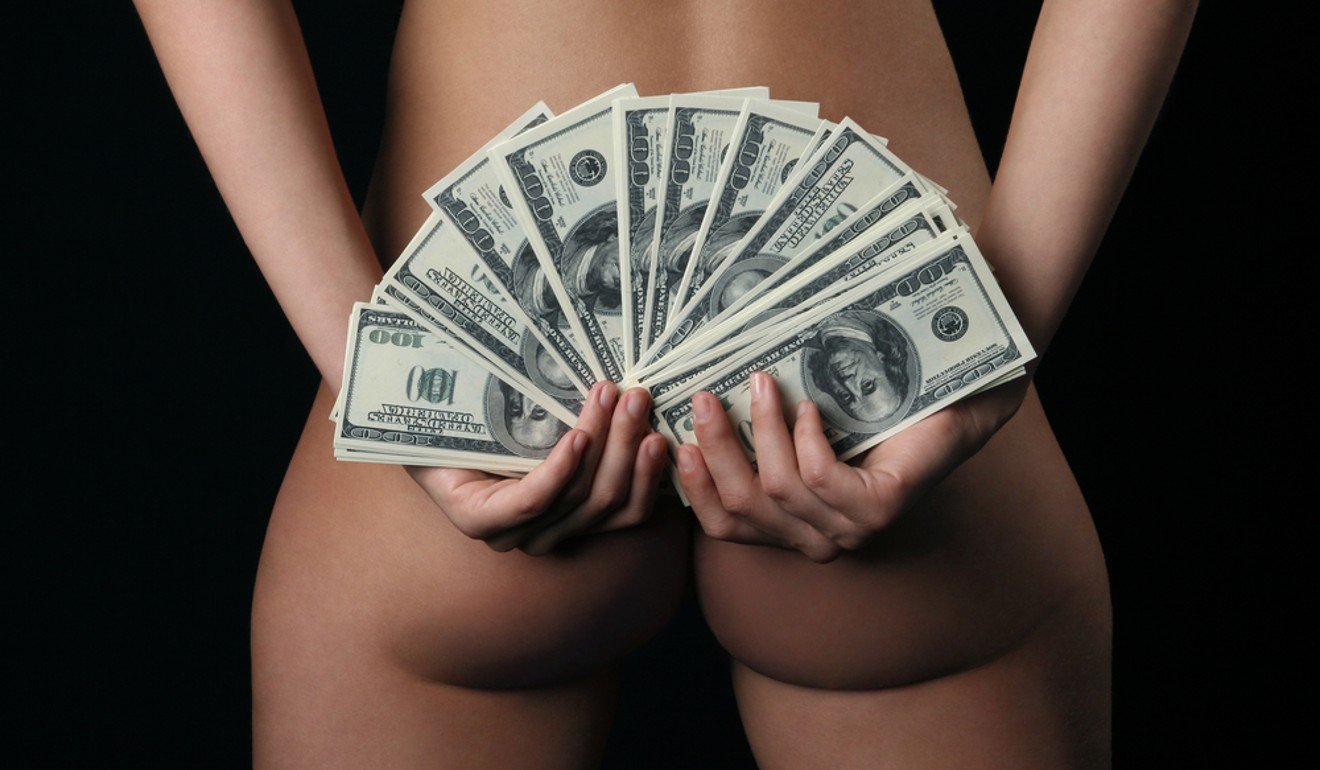 He accepts, even condones, sex being out of the question, as this would make the dominatrix seem less powerful in his eyes.
To sustain his fetish, the IT worker also takes on other jobs outside office hours, unable to quit his fetish. "I tried. It's impossible." Massimiliano estimates he has spent US$125,000 on his masochistic obsession.
A classic study by deviance experts Roy Baumeister and Jennifer Butler found that more men are masochists than women, and such men prefer acts that emasculate them, such as in findom.
On what it takes to succeed as a findom practitioner, Mixtrix says: "The good dommes make it look easy, but most dommes who try will fail or quit when they discover it is not a get-rich-quick scheme. The domme must be interested in dominating and controlling men, or it will not work."
The secret is understanding that findom is about sadomasochism, not money. "It is all about power exchange," says Mixtrix, who was previously a cocktail waitress.
She believes the domme must never appear to be in need of money, because that lowers her status and puts the "pay pig" in charge – the opposite of what he craves.
Mixtrix denies that the pay pigs are being exploited. "It is a consensual erotic exchange," she says, stressing the importance of consent. "The men who participate are engaging in a need, the same as any other fetish."
Massimiliano doesn't think there is anything weird about findom, adding that the fetish scene is full of things that are hard to understand. "I get excited by giving women money," he says. "So what?"