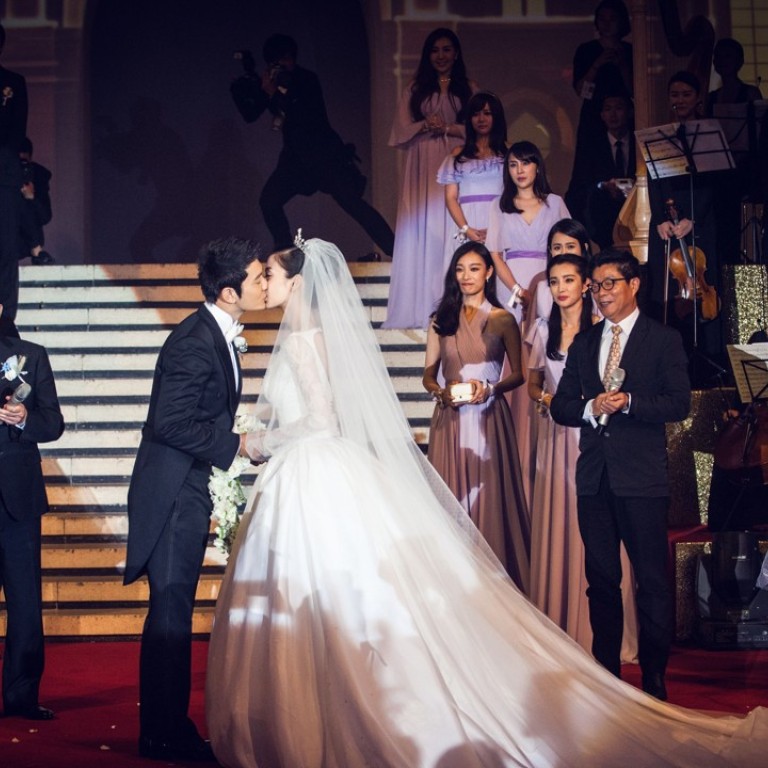 Five Chinese weddings to rival Pippa Middleton's: when money is no object for the rich and famous
Angelababy and Huang Xiaoming, Bruce Rockowitz and Coco Lee, Kenneth Fok and Guo Jingjing – nothing is too much for celebrities when it comes to the big day, even if sometimes it's over the top
When the rich and famous get married, they certainly do it in style. With money being no object, they are not shy about splashing their cash on extravagant celebrations, expensive gowns and jewellery, and even A-list entertainment, as these five Chinese weddings illustrate:
Huang Xiaoming and Angelababy
Screen stars Huang Xiaoming and Angelababy's HK$260 million wedding in October 2015 took extravagance to levels rarely seen even for celebrities. Their multimillion-dollar gala was held at the Shanghai Exhibition Centre, which costs more than HK$500,000 a day to rent. The couple called in a luxury florist to deck out the venue with tens of thousands of roses, and cut into a 2.5-metre-tall cake made to resemble a fairground carousel.
Angelababy wore a bespoke Dior ivory satin dress, crafted from 35 metres of satin organza, which took a total of five months to make. Her wedding ring, with its five-carat pear-shaped diamond, cost HK$10 million. More than 2,000 guests attended the party, held five months after the couple officially tied the knot in private. Each guest received a goodie bag containing a smartphone, on a special day said to have been supported by brand sponsorship and the couple's endorsements.
Bruce Rockowitz and Coco Lee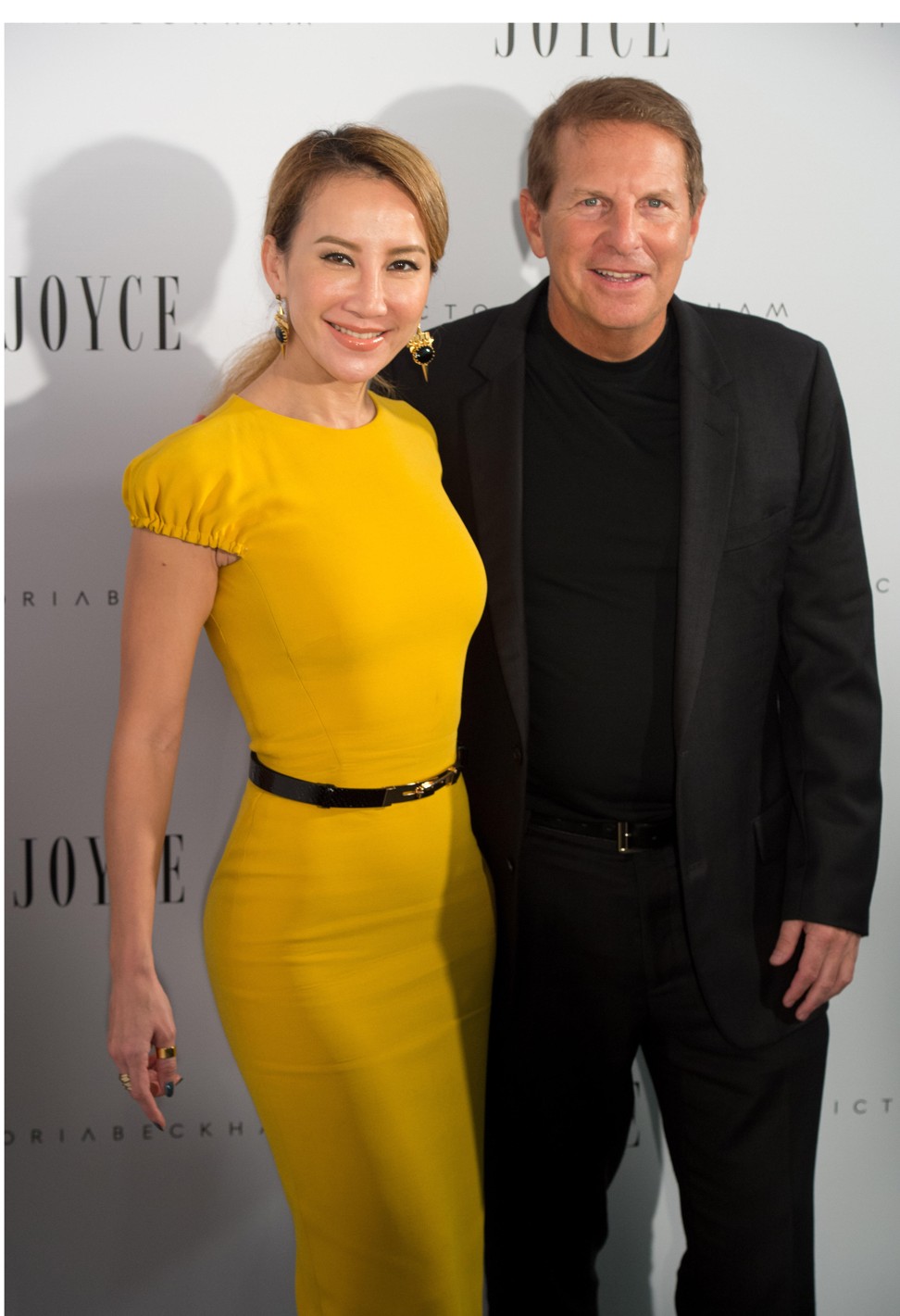 Hong Kong singer-actress Coco Lee married Canadian billionaire Bruce Rockowitz in October 2011, in one of the most star-studded celebrations the city has witnessed. Rockowitz, a clothing and apparel tycoon, spared no expense during the HK$150 million affair, which began with a Jewish ceremony held at Sky100, the ICC's observation deck. He splashed out to fly in and accommodate 300 friends, relatives and international stars, including Mariah Carey, Tommy Hilfiger and Jennifer Lopez, for a big reception at Shaw Studios.
Lee's crystal and pearl- embellished Vera Wang wedding dress reportedly cost more than HK$250,000, while Piaget sponsored more than HK$7 million worth of jewellery. Bruno Mars, Alicia Keys, the Black Eyed Peas and Ne-Yo performed at the ceremony and wedding party. Other costs included custom wedding rings to the tune of HK$23 million.
Kenneth Fok and Guo Jingjing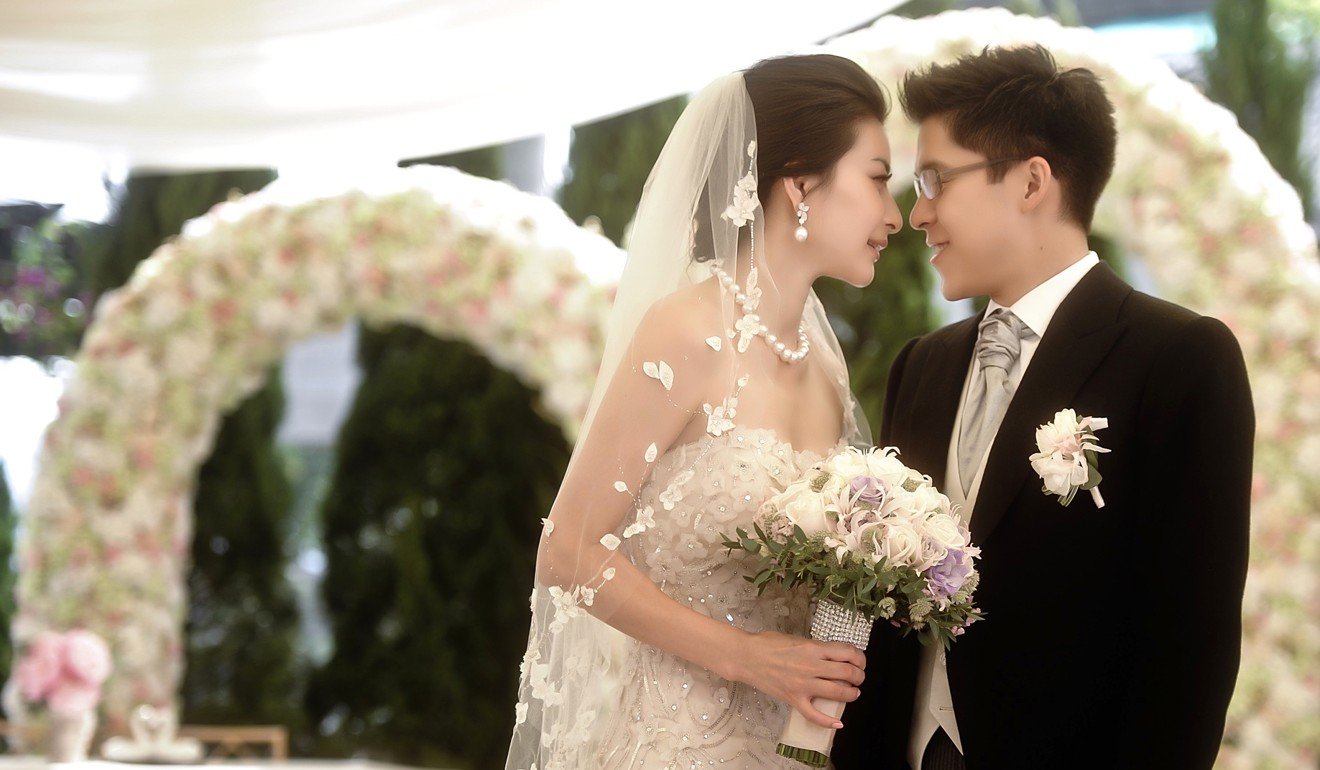 Retired four-time Olympic diving champion Guo Jingjing and Kenneth Fok Kai-kong, the son of Hong Kong Olympic chief Timothy Fok Tsun-ting , got married in November 2012 in a HK$15 million extravaganza. They made their formal vows at the family home on Sassoon Road in Pok Fu Lam, where paparazzi were hoisted up on cranes to snap photos, and the streets were blocked with guests' luxury cars. The media was even served sandwiches, water, and cookies in the shape of bridal dresses and groom suits. Two days later, the newlyweds hosted a bumper wedding buffet at the luxurious Fok family-owned Nansha Grand Hotel in Nansha, Guangzhou.
The private couple wanted no unwelcome snooping, so the Nansha Bay-facing hotel was roped off and lined with security guards. About 500 guests were driven in from Macau, Hong Kong and across China. Among them were prominent Hongkongers including actors Andy Lau Tak-wah and Jackie Chan, and even a member of the Jordanian royal family. The next day, the couple held another banquet, at the Convention and Exhibition Centre in Wan Chai, to top off a week of revelry.
Tavia Leung and Him Law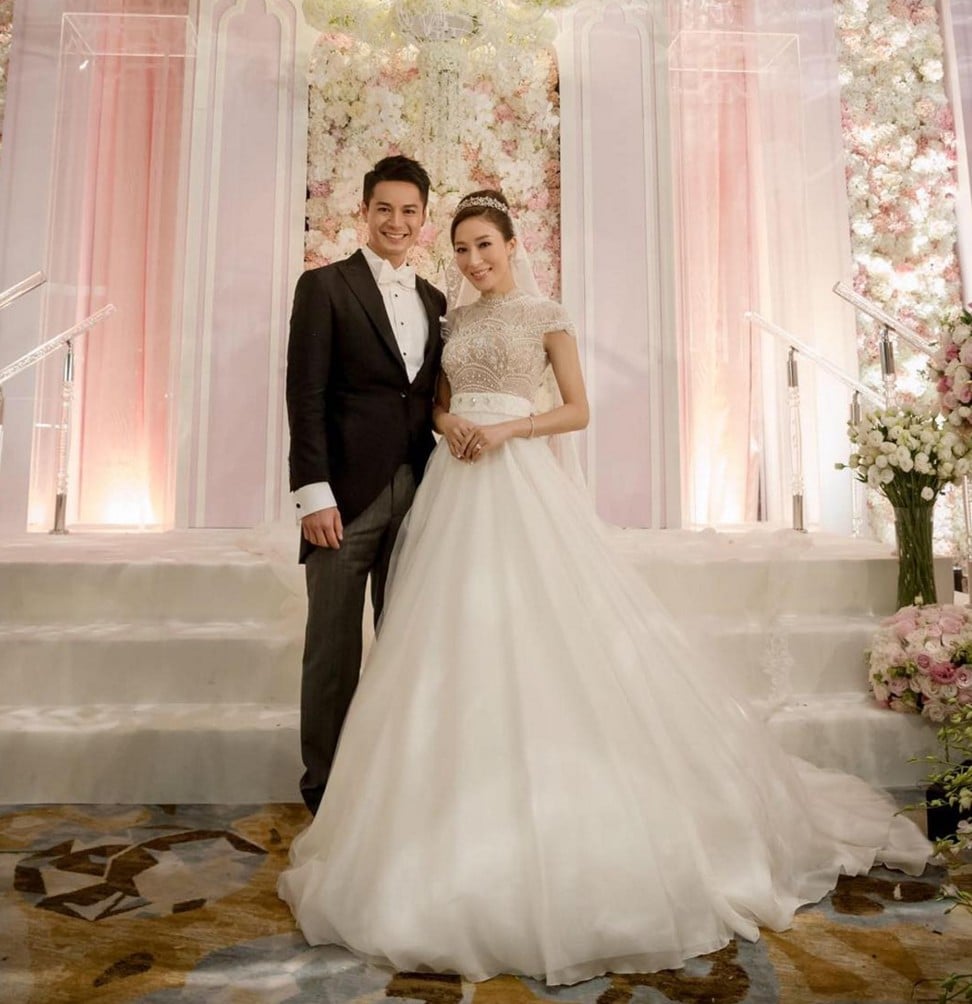 Hong Kong actors Tavia Yeung Yi and Him Law Chung-him wed in 2016 after dating for four years. Their official ceremony took place at Leeds Castle in Kent, England. The 900-year-old castle is a popular choice for couples for whom money is no object: it can cost up to HK$300,000 for exclusive use of the whole island it is located on.
The couple invited a small group of friends and relatives to the ceremony, which was kept secret from the media. They exchanged bespoke wedding rings, inscribed with both of their initials and their wedding logo.
Back in Hong Kong, the couple rounded up 500 guests for a big bash at the Ritz-Carlton hotel. Yeung dazzled in four gowns, starting with an exquisitely detailed red and gold qipao to match her husband's traditional Chinese suit. She swapped into a lace-sleeved number with a flowing skirt, before slipping into a sleeveless Ersa Atelier dress. Her final outfit was an art deco-inspired, silhouette-hugging outfit with diamonds that covered the bodice and her headband. During the party, Lawdressed as the teddy bear Rilakkuma and surprised his bride with a huge bouquet of pink roses.
Tony Leung and Carina Lau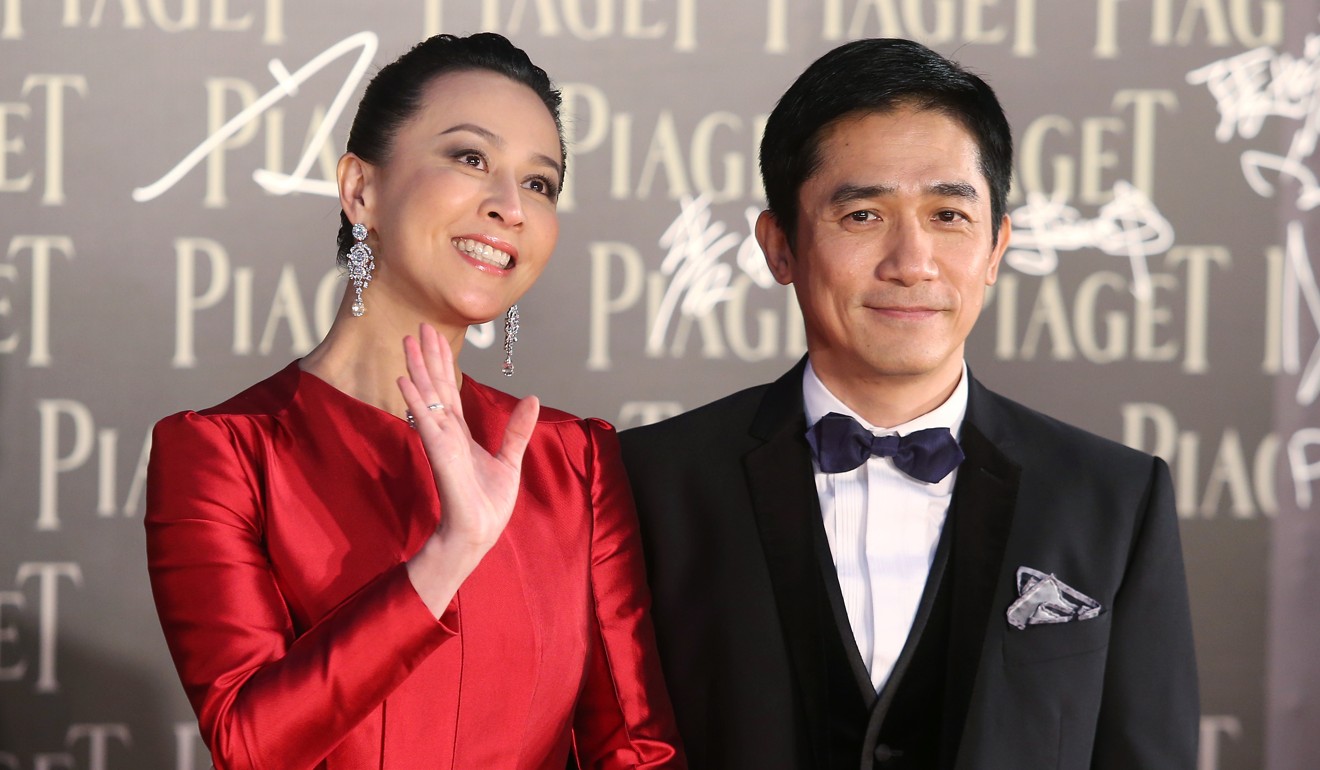 Popular Hong Kong actors Tony Leung Chiu-wai and Carina Lau Kar-ling found their perfect wedding venue in Bhutan in July, 2008. Although the couple opted for a traditional Buddhist ceremony, and was low key compared with many other celebrity weddings, they flew in a five-tier cake from the Oriental Hotel in Bangkok and welcomed 80 guests, including film directors Wong Kar-wai and Stanley Kwan Kam-pang, actor Chang Chen, and even members of the kingdom's royal family.
For their wedding portraits, the couple dressed in traditional Bhutanese clothing, but wore white when they posed with monks. The wedding ceremony was held at the luxurious Uma Paro resort.