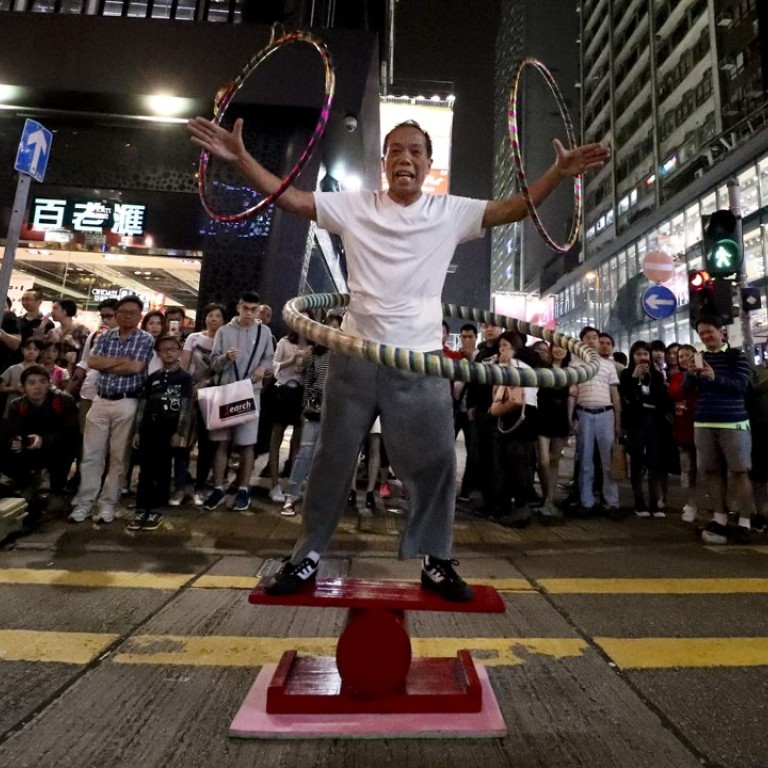 The surprising life story of Hong Kong street acrobat, 67, who dives and spins for 20,000 passers-by an hour in Mong Kok
Yu Pujiang left home at 13 to join a passing acrobat troupe, before hooking up with father he'd never met in Hong Kong. A construction site accident led him to rethink his priorities and take up performing when he retired
He quite possibly holds the record for being the most watched performer in Hong Kong, but almost no one knows his name. The hourly number of passers-by on the busy Mong Kok street corner that doubles as his stage exceeds the capacity of the Hong Kong Coliseum.
Every weekend, Yu Pujiang stakes out his ground on the intersection of Soy Street and Sai Yeung Choi Street South. He arrives in a black hat and sunglasses to imitate Michael Jackson dance moves to the beat of the king of pop's 1980s hit, Billie Jean. But that's only the prelude to the real action.
Shoppers look on bemused as the 67-year-old sprints 30 metres, dives through a dangling hoop and lands on a mattress with a somersault.
The repertoire includes a number of traditional Chinese acrobatic feats rarely seen in Hong Kong. Yu lies on the ground, legs in the air, and spins a pot the size of his torso; flips metal bowls with his feet, catching them in a stack on his head; and balances on a rolling cylinder while twirling hula hoops. But he hasn't had a fixed programme for his street acrobatics since he started performing in the area – which is pedestrianised late in the day on weekends and public holidays – six years ago.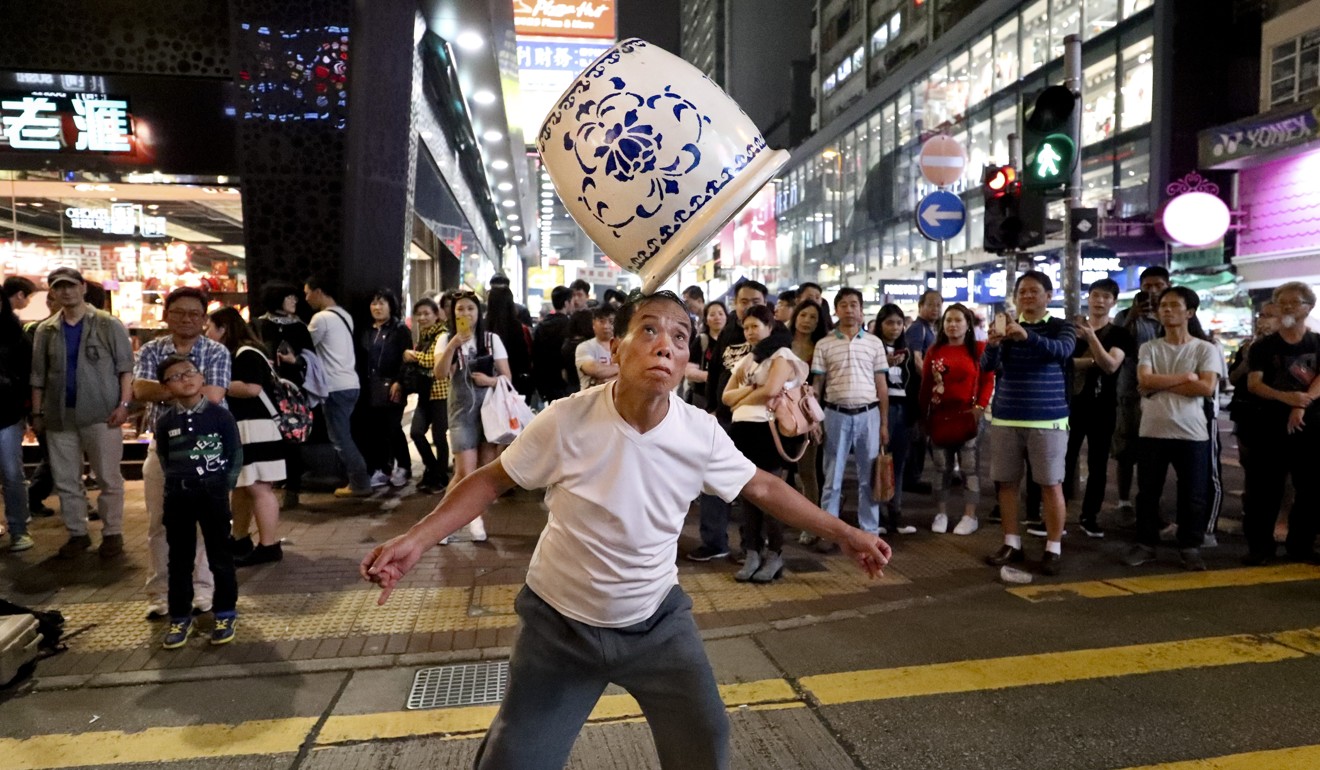 Dozens of YouTube users have posted videos capturing Yu's acrobatics and none have recorded his name, but fame isn't what drives him.
"Never mind my name. People recognise me for what I can do. That defines who I am," he says, in a mish-mash of Putonghua and Cantonese.
Yu, who hails from a farming village in Hebei province, was named Pujiang by his mother, after the Shanghai river. It was intended as a reminder of his father, who fled from a spot near the waterway after the Kuomintang were defeated by the communists in China's civil war. Yu's father arrived safely in Taiwan just months before he was born in 1950.
Yu and two older siblings were raised by their mother. "Life was simple. I was just like any other poor child," he says.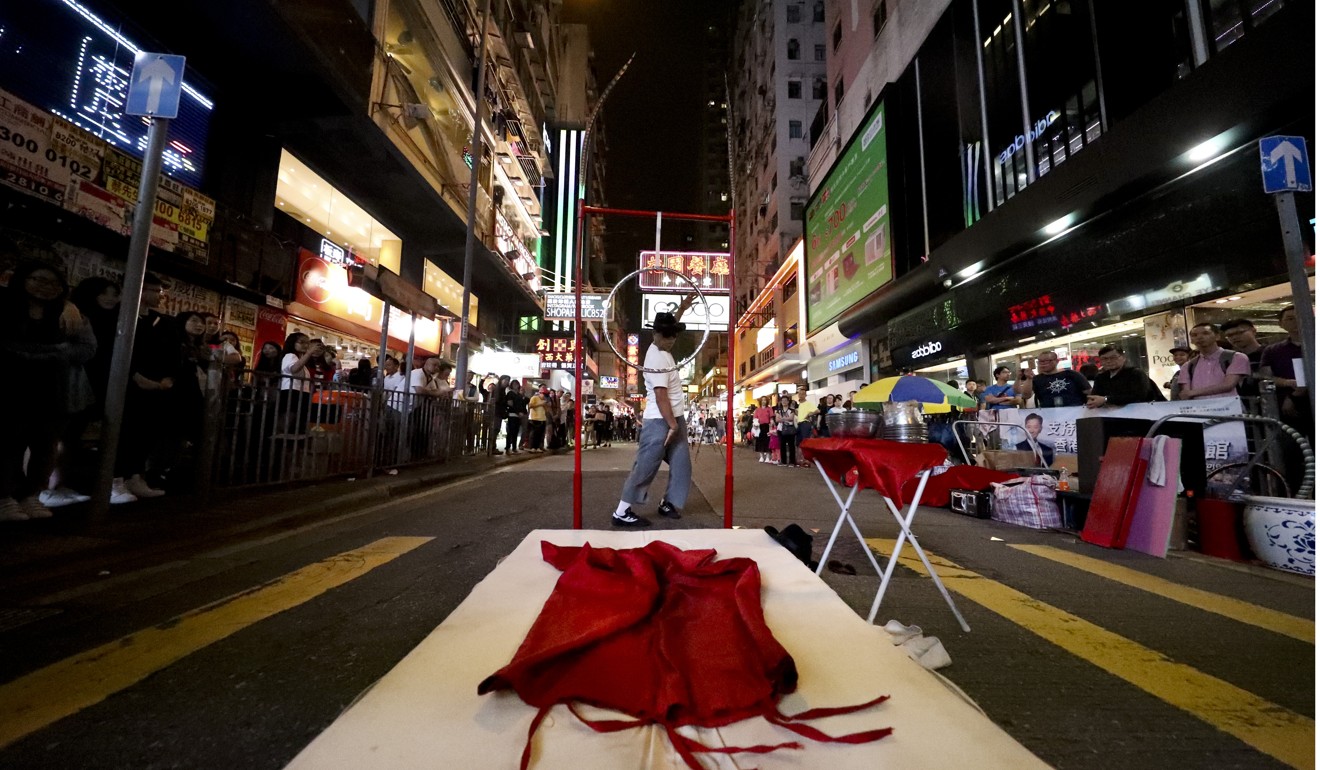 One day a troupe of acrobats arrived in the village to perform during a tour of the country.
"I was stunned. It was like magic to me. I had never seen anything like it before," he says. The 13-year-old Yu was spellbound by the acrobats' agility and clever stunts, and decided straight away that he wanted to learn their skills and give the same sense of amazement to others.
When he asked the troupe's leader if he could follow them on the road, he accepted. But despite Yu's willingness to learn, the reality of "running away with the circus" wasn't quite what he expected.
"I quickly learned that being an acrobat is not at all a magical thing; it's all about hard work and more hard work," Yu says.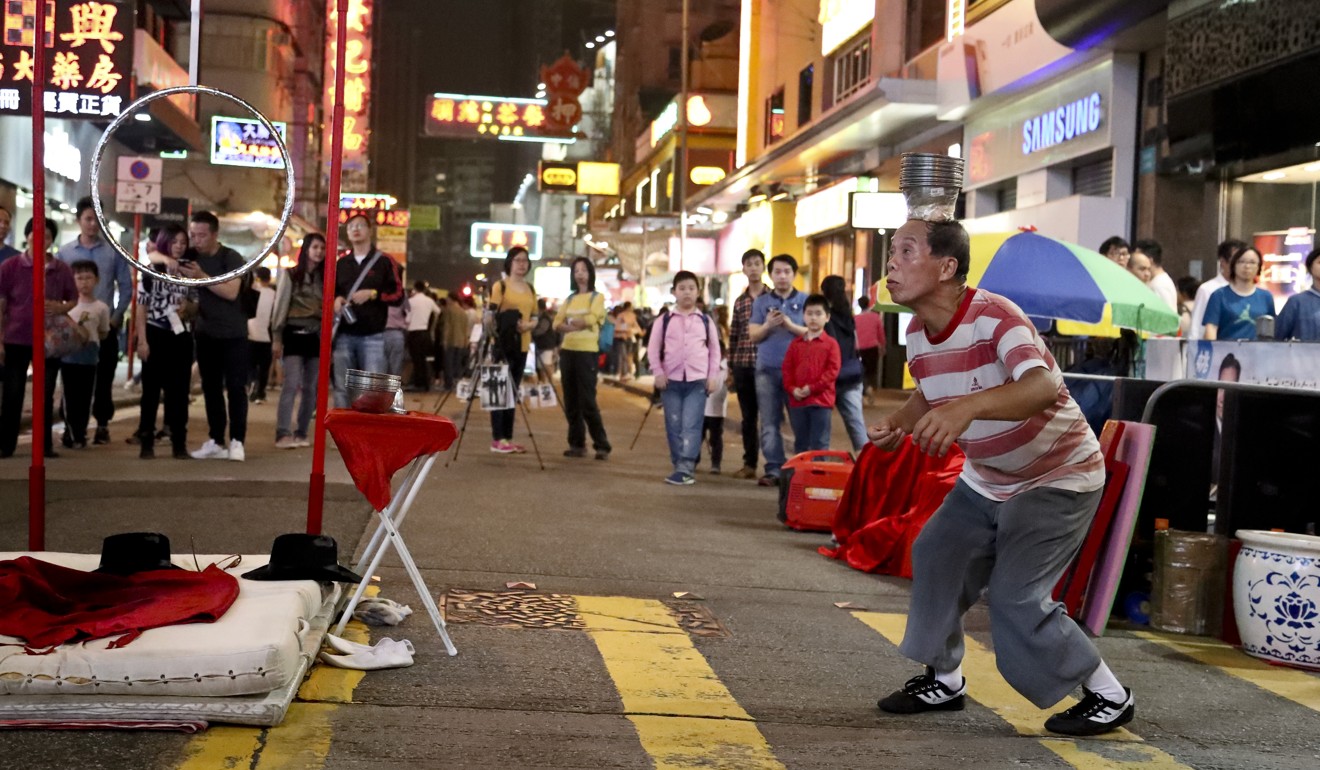 When not performing, the troupe's leader was mainly occupied with training his two daughters, while Yu and three other teenage boys were assigned menial chores such as cleaning up.
"I didn't mind because acrobatics is more difficult for guys than girls. Girls are naturally more elegant and lighter, so it's easier for them. I understood I needed to show my master I was determined before he would teach me any real skills," Yu says.
Still, he quietly watched as the master taught, and practised what he had seen in his free time. But before he had a chance to learn directly from the leader, three years after joining the troupe, the Cultural Revolution broke out and he was forced to return home to the farm.
It was not until 1986, at the age of 36, that Yu's life took its next significant turn. The father he had never met was then in Hong Kong, and invited his son to move to the city. So Yu, by then married with three young children, brought his family to the British colony.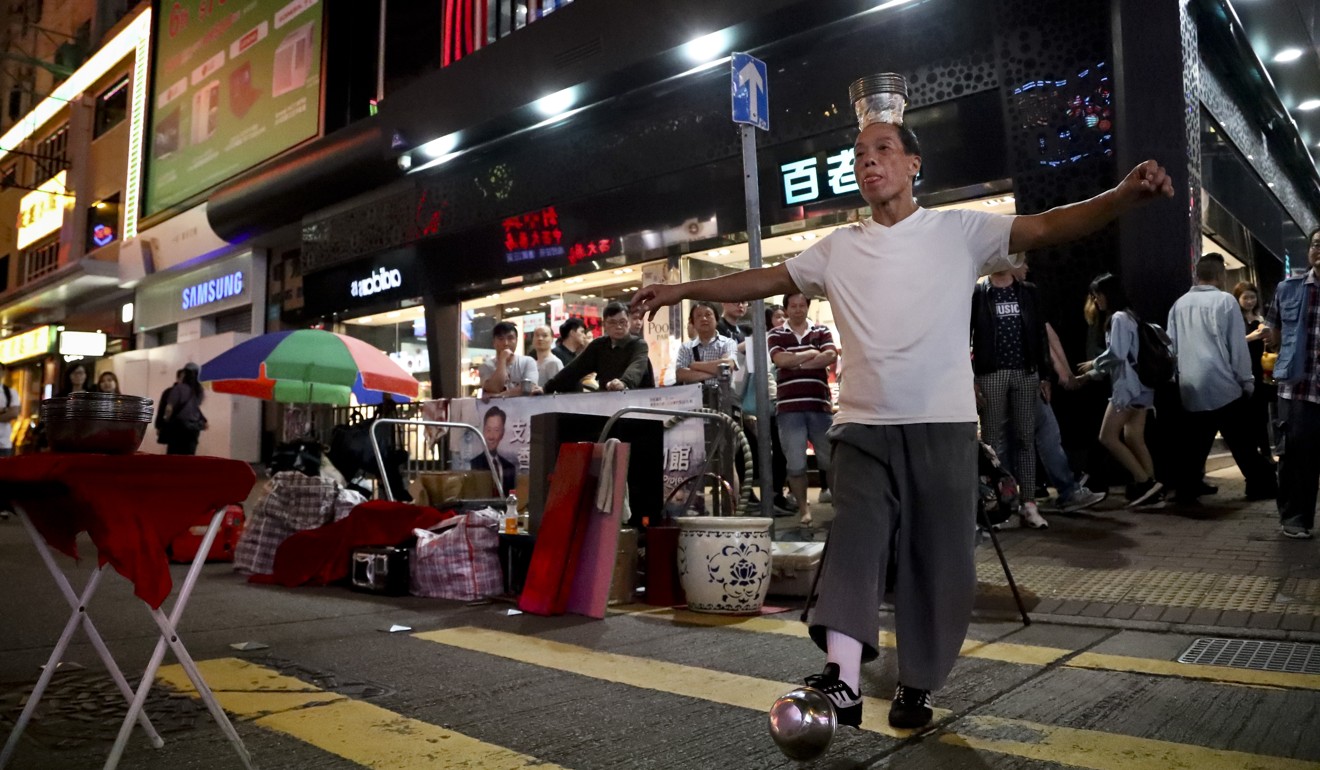 "Hong Kong was so much more glamorous and exciting than where I was from. All I had in mind was to earn a quick buck and get rich," he says.
Yu had received little formal education in the village, so he got a job with a construction company. He found himself working 12 hours a day on building sites to make a living.
"I was so desperate for money that I started to gamble in Macau with my friends," he recalls. "There were times when my wife had to borrow tens of thousands of dollars to come and save me in the middle of the night."
In 1991, Yu had an accident that was to help him change his ways. He fell from the sixth floor of a Wong Tai Sin construction site, luckily surviving with just six broken ribs. After spending a month in hospital, he remained at home to rest for a year. The period of rehabilitation gave him time to rethink his future, and ponder what made him truly happy.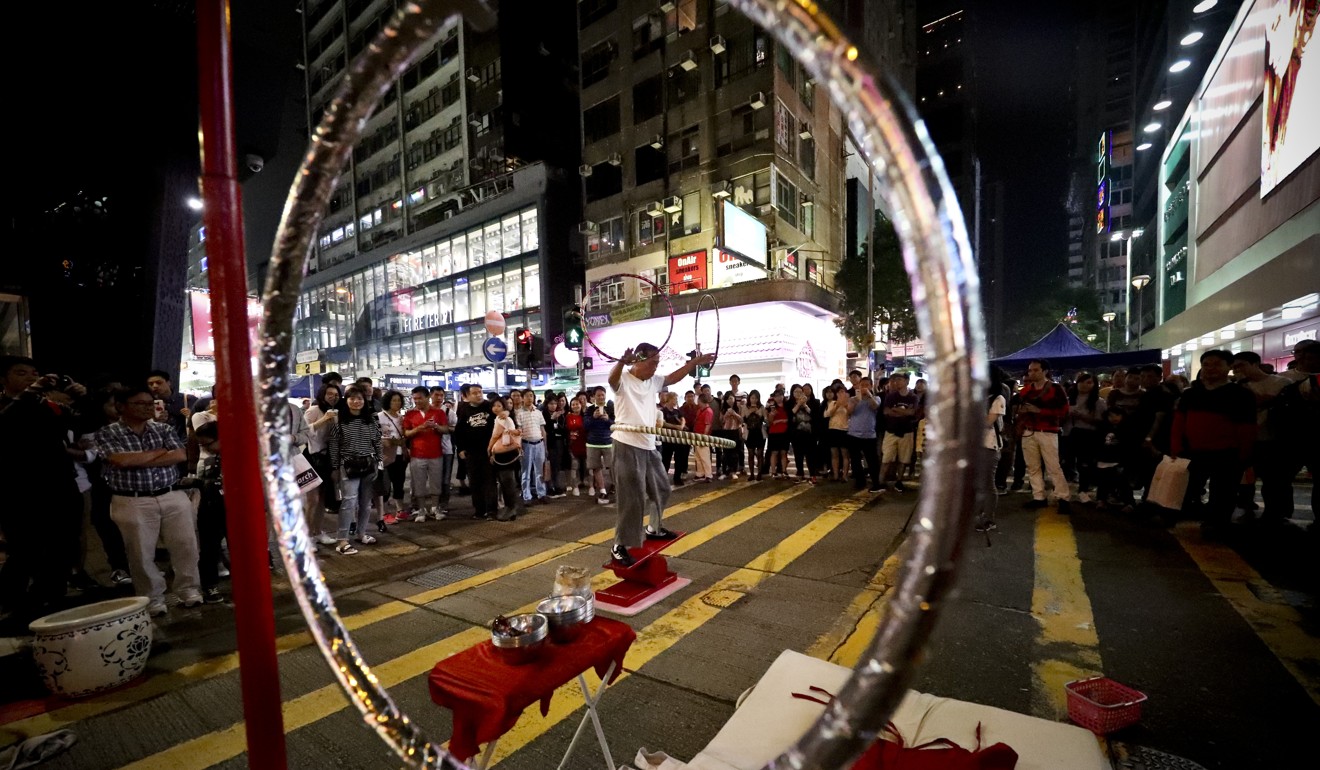 "It was then that what I learned about acrobatics came back to me," Yu says. "It had to be hard work; no fast track."
While working part time back in construction as he slowly recovered, Yu took daily strolls in the park near his home in Tsuen Wan. Every day he saw the same elderly men playing Chinese chess.
"I thought to myself, 'I don't want to be like that. That's not the thing for me when I retire.' I needed to get myself moving again."
So three decades after studying the tricks of the acrobatics trade, Yu decided to revisit his childhood passion.
He saw Sai Yeung Choi Street South as the perfect place to demonstrate his acrobatic skills. The street – a stage for political activists, protesting Falun Gong practitioners, old-time karaoke singers, and the occasional backpacking busker – is trod by up to 20,000 pedestrians an hour at peak times, according to the Transport Department. The Hong Kong Coliseum, by contrast, seats 12,500.
Yu's act is not always perfect – the elderly acrobat sometimes drops a bowl or two, and his Michael Jackson moves aren't the slickest – but his traditional skills set him apart from Mong Kok's other weekend street acts.
Passers-by linger in crowds at the junction to watch him perform, eagerly handing over cash for the entertainment value he offers. But Yu is coy about how much his skills earn him. At least eight or nine people put down money every hour he performs, and most are paper bills. That's as much as he will reveal.
"Many people think foreigners and mainlanders contribute most to my income. But no. Hong Kong people are the most generous. Somehow I believe they want to show support to their own people."
Mong Kok residents and the police are not always as generous. In 2014, complaints from residents and businesses prompted the authorities to limit the area's pedestrianised times to weekends and public holidays. Sai Yeung Choi Street South had previously been a walking street every night of the week since an initiative was introduced to that effect in 2000.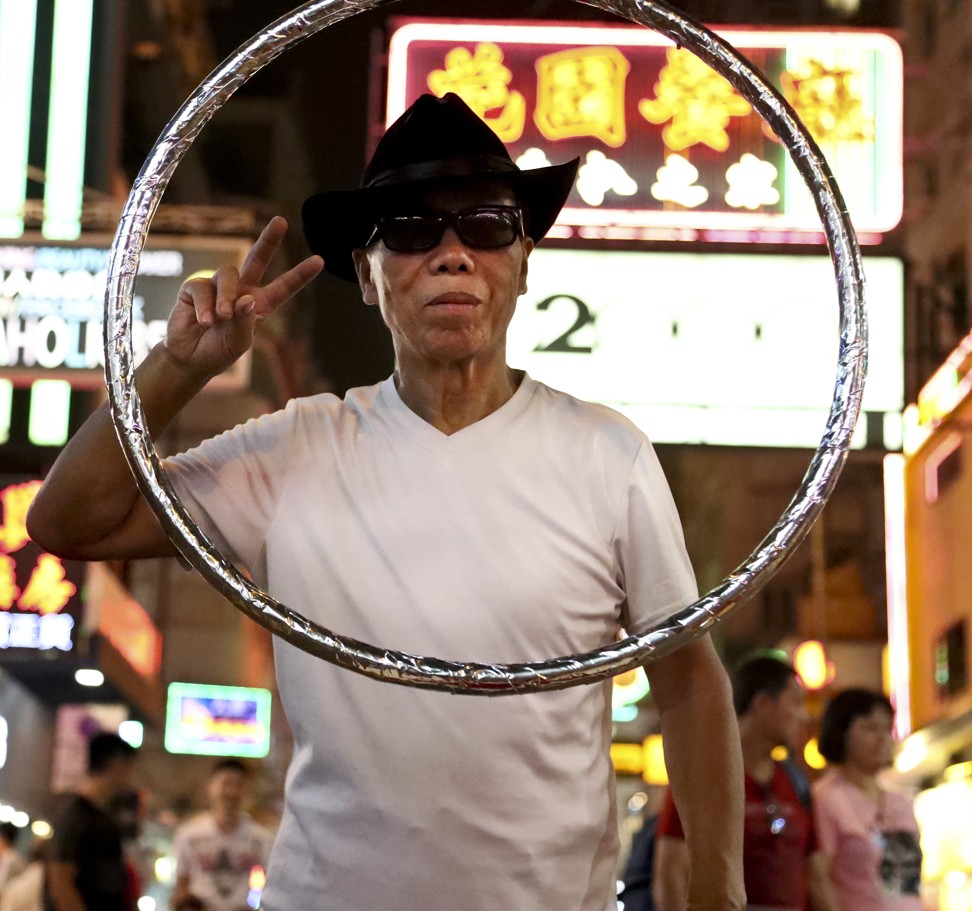 Police often interrupt Yu's performance and ask him to turn down the volume of his music, he says. And he was once arrested for possessing a prohibited weapon, while demonstrating his skills with a fighting stick like the one Bruce Lee wielded in the film Game of Death. He was charged HK$2,000 and now has to get police approval for all props he intends to use.
Yu is never deterred, though. During the Easter holiday this year, he performed for at least five hours a day on four consecutive days. He had such a large audience that he could only take a 10-minute break to eat his lunch.
"I have never thought of retiring from performing. I am actually thinking of adding a singing part to my performance in the future," Yu says.
His three children, now in their 30s, sometimes hide secretly in the crowd to watch him perform, although they often urge him to rest more. Yu jokes that they are responsible for him remaining on the streets in his 60s because he has no grandchildren to whom he can pass on his acrobatic skills.
"It's difficult to find a young person in this city who wants to learn this old skill," he says. "Is there still anyone who wouldn't mind spending hours practising something that doesn't guarantee them fame?"
This article appeared in the South China Morning Post print edition as: Happiness in the balance