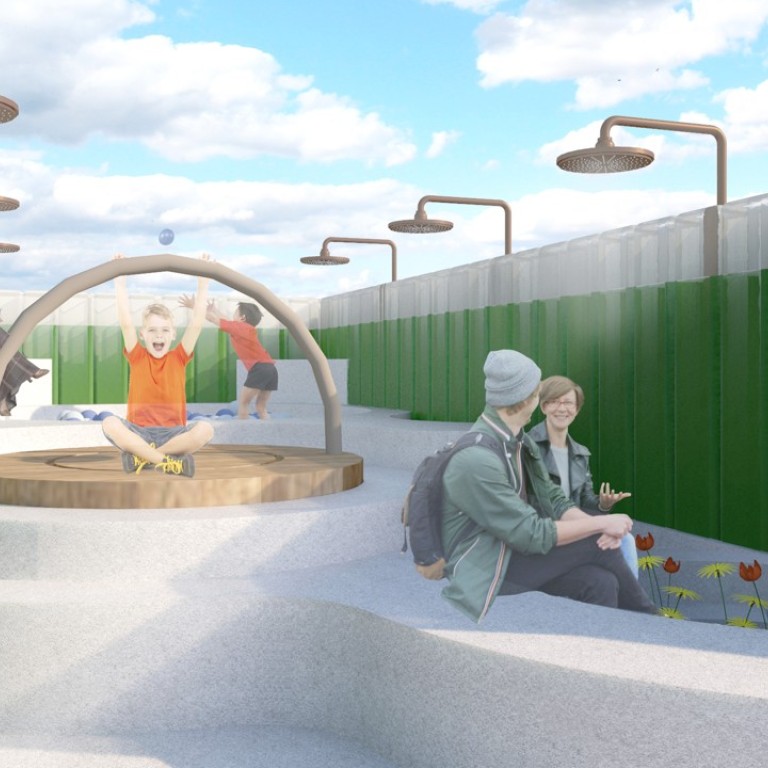 Micro park ideas for Hong Kong – gardens in refuse skips, pop-up Chinese pavilions and more proposed by young designers
High Line in New York among inspirations behind Hong Kong architect's quest for ideas to counter city's shrinking flats by turning streets into our living room; DIY micro-parks app and railings that morph into fold-out seating among ideas
Deposited outside homes and offices, usually during renovations, refuse skips accumulate mounds of unsightly waste and block valuable space at the expense of cars or pedestrians. A group of up-and-coming Hong Kong designers see potential to change that.
Designers Ffion Zhang, Stephen Ip and Cesar Harada want to transform skips into leafy micro parks. In place of bin bags and construction waste, these skips would be filled with plants and possibly even benches. You could walk in, sit among the greenery and read a book.
This radical idea is one of four bold new proposals to create micro parks in Hong Kong, all of which will be unveiled at an exhibition running from October 15 to 31 at Yat Fu Lane in Shek Tong Tsui. Other micro park blueprints on show will include a 21st-century take on a traditional Chinese pavilion and plans to turn roadside railings into fold-out seating.
These four projects are the result of the first Design Trust Futures Studio, an initiative run by the Hong Kong-based charity the Design Trust, which pairs up-and-coming local designers with mentors worldwide who then jointly investigate how design can enrich city life.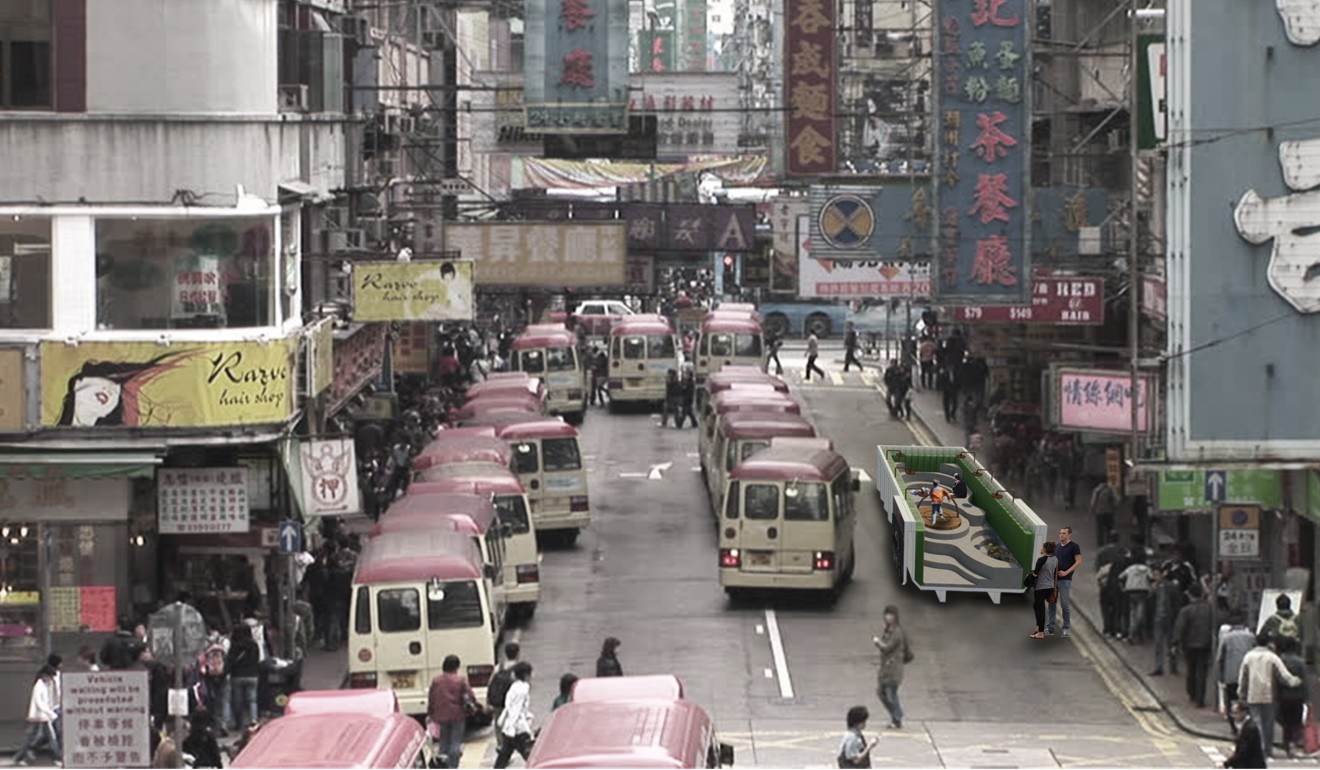 Architect Marisa Yiu, co-founder and executive director of the Design Trust, began this inaugural Futures Studio programme by thinking about the phrase "small is meaningful", but she says inspiration came from all directions.
That includes having found little gems around the world that have allowed for quiet moments, as well as larger playgrounds that have captivated her children. Yiu grew up in Kowloon and in 2005 set up architecture studio ESKYIU with her partner, Eric Schuldenfrei, after returning from the US, where she studied at Columbia and Princeton universities.
Curating the 2009 edition of the Hong Kong & Shenzhen Bi-City Biennale of Urbanism/Architecture also afforded greater insight into how public space can be rethought.
"Hong Kong is facing a lot of pressure in terms of space," says Yiu. "Apartments are getting smaller and density is reality. That's a fact. So if that's the trajectory, then how can we balance that with shared public space? How can we think about the city as our living room?"
As cities around the world become increasingly dense, more of them are developing micro parks, small public spaces that are sometimes no bigger than a double bed. New York has begun converting roadside parking spaces into sitting-out areas, while Canberra is planning 20 micro parks to enliven underused urban spaces.
When Yiu began researching micro parks in Hong Kong, she discovered that the city already has a multitude of them. As of March this year, the government claimed to manage 1,549 small parks, gardens and sitting-out areas.
Inspired by the potential to transform these existing micro parks or create new ones, Yiu called Elizabeth Diller, one of the architects behind New York's High Line, which is one of the most successful urban parks in the world.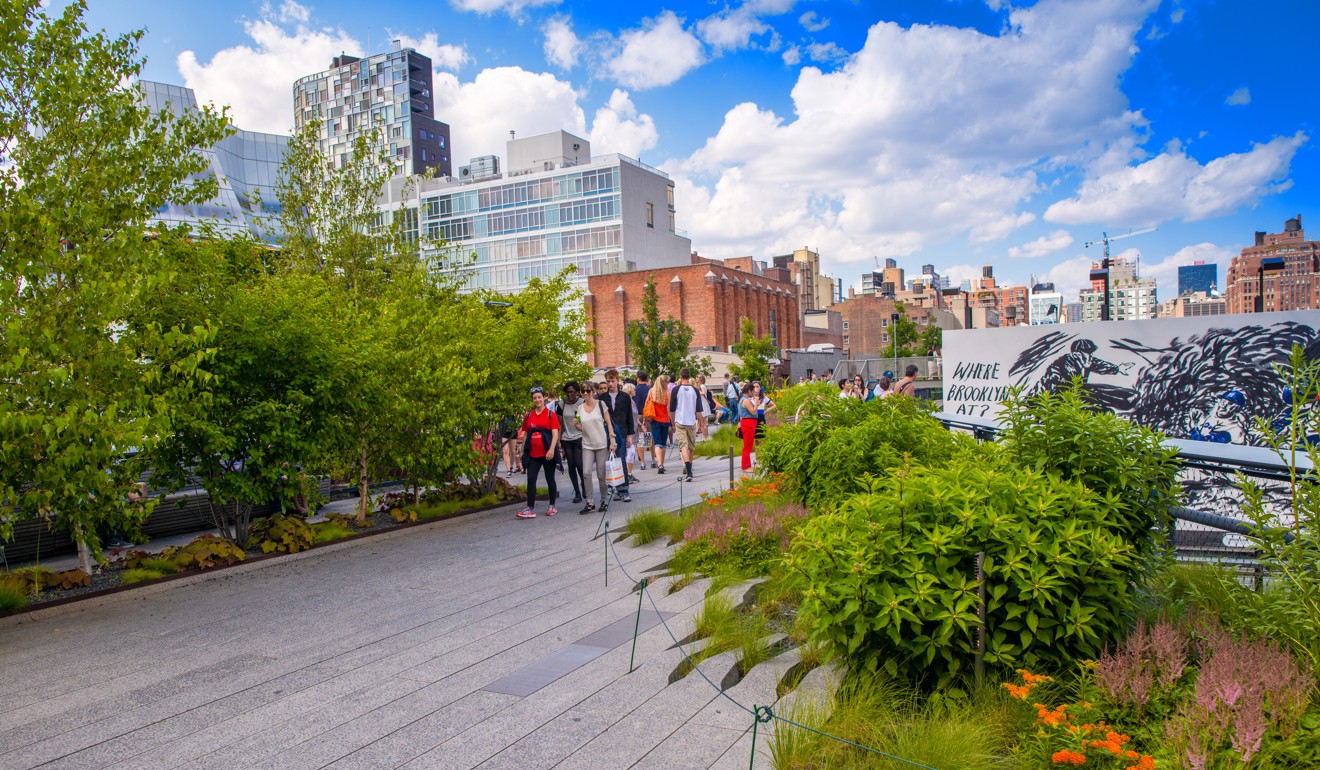 "Liz said that if Hong Kong doesn't have space for a Central Park or a High Line, it would be brilliant to
rethink a network of micro parks," Yiu says. "If we had these powerful little micro parks, which might all have different identities, it could be really exciting."
Diller threw her support behind the project, agreeing to run workshops via Skype for the mentees.
With Diller on board, Yiu began searching for other mentors who could inspire teams of young Hong Kong designers. Hong Kong artist and designer Stanley Wong Ping-pui (Anothermountainman) agreed to help, as did Gary Chang, an architect famous for his "Domestic Transformer" micro home in Sai Wan Ho. Yiu also enlisted Mimi Hoang, co-founder of nArchitects in New York, and Sam Jacob, an architect and writer based in London.
In March this year, Yiu paired each of these four mentors with a team of three up-and-coming designers. The mentees are a mixture of graphic designers, architects, product designers and design critics from Hong Kong and Shenzhen.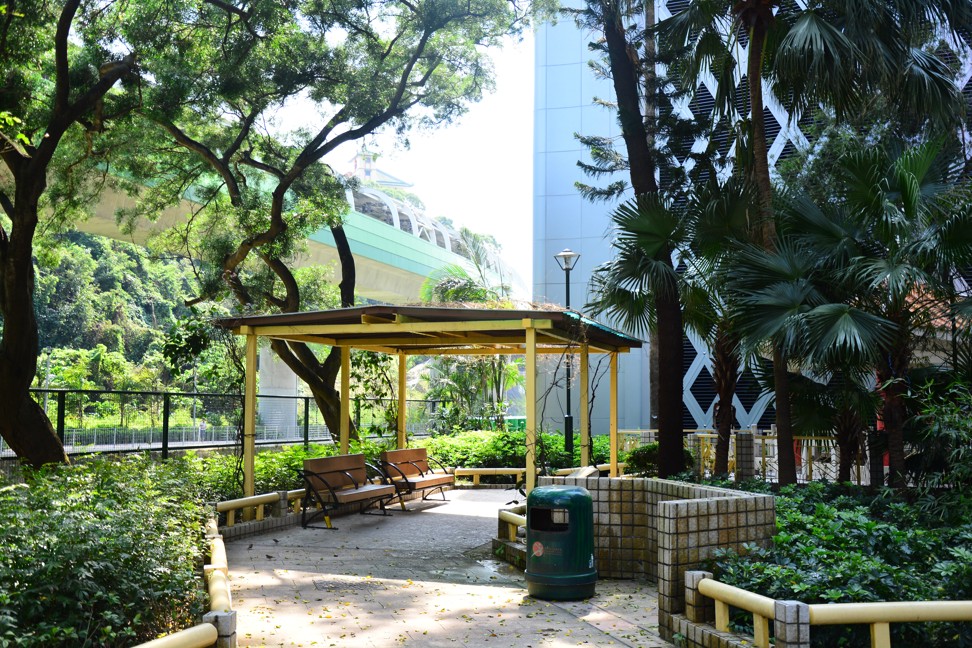 All of the teams had to generate their own proposal for a micro park, but Yiu insisted that the mentors shouldn't decide the direction of the projects. "We didn't give the teams a brief. We wanted them to ask questions and define what their own brief was," Yiu says.
Instead of setting their groups specific tasks, mentors ran workshops to help those taking part to think outside the box. "Stanley Wong did one big Saturday workshop, when he walked around the city and analysed the public spaces on three different housing estates," Yiu says. "And Sam Jacob ran a beautiful sketching workshop, to explore how creativity is really about doing something with your hands."
After eight months of workshops and discussions, those involved in the programme are now ready to unveil their proposals. Determined to prove just how small micro parks can be, Zoey Chan, DickWai Lai and Jose Fu have revealed how roadside railings can be adapted to create pop-up micro parks around Hong Kong.
"To us, a railing has the potential of becoming a micro park itself," Chan says.
The team's early sketches of Part(k) of the City show how fold-out seating could be built into railings and how extra plant pots could hang from fences.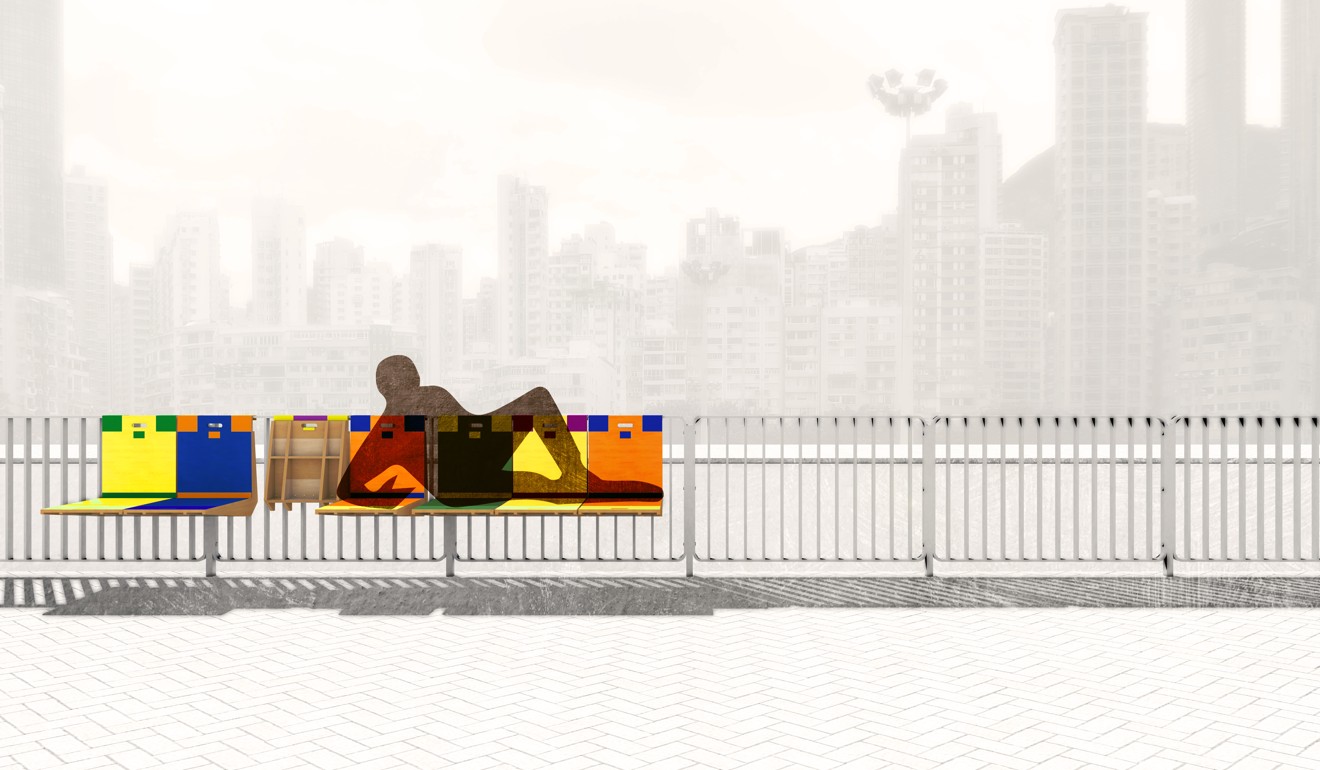 Rather than designing a physical space, Wendy Wu, Ricky Lai and Xavier Tsang were inspired by mentor Jacob to consider how they could empower the public to build their own micro parks.
"Our concept speculates what the city may look like in the year 2040, where the idea of a park will have become a luxury experience for our citizens," Wu says.
"We envisioned this as a web-based platform – an online encyclopaedia-style park creation manual," Wu says. "The platform encourages the public to use everyday objects, including wood, ropes or swings, and trucks or other vehicles, to generate their own concept of a park."
As well as the encyclopaedia, the team is working on an app called MobilePark, which people could use to order different modules to build their own micro park.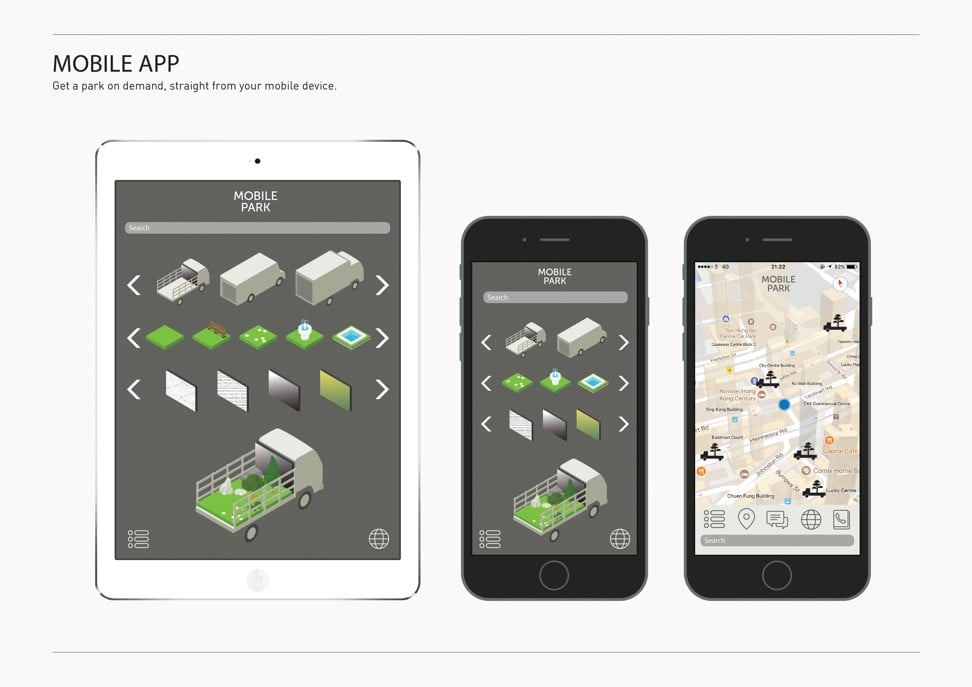 The team describes their concept as a park "delivery system" that allows communities and individuals to order personalised park experiences on demand. Users can construct their own temporary micro parks by selecting a variety of modules and features. When an order is received, the components, stored at a central facility, will be delivered through a third-party truck sharing scheme for users to enjoy for a designated period of time.
Instead of looking to the future, another team considered the past, specifically the design and function of traditional Chinese pavilions. Hoping to provide city dwellers with a space for quiet contemplation, Vivian Ng, Samuel Wong and Sylvia Chan worked with Stanley Wong to create Ting Yat Ting ("pause for a moment"), a pop-up pavilion that can be installed in urban public spaces.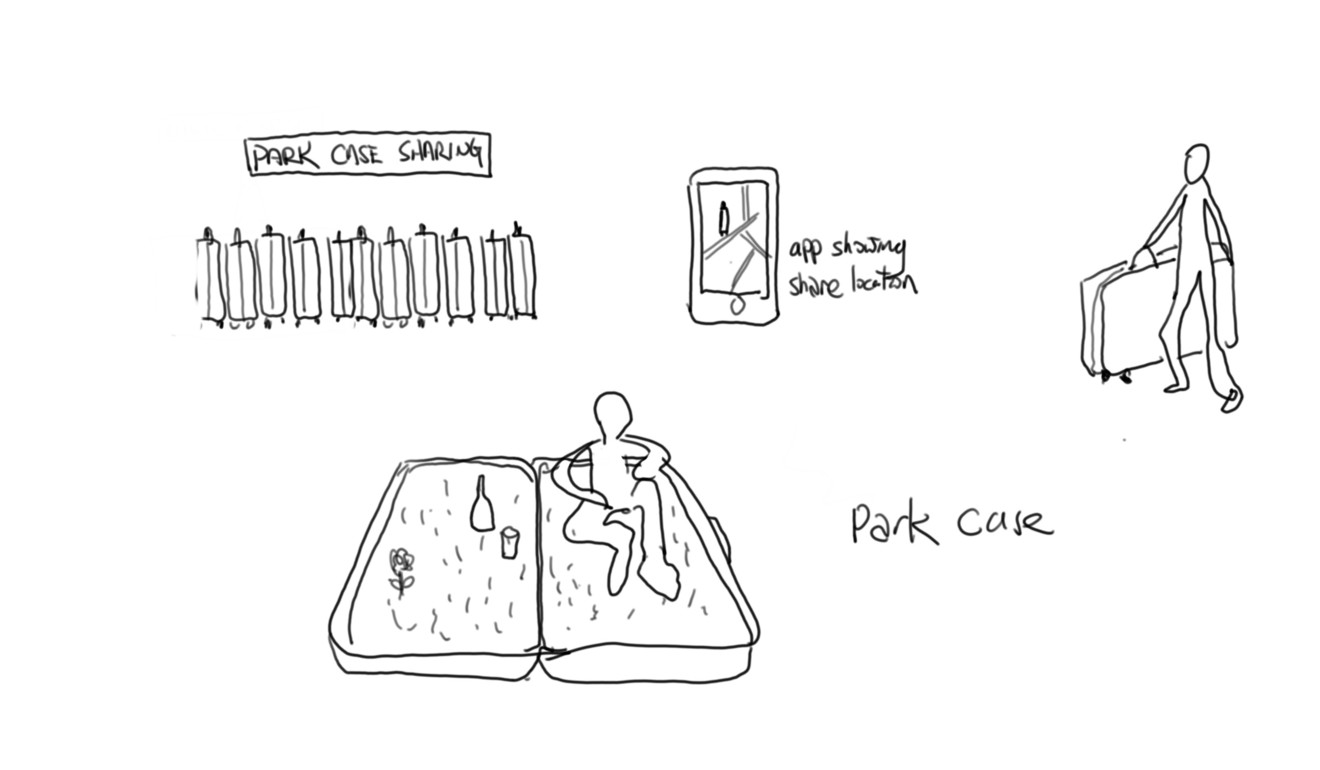 The semi-enclosed pavilion encourages visitors to step inside to view a slide show of images, captured by a camera installed on the top of the pavilion, of seemingly insignificant elements of the neighbourhood. (Think plants on walls, shadows on the pavement, or the reflection of the sky on a building.) They are then invited to use the camera to frame their own perspective of the surrounding streets.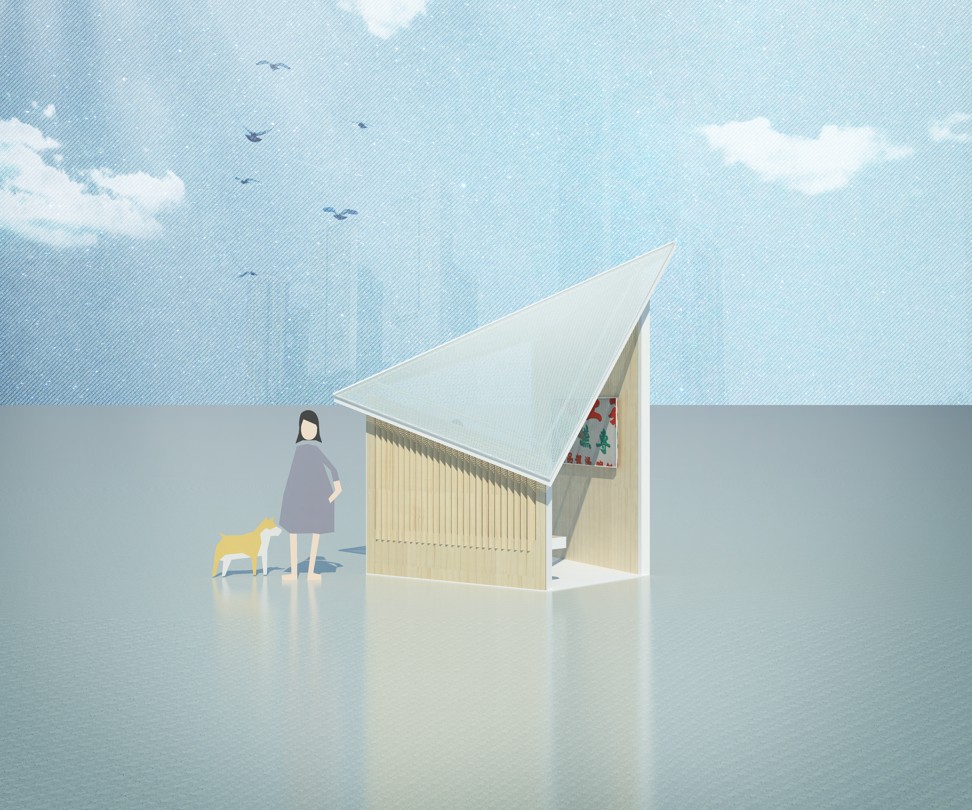 The skip project was led by mentor Hoang. "We envision Skip-Park to be a network of mobile parks that could be deployed on demand and emerge in places when it is needed, and disappear when the roads need to be used for other functions," mentee Stephen Ip says. "In one sense it's a temporary installation, but when we look from another dimension, we hope these devices can have a permanent impact on our streetscape, bringing the parks closer to the people."
All of these plans are currently purely conceptual, but Yiu hopes that they might see the light of day. "Design Trust Futures Studio started as a process of discovery; it was about discussions and research and generating ideas, but it would be brilliant to find funders to build these prototypes in reality," Yiu says. "This is a pilot test programme to bring different voices together to share, debate, create and think about our role in our city; small things can make big changes.
"There's so much potential to beautify and modify public space in Hong Kong," she says. "These micro park designs are radically new and they're transportable and shared – they could enrich our city."
This article appeared in the South China Morning Post print edition as: A change of greenery