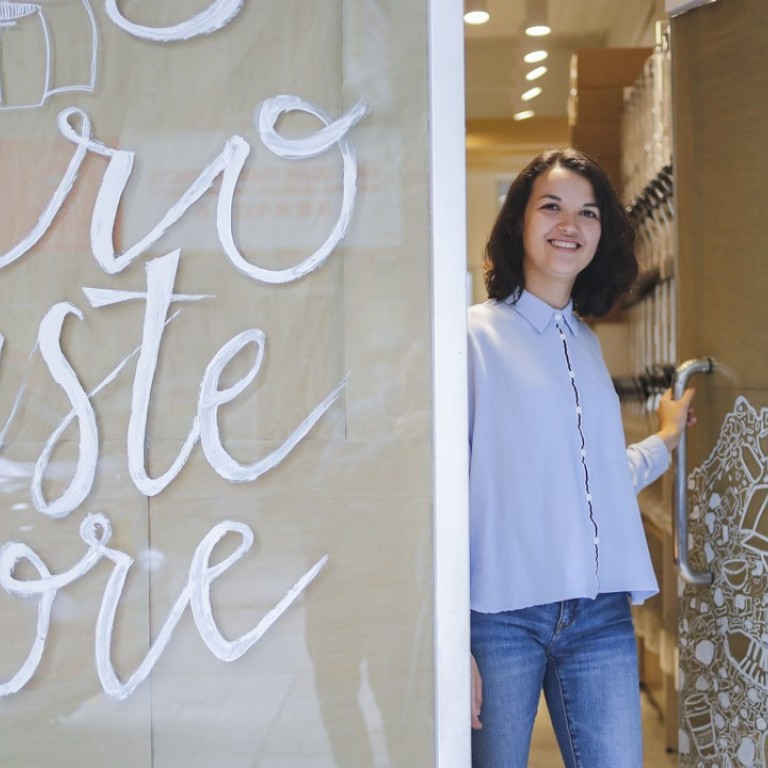 Zero-waste, packaging-free Hong Kong food store takes on supermarkets with eco-friendly goods
Live Zero in Sai Ying Pun is encouraging shoppers to change their consumption habits. Founder Tamsin Thornburrow talks about the challenges in ditching packaging and why she is optimistic about winning over Hongkongers
Avoiding wastage is not easy in Hong Kong, where you will be handed a milk tea in a takeaway cup inside a plastic bag containing a stirrer, napkin and sugar packet before you can fumble through your bag for your reusable canteen. Almost immediately discarded, these items add to the more than 2,000 tonnes of plastic waste dumped in Hong Kong's landfills every day.
Frequent photos of litter-strewn beaches are a grim reminder of the city's impulsive, throwaway tendencies. But they are also a call to arms for local consumers and business owners who want to turn the tide on waste, with single-use plastic – such as straws, coffee cups and umbrella sleeves – high on the agenda.
Shop owner Tamsin Thornburrow is among a growing number of Hong Kong activists and entrepreneurs meeting the plastic problem head on, aiming to change people's consumption habits by making eco-living both achievable and desirable. A 25-year-old interior designer and founder of Thorn and Burrow, a homeware shop in Sai Ying Pun, she is now venturing into packaging-free retailing with her new business, Live Zero.
The small grocery shop, located around the corner from Thorn and Burrow on High Street, sells essential foodstuffs, including flour, spices, grains, sugar, oil, baking powder, coffee and tea, as well as toiletries and utensils. Products such as flour and quinoa are kept in large self-serve bins, minimising packaging and encouraging customers to use their own containers.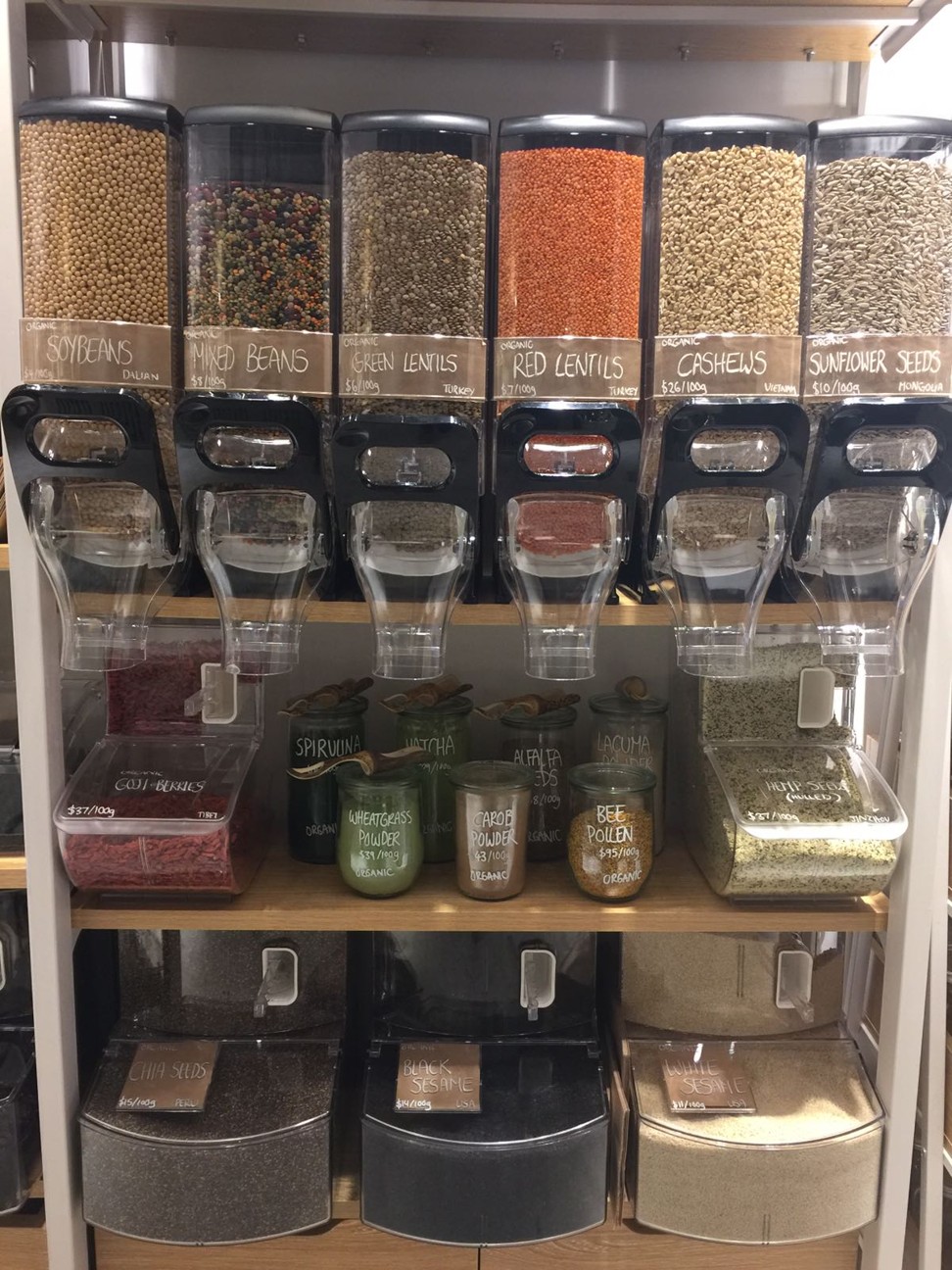 With just under a week to go before Live Zero's "soft opening" last Thursday, Thornburrow was busy putting the finishing touches to the space. Its pastel-painted, upcycled wooden dressers, shelves of colourful, eco-friendly household items, and large plastic bins that will contain dried foodstuffs, were primed to welcome customers with its attractive spin on bulk-buying.
Forward-thinking, resourceful and social media savvy, the shop's young owner, dressed in a blue, second-hand shirt, makes eco-living seem like a stylish choice. "Imagery is so important," she says. "When you see someone with a glass jar containing all the waste they've produced that year, you think, 'Wow, maybe I could do that.'"
For years, consumers have been encouraged to "reduce, reuse, recycle". For zero-waste advocates, however, "refuse" always comes first – the greenest option is to simply reject whatever bag, straw or bottle is being foisted on you.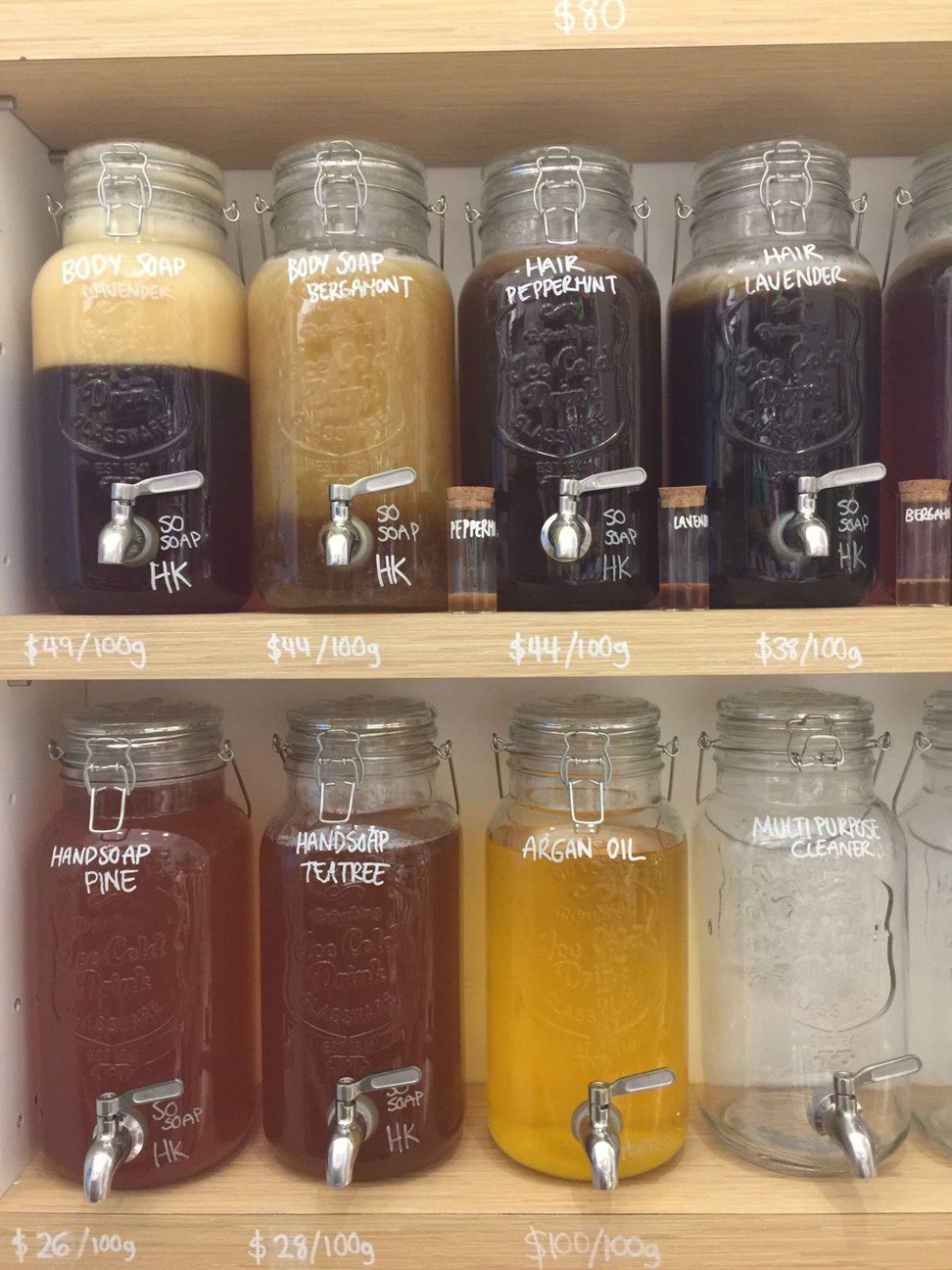 For Thornburrow, the main challenge is balancing the needs of her target market with the practicalities of Hong Kong, which imports nearly all of its food. Zero-waste bloggers, such as US-based pioneers Bea Johnson and Lauren Singer, extol the benefits of locally grown organic produce, which cuts down on packaging and food air miles, and supports regional suppliers. Live Zero's food range will be "80 per cent" organic, but finding certified organic food meant looking for suppliers outside China.
"We're bringing in things from Peru, Sri Lanka, Morocco and India, but very little from China because it's hard to get organic there and make sure it's organic," Thornburrow says. "Mums are very big on it … if you have kids, you want the best for them," she adds, admitting she buys very little organic food for herself because it is expensive.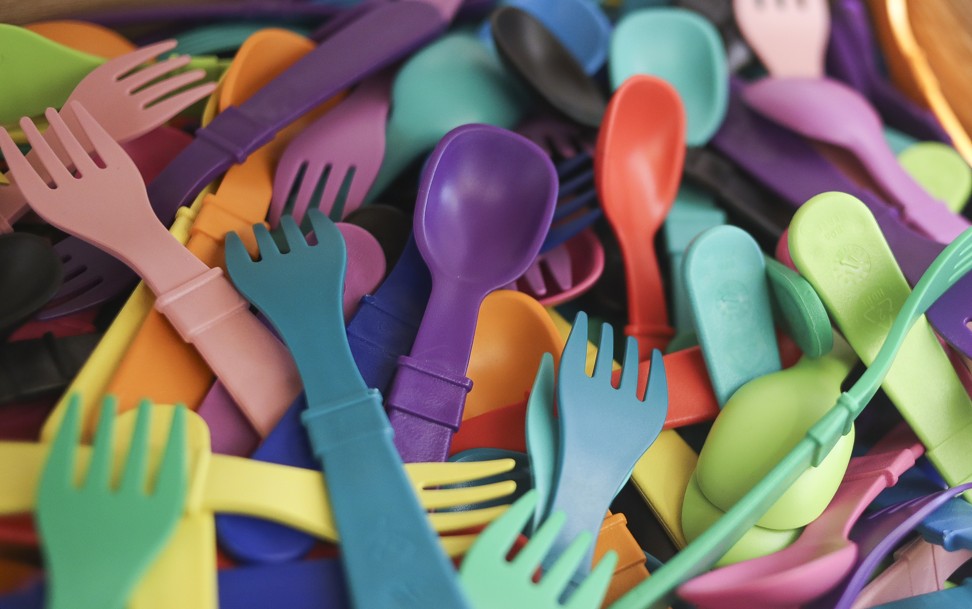 Thornburrow says she is not aiming to compete with wet markets, which also sell unpackaged food. Instead, Live Zero is priced to take on supermarket goods, with its range, Thornburrow estimates, about 20 per cent cheaper than branded goods – the saving coming from the absence of packaging. For example, 100 grams of green lentils at Live Zero sells for HK$6 (US$0.77); the same quantity of dried prunes sells for HK$15, and cashews HK$26.
Although the shop provides containers, customers will be encouraged to bring their own pots, jars and bags to fill. Live Zero will also operate a recycling scheme, where cleaned pots and jars can be donated to be used by others. Thornburrow also hopes to initiate a composting system in the backyard.
Thornburrow has spent the last few months researching her product range and making sure each item stands up to scrutiny in terms of the claimed source and compostability – though there have been some quandaries, which she points out as she wanders through the shop, picking up products. For example, bottles from "100 per cent plastic-free" brand Pura were shipped wrapped in plastic bags. Meanwhile, the rainbow-coloured utensils from the US company Re-Play opened her eyes in another way.
"They're made from recycled plastic milk bottles, but I recently found out to make recycled plastic you need to add new plastic. I couldn't believe it!" she says. She then taps a brightly patterned coffee cup by Hong Kong company Ecoffee. "These are made with bamboo fibre. I was wary of having them originally as they're quite fragile, but I know some people want completely plastic-free."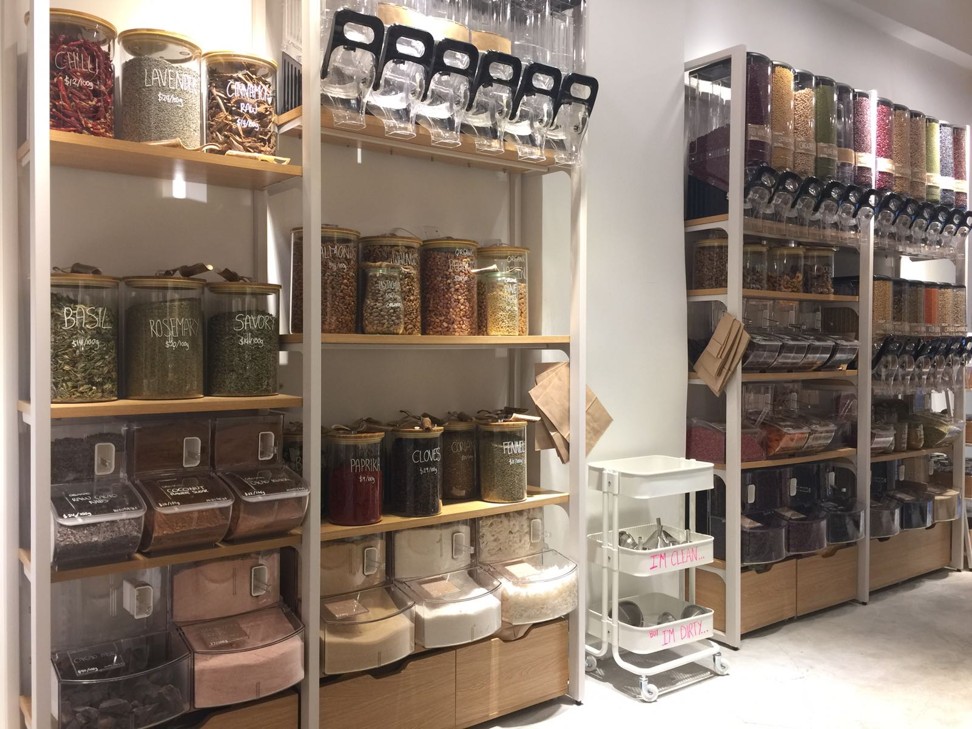 A landscape architecture graduate, Thornburrow began working as an interior designer for high-end Hong Kong brand Xava Interiors. She later moved to Olive Forrest, a company that sources antique furniture from China, then homeware retailer iDecorate. At 22, she opened Thorn and Burrow, which sells home decor and specialises in Turkish and Moroccan textiles. It was after she began stocking stainless steel water bottles by the New York brand S'well that she noticed a growing appetite for plastic-free products in Hong Kong.
As an experiment, she opened Live Zero in PMQ in Central, selling reusable foodware, bamboo toothbrushes and eco-friendly chalk paint. She also ran workshops on upcycling furniture, while building a following on Instagram at @livezero.hk. "It got a bit overwhelming," she says.
Emboldened by the interest in her new venture and eager to start selling food in bulk, Thornburrow found a new location in a spot formerly occupied by organic shop Just Green. But for all her experience, she had not worked with food before. To learn about the practicalities of selling limited expiry foods in bulk, she sought advice from Catherine Conway, founder of zero-waste shop Unpackaged in London.
"It really put everything in perspective," Thornburrow says. She found out that cleaning all the plastic bins regularly is an essential, yet time-consuming and finnicky procedure, and that food stored in bins would need to be sold within a week or discarded.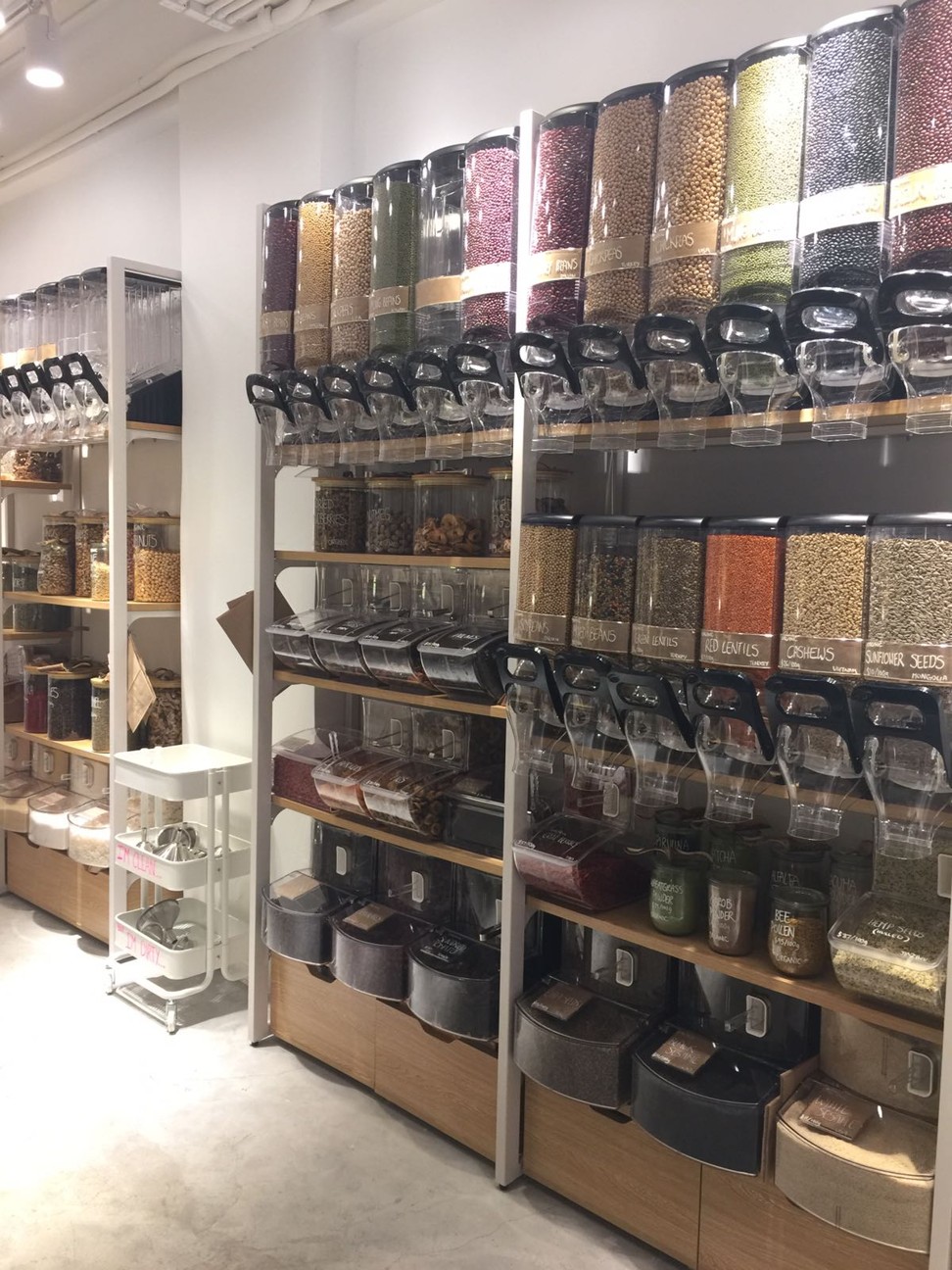 Shoppers used to choosing from eight different types of breakfast cereal or six pasta options may be surprised. "There'll be just one choice," Thornburrow says. "These days, when you get cleaning products, you get one for your bathroom, another for your kitchen, one for glass, one for floors, when you can actually just use one. Here will be similar: one salt, one pepper, one oil."
Thornburrow has had to make sacrifices transitioning to a zero-waste lifestyle, eschewing plastic-wrapped snacks and buying less clothing and cosmetics than she did when she was younger. "I rarely wear make-up, but I have so much. We're made to feel we need this stuff, like having 10 different eyeliners. [Zero waste] is about limiting yourself to what you need. Now I buy second-hand or fair-trade clothing, or just limit myself. I spend a lot less on food and clothes now."
Zero-waste shopping is likely to be an easier sell to Western expats familiar with recycling practices than to Chinese locals, particularly those who remember when the Sars virus spread through the city in 2003. For many, hygiene is paramount, and Live Zero's help-yourself ethos might deter those used to the perceived safety of plastic wrapping.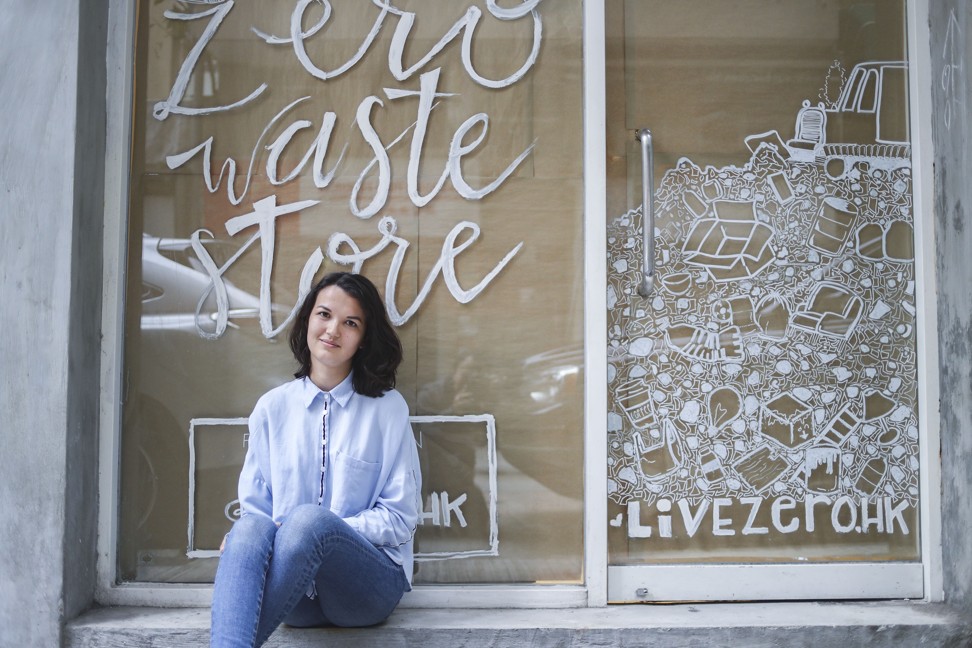 Gaining ground among the local community might take time but, when it comes to Hong Kong's plastic prognosis, Thornburrow is optimistic. "It'll get better. Especially in the last few years, there have been a lot of advocates for zero waste," she says, name-checking fellow Hongkongers Fanny Moritz of No!w No Waste, Hannah Chung of The Zero Waste Challenge, and Lisa Odell, who founded Plastic-Free HK. Many of the most prominent campaigners are women who are creatively taking on waste and influencing others through talks and workshops, while documenting their own progress via social media.
Although Thornburrow is prepared for teething problems and product wastage in the first few months, early interest would indicate she will be selling out those bins much faster than she can refill them. "We've had so much attention; people are asking when we're opening and offering free labour. With Thorn and Burrow, I needed it to make money. Both projects are passions, but with Live Zero, I'm doing it because it's good. It feels good when I say no to a plastic bag."
This article appeared in the South China Morning Post print edition as: A shop t hat just s ays no