Cambodia
Get more with myNEWS
A personalised news feed of stories that matter to you
Learn more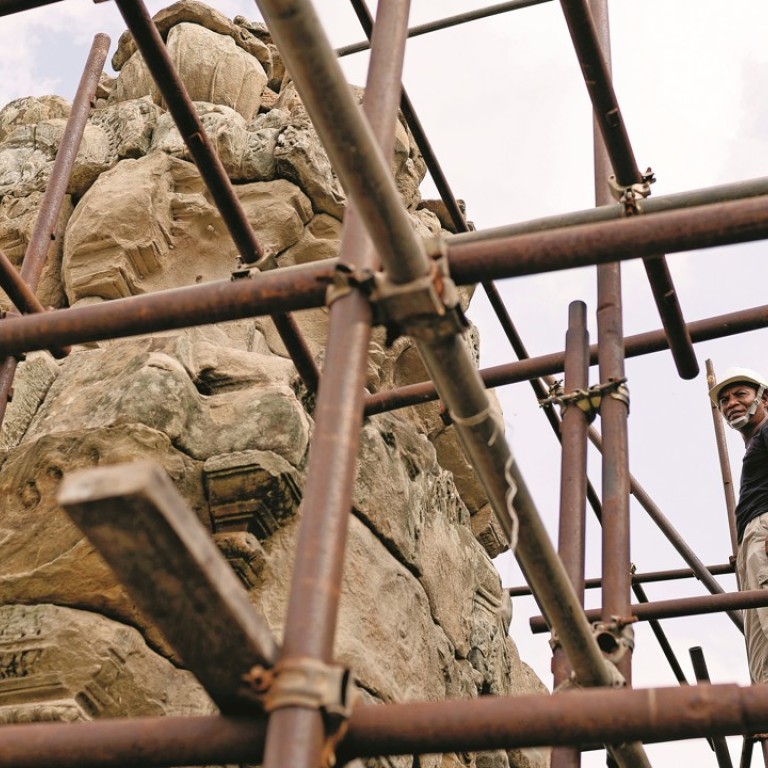 Angkor temple restorers face financial ruin after French funding ends, but want to finish job
Expert Cambodian stonemasons forced to halt work on 11th-century Angkorian temple after international funding ends
Local authority offers them barely half what they previously earned
When the small boat lands on the island, it's eerily quiet. It isn't hard to imagine that the air once rang with the sound of hammers on stone, and the shouts of workers, but now the only sound is the snap of tattered tarpaulins being whipped by the breeze.
The sole sign of activity is an elderly security guard – bare-chested and dappled with tattoos – and his dog.
On the island, at the midst of a vast reservoir, sits West Mebon, an 11th-century Angkorian temple that, until this February, was being revived after more than 1,000 years in a "largely ruined [state] … engulfed in vegetation", according to a lonely set of informational placards.
The project to rebuild West Mebon began in 2012 with funding from the French government by way of the École française d'Extrême-Orient (EFEO), one of the most prominent players in the long history of restoring and maintaining Cambodia's Angkorian temples.
Six years on the work is little more than half finished, and extensive portions of the structure are merely piles of rubble. It is unclear when the restoration will be completed; equally unclear is the fate of 126 Cambodians working on the project, who have been left in financial limbo.
In February Chin Sophal, 42, Din Lida, 47, and Morm Pum, 42, representatives of the local affiliate of the Builders and Woodworkers Trade Union of Cambodia, who worked on the project, were told by the EFEO project manager that work at West Mebon would be suspended due to a lack of funding from the French government.
The union learned that the project would be handed over to the Apsara Authority, the Cambodian governmental institution charged with protection of the Angkor Archaeological Park, and that the authority had decided to terminate their contracts. The trio know West Mebon like the backs of their callused hands because they have been rebuilding it stone by stone from day one.
Din Lida oversaw the work of hauling massive slabs into place for the temple's foundation and walls. Morm Pum managed reconstruction of the southeastern-most tower – transforming a jumble of stones into an architectural wonder – and Chin Sophal supervised nearly every aspect of the work.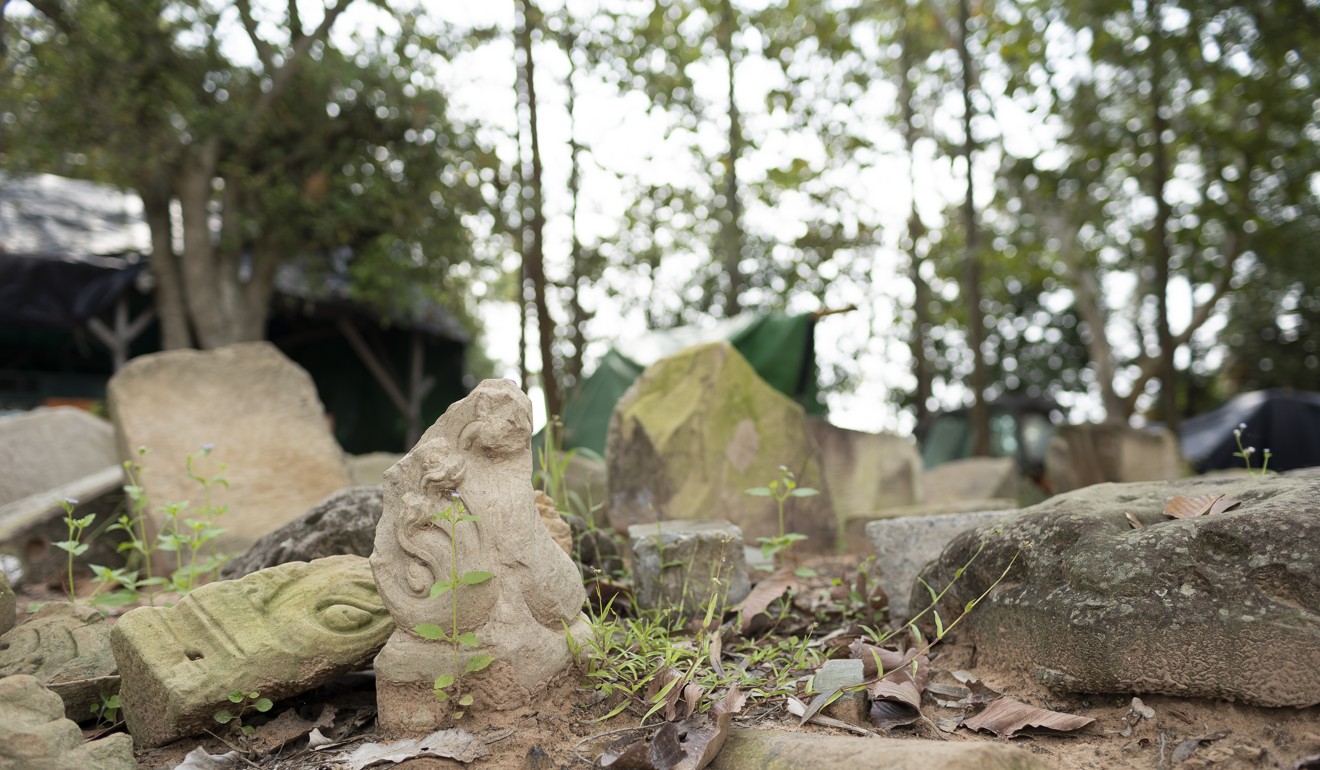 Reconstructing the temple has been like trying to assemble a 3D jigsaw puzzle whose pieces are scattered, missing, or broken beyond repair. The three restorers are among the most experienced temple restorers in Cambodia, having been in that line of work since 1993. They are deeply unsatisfied about leaving the West Mebon restoration unfinished.
The Khmer phrase they use over and over as they walk across the island, surveying the incomplete facade, is souk sday, meaning "regret".
They are conscious of the spiritual, historic and symbolic role these structures play in their country, and are proud to be a part of its rebirth. They feel that working on these temples is their calling, but it is also their livelihood. After the Apsara Authority informed the union it would be terminating the workers' contracts, it offered new ones that differed significantly from the old ones.
Under their EFEO contract, Din Lida and Morm Pum, who served as group leaders, had been making US$270 per month. Chin Sophal, as the project's supervisor, had been on US$370 per month. It wasn't a lot, but it was enough to support their families.
The contracts the authority offered remove all their benefits and slash their pay. Din Lida and Morm Pum were told their salary would be US$6.50 per day. If they worked the 22 days a month they had before, they would be making just US$143, an offer they refused. Chin Sophal says the Apsara Authority has not told him what his salary would be under a new contract and has barred the union from negotiating on behalf of the other workers.
Din Lida struggles to hold back tears when contemplating his situation. He has two daughters and a son, and needs to pay their school fees. He is also US$3,000 in debt, he says, which he borrowed before they were cut from the project.
"I am going to die because of that debt," he says. Din Lida has tried to make money in other ways. He bought shoes wholesale to sell at a market, but now has more inventory than he can offload. "It's very hard to get income here in Cambodia," he says, yet there's no way he can accept the Apsara Authority's offer. It is barely enough to cover the cost of fuel to drive to work.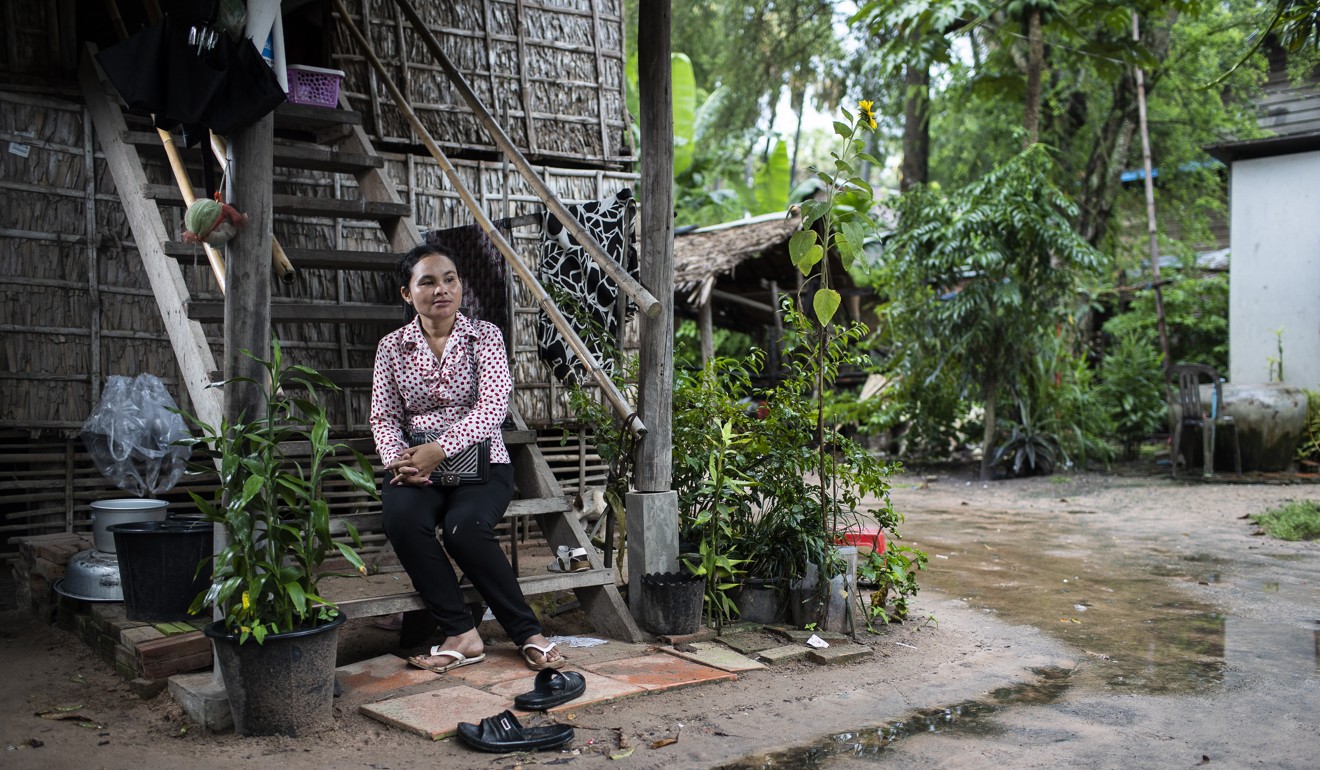 It isn't just the skilled restoration workers who are struggling. Lay Ly, 40, has spent the last three years working as a cleaner and a cook at West Mebon. The widow and mother of three took the job after her husband, also a temple restoration worker, died from complications related to diabetes.
Union representatives visited her home and were shocked at the conditions in which she and her children were living. They persuaded her to work on the West Mebon project, and until February she had been earning US$160 per month. The salary was enough to put food on the table and school her daughter and two sons.
The authority is now offering Lay Ly US$5.25 a day, which is not enough to cover her expenses. Instead she has taken a job cleaning hotel rooms, which pays her US$120 per month. That money goes straight to her kids' schooling and paying back a US$2,000 debt she has owed since her husband died.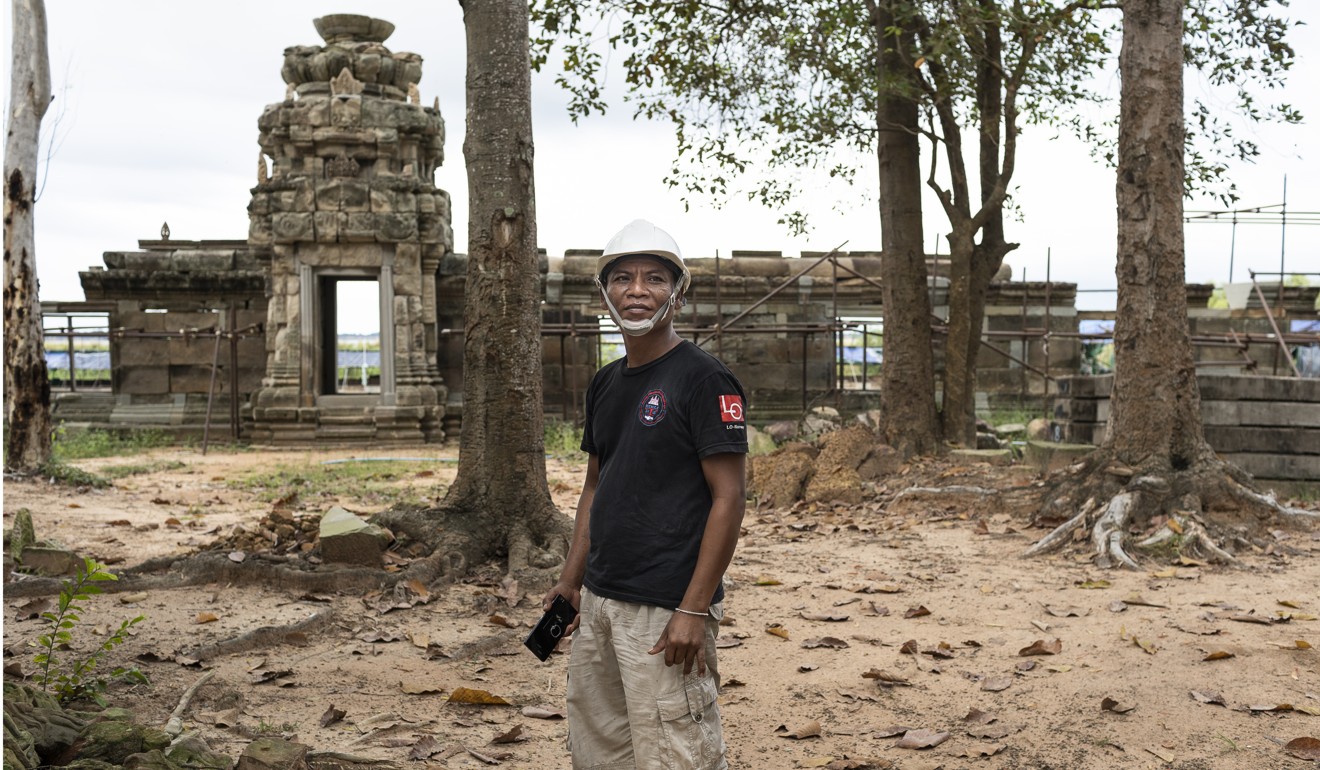 "Sometimes I drive around without a single riel on me," she says.
Chin Sophal says this pattern isn't new. He has seen what happened when other Angkorian projects that were managed and funded by the Japanese, Chinese and French governments were handed over to the Apsara Authority. The playbook is always the same, he says.
All three say they are disappointed that foreign governments treat them with respect, but their own government does not see their value.
The Apsara Authority has not commented on its handling of the West Mebon project. But when Long Kosal, the authority's spokesman, was interviewed by newspaper the Phnom Penh Post, he said it was simply unable to offer the same benefits as the EFEO because its budget was limited.
The authority, which manages ticket sales for admission to the temples – for non-Cambodians a one-day pass costs US$37, a three-day pass costs US$62, and a week-long pass costs US$72 – generated US$61.47 million in ticket revenue from 1.4 million visitors in the first six months of this year alone, an 18 per cent increase over the same period last year.
This isn't the first controversy the Apsara Authority has faced. Before 2016, the authority outsourced ticketing at Angkor Archaeological Park to the Sokimex group, owned by tycoon Sok Kong. During that time, allegations of corruption and under-reported revenue dogged the operation, leading the government to reclaim control.
Critics have continued to raise questions about the management of the sites. As recently as May 2017, a senior opposition lawmaker called for a review of government spending on the Apsara Authority, which he claimed wasn't being allocated to the maintenance of temples and bridges in need of repair, as it should have been.
The French government and EFEO have remained circumspect in their comments regarding the issue. Mathilde Teruyo, the French embassy spokeswoman in Cambodia, when contacted via email, simply said that "there is a lot information going around on the Mebon [project], not all is correct".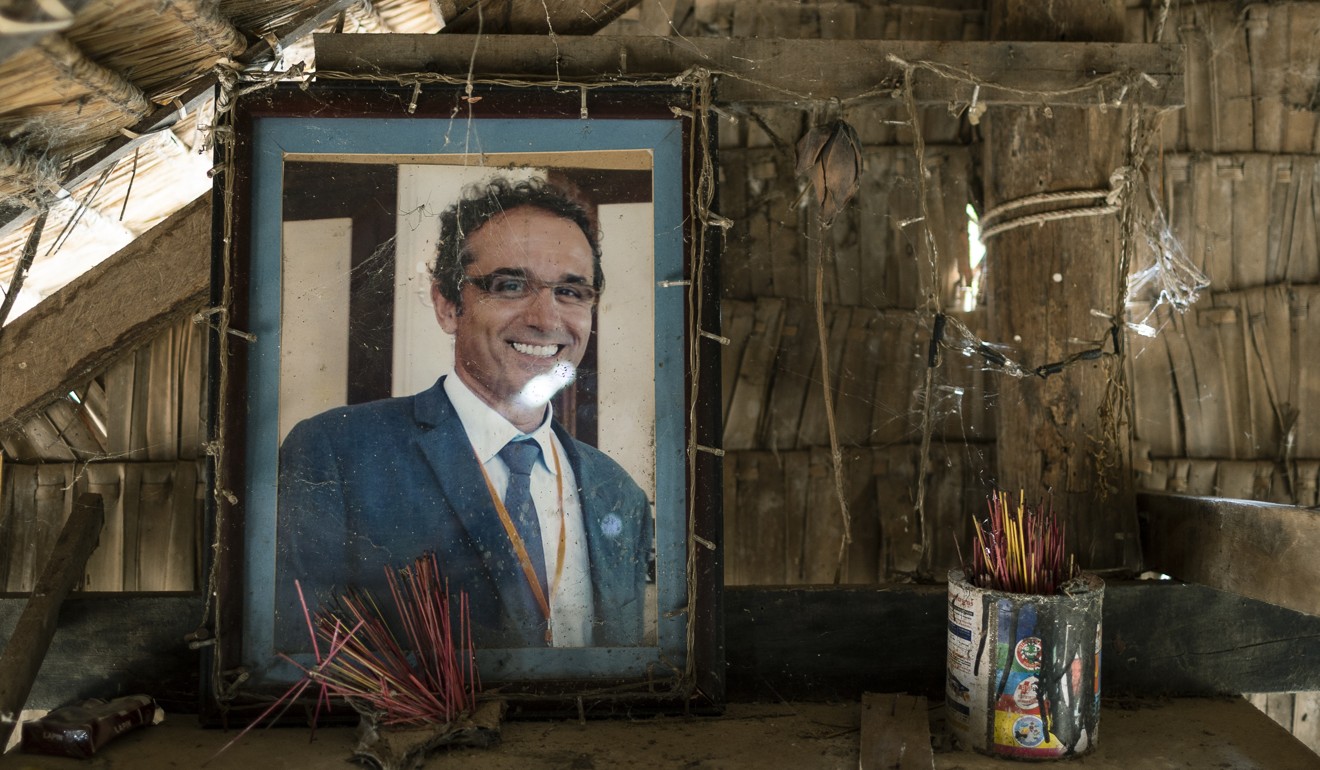 The workers say they do not want to cause controversy – they just want to get back to work. And they want the country that projects the Angkor temples as national symbols to value their work.
Chin Sophal says his wife thinks he should give up on temple restoration and go find a better-paying job in Thailand. But he refuses to lose hope of a resolution.
"If it comes to … December, January and the problem still hasn't been fixed, maybe I'll look for other work," he says.
But it's obvious that's the last thing he wants to do. His heart is in the West Mebon restoration and only one thing can truly give him peace.
"When it's finished, I'll be happy," he says.