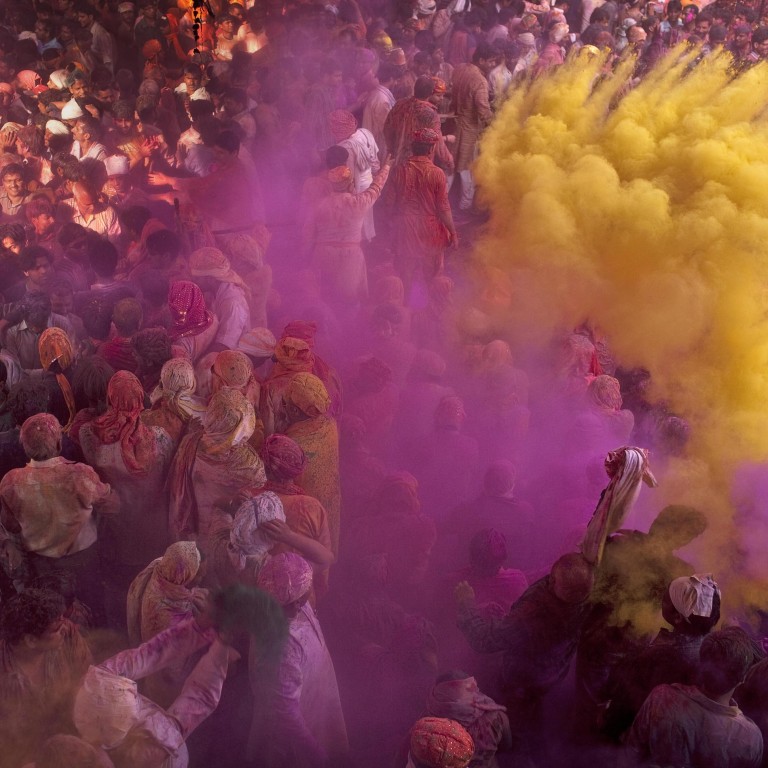 Holi explained: India's 'festival of colours' is all about fun, freedom and forgiveness
Entire neighbourhoods and towns come together on Holi to splash and smear each other with coloured powder, paint and water, all in good humour
The tradition is believed to have come from a mischievous boyhood prank that the god Krishna played upon Radha, his beloved
"Witness the beauty of the great cupid festival which excites curiosity as the townsfolk are dancing at the touch of brownish water thrown from squirt guns. They are seized by pretty women while all along the roads the air is filled with singing and drum-beating. Everything is coloured yellowish red and rendered dusty by the heaps of scented powder blown all over."
This poetic dialogue, taken from the seventh-century Sanskrit play Ratnavali, describes the celebration of Holi, the Hindu festival of colours. It could very well be describing the scene of the modern-day festival being celebrated in many parts of India, Nepal and other parts of the world.
Holi is an exuberant festival where people splash and smear each other with coloured powder, paint and water, all in good-spirited humour. Entire neighbourhoods and even towns come together on Holi – which this year falls on March 21 – as the frolic and fight with colours is played out in community centres and parks, and spills out onto open streets.
Groups of revellers go around town shouting, "Holi hai bhai Holi hai, bura na mano, Holi hai" (It's Holi, don't be offended, it's Holi) – the universal evocation associated with the festival, which is a warning as well as a plea for forgiveness. It is a license to indulge in pranks that one would not dare dream of committing on any other day, such as throwing water-filled balloons at strangers from rooftops, or creeping up on parents and older relatives and drenching them with coloured water. Anyone and everyone, friend or stranger, is fair game at Holi.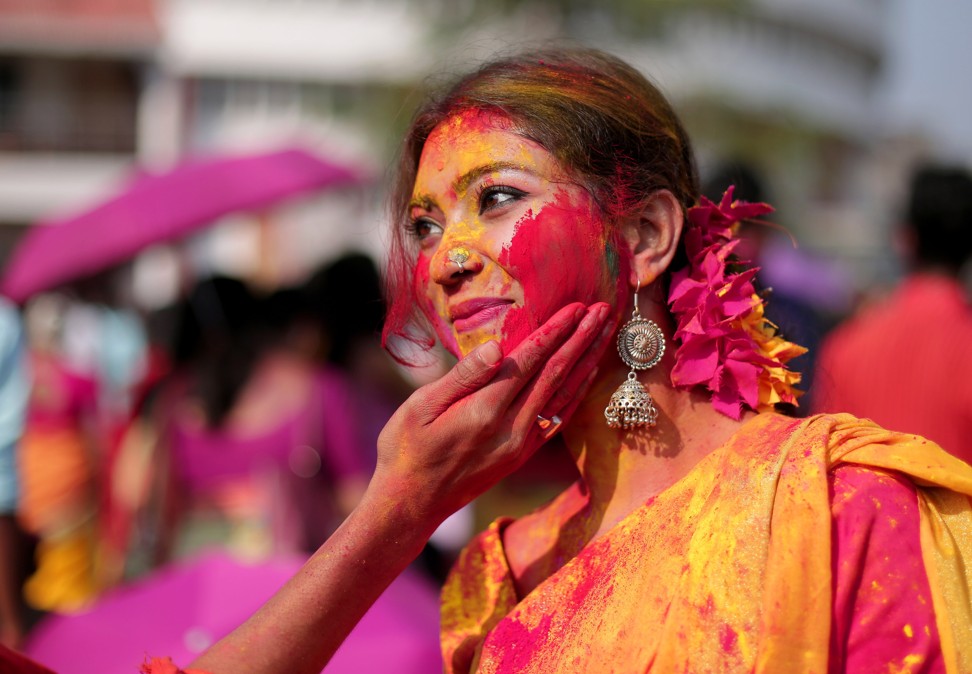 All rules of propriety and social distinctions appear to be suspended during Holi. It is as if the joyful anonymity of the paint-smeared faces and attire allow for societal segregations to be forgotten. Girls mingle freely with boys, the poor hang out with the rich, and even caste differences are forgotten.
This is a big deal, because caste- and gender-based segregations continue to be strictly observed, especially in traditionally conservative small towns and villages across India. Holi, therefore, almost seems to serve as a social pressure-release valve – the one day of the year that people can truly let their hair down unafraid of censure for breaching this rule or that restriction. After all, no one can possibly take offence – "Bura na mano Holi hai."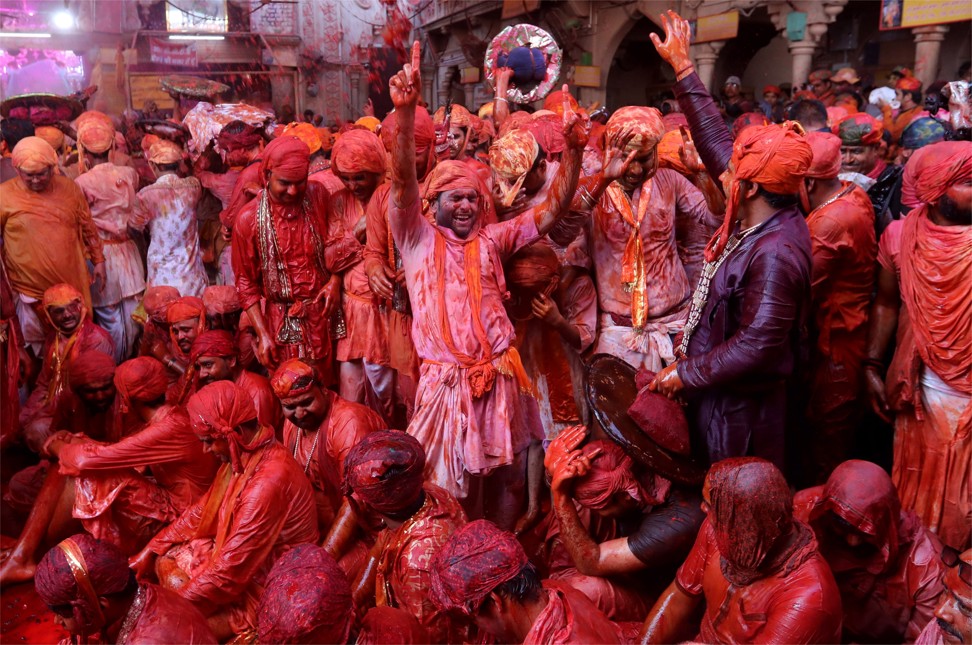 "Holi is a social leveller and its beauty is that people of all backgrounds come together to celebrate," says Dr Tanuja Sharma, 57, a professor at a business school in India's capital Delhi who grew up celebrating Holi in Allahabad, a city in northern India. "A week before Holi, we used to take turns to cook gujiyas [a sweet, fried pastry] and visit every house in the neighbourhood, whether rich or poor, to feast."
Holi lasts for a night and day, starting on the evening of the full moon day in the month of Phalgun in the Hindu lunar calendar, which falls in February or March. It is a celebration of the arrival of spring as well as thanksgiving for a good winter harvest.
The traditions observed during the festival have roots in Hindu religion and mythology. One of the main legends associated with Holi goes as follows: Holika was the sister of an evil demon king who considered himself greater than the gods. When the king's son, the pious Prahlad, who was an ardent devotee of the god Vishnu, refused to accept his father's claim, the evil king, in a fit of rage, condemned Prahlad to death.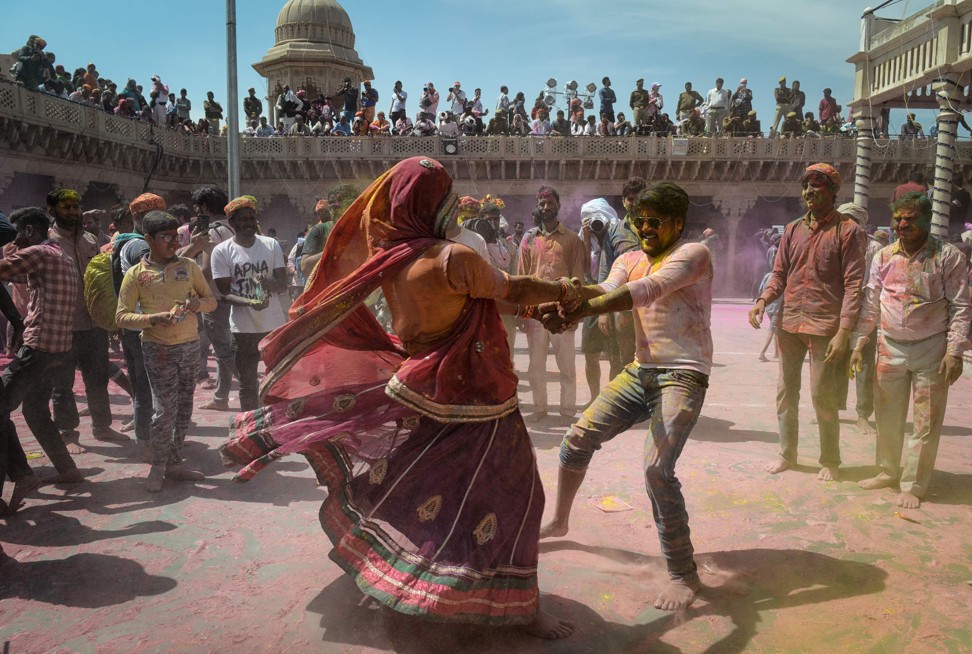 Holika was asked to carry out her brother's sentence, and having magical powers that made her immune to fire, she seized Prahlad and carried him in her lap atop a lit bonfire. Vishnu intervened on the boy's behest and Holika's magical powers were transferred to Prahlad, leaving him miraculously unharmed by the fire, while the demoness was burnt to ashes.
On the night before Holi, bonfires are lit at neighbourhood crossroads and in parks. Effigies of Holika are burned, symbolising the eternal triumph of good over evil. This is known as "Holika Dahan", or the burning of Holika, and is believed to be the origin of the festival's name.
The tradition of smearing one another with colour on the day of Holi is believed to have come from a mischievous boyhood prank that the god Krishna played upon Radha, his beloved.
The story goes that the dark-complexioned Krishna often asked his mother why the fair-skinned Radha was different than him. Tired of the same question, one day the boy's mother told him to stop bothering her and go colour Radha in any colour that he wanted. Naughty Krishna armed himself with colours and went over to Radha's village and did exactly that. Radha lovingly played along and thus began the colourful tradition.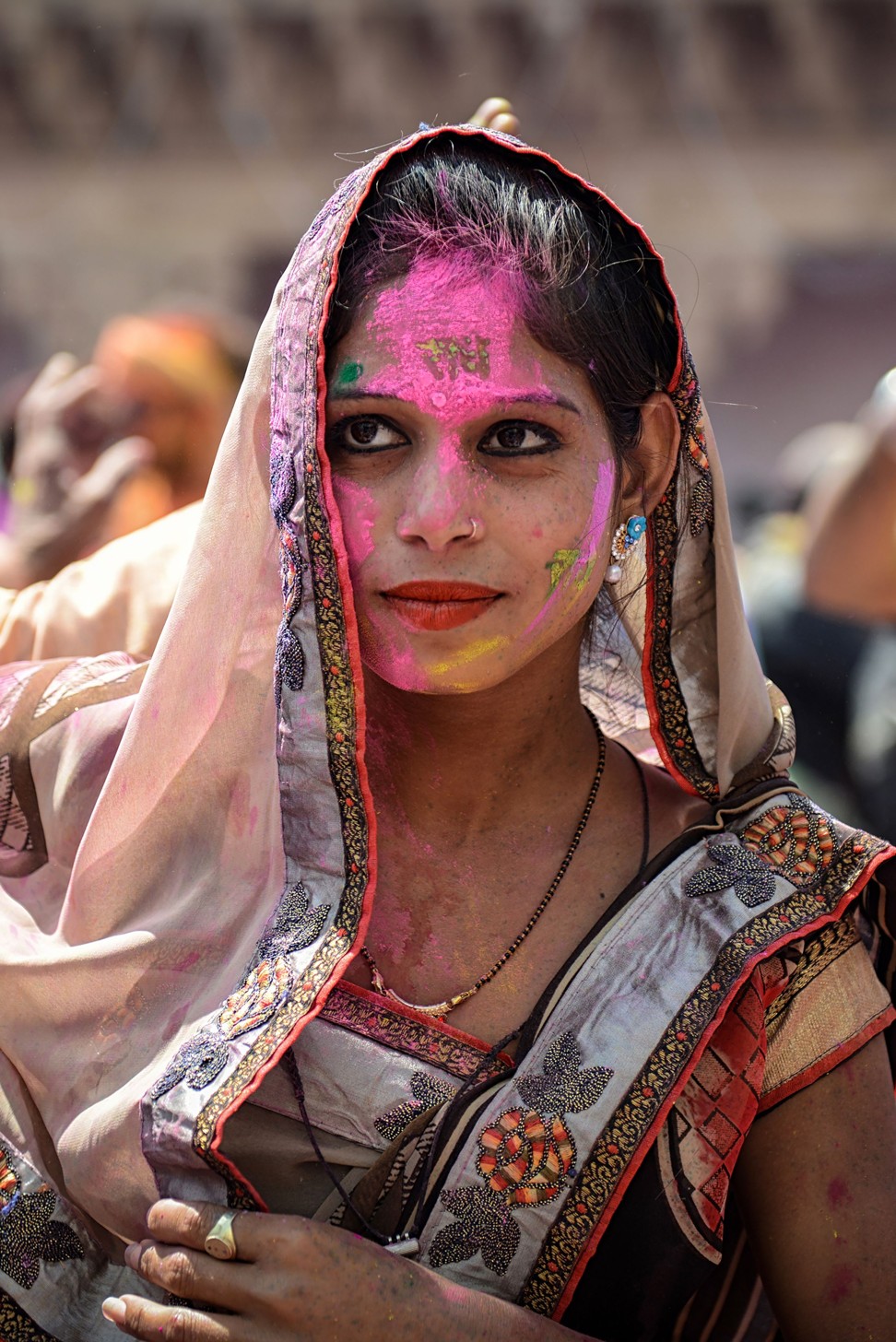 Holi is therefore of special significance in the Braj region in northern India, comprising the towns of Mathura, where Krishna is believed to have been born, and Vrindavan and Gokul, where he spent his boyhood. Vrindavan's famous Banke Bihari temple and Mathura's Dwarkadheesh Temple are home to the biggest celebrations of Holi in India.
"Holi is not a one-day festival here, but is celebrated for a month," says Anand Vallabh Goswami, 51, a priest at the Banke Bihari temple in Vrindavan.
"In Barsana, a small town near Mathura where Radha was born, Holi is celebrated in a unique way," he continues. "The legend is that Krishna, along with his companions, visited Barsana to play Holi with Radha and her friends. In the same spirit, thousands of years later, the men of the neighbouring town of Nandgaon travel to Barsana to apply colour to the women, but instead of colours, they are greeted with sticks. The womenfolk use lathis [long staves] to beat the men playfully, who come prepared with shields to protect themselves. This is called Lathmar Holi [stick-beating Holi]."
Holi is also celebrated by throwing flower petals on idols of Krishna and Radha, and then throwing the petals on one another. "This is called Phoolon ki Holi [Holi with flowers]," Goswami says.
Like in years past, Holi will be celebrated with great gusto in Hong Kong by the Indian and Nepalese diaspora, with numerous gatherings organised across the city, including Holi beach parties.
"A beach is the perfect place to play Holi," says Anamika Chhawal, 34, founder of Rezonance Events, an event management company that has been organising beach parties in Hong Kong for the past six years. "The celebrations are a blend of the modern and the traditional. It's a riot of colours, dance and fun. People smear colour on one another while dancing to the latest Bollywood numbers played by our DJ.
"Holi is such a fun, lighthearted festival and it crosses boundaries and cultures. More than half the people who come are non-Indians and the demand is so huge that we have had to cap participation at 500 people."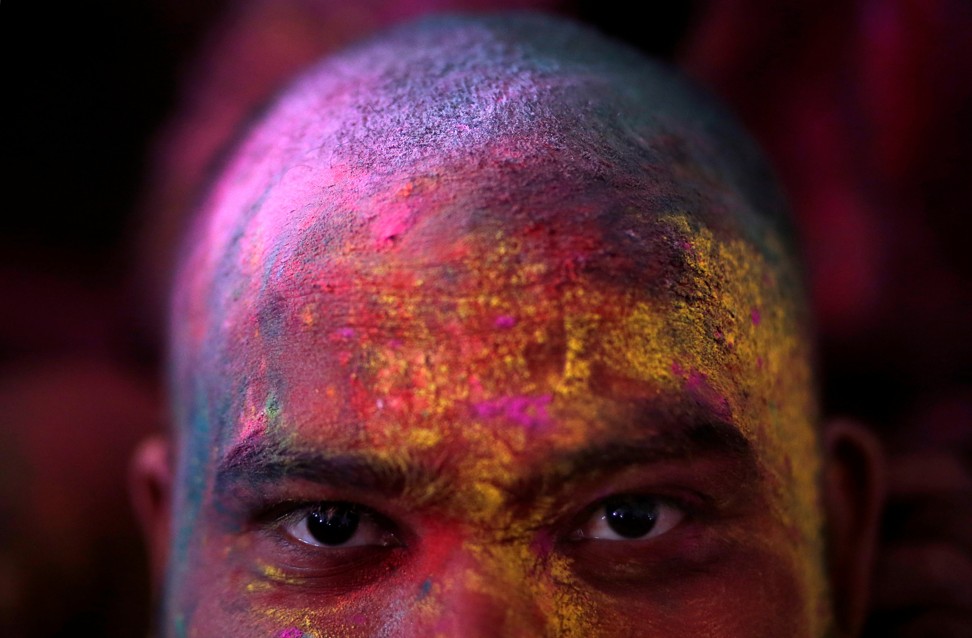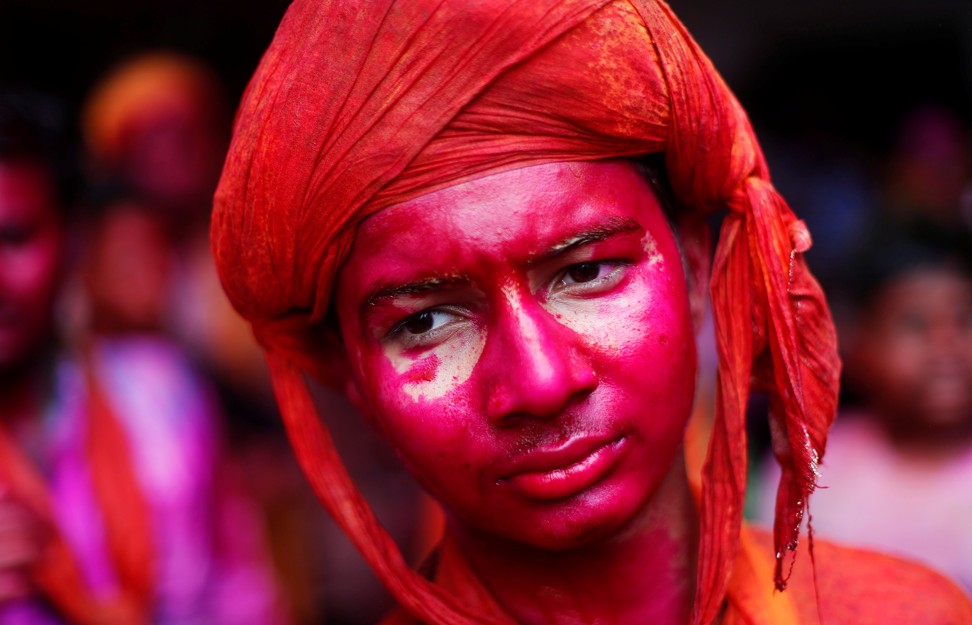 There are Holi celebrations geared towards children as well.
"We celebrate Holi with fun activities organised in and outside our classroom," says Geetanjali Dhar, 51, founder of Sanskriti Global, a programme that promotes the use of Hindi and popularises Indian culture among children. "The build-up to the festival starts with storytelling about the tradition and history of Holi."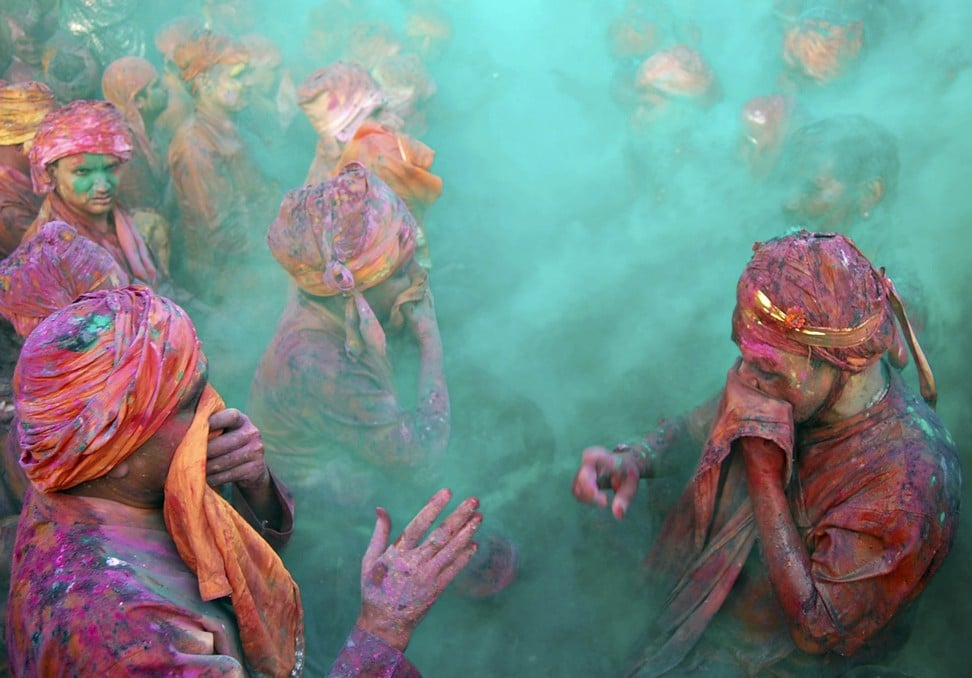 Dhar has been organising Holi get-togethers for the past few years in Hong Kong.
"It is wonderful to see the kids running around smearing colours on each other and using pichkaris [water guns] and water balloons to drench each other. We serve traditional Indian snacks like gujiyas and malpuas [fried pancakes] along with thandai [a cold milk drink flavoured with nuts and spices]."
Holi is the festival of colours and the four main powder colours used represent different things. Red reflects love and fertility; blue is the colour of Krishna and symbolises infinity; yellow is the colour of turmeric, or healing; and green symbolises spring and new beginnings.
Holi is a festival that celebrates life. It is a time to renew ruptured relationships, resolve old conflicts, forgive and start afresh.
"The essence of the festival can be surmised in these words … 'Let bygones be bygones, let's forgive and forget and start afresh by hugging each other and colouring each other's cheeks,'" Goswami says.