Vietnam
Get more with myNEWS
A personalised news feed of stories that matter to you
Learn more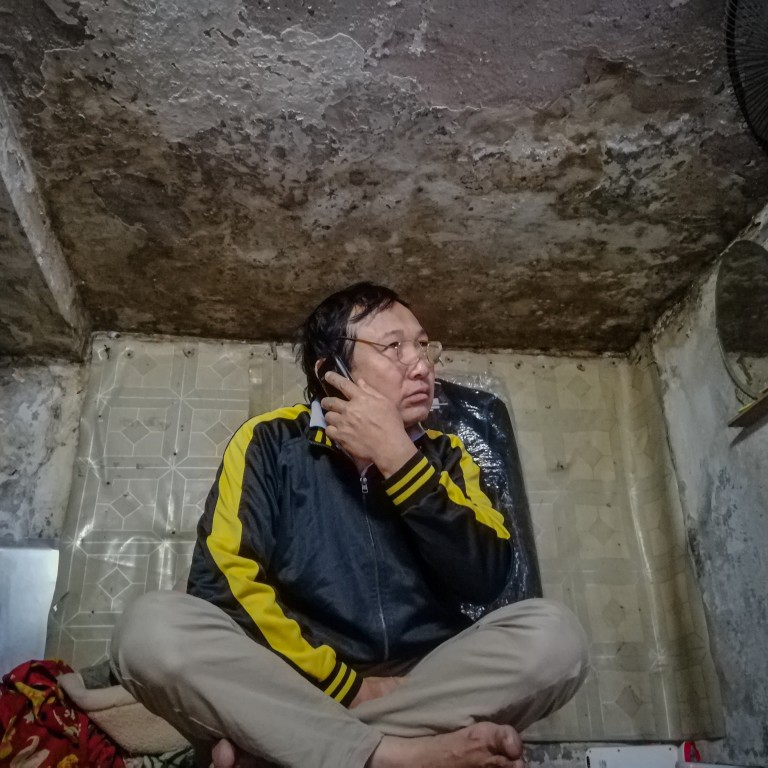 Rich-poor gap in Vietnam epitomised by Hanoi's Old Quarter, where people live in poverty next to banks and boutiques
In Hanoi's moneyed commercial centre, corporate HQs and luxury shops sit steps from the homes of people living in tiny rooms too small to stand up in
After the Vietnam war ended in 1975, people were given small spaces to live in with the hope of larger housing in the future – dreams that never came true
"If anyone offered me a bigger house in exchange for my leg, I would give it to them in a heartbeat," says Vietnamese delivery man Hoang Van Xuan, a 56-year-old who lives in a tiny decrepit attic in Hanoi, in the moneyed commercial centre known as the Old Quarter.
Down the area's picturesque and gentrified streets that tourists love so much there are many residents living in abject poverty in tiny coffin-sized spaces like Xuan's.
His 5-square-metre (54-square-foot) attic is so small he can't stand up straight inside. Mould grows on the walls and flimsy metal sheets protect his pillow from the damp. There's no bed. A rose-printed blanket, his only bedding, is spread over a worn-out mattress.
"There's no door or lock," Xuan says. "If thieves get in it's only a waste of their time because I have nothing valuable."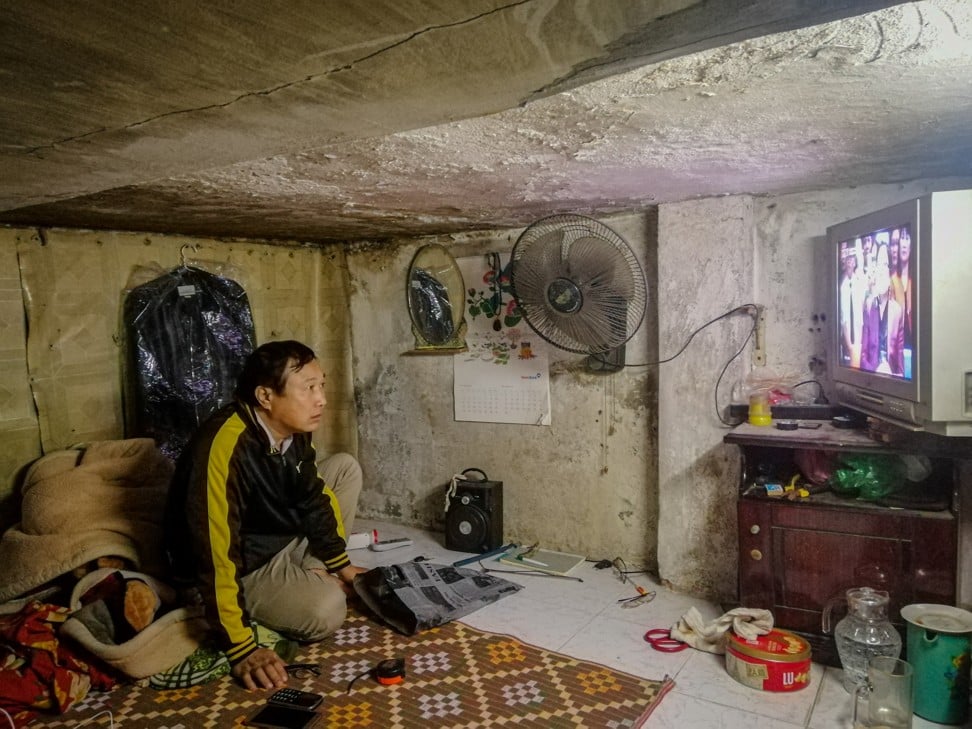 The Vietnamese capital's famed Old Quarter comprises 36 streets north of Hoan Kiem Lake that date from the feudal era, before 1945, with each of the thoroughfares dedicated to a different trade or craft. There are streets where businesses focus on shoes, toys or paper votive offerings, for example, but in recent years many Hanoians have become more entrepreneurially ambitious.
Commerce has flourished in the capital in the four decades since the Vietnam war ended. In the Old Quarter, gleaming office towers occupied by banks and corporate headquarters sit alongside the beckoning windows of hotels, luxury boutiques and other shops selling shoes, silk, jewellery, crafts, traditional herbs and the city's culinary delicacies.
Xuan is one of the long-time residents living amid this luxury who barely scrape by. He earns a little money by delivering packages from clothing stores in the Old Quarter to bus stations, to be distributed to various outlets in the country. He also works as a motorbike taxi driver, making about 100,000 Vietnamese dong (US$4.30) a day.
But as the popularity of
bike-sharing platforms
explodes, drivers and delivery men like Xuan, who are unfamiliar with modern mobile phone apps, can barely make ends meet.
"I can't even park and sit on my bike on the pavement so potential passengers can see me, because the police keep shooing me away," he says.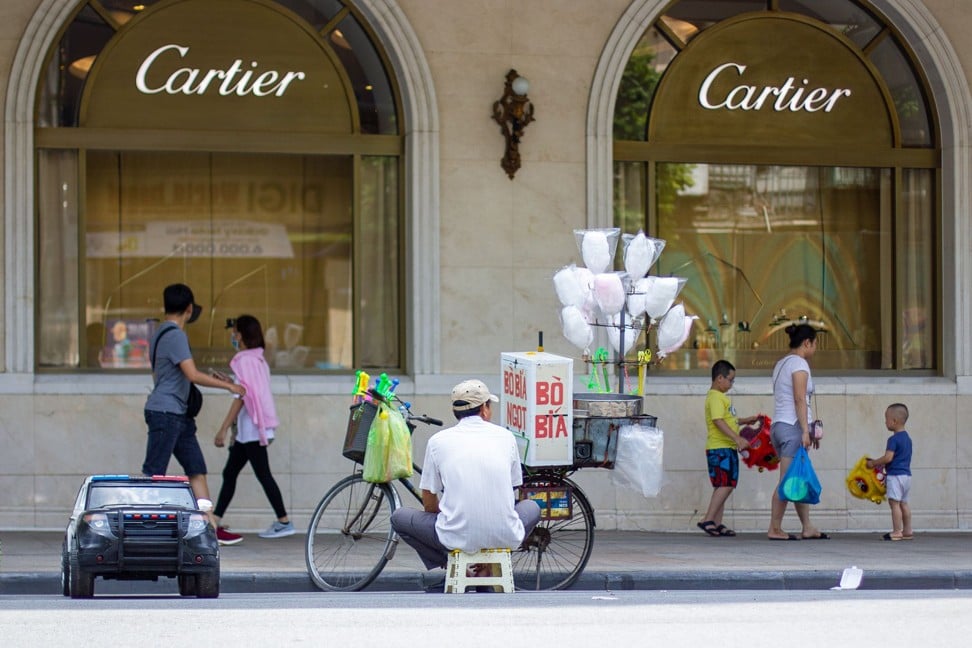 Hanoi's winter is notorious for its humid chill and temperatures can fall to below 10 degrees Celsius (50 degrees Fahrenheit), but Xuan prefers the icy cold to the summer swelter. His tiny room leaks badly during the summer rains. "It's suffocating in here during the summer," he says.
From a family of eight children, Xuan has lived in the attic for almost 50 years, since he was a young boy. His brother lives with his family in a bigger room below the attic, but Xuan's other siblings have moved to other parts of Hanoi or overseas.
He shared the attic room with his former wife for a while, but in 2002 she fell for someone else, and Xuan became the single father of their then five-year-old son, Dao Xuan Thuy.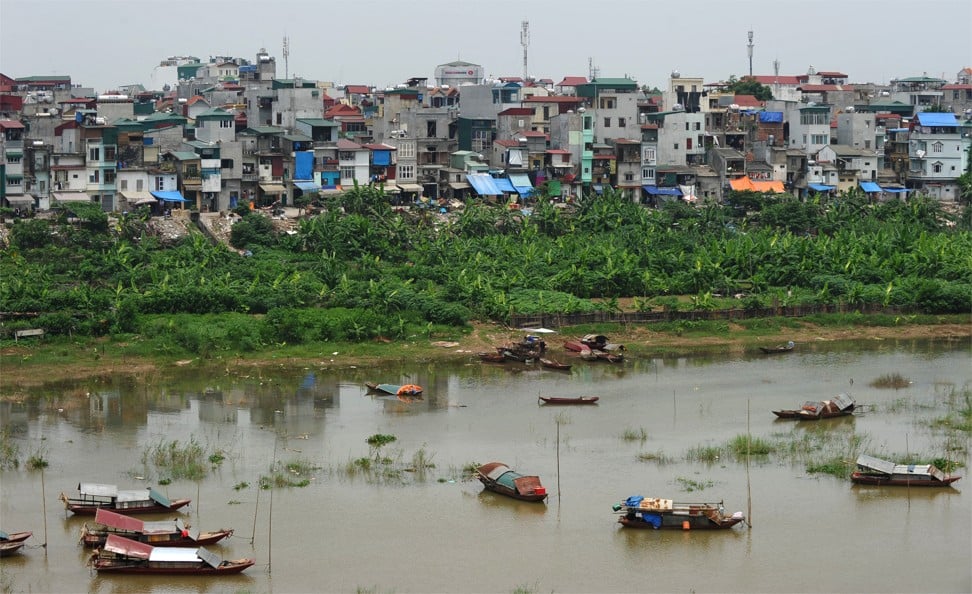 They lived together in the attic until Thuy turned 22, when the lack of space became too unbearable. Xuan sent Thuy to live with his mother and her boyfriend, 14km (9 miles) from the Old Quarter.
"I feel sad that I don't live with him," Xuan says. "But I can't take care of him and he needs more space."
In a building close to Xuan's attic, a 72-year-old single father has been living with his adult son in a 2-square-metre room since 1992. There isn't enough space for them both to stretch their legs without bumping up against each other.
"This is my modern tent," says Chu Van Cao, his big grin revealing very few teeth. The most expensive item in the "tent", according to Cao, is a translucent plastic fan that cost 250,000 dong. The fan's plastic is now cloudy with age.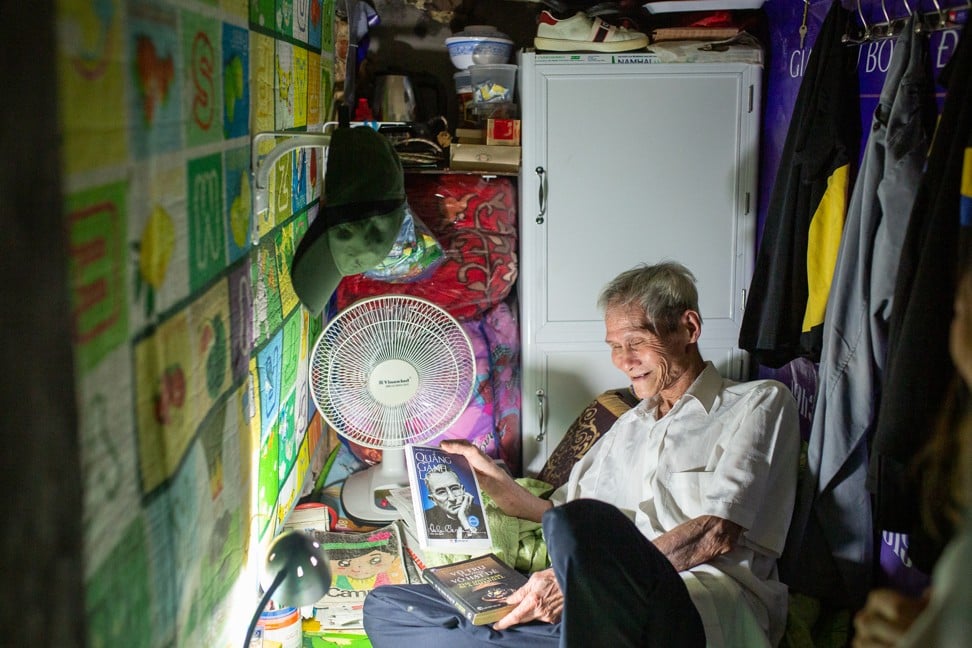 The tiny room's walls and floors are draped with cartoonishly patterned tarpaulins that Cao says were given to him by neighbours. There are only two items of furniture: a metallic shelf and a white plastic wardrobe made by Chu Anh Van, Cao's 31-year-old son.
Van, who now works at a furniture store, started living in the tiny room with his father a few days after his parents parted ways when he was six. The father-son pair had to learn how to put on their trousers sitting down because the ceiling is so low that standing upright to dress is impossible. Once part of Cao's house, the tiny attic room is the only space he still possesses after selling almost everything he owned to pay off the debts of several failed businesses.
These days, Cao earns enough to live on by doing trivial tasks at several cafes in the Old Quarter.
"I eat out every day. I like pho [Vietnam's traditional noodle soup], but I can't really have the beef because I don't have teeth any more," he says, chuckling.
The only light in his attic comes from a desk lamp. His next-door neighbour lets Cao plug it into his multiple-socket outlet.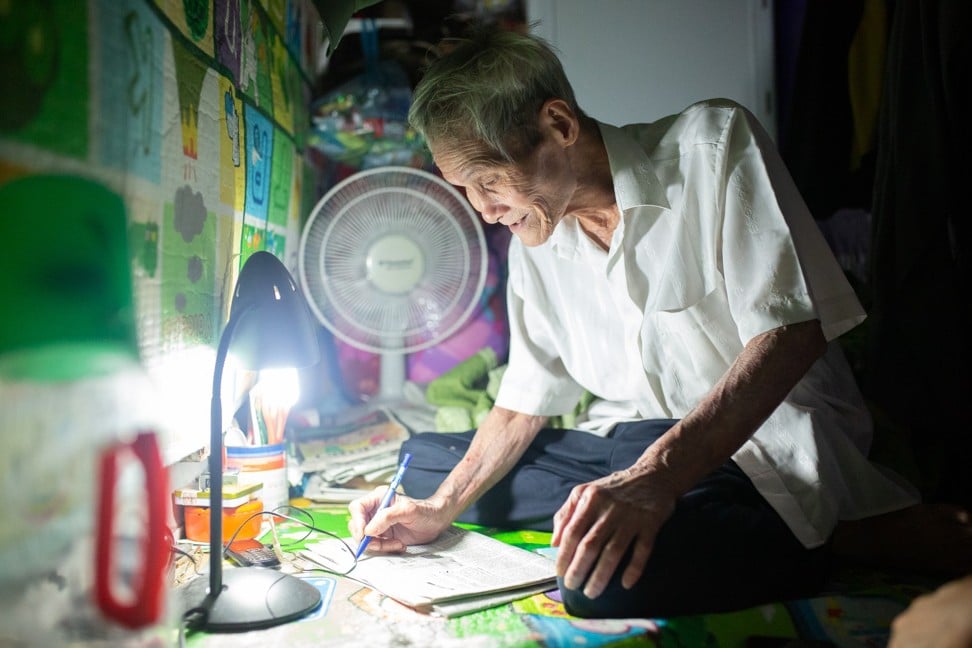 A war veteran and former tutor, Cao has an exuberance and vitality that transcends the coffin-like room.
"This is nothing compared to my time serving in the military during
the American war
," he says. "I had to sleep in a hammock under a car; there were jungle mosquitoes and bomb attacks."
As well as lacking natural light, Cao and Xuan's tiny rooms also have no water supply, toilet or kitchen. The men use the communal toilet shared by the neighbourhood in their respective alleys.
Hanoi's Old Quarter is one of the most densely populated areas of the capital. The city is known for its extremely narrow "tube houses", the cheek-by-jowl dwellings that sprouted during times of land scarcity. After the French colonists left the country in 1954, people who came to work in Hanoi were given rooms in these homes, but it was only meant to be a temporary arrangement, according to a Canadian author who has lived in the city since 1998 and has written two books about Hanoi's old houses.
"Peace was at hand and people believed they had a chance to build their own homes," says the author, Linda Mazur. "But the first order of business for the new government was to repair the infrastructure and build factories." Her book on the subject, Hidden Houses of Hanoi and the Stories They Tell, was published in 2016.
A decade or so after the Vietnam war ended in 1975, tube housing started to emerge again. More people were given tiny spaces in which to live in the Old Quarter, Mazur says, with the hope of larger and more suitable housing being provided in the future, but the war with China in 1979 and subsequent trade embargoes destroyed these dreams, again.
After a roller-coaster ride of destruction and reconstruction over decades, land in the Old Quarter now sells for exorbitant sums – as much as 1 billion dong (US$43,000) per square metre – and owners can make huge sums selling the narrow houses.
"However, for some of them, after many generations they have nowhere else to go," Mazur says. "Their work is in the central area and they could not afford another home in the central core."
For his part, Xuan is fed up with his 5-square-metre attic and he dreams of a bigger, quieter, mould-free home.
"If some old couples have a bigger house without anyone taking care of them, I'm more than willing to become their adopted son and look out for them," he says.
But Cao, the older veteran squeezed in the 2-square-metre room, is happy where he is.
"People from the local government and other organisations have offered to take me to a different place, but I don't want to leave," he says. "I value mental values over materialism. Besides, I like the Old Quarter."
This article appeared in the South China Morning Post print edition as: Hidden in the gaps