History
Get more with myNEWS
A personalised news feed of stories that matter to you
Learn more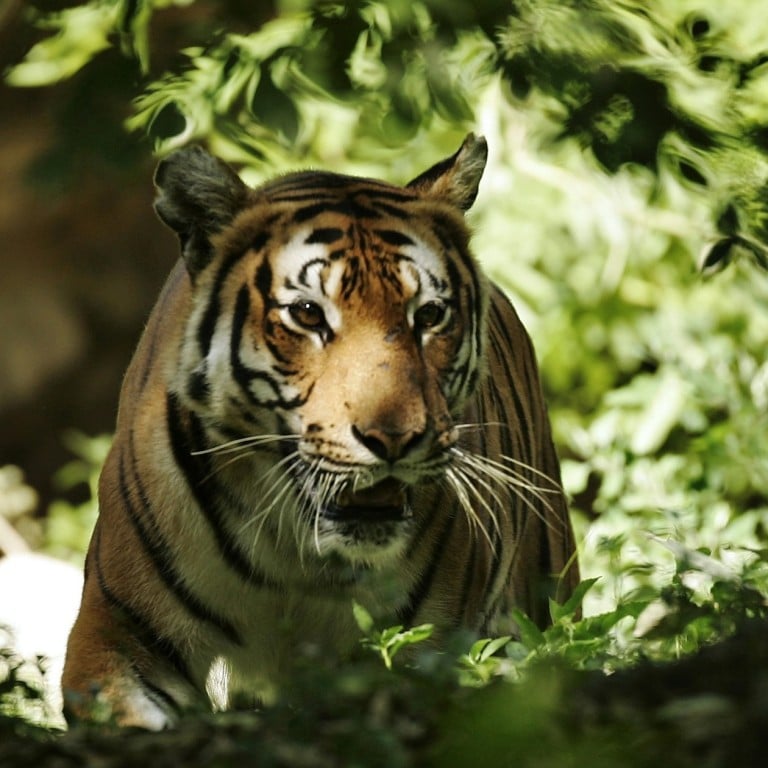 When South China tigers roamed Hong Kong: maulings, devoured livestock, fleeing villagers – author hunts for forgotten stories
Author John Saeki has been collecting oral history accounts, archive newspaper reports and other historic records of tiger sightings in Hong Kong
He has found that beside two major cases – one in which two policemen were killed – there were many more sightings and incidents involving the big cats
Should you ever encounter a tiger in Hong Kong, run downhill. As the big cat's front legs are shorter than its hind limbs, its descent will be awkward and give you the edge as you make an escape.
But since the last sightings of the South China tiger in Hong Kong were in the 1970s, that's unlikely to be necessary. Villagers minding livestock or cutting grass on hillsides, however, would likely have grown up heeding that advice passed down from older generations.
Author and graphic designer John Saeki learned about this from a friend whose mother is an elderly villager in Hong Kong's northeastern New Territories, near the Pat Sin Leng mountain range. His friend's mother had once seen a partially devoured calf, presumably the result of a tiger attack, while her grandmother had actually seen a tiger.
Saeki, who is of Japanese and British descent and wrote the 2018 novel The Tiger Hunters of Tai O, has lived in Hong Kong for 20 years. He has been collecting oral history accounts of tiger sightings, and researching dozens of newspaper reports and other historic records. They show that besides two major cases which some Hong Kong people might remember – in 1915 and 1942 – when tigers were caught and killed, there were many more sightings.
The indications are that South China tigers sighted in the territory roamed the former British colony and lived close to humans, as they did in neighbouring Guangdong province.
As Saeki scoured articles from the start of the 20th century onwards, he pieced together the different reports. There were attacks on humans; terrified commuters on the Peak Tram who heard a tiger's roar; a mauled calf; a half-devoured "coolie"; and a sighting of large paw prints. From what he has read, he concludes that some sightings were a single tiger.
Although he describes his research as neither systematic nor scientific, it has been wide-ranging and he is now writing a book on the South China tiger in Hong Kong. He is keen to hear of more accounts from elderly Hongkongers who may have worked as grass-cutters or tended to livestock, and encountered evidence of tigers.
Saeki was keen to delve beyond the two best known cases: the 1915 attack in which
two police officers were mauled and died
before the tiger was killed and famously hung on a pole for photographs; and the big cat shot outside Stanley Civilian Internment Camp in 1942, the skin of which is on display at the Tin Hau temple in Stanley.
As he began to dig deeper, Saeki came across a book, Blue Tiger, by missionary Harry Caldwell, a hunter and photographer who killed 48 tigers in the 1910s and '20s in the southern Chinese province of Fujian, thus gaining more grateful Christian converts along the way.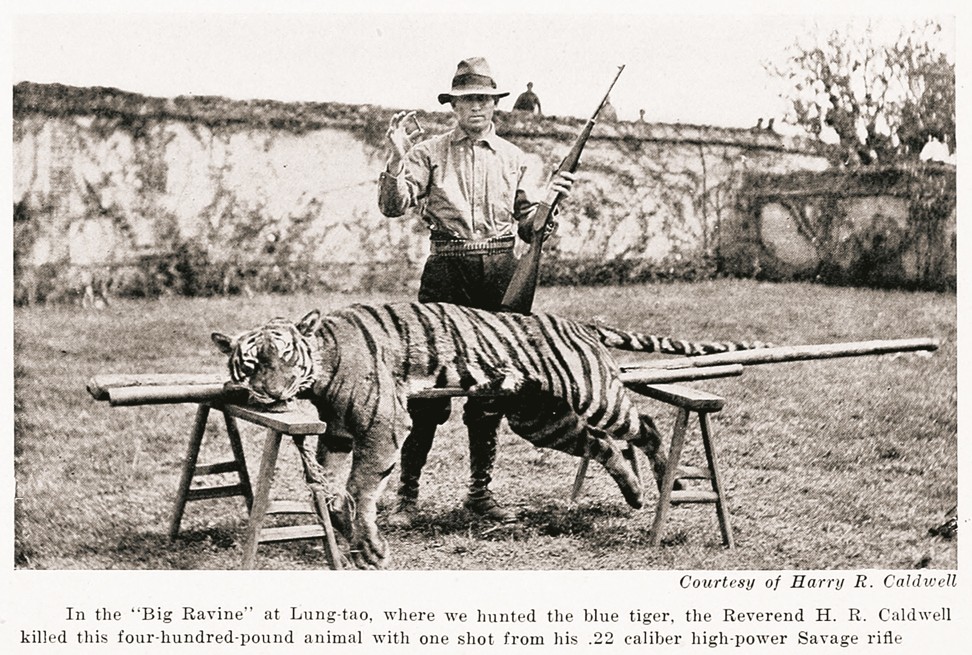 He also spoke to academic Chris Coggins, author of a book on tigers and pangolins in southern China. After reading the work of both men, and the newspaper reports, Saeki started to connect the dots, working out which sightings were possibly the same tiger.
"For example, in the 1910s I got about 90 reports in my spreadsheet and I separated them out into 14 possible separate tiger visits in that decade," he says.
"Apart from that, in 1916 we've got the Castle Peak tiger sighting [in the western New Territories], reported January 31 – someone saw a tiger carrying a pig. And we also get two Peak tigers," he says, referring to the upscale residential area on Hong Kong Island. "They generated a lot of copy, because when tigers appear in posh places there's a lot more words that are written about them."
He learned more about the tigers' behaviour from Caldwell. The hunter "became an intimate expert" on tigers, Saeki says.
"Intimate because he used to sit in tiger lairs waiting for them for hours, and waiting for the right opportunity to shoot. Sometimes he would be watching a tiger for two or three hours before he could find the right time … and the exact right position to pull the trigger, as he didn't want to take any chances. So he actually got to know them quite well."
It is only in recent decades that reports on tiger populations have focused on the animals' rights. Up until the 1950s, the South China tiger population numbered around 4,000. It had dropped to about 1,000 by the 1960s, after the communist government in mainland China encouraged the public to kill tigers, which were regarded as a hindrance to farming and human progress.
The sentiment in British Hong Kong in the 1960s was little different. The tiger was seen as a pest and a hunting opportunity. Newspaper accounts, Saeki says, appealed to sporty young men of the colony to go out and "bag" themselves a tiger.
Back in 1914, a group of 50 soldiers had headed into the countryside with 12 guns, but returned empty-handed. Bagging a tiger wasn't that simple.
A South China Morning Post reader, signing off as "Old Resident" in a letter published on June 19, 1910, comments on Castle Peak tiger sightings and a later one in Cheung Sha Wan, in Kowloon. The letter describes two Chinese women stepping out of their house after a noise disturbed them, "when a huge tiger sprang into their pigstye, which was close to the house, and grabbing a pig weighing about 30 catties [18kg] made off with it with the apparent ease of a cat carrying a kitten in her mouth".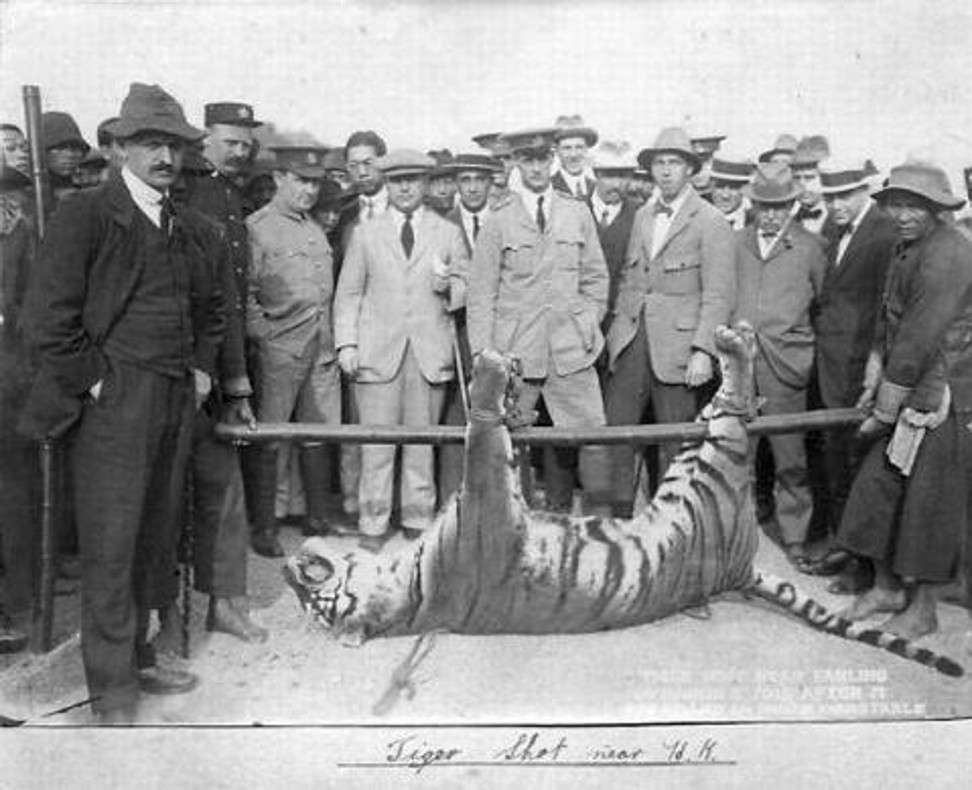 Old Resident agrees with the recommendation that local sportsmen "would probably be able to 'bag' these voracious and dangerous brutes if beaters were employed" by suggesting that a "simple and effective method" be adopted from British Malaya. If a tiger kills an animal or a human, the carcass could be left out, encouraging it to return, but injected with strychnine so the tiger swallows "enough poison to kill a regiment of soldiers".
Among other reports Saeki unearthed, there was an account from January 29, 1915 involving Constable Ernest Groucher, one of the two police officers killed by a tiger later that year. "It is reported that a tiger has killed a pony in the New Territories. Constable Goucher visited the spot and found spoor measuring eight inches in diameter," it reads.
On March 3, 1936, the Post ran a story under the headline: "The Kowloon Tiger Reported to Have Chased Women Grass-Cutters." It goes on to explain how nine women came across a tiger near Kowloon Tong, but managed to run away, though one was in a state of collapse when they arrived at Mong Kok police station and was administered first aid.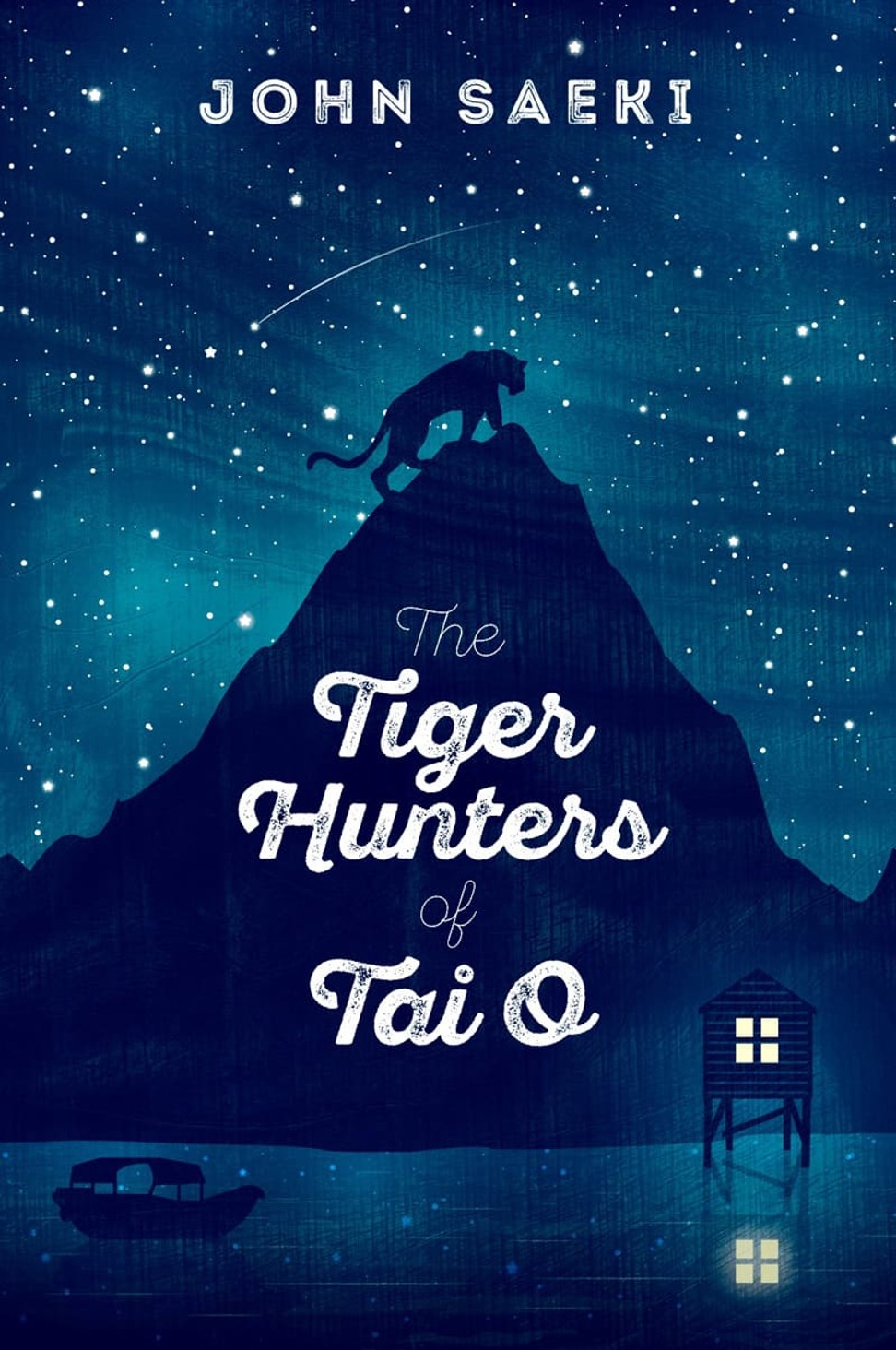 Early news reports on tigers come across as quite sensational when compared with the reporting style 100 years on. There seems to have been the constant assumption that the animal will attack, and that villagers have made a lucky escape – even when the big cat has fled.
"The tiger is a cautious animal," Saeki says, laughing at his own attempt at tiger "pop psychology", but it probably isn't always looking to attack.
The South China tiger "is definitely stripy", Saeki adds. "It's smaller than the Siberian tiger, but bigger than the Sumatran, although I think most of us wouldn't be able to tell them apart."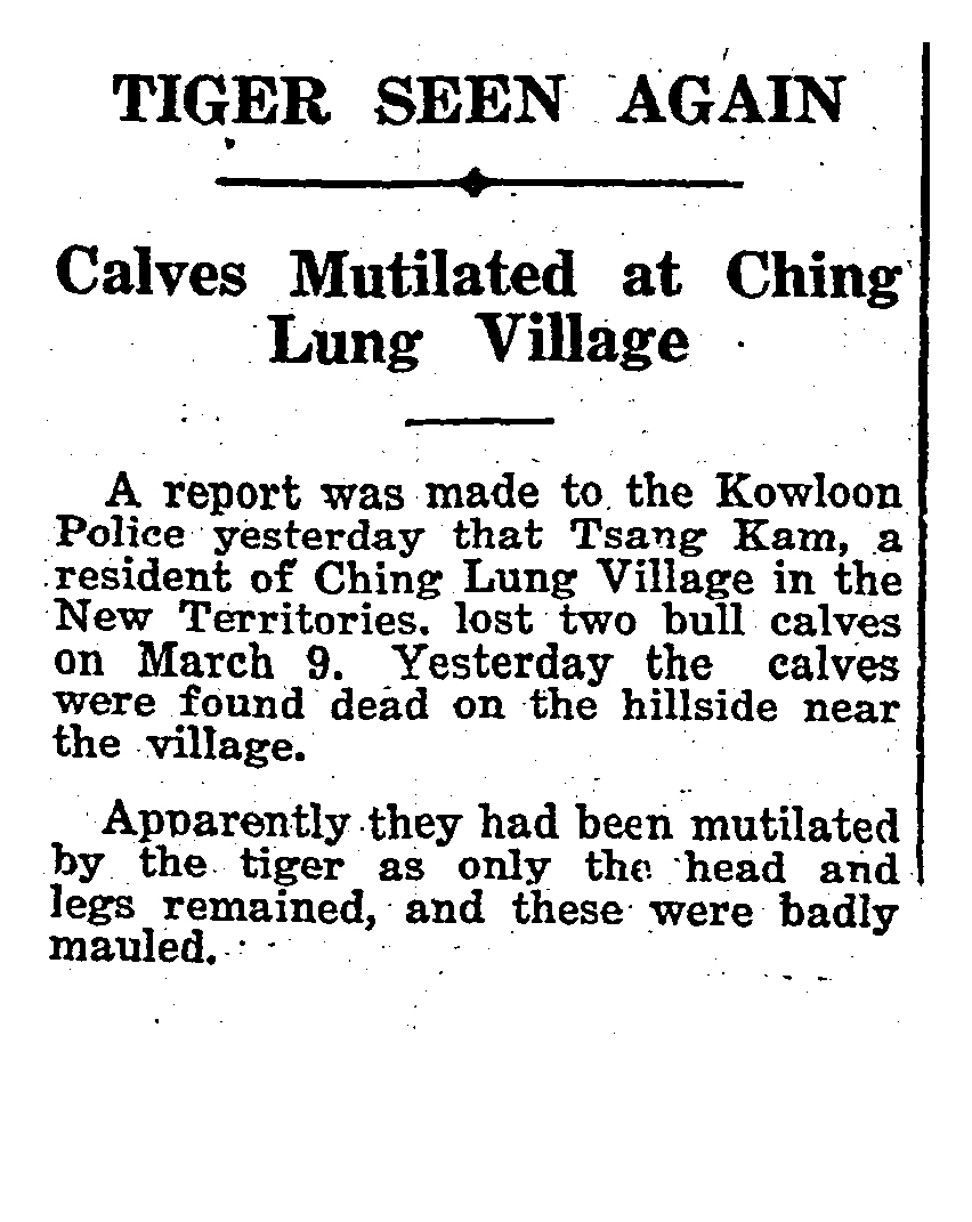 He describes an incident from Caldwell's book, where the missionary faces off with a tiger but has no gun. So he used an umbrella, Saeki says. "He just opened and shut it and flapped it in front of the tiger," and the animal was spooked and retreated.
But Saeki also relates an account of an incident reported from Macau, then a Portuguese enclave across the Pearl River from Hong Kong. An entire village, possibly in neighbouring Zhuhai, lost dozens of residents, "and they are just begging people to come over with guns".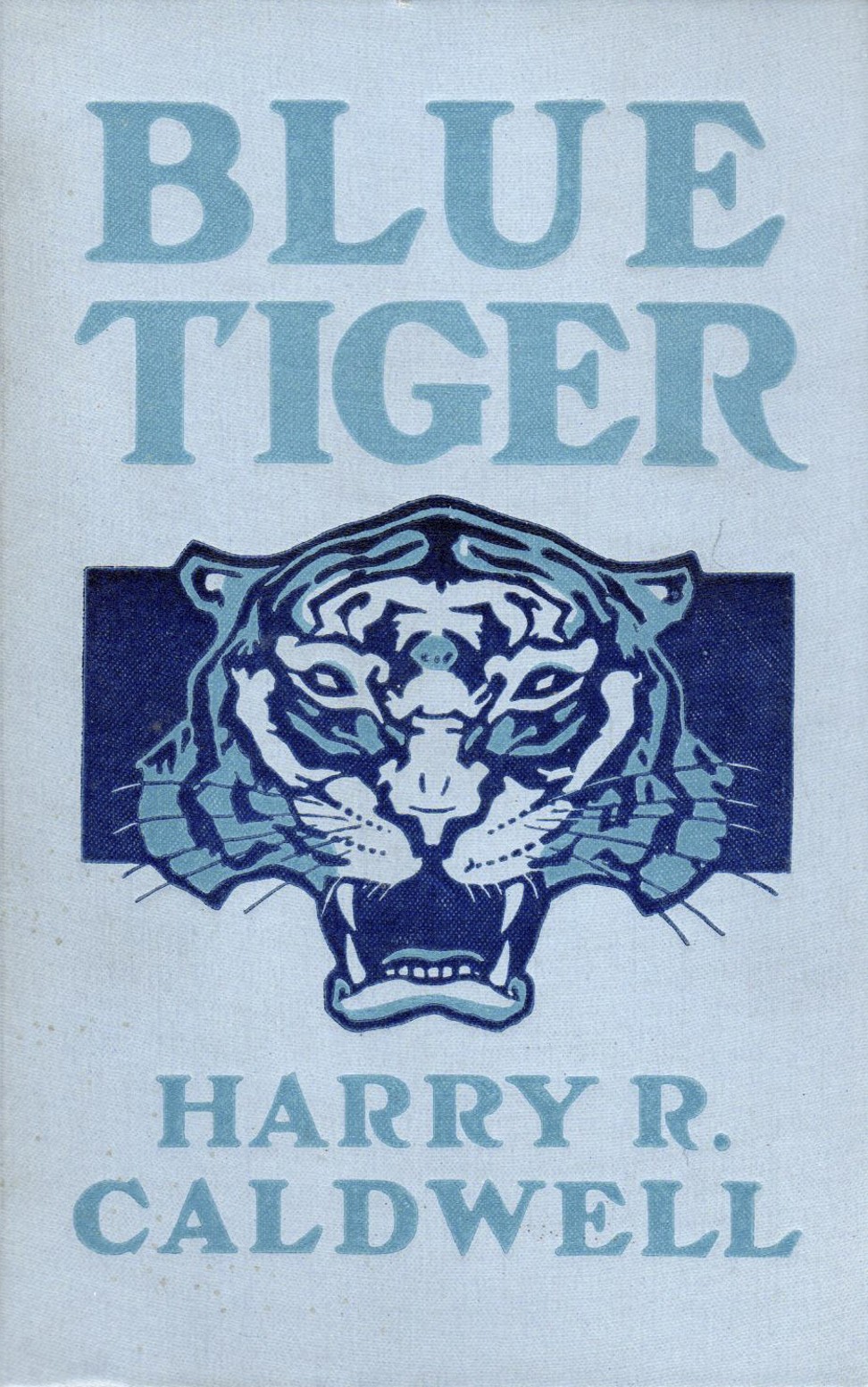 In the 1980s, the World Wildlife Fund calculated that there were only about 30 South China tigers left in the wild, and they are thought to number less than 20 today. But
although they are long gone from Hong Kong
, Saeki is still on the lookout for memories of the big cats.
"There have to be more stories out there, and I would love to hear from anyone who could tell me if they saw one, or know someone who saw one, in the '60s or '70s," he says.
If you or a relative have a tiger tale, or a story from a late family member, Saeki can be contacted by email at
[email protected]
.