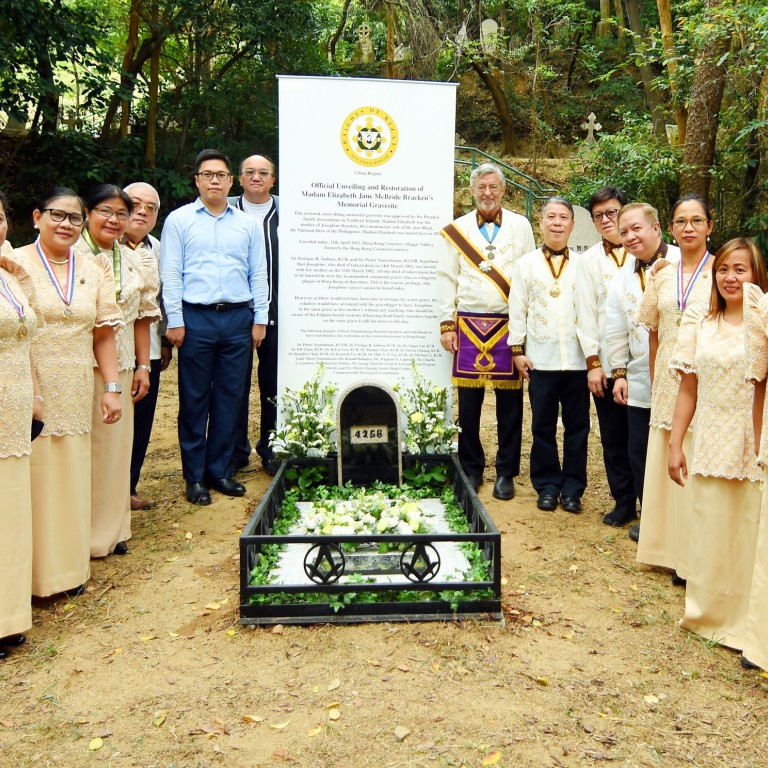 Irish mother-in-law of Philippines' national hero Jose Rizal gets memorial gravestone in Hong Kong
Elizabeth Jane McBride Bracken had been buried in the Happy Valley Cemetery in an unmarked grave 145 years ago
Recent research revealed new details as to her grave's location
A memorial gravestone has been erected at the Happy Valley Cemetery in Hong Kong for the Northern Irish mother-in-law of the Philippines' national hero Jose Rizal, 145 years after she was laid to rest there in an unmarked grave.
An official ceremony took place for the restored gravesite of Elizabeth Jane McBride Bracken, a native of Ballycarry, County Antrim in Northern Ireland, who was the mother of Josephine Bracken, the wife of Dr Rizal.
Elizabeth was buried in the cemetery, formerly known as the Hong Kong Colonial Cemetery, on November 9, 1876. Her body remained here in an unmarked grave for 145 years until research carried out by Enrique Rueda Sadiosa, China area regional commander of the Knights of Rizal, the sole order of knighthood in the Philippines, and Irish researcher Mick Bourke, who is based in County Kildare, Ireland, revealed new details.
Bourke discovered Elizabeth's tomb number during a research visit to Hong Kong about a decade earlier and was able to pass this on to Sadiosa. After confirming some family details with Elaine Bracken, a wife of a direct Bracken descendant, Sadiosa used the archives of the Happy Valley Cemetery to find the unnamed gravesite's exact location.
Elizabeth's original unmarked gravestone was located at Section 41 of the cemetery, inscribed with only the number "4258".
"The story of Elizabeth or her tomb may not be significant in Philippine history, but it's a good starting point for researchers and history buffs like me to really begin doing our own research to try and tell these tales, this time from our point of view," Sadiosa says.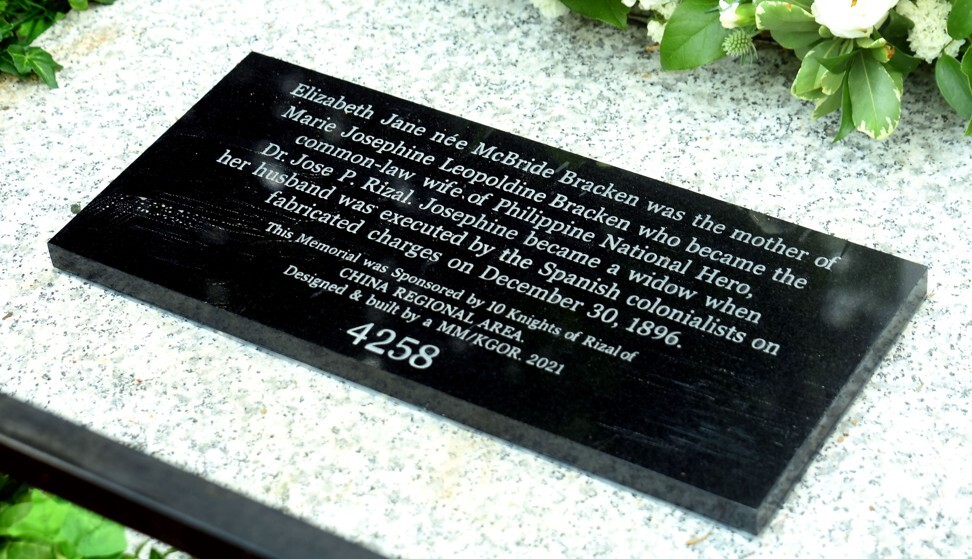 "Most Filipino historians do not really do their own research overseas and just rely on random findings or discoveries mostly by non-Filipino researchers."
Pieter Nootenboom, member of the Free and Accepted Masons of the Philippines and past commander of the Knights of Rizal China Regional Area, facilitated the research and came up with the project of reconstructing Elizabeth's tomb after the design was earlier approved by the Bracken family descendants in Northern Ireland.
With the assistance of the members of the Knights of Rizal China Regional Area and several volunteers, the required building materials – cement, gravel, sand, water – were brought up slowly by hand to the hilly part of the cemetery where Elizabeth was buried. The whole reconstruction took a week to finish.
"Perhaps the restoration of Elizabeth's tomb is one way for Filipinos to give appreciation to the Bracken family for their support to national hero Dr Rizal during his time fighting for reforms and freedom for the country against Spain," Sadiosa says.
It is believed Elizabeth's daughter Josephine, who later married Dr Rizal but died at the age of 25 of tuberculosis on March 14, 1902, was buried in the same unmarked grave as her mother on March 15, 1902. All who died of tuberculosis in the former British colony during this period had to be buried the next day in unmarked communal graves due to the contagiousness of the plague. This is likely the reason why Josephine's grave still cannot be found today in Hong Kong.
Elizabeth McBride married James Bracken, a foot soldier in Ireland's 28th Regiment, in Belfast in 1868. The couple had five children: Charlie (1869), Nelly (1871), Agnes (1873), Francis (1875), and Josephine (1876). Elizabeth died in Hong Kong in 1876, during her husband's posting there, a month after giving birth to Josephine.
A Philippine revolutionary hero, Dr Rizal founded La Liga Filipina (The Philippine League), a political movement calling for peaceful reform during Spanish colonial rule. Rizal was executed by the Spanish at the young age of 35 when he was on his way to Cuba, an act which set off the revolution that, 18 months later in 1898, freed the Philippines from 300 years of living under Spanish rule.
This article appeared in the South China Morning Post print edition as: Irish mother-in-law of Philippines' hero gets memorial gravestone at last