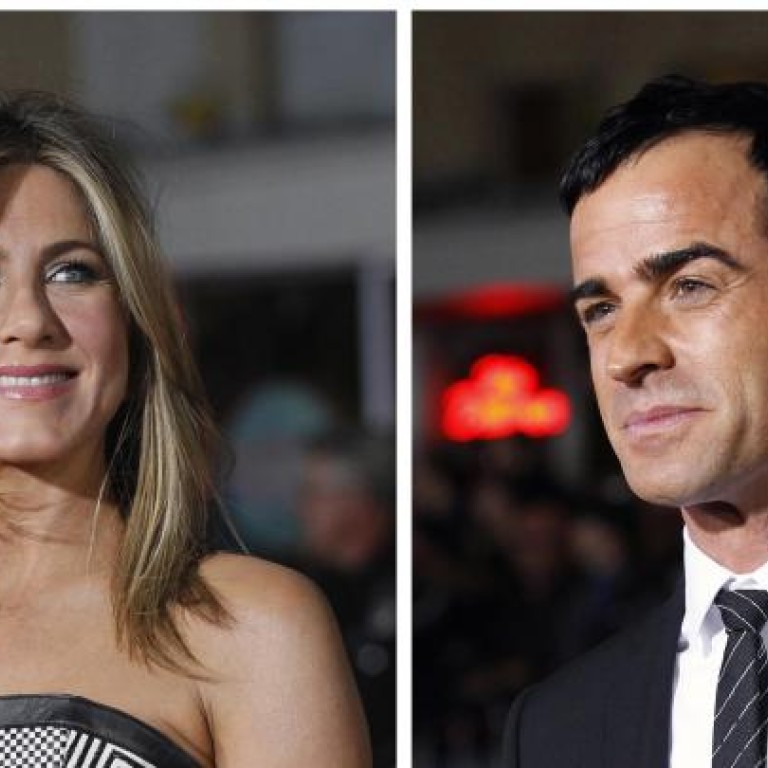 Has Jennifer Aniston finally found her happy ending?
For an American sweetheart who has it all — looks, talent, fame, fortune — Jennifer Aniston has not been lucky in love, so her engagement to actor Justin Theroux could be what her fans have long wanted for her: Happiness at last.
Or that's the hope.
"She's finally found her happy ending," says Dina Sansing, entertainment director at Us Weekly who's been reporting on Aniston for years. "We've all been through the ups and downs of her love-life, she's finally found a good match for her, a partner in crime, a friend, a good fit.
"You'd be hard-pressed to find someone who doesn't want to root for Jennifer Aniston."
In fact, she's hugely popular, not just among her fans but throughout Hollywood, says PR veteran Howard Bragman, vice chair of Reputation.com.
"She's had her share of missteps relationship-wise, as have we all," he says. "Justin is a really talented guy, and people don't know what a big deal he is in Hollywood as a screenwriter (as well as actor). I think this is going to be great for both of them."
So can this relationship last? That's an unknowable question — after all, everyone once thought her "perfect couple" marriage to Brad Pitt would last and it ended, badly, in 2005.
"She's found the recipe for success — all signs point to a forever love," says Barbie Adler, CEO of Selective Search, a nationwide upscale matchmaking firm. "She learned a lot through her marriage to Brad and the rose-colored glasses are off. …She has a romance without the flash, she kept things quiet, they were able to enjoy an amazing courtship" outside the fierce gaze of the paparazzi and celebrity media.
"It was all very hush-hush and they were able to have love happen without a lot of attention," Adler says.
Aniston, 43, and Theroux, 41, both of whom were in Wanderlust, released earlier this year, began dating in May 2011. But unlike her previous relationships, Aniston has never directly discussed him in interviews.
"When you get to a certain point in life, you become leery about relationships, you don't rush and I don't think they have. They've spent significant time together, which is good," Bragman says.
The big difference now, says Sansing, is that Aniston has learned from her recent relationship woes. "She seems to be at a stage in life where she's comfortable in her own skin, she's confident in herself, and she knew what she was looking for," Sansing says.
Relationship expert Gilda Carle isn't so sure whether Aniston has finally found her happy ending, although she applauds the engagement as "a great sign she's getting on with her life."
But she wonders about the interesting coincidence that Aniston's news would break, via his publicist, over the weekend, when Pitt was allegedly planning to wed the woman he left her for, Angelina Jolie, at their South of France villa surrounded by their six kids.
The wedding didn't happen, despite the big build-up by British tabloids on Friday. "Oh, and you know THEY'RE never wrong," Bragman says, dripping sarcasm. Anyway, Theroux proposed to Aniston on his birthday, which was Friday.
It's not important, Bragman says, because few people believed the Brangelina wedding rumor anyway and all parties in the Pitt-Aniston-Jolie drama have since moved on. "One of the things about getting over the other relationship is not worrying about what your ex is doing."
It's always a shock to see news of your ex in the media every day, Carle says. "It would be painful for anybody," she says. "The question, for her, is whether she's truly and really dedicated to this marriage to be, or whether she's settling for the best she can find in her life?"
But Theroux, a native of Washington, D.C., and a nephew of acclaimed travel writer Paul Theroux, seems like a stand-up guy, not second best. Aniston's other relationships post-Pitt were mostly with bad-boy actors or musicians; Theroux is a writer. Carle thinks that may give him more depth "than some actor who's looking to become more famous."
Those other relationships, with actor Vince Vaughn, for instance, were fun but whirlwind and conducted in public. They "never seemed to be right," Sansing says. She is much better matched to Theroux, and thus more willing to move out of her safe habits.
"She's now taking more risks, she's not hiding from paparazzi — she's not take photo calls but she definitely seems to be more confident in her relationship," Sansing says. "She's found someone who is more of an equal."
But, naturally, he will become better known through her.
"I think it's going to do amazing things for his career," Bragman says. Hers, too.
"The movie they were in wasn't the most brilliant movie of all time but it showed her comedic chops," he says. "If he can bring that out in her, it's a hard balance to be both beautiful and funny at the same time, and she's doing it as well as anyone right now."
But can Theroux handle perhaps one day being known as Mr. Aniston? What happens if work dries up for him but she continues to be successful? What happens if he becomes more successful than she? And what happens now that their low-key relationship is out in the open and the media gaze turns full blast?
"In Hollywood you're dealing with egos that are running wild," says Carle. "Right now, they're handling everything, but life doesn't stay static. It's ups and downs that really test us."
Contributing: Cindy Clark, Donna Freydkin
———
©2012 USA Today
Distributed by MCT Information Services
_____
Topics: t000002879,t000040227