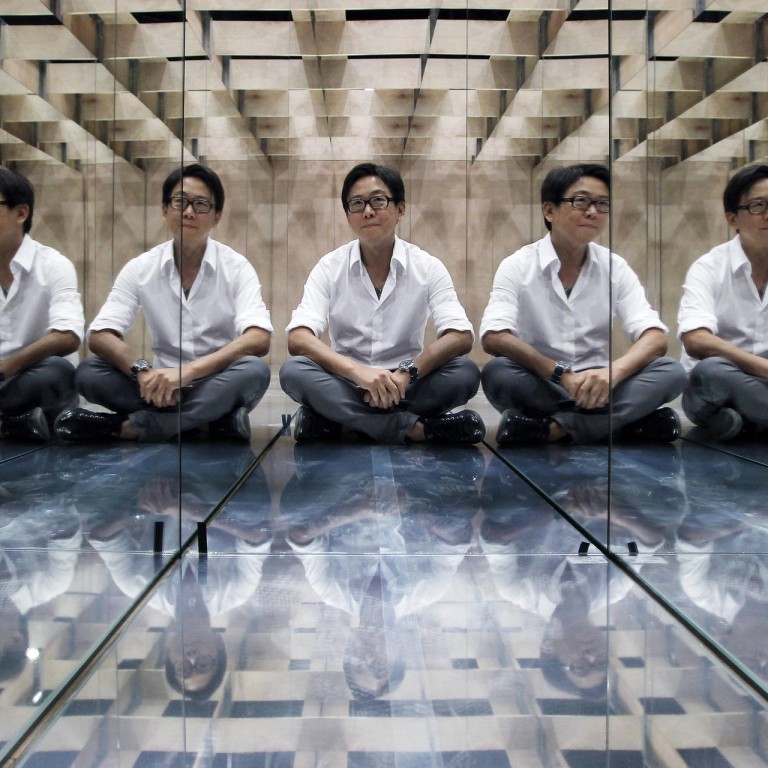 A fan of duality, William Lim has reconciled his creative and professional identities, writesFionnuala McHugh
William Lim is a Hong Kong architect who's also an artist. Or maybe he's a Hong Kong artist who's also an architect. Twenty years ago, he co-founded CL3 Architects, and the following year he became its managing director. The company's website describes what he does as "interior architecture for the Hospitality, Corporate, Retail and Residential Design sectors" - in other words, to view his professional portfolio you have to enter such buildings as hotels Icon and East, in Hong Kong, or the Marina Bay Sands in Singapore.
His artworks, however, have been more accessible.
During the Mid-Autumn Festival in 2003, 150,000 people saw his bamboo installation in Victoria Park. His second installation, which was erected in Victoria Park for last year's Mid-Autumn Festival, went into the as the world's largest sculpture made from lanterns: there were officially 2,360 of them and they took 13 days to assemble into the shape of a gigantic fish. His installation , part of the "Detour" show in 2009, was a free-span bamboo bridge at the former Married Police Quarters in Hollywood Road. Paradoxically, it's Lim's art, not his architecture, that has made itself public by claiming exterior spaces in the city.
This year, he has anticipated the arrival of the Mid-Autumn Festival by creating another monumental Hong Kong-themed structure: an edifice built out of 600 recycled mooncake tins. It's part of a show entitled "Space Journey: William Lim, A Decade of Installations" at ArtisTree in Taikoo Place.
Space, it turned out, was an immediate issue. The was originally going to be six metres high until the Buildings Department stepped in and said that anything over 4.5 metres would need to be structurally regulated - which suggests the demarcation line between art and architecture is strictly recognised in this city's bureaucracy if not in Lim's head.
"How do you calculate art work, how do you calculate Louise Bourgeois' spider?" sighs Lim, referring to the French sculptor's famous , which is more than nine metres high. "I should be upset about that but I'm used to it."
Lim, who's 55, certainly gives the impression of a man who's learned the value of professional patience. The wobbly, artistic meltdown doesn't seem to be part of his psyche; sitting amid the sawing, hammering, drilling, dusty chaos of pre-exhibition opening, he's as pleasantly urbane as if he's chatting in a cocktail bar.
When the photographer asks him to crawl into his installation, , which is 50cm wide and nine metres long and designed to suggest claustrophobia, he does so without a murmur. The interior is lined with mirrors; a host of trapped Lims smiles out.
Swire, which owns Taikoo Place, is a CL3 client; and CL3, which is celebrating its 20th anniversary, is often linked with Lim's own projects. Earlier this summer, when he and Stanley Wong Ping-pui - the artist a.k.a. anothermountainman - collaborated on "Journey to Tomorrow", in which artists were asked what object they'd like to take into the future, the photographs were shot in places designed by CL3. Lim chose a paintbox.
Several of the works in the new show have been shown previously in different contexts: was created in 2008 for Dutch Design Week, and was part of the Hong Kong exhibition at the 12th Venice Biennale in 2010 (the architectural, not the art, one). So which hat is he wearing now?
"Art, I hope," Lim says, mildly. "ArtisTree is keen to support artists more than design firms."
Dividing himself up, however, has been a problem. "I struggle with that," he admits. "I feel a bit of a split personality, I need to clarify my identity. One is how I make my living and one is how I make my life, and I'm not at a stage where I can sacrifice one for the other."
A year ago, he talked to Hans Ulrich Obrist about this dual self. Obrist, director of international projects at London's Serpentine Gallery, is an art critic, curator and influential cultural guru. "It was during the art fair. He came out here and was looking at Hong Kong artists' portfolios, and I showed him what I did. He felt I shouldn't consciously detach the two, the art and the design, they should be the same thing. Since that conversation, I have more confidence. I realised two could become one."
One of the works in the show at ArtisTree - the only painting among five installations and five projections - is entitled . It shows the view onto the world from a gallery window at Cornell where Lim studied architecture. This, he has said, was "the intellectual cradle" where his own journey began in 1976. Prior to that he'd been a colonised Hong Kong boy; after that, he became someone who could analyse his own culture from outside. (It was also where he met his wife, Lavina, and their sons have both studied there. His studio, in Wong Chuk Hang, has a wry sticker which states: "My kid and my money go to Cornell".) His Cornell theses were based on Chinese architecture. His undergraduate one was about a hotel, but his master's looked at the Chinese principle of yin and yang and how that could be used to soften urban conditions.
"Even now I use that principle to resolve design issues," he says. "A lot of my work deals with duality, I always like things in pairs. You can make things play off each other."
For the same reason, he likes a certain haphazardness. "You can't plan totally. Chinese paintings are like that … Of course, technically, you can control a certain amount, but not the way the ink and the water react. And I love to work with bamboo. Part of its fascination is that I can only design to a certain extent - it depends on how the bamboo expert carries out the process on site."
He's an art collector himself (an early fan of Ai Weiwei ) and he's on the Asia-Pacific Acquisitions Committee of London's Tate gallery, which could be awkward given his own creative impulses. "It was a bit of an issue," he says. "The Tate considered the situation quite carefully - I was flattered they thought there was potential conflict - so we have a neutral position."
For Lim, visiting other artists' studios is one of the highlights of being on the Tate committee. This November, he plans to join the Tate's International Acquisitions Committee on a trip to Russia: "That's stimulating for me, to understand what artists are doing."
How does he get the time to do all that he does? He laughs and says, with genuine feeling: "In Hong Kong, you never have enough time, but maybe that's the interesting thing about creating in a place like this - you never resolve things 100 per cent."
This article appeared in the South China Morning Post print edition as: Two into one does go