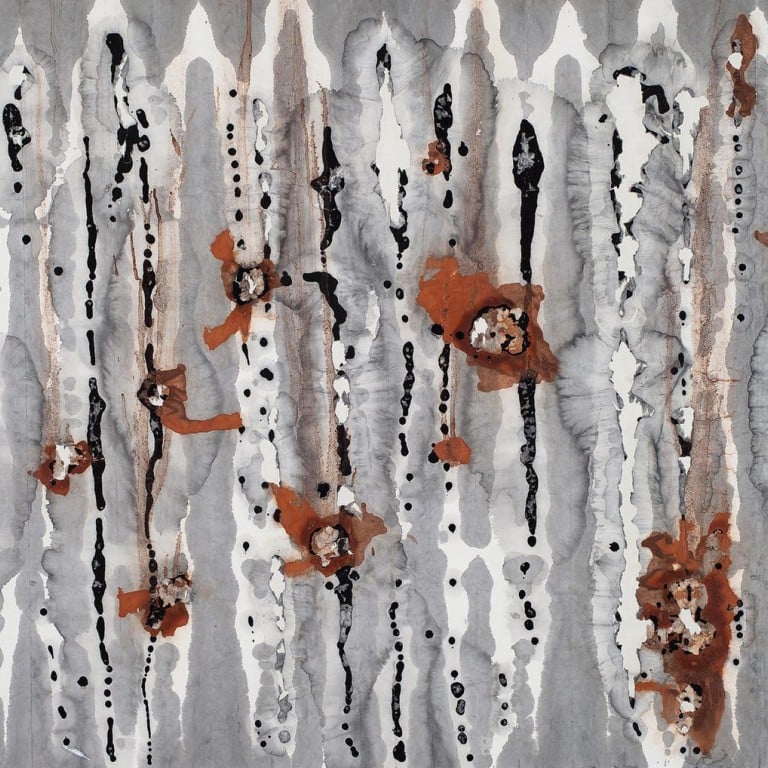 Challenging the boundaries
Avant-garde painter transforms his deep understanding into new artistic concepts
When it comes to Chinese ink paintings, most people are used to seeing scrolls featuring calligraphy or images of Chinese landscapes, such as towering mountains, rolling hills and idyllic scenes of the countryside.
Chinese ink painting and calligraphy, executed with a brush and ink on paper, has been at the heart of Chinese culture for more than 2,000 years. Traditionally, it was regarded as the most important and hierarchical of the visual arts with a rigorous structure of pictorial conventions.
It was not until the 1980s that modernist practitioners were able to break away and experiment to produce today's diverse range of ink paintings that continue to draw from the classical canon while challenging traditional boundaries.
Beijing-based Li Gang is one of China's avant-garde ink painters. By using ink and paper in unorthodox ways, he has transformed his deep understanding of Chinese culture into new artistic concepts.
"Transmission and Imitation", at Galerie du Monde, is a solo exhibition of Li's artworks from his latest " " series. It starts today and will run until October 10. The exhibition features 22 pieces of Li's ink paintings on Xuan paper.
The exhibition enjoyed a successful showing in June at the Today Art Museum in Beijing.
Born in 1962 in Guangdong, Li practised traditional Chinese painting and printmaking from a young age. He was skilful in rendering traditional flower-bird artworks and had a special touch when he was working on wood and grain.
But Li always wanted to create something different that still pays homage to the philosophy of traditional Chinese painting. After years of experimenting with different styles of Chinese ink painting, during which he and a group of his "eccentric" friends participated in and organised experimental and contemporary art activities, he abandoned using the brush.
Instead, he adopted a new methodology - imprinting - to create his paintings which break away from the classical S-shaped structure and images, such as mountains, flowers and birds, normally associated with Chinese ink painting.
Li immerses folded rice paper fragments into ink, leaving regular and haphazard stains on them. He also uses cups or bowl caps to stamp on paper or he folds the paper to form rhythmic patterns. He also crafts his painting by pasting different colours of bamboo paper onto processed rice paper. Sometimes he tears up the paper and creases the strips to form patchworks.
The main structure of Li's paintings is the stains formed through these processes that allow him to develop his most personalised images in ink. Abstract and square compartments - symmetrical lines that mirror and echo one another as if they have been created from multiple folds of a piece of paper filled with ink traces, and patchworks that have been jumbled and rearranged, where contrast and dialogue between different materials are evident - feature largely in Li's paintings.
Li says what he wants to convey in his abstract ink-wash works is the tensility of the materials he uses and adds that the unique touches of his paintings constitute his understanding and expression of ink art in the contemporary realm. He says his paintings do not simply reflect water and ink but embody the conversation between materials, textures and images of the spiritual world.
Wang Huangsheng, museum director of the Central Academy of Fine Art, says Li's works explore the experience and joy of creation.
"The crux of Chinese painting and ink lies in the cultural expression and experiential depth of the art form," Wang notes in the catalogue essay. "Its forms and graphics may be manifold, leading us to a higher plane of cultural experience; or they convey the artist's personal experience of culture, which gives birth to the meaning of artistic creation.
"Li is attempting to express his feeling and experience of ink as an artistic form and cultural language with calm. In the depths of these ink compartments, a distinct aesthetics and comprehension are revealed through the varying shades of ink on paper. This needs to be discerned and felt from the heart. Li must pursue this experience as an artist, and we as the audience, must also do the same."
Eminent curator Pi Li says Li's style leans towards "hard-edged abstraction".
He suggests that Li's paintings are "imprints of the heart" during an industrial era, and embody a contemporary dimension.
Art critic David Brubaker says Li is creating art of great originality and his paintings are of great value because they contribute to a contemporary avant-garde of a new sort while still preserving key features of ink painting and traditional aesthetics. "Li Gang's works are a sign that ink painting is likely to give us more and more possibilities."
Li has exhibited widely on the mainland and his works have been collected by the Guangdong Museum of Art, the Art Museum of the Guangzhou Academy of Fine Arts and the He Xiangning Art Museum.
This article appeared in the South China Morning Post print edition as: Challenging the boundaries