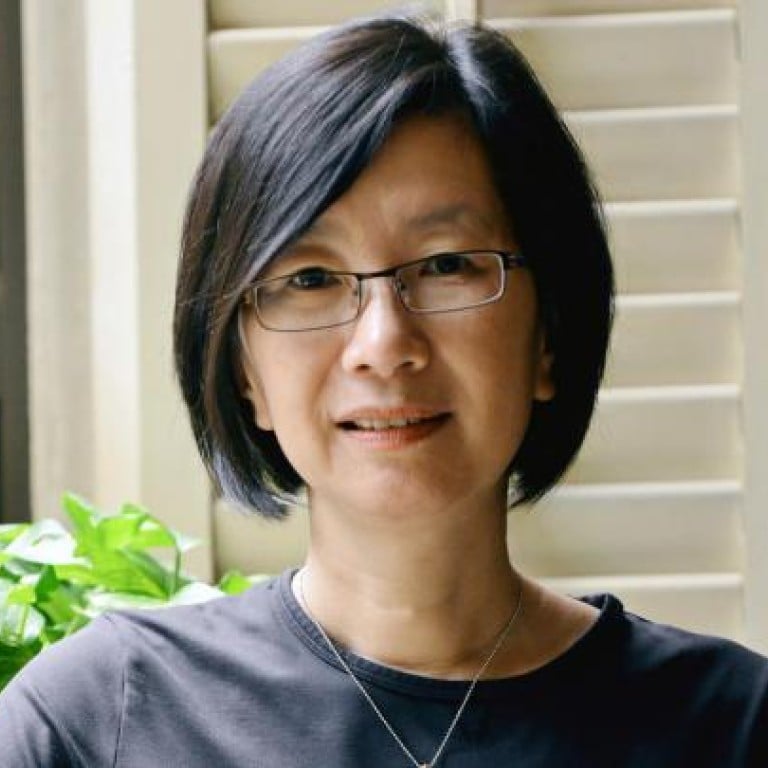 Isabella Lim loves staging the HK International Literary Festival
The unflappable Isabella Lim tells Liana Cafolla what it takes to run the city's premier literary festival
With just a couple of weeks to go before the Hong Kong International Literary Festival (HKILF), a flurry of last-minute preparations is taking place behind the scenes. Festival manager Isabella Lim is still checking out possible venues for some of the events, fitting in last-minute participants, organising her small team of mostly part-time staff plus about 15 volunteers, and meeting corporate sponsors. It's a frantically busy time for the Singaporean, but she appears calm and unfazed by the burden of putting together the city's premier literary event.
Lim ended up managing the festival almost by chance after arriving in Hong Kong five years ago as a trailing spouse with two children, both now in their teens. An author friend asked for her help in finding out about literary festivals in the region, and she stumbled on the HKILF. "What attracted me was that they had this schools programme in which the children get to meet the writers. I thought that would be great for my kids," she recalls. "So I volunteered. That's how it started."
Now, with three years' festival experience under her belt, she works full-time for the HKILF, but is still somewhat mystified by how it has become such a big part of her life. "Sometimes I wonder, 'Why did I do this?'," she says with a long laugh. "It wasn't my plan."
Lim came from a marketing background and had some experience with event planning, though nothing as big as a 10-day international event. "It was very boring and mundane - I was dealing with appliances, food supplements - nothing at all to do with festivals or books," she says of her previous job.
There was no time to think about whether she could do it or not. For someone with no prior knowledge of how to run a festival, the first year was a challenge. "But I do love challenges, and the reason I got into this was because I was bored, and I love doing new things. And I really did enjoy it."
She says she is not a "literary person", but loves to see the events come together and to know that people are enjoying them. Meeting the writers is another pleasure, and sometimes an eye-opener. "You realise they're just like us," she says. "Sometimes you think that because they're very well-known, bestselling authors, they must be kind of arrogant. But at the end of the day they're all just like you and I. Some of them are introverts, so it's really interesting when you talk to them."
The festival was started in 2001 by a group of friends who shared a love of writing and literature. In the years since, it has attracted many highly regarded writers, including winners of the Nobel prize for literature, the Pulitzer and the Man Booker. But the festival has remained small, with most venues catering for about 60 participants or fewer.
It may be small, but for Hong Kong it is perfectly formed, Lim believes, with a respected reputation among authors. "I think we will remain small, relatively," she says. "We would like to focus more on the quality. It's trying to maintain that intimacy between reader and writer because if you are [too] big, you would definitely lose that feature. Every year, we have something like 30 overseas writers, which is a decent [number]."
The festival's mission is to promote a love of literature by connecting readers in Hong Kong with local and international authors, and it concentrates on works in English with an Asian focus, or works that have been translated into English. Also, by shifting the festival from March - now the timeslot for the Young Readers Festival, launched last year - to October, Lim hopes Hong Kong will become a cog in the Singapore-Ubud-Hong Kong circuit of literary festivals.
In Hong Kong, this year's international line-up includes two prominent Irish writers: Colm Tóibín, acclaimed author of many novels, including , and John Boyne, whose novel was made into a film that will be screened as a festival event.
A trio of chefs and food writers - Cheryl Lu-Lien Tan, Fuchsia Dunlop and Tracy Griffith - will talk about cooking outside their respective cultures, one of several food-related events at the festival.
Indian poet, author and former drug addict Jeet Thayil, whose book has been long-listed for this year's Man Booker prize, will talk about the realities of drug addiction in Mumbai.
Other participants include the Australian Poetry Slam Champion Luka Lesson, London-based author Julia Boyd, Chinese-New Zealand poet and novelist Alison Wong, and author Kunal Basu, whose latest story collection is entitled , of which the title story has been turned into a film that will be shown at the Asia Society's revamped premises.
Finding interesting and evocative new venues and adding elements such as film screenings and food events are part of Lim's vision of giving the festival a fresh appeal each year. Some events this year will take place at the newly revamped Asia Society headquarters and at Hullett House.
"We've been around for 12 years and to do the same thing over and over again would be boring, not just for us but also for festivalgoers. We've not done … science fiction, we still have not done graphic novels - there's so much stuff out there that we haven't even started."
This article appeared in the South China Morning Post print edition as: Foreword march