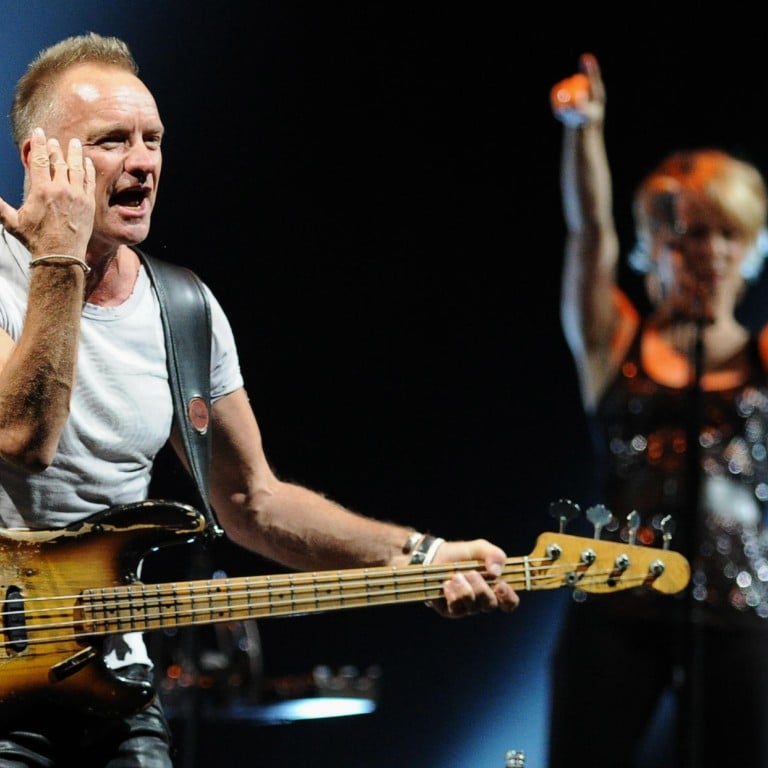 Sting a concerned citizen of the world
Sting wears his heart on his sleeve in music and activism, making him an easy target, writes Dave Bannister
During a career spanning more than three decades, Sting has achieved more than most musicians could dream of. However, he's always found himself at the wrong end of media attention. For all his early street-cred as The Police's frontman, his undoubted musical ability, celebrity friends and the many popular causes he's adopted, the singer has long been a whipping boy for the press. Only Phil Collins seems to have taken more bullets than this blond Geordie.
When Sting appeared in front of millions of television viewers a couple of years back for the BBC's flagship current affairs show , he was flayed by host Jeremy Paxman for jetting between his seven luxury homes while at the same time calling for action to be taken over global warming. While admitting he had an outsized carbon footprint, Sting said he had made a mistake to appear at what he termed an "ambush". The surprise for many, however, was that he hadn't realised the public flogging that lay in store.
From the cold war days when he sang about Russians loving their children, to his love of yoga and those marathon tantric sex sessions, Sting has been picked on for being pious, weird or even hypocritical.
It all seems slightly unfair - so how did he get this reputation?
"Because I'm very earnest by nature. If you ask me a serious question, I'll probably give you a serious answer," says Sting, who will perform in Hong Kong on December 2. "But there's a tendency for people to think that's all there is to me. I'm also quite hopeful and fun-loving on the other side."
However, the real answer has much to do with the fact that people generally don't like actors and pop stars sticking their nose into human rights or politics, whether it's Bono or John Lennon. Sting, however, has never shied away from the issues he cares about, and the barbs don't appear to put him off. Recently he lent his support to Pussy Riot, the Russian band who were locked up for daring to criticise the nation's strongman leader, Vladimir Putin.
"I can't speak for other musicians, but I think that as a citizen of the world, I have a responsibility to do what I can to help," he says. "That's how a community works. To me, that means giving a voice to issues that are important."
Sting may eschew the rock'n'roll excesses of Keith Richards, or the swagger of contemporary Rod Stewart, but he's always had a lighter side, from appearing at the Monty Python-led Secret Policeman's Ball to agreeing to reform The Police in 2007, two decades after a fairly unpleasant split with bandmates Stewart Copeland and Andy Summers.
Those who know the rocker intimately describe someone much more fun and dynamic than the man usually seen publicly.
Sting first found fame with the post-punk trio's string of hits, including , and . His solo career led to even more chart-topping singles and albums as he mined his jazz and classical roots with hits such as and . In so doing he conquered America, garnering 16 Grammy awards while selling more than 100 million records. Not bad for a former teacher from northeast England who started out playing jazz in clubs before Copeland spotted him.
After The Police reunion tour proved a sellout success across the world, Sting went the opposite way again, releasing an album of hymn-like songs, . He then pulled the plug on the synthesisers and produced , an album and tour that saw him rework his solo hits and The Police classics for a full orchestra. While his detractors saw it as another sign of his pompous nature, it was praised by critics and audiences alike.
"I maintain a childlike curiosity about music, along with a sense that I do need to work at it," explains Sting, who has six children of his own from two marriages, including four with his wife of more than 30 years, Trudie. "I never want to stop learning. I get bored pretty easily and so I always like to try something new."
Now, for his latest global trek, he's stripped back to basics (or "Back to Bass", as the title has it) with a live five-piece band. To Sting, creativity and a will to push boundaries come naturally. "I'd just finished the Symphonicity world tour and I wanted to do something completely different for the next tour," he says.
"We had the idea to go back to the basics and taking a much more stripped-down approach. I've really enjoyed playing with these musicians. It's been a lot of fun. With a rock band, you're able to be spontaneous - change a key, change a chorus. With an orchestra, you really have to concentrate and stick to the score."
He never wants for new ideas, he says. "It comes from living - from news events, people I've met, conversations I've had, ideas I've come across. For me, inspiration comes from an oblique part of the brain, not when you say, 'Now, I'm writing a song.' You do that later; you have to live first."
Having reached the age - he's 61 - where most people worry about health problems, Sting's yoga lifestyle has kept him youthful looking, stadium fit and dynamic.
"I couldn't do my job if I wasn't in good shape, and I like being fit. I've done yoga for over 20 years," he says. "It's become a part of my life that I don't really think about very much because it's just like breathing and eating for me. I tend to live in the moment and don't really think too much about the future or the past. I'm glad that I'm my age. I'm proud and I'm not hiding it. It's fun because I have both sides of it. I have a bit of wisdom and I still have the energy of a younger man."
Sting prefers to listen to classical music in his downtime, which explains his decision to pick London-based classical pianist Rosey Chan to open his rock show. "I met Rosey at my home in Italy, and was hooked when she played an etude from Alexander Scriabin on my piano," he says. "I asked her to come back and make her album at my studio there, and so she did. I've been a fan of her work ever since."
He does confess to liking one modern-day sensation: Lady Gaga. "It seems as though she's having a lot of fun, which is really what it's all about," he says. He also gives a plug for his daughter, Coco, who has followed her dad into the music world with the band I Blame Coco. "I'm very proud of her," he says.
While he plans to continue touring and recording, Sting says that he will switch gears a little to work on a play that he's writing. The topic is under wraps, but he's found a new way to tap his creativity. "We're still in the early stages, but I've found myself very inspired. I've written a lot of new songs for the project. It's completely uncharted territory for me and that's quite exciting."
Exploring the unknown, rather than the familiar, is what keeps Sting ticking. While working with The Police again pleased millions of fans, Sting thinks it's unlikely that they will reform again.
"It's something I am very proud of, though I'm not sure there would be a reason to do it again except for nostalgia, and I'm not a particularly nostalgic person. But I have no regrets. I thought that we did it very successfully and the timing was perfect."
Sting: Back to Bass Tour 2012
This article appeared in the South China Morning Post print edition as: Bass instincts