LIFE
Get more with myNEWS
A personalised news feed of stories that matter to you
Learn more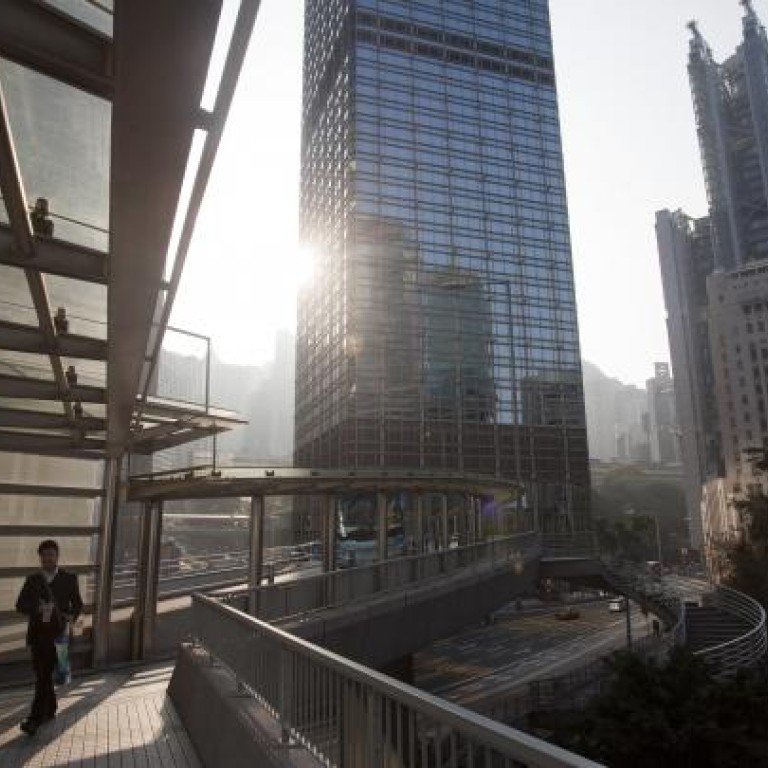 Hong Kong's growing network of walkways
It's possible to travel across parts of Hong Kong without ever touching the pavement
Depending on where you live in Hong Kong, you could walk to work, stop off afterwards to pick up groceries, have a jacket made and then head home without leaving the comfort of an air-conditioned environment; you can even make your way to the airport, catch a flight and return home without having to set foot on any Hong Kong pavement, as garment exporter Ivan Tang has done.
"I live in Harbour Green in Olympic and went to Beijing recently. I just went straight from my building over a bridge to Olympic station, took a train to Kowloon station, then the airport express to the airport," he says.
With an estimated 2,354 skyscrapers above 100 metres tall, Hong Kong is the quintessential vertical metropolis. It has more tall towers than New York City (794) and Tokyo (556) and more than 6,500 high-rise buildings, mostly crowded around commercial and transport hubs. A huge network of walkways, overpasses and tunnels links this dense forest of skyscrapers. They are documented in by American Jonathan Solomon, who taught at the University of Hong Kong, with fellow architects Adam Frampton and Clara Wong.
The book, which was launched in London last month, reveals another dimension of our city. It is an exploration of Hong Kong's extensive pedestrian infrastructure and the relationship between public and private space, illustrated by a series of brightly coloured, if sometimes befuddling, maps.
A short pedestrian bridge linking the Mandarin Oriental Hotel and Prince's Building started the ball rolling. Built in 1965 by Hongkong Land, it was there to channel wealthy visitors from the hotel to the high-end shops across the street. Its immediate success encouraged other developers to follow suit and the interconnecting passages have spread across the city.
The book maps 32 routes in Hong Kong Island, Kowloon and the New Territories. Solomon's favourite is an urban hike of just over two kilometres that extends from the mega-developments around Olympic station, over bustling Mong Kok stalls to the tranquil Yuen Po Street Bird Garden in Prince Edward.
The peculiar charm of the elevated walkway reveals itself as we emerge from the air-con comfort of Olympic City into a short, glass-enclosed passage lined with potted plants. On a sunny spring afternoon, overlooking the palm trees along Tong Mi Road, it is a lush, sun-dappled space. This leads to a longer walkway, open at the sides; a breezy and quiet stretch above the crowds and traffic.
It is a jarring sensation when the walkway comes to an abrupt end at Argyle Street, in the thick of market stalls and snack vendors. But before there's a chance to get used to the chaos, the route takes us across from the air-conditioned calm of the Langham Place Hotel via a glass-enclosed sky bridge into the towering microcosm of Langham Place and down into the subways under Mong Kok MTR station.
In a matter of minutes, the route has taken us through three distinct environments, a slightly disorienting experience, before suddenly heading up again on the escalator of MTR exit B3, that, as soon as it opens onto street level, meets a second escalator that rises to a wide boulevard.
Below, the Mong Kok traffic crawls and thick crowds navigate the tight press of market stalls.
The walkway is a pleasant respite but it is also very efficient; a journey that would take more than 10 minutes at street level, is done in half that time, regardless of weather, traffic and crowds.
This stretch ends at the Grand Century Plaza, a modern mall built over Mong Kok East MTR station. From here, it's a few steps into the lobby of the Royal Plaza Hotel and up again, across a short elevated walkway to the fringe of Kowloon City.
We then proceed up a flight of stairs and into a different sort of pedestrian space entirely, the Yuen Po Street Bird Garden.
Although built in 1996, the garden harks back to an older, more traditional use of space. Here, old men walk with their pet birds; women sift birdseed in giant bamboo sieves and hundreds of birds, from brightly coloured parrots to black and white mynahs, sit in cages awaiting buyers.
In less than an hour we have walked from one of the city's newest developments, built on a massive landfill, over the world's second most densely populated place, to the tranquility of the bird market along Boundary Street and our feet have barely touched the street.
Many major cities feature clusters of buildings connected by walkways but Hong Kong's networks are arguably the most extensive. The most established pedestrian passage has now grown to about three kilometres - you can now walk from the Shun Tak Centre in Sheung Wan to Star Street in Wan Chai without hitting a pavement.
What is it about Hong Kong that makes this possible?
As Solomon and his co-authors see it, Hong Kong's unique "three-dimensional urbanisation" is the result of two factors: geography and economy. Limited building space and a large population have forced construction to expand skywards and underground, and Hong Kong's hyper economy means that it is to everyone's benefit to provide fast and convenient access from transport hubs to retail spaces.
An example of this is the IFC Mall. A government zoning variance requires mall owners to keep their lobby spaces open 24 hours a day to ensure convenient access between the transit hubs of the Central ferry piers and Hong Kong Station. But the consortium behind the IFC development benefits, too; channelling commuters through the space on their way to and from work greatly enhances its retail value.
In this way, the privately owned IFC lobby takes on the character of a public thoroughfare. In Hong Kong, malls often take on a role similar to that of public squares or pedestrian areas in, say, New York.
But this relationship between public and private spaces can be contentious. In 2008, controversy over an attempt to limit public activity in the Times Square piazza led the government to file a suit against the mall owner and its parent company, the Wharf Group, to protect public access. Increased attention on defending public space led to another well-publicised incident later that year when Central nightclub Dragon-i was compelled to open an outdoor terrace to the public that it had tried to block off with bouncers and rope barriers.
For Karl Chan Man-ho, founder and chairman of the Public Space Initiative, the biggest issue is awareness. Members of the public often don't make use of space to which they are entitled simply because they don't know about it and because their needs aren't taken into account in development and design. "It's a top-down approach with the government and developers deciding what the public space is like," says Chan. That's why the group organises outreach programmes such as field trips that take young people to little known, or difficult to access public areas.
Without well-utilised communal spaces, Chan worries that there will be a detrimental effect on the quality of life and the character of the city.
"People generally have less of a feeling of belonging in Hong Kong. Public spaces help bond people and forge a sense of community. If people don't use public spaces they miss a vital part of city life."
That the government and activists have to be vigilant to protect even the smallest pockets of public space seems to lend credence to the notion that these are in short supply.
But it is one that the authors of dispute.
"You hear from a lot of people that Hong Kong doesn't have any public space but I think the point of our book is that ... it does exist, even though it doesn't look like public space in other cities," Frampton says.
Solomon points to the national education protests at Tamar last year, when crowds of demonstrators spilled over from the square outside the government headquarters onto surrounding walkways. "Here was an example of the footbridge network being used for the most public of activities: public protest."
Caroline Wuethrich of Parallel Lab, an outfit specialising in experimental urban research, argues that the problem is less a paucity of public spaces than the fact that "there are so many rules you can't use them".
Still, after exploring the city's off-road networks, there is an advantage the parks and squares of other cities have over Hong Kong: places where people can sit and pass the time of day. A bench or two would go a long way.
This article appeared in the South China Morning Post print edition as: IN Theair