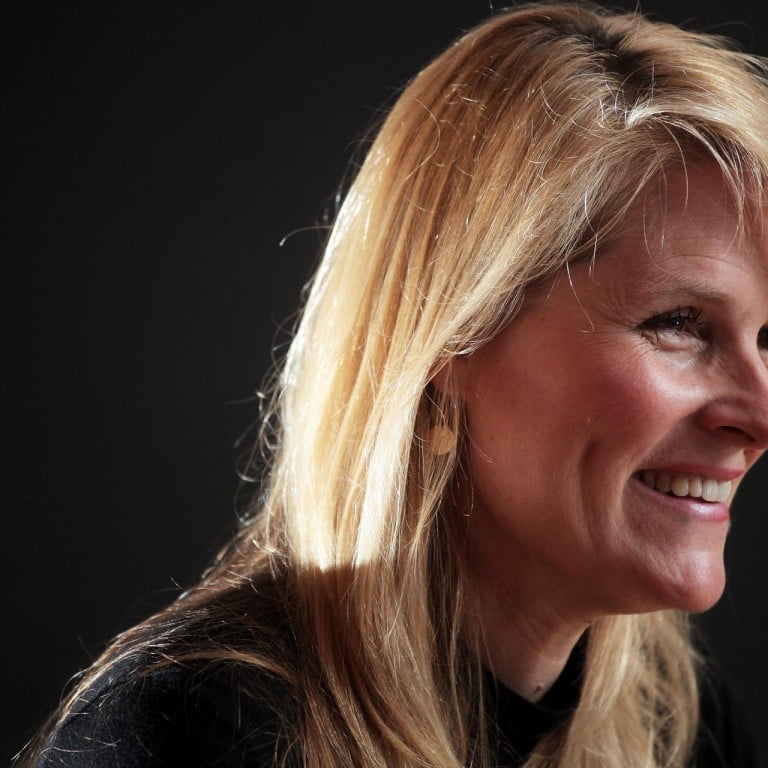 Room to show: Katie de Tilly
Being able to support artists in Hong Kong and the region is art dealer Katie de Tilly's dream come true, writes Doretta Lau
On a recent afternoon, a French collector stops in at art dealer Katie de Tilly's gallery, 10 Chancery Lane, in SoHo. Just steps away, construction is under way on the Central Police Station Revitalisation Project, which will display contemporary art after its completion in 2015.
The conversation between collector and dealer unfolds against a backdrop of videos and canvases by Indian artist Sonia Mehra Chawla. As de Tilly talks about her artists, many of whom live and work in Asia, she is in her element. It's clear she has a strong sense of what she can sell, as well as who will receive critical attention. She has shown Dinh Q. Lê, The Propeller Group, Huang Rui and Sopheap Pich. Four of the artists she represents were included in the Documenta (13) exhibition last year in Kassel, Germany.
After the collector departs, de Tilly starts talking about her formative years in California. "I always wanted to be an artist. I was going in that direction, studying art. I did a lot of painting and art classes. In high school, I got the artist award at graduation. I started as an art major at university. [But] the critique was difficult - I realised it wasn't for me."
Instead, de Tilly studied chemistry and biology, and went on to work for a pharmaceutical company. Then she became a director for the non-profit Doctors Without Borders.
In 1994, she moved to Hong Kong with her husband. She began doing exhibitions in her apartment because "artists are really sticking their necks out to say something about the world in a creative way".
Then she held exhibitions at the China Club, Exchange Square and New York. She also thought of pursuing her own art again but, she says: "When my children were little if I ever started to paint they would want to paint with me. It was just difficult to concentrate. I'm much happier being a promoter of artists, and telling their story and getting to know their deeper soul and to share that with the world."
The 10 Chancery Lane gallery came into existence almost by chance. "One night, I had dinner on the balcony just above this building and I came down and there was paper in the windows and I said, 'That would be a great art gallery'. I came in and there were high ceilings. I sort of opened the gallery without any intention of opening a gallery, just because of the space."
The first show, in May 2001, featured Chinese artist Wang Keping, whom she has since shown several times. "My artists are like family," she says. "It's not just a business. The relationship is really important; that's key. You can really grow with artists if you have that."
By 2006, de Tilly was doing so well she opened a second outlet in Chai Wan. While visiting artists in the area, she thought the warehouse spaces were cool, and wanted to be a part of the community there. The location allowed her to do survey shows with artists and exhibit larger works, such as Dinh Q. Lê's .
During the past 12 years, de Tilly has worked extensively with artists from Hong Kong (she has shown Anothermountainman and Sovereign Art Prize winner MAP Office), and the Asia-Pacific region, especially contemporary artists in Cambodia and Vietnam. "I'm very interested in being part of the documentation of these early movements of art in Asia."
During Art Basel Hong Kong in May, she will host a Thai group show in the gallery, and Southeast Asian artists at the fair.
Last year, de Tilly started HKFOREWORD, the first in a series of shows featuring young Hong Kong artists. "There's a lot of curiosity about Hong Kong artists," she says, and notes that it's difficult for many to make a living from their art. "We're also very curious about the development of Hong Kong artists and what they're thinking."
Here, de Tilly gave her staff the chance to curate. They went to university graduation shows and selected six artists from City University and one from Baptist University. "Those artists got the experience of working in a professional gallery at the beginning of their career, upon graduation," she says. "I think it's huge because they had to work out details they didn't understand before: for example, how much it cost to make. You need to know before you give a price. I think this experience was very valuable for them, and for us - to see what young people are doing and what their thoughts are."
The next HKFOREWORD will take place in August.
"I think the biggest challenge is that Hong Kong is such a busy city," de Tilly says of the difficulties she has faced since opening her gallery. "There's a full schedule of social activities. It's hard to get people to come into the gallery - not because they don't like art [but because] it's a busy city."
As part of the effort to draw public attention to the city's gallery scene and to strengthen community ties, de Tilly joined the Hong Kong Art Gallery Association, a non-profit organisation founded by Henrietta Tsui and Karin Weber. She serves as vice-president, and works on programmes with other galleries and art dealers in concert with local and international museums, artists, universities, auction houses and other art institutions.
"It's great for us to get to know each other better on a personal level. We're competitors, but … we don't feel that way. We're all doing different things," she says.
"Gallerists are not always the best business people because we're big dreamers."
Sonia Mehra Chawla's "The Embryonic Plant and Otherworlds
This article appeared in the South China Morning Post print edition as: Room to show