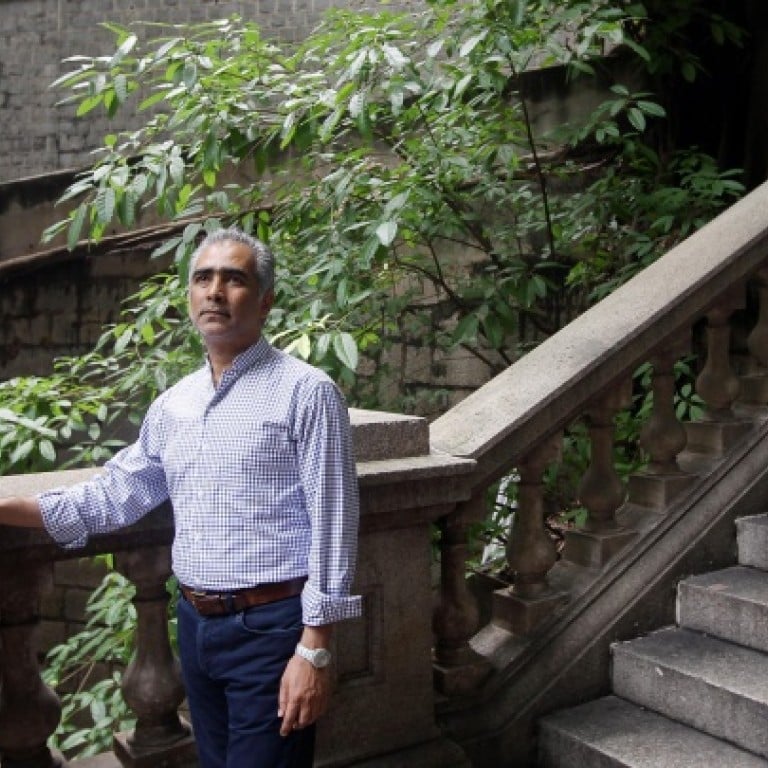 Sundaram Tagore sees his role as facilitating arts dialogue between cultures, writes Madeline Gressel
"I didn't know what globalisation meant in 1999," Sundaram Tagore says one recent afternoon at the Foreign Correspondents' Club, "but I knew something was happening. I saw such a melting pot in New York. Marriage partners were mixed, children were mixed, people speaking languages from every corner of the world. But it wasn't reflected in the art world. I asked why. The art world claims to be so advanced, but really it was quite backwards. There were niche galleries - Indian, Chinese, Russian - but they were never about the confluence of culture. I said, 'We're going to do that'."
So Tagore left his job at the Pace Wildenstein Gallery in New York, and in 2000 opened his own gallery on Greene Street in SoHo, when that area was still a chic bastion of art and culture. "It was a really grand space. A huge ground-level loft with columns, filled with light," he says, smiling. "The idea was to open a gallery, take the resources, and fund a cultural centre to open a dialogue between the marginalised and the establishment. We were having so many events, literally every other day. It was exhausting and we did that for 10 years."
Tagore now runs two galleries in New York, one in Hong Kong and another, newly opened, in Singapore. The galleries share a focus on cultural exchange and an international perspective. "No matter what country I go to, I will never change my format. The format is intercultural dialogue. People have asked me if I change the format for the Chinese market. No, never! I'm not catering to mainland collectors. But if they're interested in an international outlook, they'll come to us."
Perhaps Tagore's focus on cross-cultural dialogue is not so surprising, given his personal history. A descendant of Indian poet and polymath Rabindranath Tagore and the artistically pedigreed Tagore family, the gallerist describes his childhood in Calcutta as a series of alluring encounters with the world. "It was a very unconventional family. No one ever told you what to do. But as [children], we were surrounded by the lifestyle of artists, and the world of adults, and we wanted to be a part of that.
"We were living in two sets of homes in Calcutta, a few miles apart. The Chowringhee house was an old, old apartment - more or less the Harrods of Calcutta. Whereas Russel Street was in the Venetian palazzo style, a freestanding home.
"It was a constant open house," Tagore recalls. "People walked in from literally across the globe. Someone who came in for a few hours would end up staying for a year. It was a very atmosphere - if you came with an introduction the door was open. It didn't matter if you had a lot or little. You just became part of the house."
Tagore's gallery does not operate on much different principles. It offers a democratic home to a continuous parade of artists from around the globe, making little distinction between the art world's biggest names - such as US portrait photographer Annie Leibowitz, featured at the Hong Kong gallery in 2012 - and the lesser known.
Tagore, too, has lived a semi-nomadic lifestyle. From India he relocated to Canada and then the US, followed by Italy and England. "It just went on and on from there." Now he calls Hong Kong home, although he goes to New York for two weeks out of eight and spends weekends at the Singapore gallery.
Tagore first came to Hong Kong in 1993, with Pace Wildenstein, to seek a hold on the Asian market. By the time he opened his gallery here, "I already had built up relationships, I knew the structure of the city, and how easy it is to do business here. It's one of the easiest cities in the world," he says. "There's a historical reason for that. The Cantonese mindset is one of relating to people through business; compounded by the nature of Hong Kong, which was built on a platform of 24/7 business by the British. It wasn't like ruling India - here it was efficiency, efficiency, efficiency. It's in the city's DNA, really."
Tagore was originally approached in New York by Invest Hong Kong, who told him they were looking for arts and culture organisations to establish a presence here. When Sundaram Tagore Gallery opened on Hollywood Road in 2007, it was the first international gallery in the city.
Since then, it has been joined by some of the biggest names in art - Gagosian and White Cube, for example - but it has maintained a unique niche in a city that largely serves the Chinese market.
"When we first came, people here would literally embrace us," Tagore recalls. "Everyone was so excited, saying 'For the first time we are getting contemporary art that is outside of Chinese art'."
Since the inception of his gallery, Tagore has foregone participation in fairs such as Art Basel. Instead, he plans a show contemporaneously to scoop up the stray footfall. Last year saw the Leibowitz show; this year he is focusing on Japan's Hiroshi Senju.
The high-roller bidding that has co-opted the art world is a part of globalisation, Tagore says. "Whether you like it or not, we live in a global age. On one side, art is expanding, it's engaging more people, it's becoming more democratic.
"On the other side, people want instant gratification. They want a Facebook understanding of art. I'm not being judgmental. I'm just being anthropological and saying - great, we're going to do something different." He reflects on this and adds, "I believe that in a postmodern age, we can't create anything new. Everything has already been done. But we can combine in new ways, and therefore reveal a new vision.
"Postmodernism allows us to understand that there's damage taking place, and to find ways to cope with it.
"What Hiroshi Senju is saying through his art is that beauty exists beneath our feet - damaged goods perhaps, but still we can find beauty. It's about our ability to see it."
Tagore is now focused on travelling the world, opening dialogues and celebrating beauty. He is working on a documentary chronicling architect Louis Kahn's creation of the National Assembly Building in Dhaka, Bangladesh.
"The world is not monolithic, and that's why we continue to grow. There's still hope. Without hope we stop being human. People may have gone underground, because the dominant culture happens to be art fund guys, but the art world will re-emerge. Art will reassert itself."
This article appeared in the South China Morning Post print edition as: Stepping forward