LIFE
Get more with myNEWS
A personalised news feed of stories that matter to you
Learn more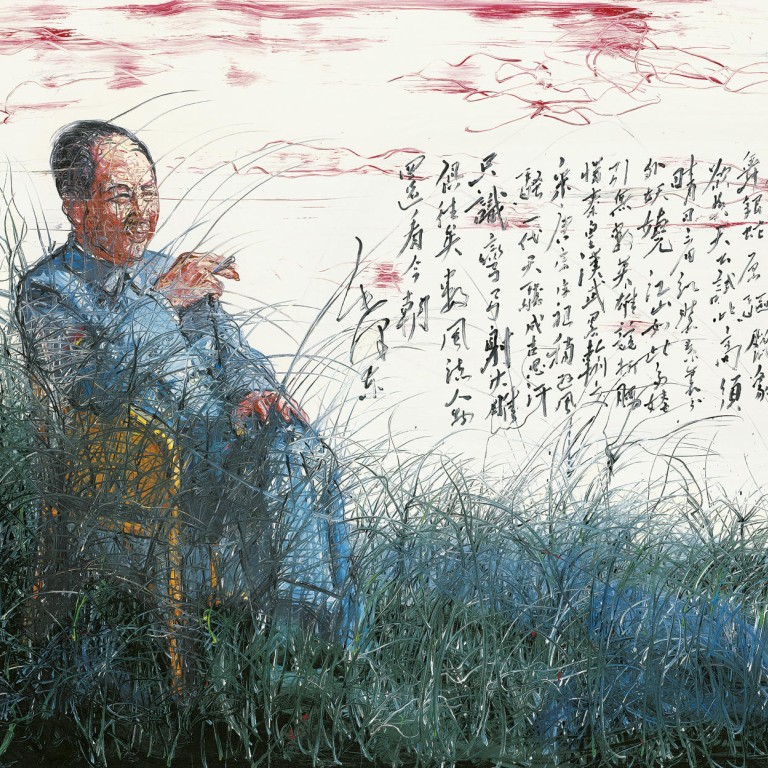 After a slack year, the Hong Kong art market is springing back to life. Newer mainland auction houses are emerging as a threat to their Western counterparts, says Enid Tsui
The art market seems to be recovering its allure after a year in which no amount of wooing was able to rekindle the fervour of buyers. Sotheby's early April six-day sale indicated that the market had hit bottom last year.
The final tally for the auction house was HK$2.18 billion in sales. That was still lower than last spring's HK$2.5 billion, but up from the HK$2 billion seen in the autumn series.
Spectacular highlights such as local collector William Chak's HK$74 million offer for a Qing-dynasty bowl also helped disperse the gloom, which followed a 38 per cent fall in Sotheby's total Hong Kong sales last year.
April saw a big surge in the Hong Kong sales of new arrivals Beijing Poly international Auction and China Guardian Auctions. The latter's top lot - Chang Dai-chien's - attracted more than 20 bids and settled at the above-estimate price of HK$27 million.
Auctioneers who have important sales later this month are cautiously optimistic. "I am no longer that concerned about the Chinese economy," says Carson Chan, managing director of Bonhams Asia. The British auction house is preparing for its five-day Hong Kong spring sales on May 22, which features an expanded contemporary Asian art contingent.
Jonathan Stone, chairman and international head of Asian Art at Christie's, says he is confident that demand for the group's May 25 to 29 sales will be buoyed by a surge in new buyers from across the region. Christie's Hong Kong sales fell by 16 per cent last year.
Sotheby's also has a major sale lined up in May. The Mei Yun Tang Collection of 25 paintings by Chang Dai-chien, also known as Zhang Daqian, is expected to fetch upwards of HK$110 million. The sale's top lot, , has been given a bold HK$25 million estimate.
There is a sense that the mainland buyers are returning with bulging wallets. Last year, spending on art by the world's second-largest art market fell 24 per cent, according to research group Arts Economics.
That was attributed mainly to the economic slowdown, uncertainties surrounding Beijing's leadership change, and a crackdown on the reportedly widespread practice of dodging import duties.
Art brought into the mainland is subject to custom tariffs as high as 35 per cent. Along with the better state of the economy, the steps to curb speculation in the Chinese property market have helped steer more capital to the art market as an alternative to buying real estate.
"I was sceptical at first, but there was real evidence of that in our April sales," says Kevin Ching, chief executive of Sotheby's Asia.
There may be some residual nervousness about the Asian art market losing its fizz, but the industry is stepping up its presence in Hong Kong, where local and international collectors have been a formidable force since last year when mainland participation turned dormant. No fewer than five art fairs are being held at exactly the same time as the May auctions.
But the greatest threat to the traditional Western auction houses are their mainland counterparts. State-owned Poly is the biggest. It has grown to become the world's third-largest auction house since being set up by the Chinese army in 2005, with the initial mandate of bringing Chinese cultural relics back to China.
Guardian, owned by the daughter of former Chinese premier Zhao Ziyang, Wang Yannan, is the No2 auction house in China. Among Poly and Guardian's combined HK$938 million sales in April - all sourced from overseas because of the mainland's wish to keep national treasures in the country - there were top-class lots in both the traditional art and contemporary art categories. One eye-catching sale by Poly was contemporary artist Zeng Fanzhi's , which went for HK$17.25 million.
Alex Chang, Poly's managing director in Hong Kong, says it is clear from the sales results that clients have great confidence in Poly's offerings because of its "profound understanding" of Chinese culture. He also warns Western rivals that Poly intends to expand into more areas, launching a new contemporary Chinese ink sale in the autumn.
Some experts are less sanguine about the mainland enterprises. "The Western auction houses have a long history and reputation for having the expertise for assuring good provenance. The Chinese groups also tend to be weaker when it comes to marketing and presentation," says art collection consultant Bobby Mohseni, director of MFA Asia.
While, in general, the quality of consignments at Poly and Guardian tend to be lower and less diverse, he would still attend, because gems can be found among the overcrowded, "fish market"-like displays.
Ching, of Sotheby's, wonders if Poly and Guardian are expanding at all, let alone stepping on his turf.
"Don't forget that the main reason why they're in Hong Kong is because they've been forced away from mainland China by the customs restrictions. For whatever reason, they are no longer able to commercially and meaningfully sell overseas-sourced items on the mainland. They've just shifted them here. We notice that the amount of overseas-sourced works they sell in the mainland has gone down," he says.
At the same time, he is confident that Sotheby's is ahead of the curve because, last year, it was the first Western auction house to hold auctions in the mainland. Its joint venture with state-owned Beijing GeHua Art means that it can sell anything other than Chinese cultural relics in GeHua's cultural free port, where no import duties are charged unless the works are taken out into other parts of the country.
"The mainland Chinese market has a lot of restrictions at the moment. We and Christie's cannot sell any traditional Chinese art there. And there's the customs tariffs and capital controls. But it'd be wrong for us to go in when everybody else goes in, when the market is completely opened up. It's a long learning curve," he adds.
The sales in the mainland also happen at a different time from the Hong Kong ones, and can cater to different tastes.
"Works such as realist paintings are popular with mainland collectors, but less so in Hong Kong. These we can source in the mainland and then sell in Beijing," he says. Christie's has also just been awarded a licence to hold auctions in Shanghai independently.
"It's one of the most significant steps in Christie's 250-year history. The significance is equivalent to when Christie's first opened sales in New York in the 1970s. It's a great thing to be able to transact with Chinese buyers and sellers in their own territory, and, hopefully, there will be international participants as well," says Stone.
The Western houses may sound confident about their ability to head off competition in Hong Kong, but they are also trying to find new niches to cater to fast-growing demand from Southeast Asia, as well as the changing tastes of mainland collectors increasingly willing to buy works with which they are less culturally familiar.
Recently, Rosebery's of London staged a successful auction of Western antiques in Xiamen's free port to tap the new market. Christie's Stone draws attention to the firm's expanded 20th century Asian art sale this month.
"This is where we offer works with lower estimates, and mainly works on paper. These are a little bit more affordable, perhaps, and will appeal to younger people, or people moving into the market for the first time," he says.
Bonhams, which has long been revered for its expertise in Chinese antiques, is branching out into contemporary art. Having only just set up a modern and contemporary art department in Hong Kong, Chan admits that he needs to find a new way to tackle a segment that has long been dominated by Christie's and Sotheby's.
"This month, we are bringing Qu Leilei to Hong Kong for the first time. He was one of the founders of the highly influential Stars Art movement in 1979 and is an example of a highly respected artist who is not yet a household name," he says.
"The pie is getting bigger. There's plenty of room for lots more people and the Chinese auction houses also help draw new customers from the mainland to Hong Kong for the first time," he says.
"My only fear is bird flu. It is the only major threat to our May sales."
[Correction: An earlier version miscredited the Zeng Fanzhi photo to Christie's. The credit should read Poly Auction Hong Kong.]
This article appeared in the South China Morning Post print edition as: Auctions speak louder