LIFE
Get more with myNEWS
A personalised news feed of stories that matter to you
Learn more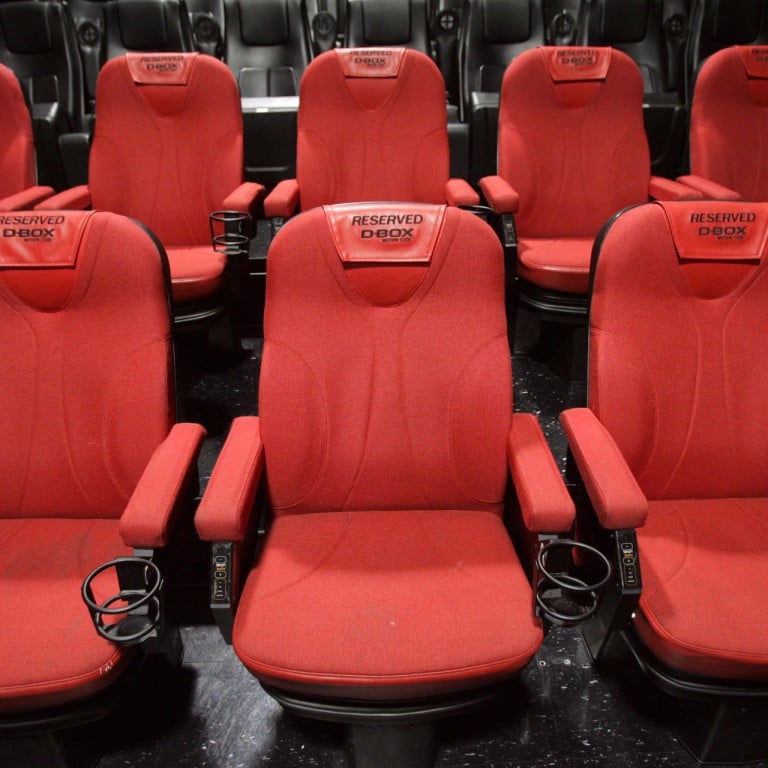 Vibrating cinema seats shake Hong Kong
Vibrating seats have been a hit in cinemas, but some viewers say they detract from the film
Watching a film in Hong Kong can be a moving experience. Literally. A trend in cinema seats that had been dismissed as a novelty by serious film buffs has taken hold in the city.
Vibrating seats, seats that literally shake and rumble in unison with the action on screen, have become hot ticket items with local film-goers.
Broadway Cinemas was among the first in Hong Kong to embrace the new viewing experience in 2010.
Of the circuit's 11 cinemas, only two - Broadway The One and Broadway Mong Kok - are equipped with vibrating seats, but vendors report these tickets consistently sell out first.
Even though they cost the same as a regular seat, and are more expensive for the theatre to maintain, their draw has proven so powerful that Broadway is renovating another theatre, the Palace APM, to have rows of vibrating seats by the end of summer.
A new Broadway theatre planned for Yoho Town will also feature trembling chairs.
Broadway sets up its theatres so every other row consists of vibrating seats, giving customers a choice between vibrating and regular viewing experiences.
But over at the Grand Cinema in Elements, vibrating seats are so popular it has done away with non-vibrating seats altogether.
All of its 1,566 seats spring into action when the movie, in all genres, reaches its climatic - and often ear-splitting - apex.
Vibrating seats do have their detractors. Some claim it takes them out of the movie, and others worry that vibrating seats would be inappropriate in more serious or quieter films.
But Grace Cheung Yee-seung, Broadway's general manager responsible for theatre operations, says such concerns are unfounded.
Vibrating seats, she says, "significantly enhance movie-goers' attachment to and enjoyment of the movie world".
And Helena Young, general manager at The Grand Cinema, points out that because the vibrating seats are tied to the volume of the action on the screen, movie-goers don't have to worry about their seats vibrating during quiet films or serious dramas.
Still, not everybody is sold. Documentary filmmaker Tammy Cheung Hung admits she has never personally sat in a vibrating seat, but is dubious of the whole idea.
"I wouldn't be interested, it's a gimmick," she says. She laughs at the very notion of a vibrating seat: "I'm not looking for that kind of excitement at a theatre. If I wanted an experience like that, I would go to an amusement park."
James Marsh, the Asia editor of
twitchfilm.com
is more charitable towards the new seats. "[Vibrating seats] certainly added to my enjoyment of - without the sound system and the seats it would have been totally unwatchable," he says.
Still, he admits: "At the end of the day, they're up there with 3-D as an unnecessary gimmick to make the theatre-going experience more enjoyable when technology makes it so easy to watch films at home."
Perhaps the seats' detractors are simply in the wrong demographic.
Grace Cheung points out the vibrating seats tend to appeal to a younger audience. Neither she nor Young have received a single complaint about the vibrations.
Looking at ticket sales, it seems Tammy Cheung is in the minority.
In Hong Kong, it seems, going to the movies is starting to become an increasingly shaky proposition.
This article appeared in the South China Morning Post print edition as: Good vibrations