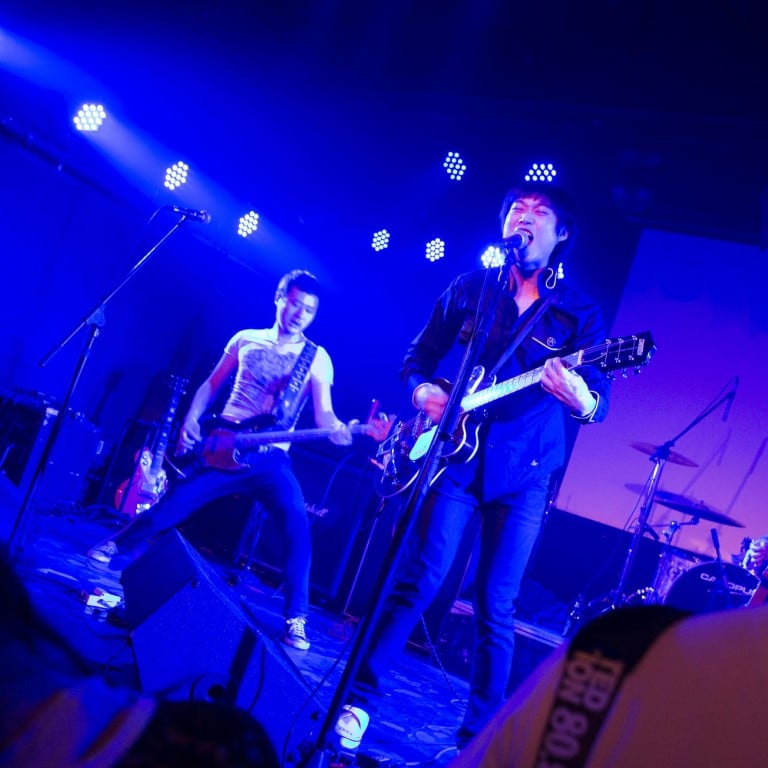 Making noise - the intrinsic protest of rock bands in Beijing
In Beijing, bands rock'n'roll but with Chinese characteristics, writes Clarissa Sebag-Montefiore
"The place is very rock'n'roll," Ben Ben says, gazing out from behind her page-boy fringe at the smoky dive club where she is about to perform.
It is a Friday night in Beijing and the Mao Livehouse is packed with fans. Here, graffiti is etched onto the red walls. The floor is sticky with spilt beer and the toilet is blocked. Ben Ben, the Taiwanese lead singer of Beijing-based shoegazing band Skip Skip Ben Ben, is selling kitsch T-shirts before her set begins.
"Beijing is the perfect place to have a rock scene," the 27-year-old says. "It's really s*** everywhere. It's really dirty. It can inspire your mind to create. It's not comfortable at all like my own country." She stops and lets a little smile escape. "I love the people who live here and are not polite. They are natural. It's unique and honest."
Ben Ben, who grew up in Taiwan listening to gospel music with her Christian parents and cites her influences as The Rolling Stones and The Velvet Underground, is polite and sweet, with soft eyes. But when she finally gets up on stage she screeches into the mic with abandon. The crowd in the mosh pit - about half foreigners and half cool local kids - loves it.
If there is a Brooklyn in Beijing, it is the Gulou district. Funky western-style coffee shops line the teeming main road, alongside the street stalls, the construction works, the scattering of dive bars tucked away behind the hot pot restaurants. Of these, Mao Livehouse - a venue which lampoons the "great leader" with its logo of Mao Zedong - is the most visible. On any given night, boys in skinny jeans and thick biker boots spill out of the rusty doors with girls in trainers and pink hair clutching their cheap local beer.
Ben Ben is right: Beijing is a grimy, mucky, difficult, ugly city - but it throbs to the pulse of China's underground rock'n'roll scene.
Just four decades ago, none of this existed. During the Mao era the only music allowed was state-sanctioned revolutionary songs and ballads (mocking Mao might result in execution). Today, the young can wear what they like, do what they like, and listen to what they like, within reason. Punk, ska, metal, electronica - it's all here, boosted by a rollicking festival scene and a mushrooming in music venues.
Most date the birth of Chinese rock'n'roll - in Putonghua - to May 9, 1986, when Cui Jian sang in the Beijing Workers' Stadium. He was 24.
Cui, the "godfather of Chinese rock", epitomised the search for individuality, for something beyond the officially sanctioned dictates of how people should behave and live. He encapsulated rock music as a tool for struggle and social change in China - much like the genre had been used in America in the 1960s. This was the man, after all, who played Tiananmen Square in 1989 and performed, on his "Rock'n'Roll on the New Long March" tour (a dig at the communists' iconic journey), wearing a red blindfold.
Yet other rock stars who played during the era say the rise of was anything but inevitable. Kaiser Kuo, an original member of the mainland's first heavy metal band Tang Dynasty, believes their success was a "happy confluence" of different elements coming together rather than any sort of predestined trajectory that Chinese music was on at the time.
"I don't think the country was ready," says the Chinese-American. "In our earliest incarnations, most of the audiences were drawn to the spectacle. They were curious. They often had their hands clasped to their ears, wincing. I don't think they had ever heard anything quite that loud before.
"They took pride in this assertion that, yes, China too can produce something like this but I don't think there were many people who were appreciative of the music as music."
Such admonitions are a common complaint, even today. Bands are given publicity - especially in the United States, where a handful of Chinese bands such as indie rock trio Carsick Cars and post-punk P.K.14 have toured - for their novelty rather than musical prowess.
Yet has tentatively formed its own roots in the country. This bred some genuine success stories in the 1990s, including bands such as Black Panther and Cobra. Tang Dynasty incorporated Chinese elements into their music, drawing on poetic local musical traditions and mixing it with hard rock and heavy metal.
This was the era when the scene in Beijing blossomed and an infrastructure - bars and clubs - began to develop.
Today, interesting bands range from the punk-rock Subs to the experimental post-rock Lonely China Day. Few rock bands make the political statements Cui Jian once did. Most play within the rules (submitting their lyrics and festival set lists to authorities). They want to be regarded by the outside world for their musical acumen rather than any perceived act of rebellion against the state.
But Jonathan Campbell, a former Beijing band promoter and author of , says contemporary bands are making a statement. "A lot of kids [in bands] think: 'I don't give a flying f*** about politics.' Most bands are not consciously trying to change the world," he says. "But they are saying something by their sheer existence - they are saying a lot."
A short walk from Mao Livehouse a very different rock concert is taking place. The Jianghu Bar is located down a darkened hutong, in a former courtyard home. There are no other restaurants or bars in the area. Yet trickling into the quiet night are sounds which would not seem out of place in Central Asia: Askar Grey Wolf, the best-known band to emerge from the restive Muslim Xinjiang province, are on stage. They play Xinjiang pop-rock, sourcing rhythms from the old Silk Road. Most in the audience are also Uygur and the guttural sounds of their language hum among the music. The place is packed.
Tensions are running high, following the deadliest ethnic violence since 2009 in Xinjiang last month. One Uygur audience member confides across the din: "You cannot sing [something political], you cannot publish it. If there is something the authorities think is wrong you have to delete the song or if you say something more sensitive maybe you go to jail."
For tonight, though, things go smoothly. Askar Grey Wolf finish their set and the crowd drifts away into the inky hutong. The band do not need to court politics openly. As with Skip Skip Ben Ben the very act of rebellion through playing rock music is, perhaps, enough.
Campbell sums it up best. "Get a job, get a wife, get a car - that kind of pressure is really huge in China. Not doing that, doing something that is not working in an office is so off the charts that many [in the rock scene] feel: 'We are doing something important'," he says.
"In the West we have forgotten that is what rock'n'roll is about. They never forgot that here. is more rock'n'roll than rock'n'roll."
Ben Ben would most likely agree.
This article appeared in the South China Morning Post print edition as: Subtle noises