LIFE
Get more with myNEWS
A personalised news feed of stories that matter to you
Learn more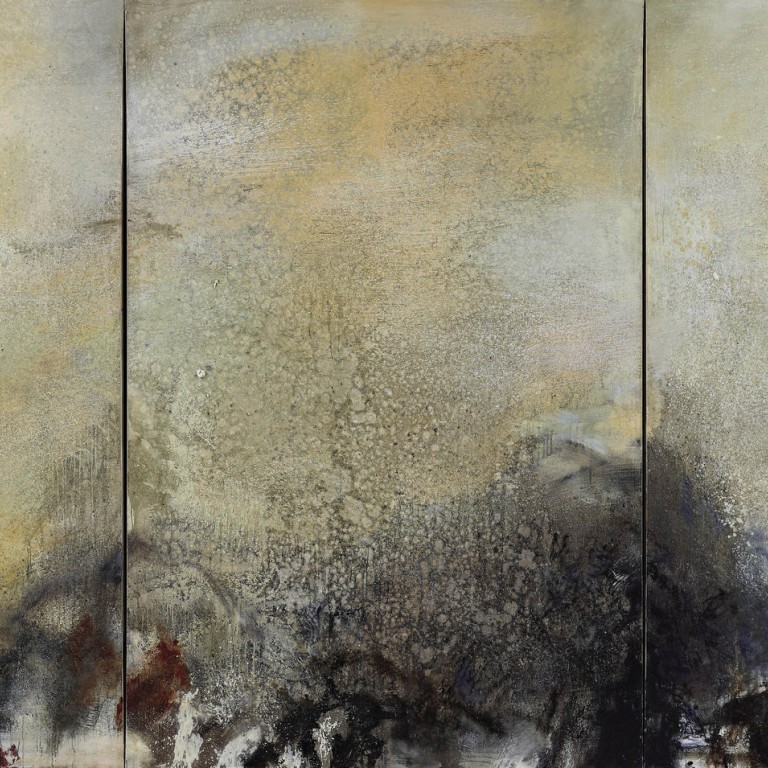 Sotheby's celebrates 40 years in Asia with auction of 20th-century Chinese art
Modern Chinese masters tipped to set auction records at Sotheby's October sale
Some of the greatest names in modern Chinese art are set to go under the hammer at an upcoming Sotheby's evening sale in Hong Kong.
The bumper line-up comes from a private collection and the single-collector auction, announced today, brings together works of a calibre that could see a few records broken in honour of the auction house's 40th anniversary in Asia.
On October 5, the spotlight will fall on the sale of works from the formidable Yageo Foundation Collection assembled by Taiwan connoisseur Pierre T. M. Chen. The foundation opted for anonymity and is only identified as "a distinguished private collection" for the purpose of the auction.
But the provenance of the paintings gives it away, as does the fact that the stars of the sale were shown at the Staatliche Kunstsammlungen Dresden in 2009 as part of the "Madonna Meets Mao - Selected Works from the Yageo Foundation collection, Taiwan" exhibition.
Fans of Zao Wou-ki will drool at paintings spanning an incredible five decades of the French-Chinese master's prolific career. A two-by-four metre triptych, shows the master at his most lyrical and mature. There is a nod towards a traditional Chinese ink landscape, but the vision demonstrates the poetry of Zao's unique language.
Sylvie Chen, head of 20th-century Chinese art at Sotheby's, says the work is rare, as Zao's prodigious oeuvre of more than 3,000 paintings only features about 20 diptychs and triptychs. "The overlaying of colours and the composition make it an exceptional piece of work. This is likely to top Zao's auction record of just over HK$68 million," she says.
Even if the painting is sold at the low end of its HK$68 million to HK$90 million valuation, it would still smash the previous record, set in 2011, which includes a roughly 10 per cent commission fee paid for by the buyer that is excluded from pre-sale estimate figures.
The 2011 sale also made headlines because the Chinese bidder initially refused to pay up, but the record still holds because Sotheby's says it managed to get the full money in the end.
The bold estimate for acknowledges the quality of the work and an anticipated appreciation in the value of Zao's works following his death in April, at the age of 92.
After all, HK$68 million is about HK$10 million lower than the auction records for much younger, living contemporary Chinese artists such as Zhang Xiaogang and Zeng Fanzhi.
The 1982 triptych, which, in Zao's usual style, just has the date stamp for title, is the work of a confident artist comfortable in exploring his ideas about representing a non-visual experience on a two-dimensional surface, says Zao expert Melissa Walt, who teaches contemporary Chinese art at Colby College in the US. "Some of his works I'd describe as transcendental," Walt says.
According to Sotheby's Chen, Zao's large-format paintings from the 1980s represented a breakthrough for the artist, after a tumultuous time in the 1970s. Chan May Kan, his second wife, who he met in Hong Kong, died of a drug overdose in 1972 after a battle with depression, and his brother also died around the same time.
"For a year-and-a-half he couldn't paint at all," Chen says. Shortly afterwards, Zao visited China for the first time since he left home for Paris in 1948. This, some critics say, reunited him with the ink brush tradition of Chinese art.
When Zao emerged from his private torment and resumed work, he created some of the most profound images of his career. They catapulted him into the upper echelon of the Parisian art world in the '80s.
The Galeries Nationales du Grand Palais commissioned a series of large-format works from him for a 1981 solo exhibition, and this marked the zenith of his career at an age when Chinese artists rarely received such recognition, Chen says.
But he didn't stop there. is another work being sold by the Yageo Foundation and that, for Walt, is evidence that the artist certainly still "had it" when he was well into his seventies.
"The 1991 painting has so many of the features that I associate with him, especially a mastery of colour. It looks like it's glowing," Walt says.
But the October sale is not all about Zao. Highlights from the Yageo sale all hark back to a generation of Chinese artists who drew inspiration from Western culture, long before style and iconography became blurred across national borders in our globalised age.
The catalogue features a lovely Wu Guanzhong - another nonagenarian who died recently - titled which shows Lushan in Jiangxi province looking fantastically un-Chinese (estimate: HK$10 million to HK$20 million).
Other gems come from Sanyu, who was part of the Parisian art scene of the late 1920s. He died in poverty, but found fame posthumously as "the Chinese Matisse", because of the obvious influence of the French master's particular style of fauvism.
Painting (estimated at HK$50 million to HK$70 million) sometime in the 1930s or '40s, Sanyu could not possibly have imagined a world where ethnic Chinese collectors would dominate international auctions for his kind of paintings. But this particular work is destined to go down well in such a market. The eight (lucky number) goldfish (lucky fish) is perfectly set against a golden orange (lucky colour) background.
As Chen points out, even the pattern of the tablecloth resembles Louis Vuitton monograms, the now familiar icons of China's nouveau riche. It is a playful work, but the value of the painting is serious. Sanyu's works only recently started to attract big-ticket collectors outside of Taiwan. But prices are certainly matching the more famous Zao and Wu Guanzhong. Sotheby's argues the value of his work lies in his unique position in the history of Chinese art.
As one of the first Chinese artists to settle in France, he marked a major transition between the old and the new in Chinese art, Chen says.
The appreciation of Sanyu's work is nothing short of incredible. His , an oil painting showing mother and child in front of a thick, black-framed mirror, was valued at HK$3 million to HK$5 million in 2007, but it went unsold when Yageo put it up for a Sotheby's auction, despite being featured on the outside back cover of the catalogue.
This time, Yageo is asking for HK$15 million to HK$20 million. The owner of the collection, Pierre Chen is, after all, an astute businessman. Chen is the founder of Yageo, a major Taiwanese electronic components maker, with a market capitalisation of almost HK$6 billion.
His extensive collection, which he started in the mid-1990s, is known as much for works by modern Western artists, such as Francis Bacon, as it is for those by Chinese painters. He was ranked the fourth most important art collector in the world by ARTnews this year.
Sotheby's is confident more highlights will be added to the October 4-8 sales. It has also gathered an impressive list of contemporary Asian and Southeast Asian art that will get plenty of attention.
A number of works by Takashi Murakami and Zhang Xiaogang will make an inevitable appearance, while there is also growing international interest in Southeast Asian art from Hong Kong and Taiwan, says Mok Kim Chuan, Sotheby's head of Southeast Asian paintings.
One name that crops up a lot is Walter Spies (1895-1942), a German artist who made Bali his home. Described as a "magical realist fable", his will be featured in the evening sale.
There will certainly be a feast for the eyes for everyone this autumn, when all the works arrive in Hong Kong for the pre-sale previews.
This article appeared in the South China Morning Post print edition as: Bids & pieces