LIFE
Get more with myNEWS
A personalised news feed of stories that matter to you
Learn more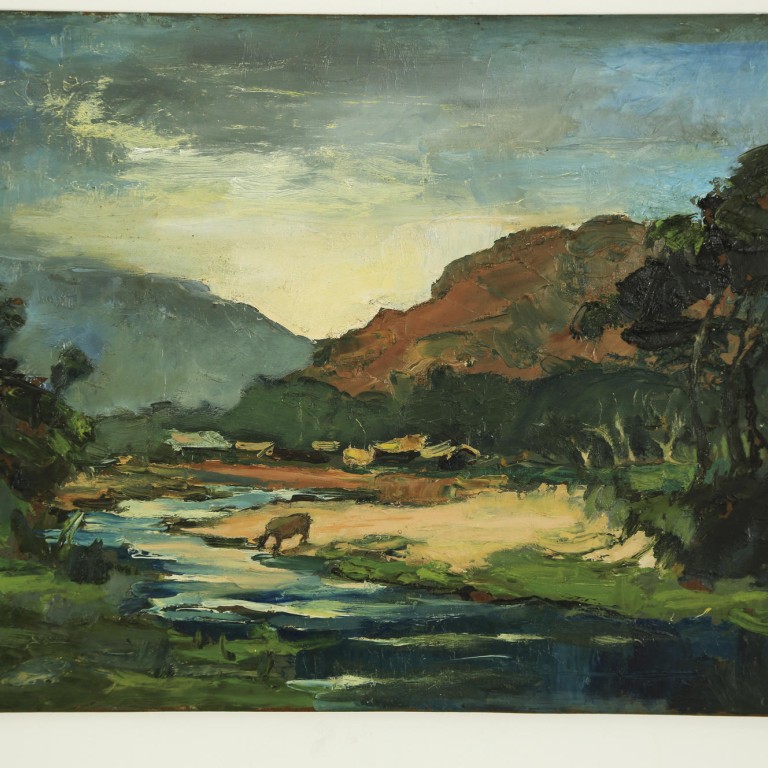 Nonagenarian painter Hon Chi-fun exhibits works in Central
At 91, artist Hon Chi-fun has a lifetime of experience from which to draw inspiration
Hon Chi-fun has just turned 91 and he is still busy painting. One of his recent works, a small acrylic canvas called , is leaning against the dining table in his Ho Man Tin flat, ready to be sent off to his latest solo exhibition of 24 paintings at Exchange Square.
The gradation of blue and green still invokes the same sense of quiet reflection that Hon's art is known for, but it is composed entirely of the loose, overlapping brush strokes that he has adopted in the past decade.
It is a world away from the precise geometry of his "circle" years, when he produced ground-breaking, minimalist silkscreen prints and acrylic paintings, which often featured perfectly round discs, as founder of the Circle Art Group.
That phase, beginning in the 1970s, marked a time when Hong Kong's home-grown modern artists were reacting to contemporary movements in the West and breaking free from the traditional forms of Chinese art.
Hon says his painting style today is less a change in artistic vision than an adaptation to an ageing body.
"The way I paint now is more relaxed, more arbitrary. My body has changed and I cannot see as well. I'll do a few strokes one day, leave it, and then add a few more strokes another day," he says.
Hon is recovering from a bout of pneumonia and he speaks barely above a whisper. His wife - the artist and academic Choi Yan-chi - hovers like a mother hen.
He defers all questions to her regarding the evolution of Hong Kong's art scene and his own prominent role. What he wants to talk about is the past - a retrospection that can be seen in the naming of recent works, which include and .
He refers to his early years at a traditional Chinese private school in Yau Ma Tei and how it instilled a life-long passion for Chinese culture.
"The master was a tiger. There would be physical punishment for the faintest hint of insubordination," he says.
He remembers the authoritarian teaching methods of the 1920s with more nostalgia than fondness. "I have always felt very Chinese. You see, it can only be that way for my generation, having seen the war," he says.
He was nearly 20 years old when Hong Kong fell to the Japanese in 1941 - old enough to remember not just the horror and the hunger, but also the anger felt by ordinary citizens.
"My father and I were out looking for food and we tried to avoid the sentries, where every passing Chinese had to bow to the 'Turnip Heads'. But we were caught trying to sneak past one. I was slapped twice, and then the senior officer pretended to slit my father's throat with the blunt edge of his knife. I remember thinking: 'If I don't get my revenge, I am not a man.'"
His soft voice quakes with anger as he tells the story. Pausing to compose himself, he switches back to talk about his cultural roots. "I have a deep passion for Chinese culture and I have incorporated that into my work," he says.
That aspect is more obvious in some works than others in the exhibition, a concise but representational précis of a six-decade career. There are distinct nods to Chinese philosophy and calligraphy, but there are also the strong Western influences to which Hon was exposed from a very young age.
The second school he attended was the English-medium Wah Yan College in Kowloon, run by Jesuit priests, where he developed a strong faith in Catholicism.
His faith remained unshaken throughout the liberation of the 1960s and '70s, when Hon dived into the contemporary art scene in the West.
They were exhilarating times. Hong Kong's new middle class suddenly found the door to the rest of the world flung open. They had money, spoke English, and were culturally sophisticated. For Hon, that period was a turning point.
He was a noteworthy artist even before he quit his job at the Post Office in 1972. In 1969, he won a fellowship from the John D. Rockefeller III Fund - now the Asian Cultural Council - to stay in New York, while he took unpaid leave from his day job. That was the first of many stints in the US and Europe. He attended lectures in Chicago by American painter Robert Motherwell; he travelled to Much Hadham in England to meet Henry Moore. He dressed like a hippy, made a road trip across the US on a motorcycle and embraced existentialism.
Hon, sculptor Cheung Yee, and fellow painter Wucius Wong were among the true pioneers of an age when local artists - both ethnic Chinese and expats - found their own hybrid artist language.
For Hon, that started before he began travelling to the West. In the '50s, he was painting places such as Amah Rock in Sha Tin and Nam Sang Wai in Yuen Long, with a style inspired by the French Impressionists.
Yet that generation of Hong Kong artists rarely features in today's discussions about contemporary Chinese art.
"It's the fate of Hong Kong artists to be marginalised. First the city was merely a leftover of the colonial era. Then its art scene becomes entirely overshadowed by the mainland," he says.
But as a nonagenarian, that's not his biggest problem.
"The enemy is at the gates. Death, just like the Japanese army in the war, is coming to get me," he says, but without a hint of fear.
"Everyone is destined to die at some point. In the meantime, I shall continue with my painting as I have always done. I will not be rushed by death."
Hon Chi-fun's
Perspective@91,
until Sept 29, The Rotunda, Exchange Square, Central
This article appeared in the South China Morning Post print edition as: Brush with history