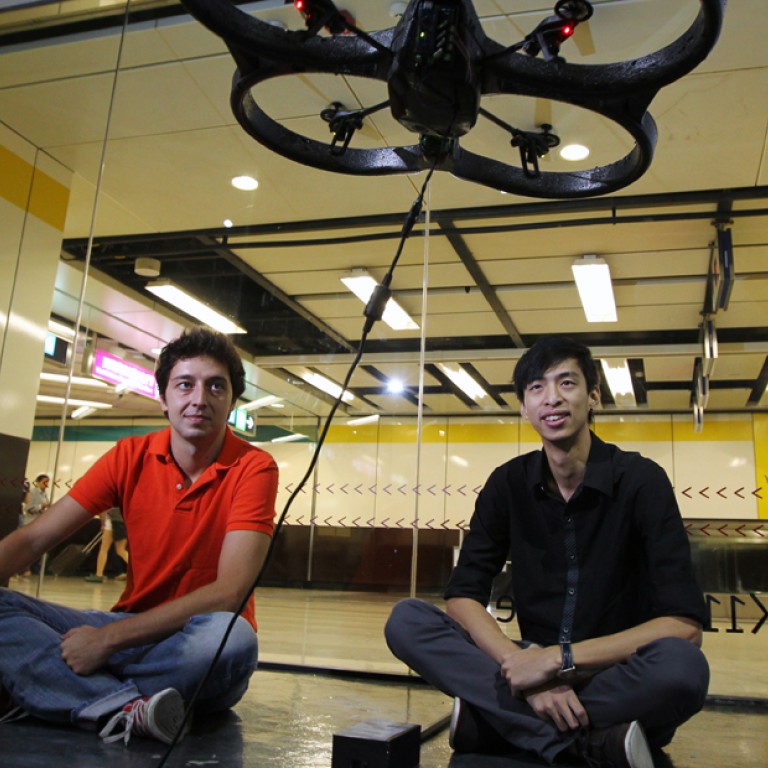 Art show using footage from drones opens at K11 in Tsim Sha Tsui
Artists Marco De Mutiis and Kenny Wong use a variety of mediums to highlight the "tension" in the in-between spaces.
A trio of surveillance drones have been deployed to monitor thousands of Hongkongers as they walk through the Tsim Sha Tsui subway this month - all in the name of art.
While drones, or unmanned aerial vehicles, are mostly associated with military operations, the remote-controlled quadcopters at the K11 art space in Tsim Sha Tsui have a far less controversial purpose.
Artists Marco De Mutiis, 30, and Kenny Wong, 26, won a digital arts grant from Bloomberg earlier this year and spent the summer flying half a dozen quadcopters around the city. The footage they captured is shown in a video at the show, "Liminal", at the K11 art space.
Video: artists use drones to highlight "tension" in in-between spaces in Hong Kong's TST subway
The pair enlisted the drones to capture the tension of "in-between spaces".
"In Hong Kong, the density is so high that people get really close to strangers all the time," said De Mutiis. "You're life gets connected with strangers".
"There's a moment of forced intimacy that puts you in an uncomfortable situation and creates a tension. That's where this project stems from."
By using lightweight quadcopters, which are made in France and cost about HK$2,500 each, another layer of tension was added, Wong said, referring to news headlines that declared 2013 as "the year of the drone".
Three drones on patrol at the show stream live footage onto one of the window panes of the exhibition space.
The exhibition will be open until November 5.
This article appeared in the South China Morning Post print edition as: Exhibition where the artwork looks back