LIFE
Get more with myNEWS
A personalised news feed of stories that matter to you
Learn more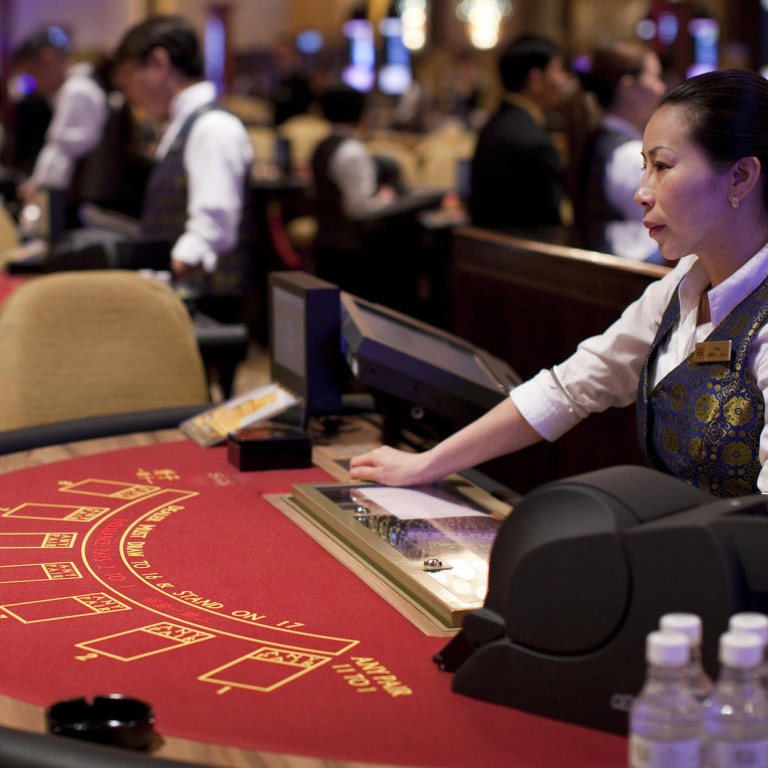 Macau's casinos are expanding, but visa laws may cause staffing problems
Macau's casino scene is primed for further expansion, but an opaque visa system for foreign workers could lead to an acute manpower shortage, writes Bernice Chan
Macau's Cotai Strip, with its colossal, glittering casino-hotels, is primed for further expansion over the next few years. The corporations that developed the once-muddy causeway are anticipating the arrival of an even greater number of gamblers at their grand properties.
Wynn Macau has plans to construct a Bellagio-like Wynn Diamond, while Galaxy Entertainment Group, Sands China and Melco Crown Entertainment all have expansion plans. With these developments comes the need for more employees to work in construction, hotels, casinos, and restaurants.
But its low unemployment rate, coupled with an opaque visa system for foreign workers, has raised concerns about where these tens of thousands of employees will come from. Less than 2 per cent of permanent residents in the city of 570,000 are unemployed, thanks to government policies that give locals priority for job opportunities.
There are two kinds of visas for overseas workers. Those with a tertiary education who are being hired at managerial level are granted a visa on an individual basis. But most visas, such as those for construction workers and waiting staff, are negotiated in bulk.
But under the labour law, companies that hire foreign workers are also required to employ a number of local staff. So, as fewer than 7,000 Macau residents are classified as unemployed, the manpower shortage threatens to turn into a major crisis if the government doesn't act quickly, observers say.
"Macau wants to promote tourism and wants to provide jobs for its residents. But Macau has a small population," says René J.M. Schillings, managing director of TOP Hoteliers Hospitality Executive Search. "They [the casinos] can't staff businesses with people from Macau alone - they need more people from the outside."
The situation is problematic for businesses, he says. "The Macanese are not necessarily qualified for their positions, and in some cases they don't have to do any work. They are token employees and they know it - they hold a lot of power. But perhaps they cannot be blamed because these are the rules."
The rules are murky. The government has never issued official guidelines on specific local-foreign quotas, except in the construction industry, where one local must be hired for each foreign worker.
"The ratio is not stipulated in the law, and the government never announced the ratio for other industries [except construction], to allow for flexibility," says Jacinta Ho In-fong, managing director of JC Human Resources Consulting. "A lot of people don't know the ratio - in fact, none of us know."
This opaqueness in the system has led to unsubstantiated accusations that the government favours casinos, and allows them to hire more foreigners.
Macanese legislator José Pereira Coutinho, of the opposition New Hope party, agrees with this assertion, adding: "I'm not against labour importation, but companies need to be treated fairly. There are some companies that need to find three locals to get one foreign worker, and there are others using all imported labour. Whoever has connections can get labour."
Ho, who previously worked as a human resources director for a casino operator, disagrees with Coutinho, saying casinos also face problems because the government believes that they have sufficient financial resources to pay locals a higher salary.
"As a result, more local staff want to work in casinos," she says. "But it's not easy to hire the right people. Casinos have really high selection standards. For example, in a regular restaurant the waiting staff don't have to speak English, and perhaps they want someone young, pretty and smart. But while casinos offer higher salaries, they cannot compromise on staff who are not smart, don't speak good English and are not highly educated."
The visa issue has hurt small and medium-sized enterprises (SMEs), and people interviewed for this story report having seen many small businesses close. "SMEs have been hit hard since [former Macau chief executive] Edmund Ho's time. He announced special assistance to SMEs so that they might get faster approval [for visas], but there were no specifics," Jacinta Ho says.
"Those not from Macau who want to start up businesses have even greater challenges. The owner may not get a work permit for himself," she says.
Glenn McCartney is familiar with the situation. McCartney is an assistant professor of hospitality and gaming management at the University of Macau, and also owns the Irish Coffee House and Irish Bar.
"Not only do we have a cautious government, but also high rents, which is one more wall for SMEs in Macau to climb," he says. "It's got to the point where it can take up to half a year from start to finish to get work permits for foreign staff; every extra week's delay impacts SMEs," McCartney says.
He says the labour issue must be addressed, otherwise there will be even more gaps in the future. "There needs to be a strategic plan. The government doesn't have a tourism master plan where it looks ahead five to 10 years. It has to start the framework, to get in synch with what is happening today.
"A lot of people have said Macau will need 15,000 people in the next three years, and I've even heard it might be up to 100,000. If you add 15,000 more hotel rooms, including casino tables, slots, front office and housekeeping, there has to be migrant labour," he says.
"A lot of people are protesting for more protectionism, while the gaming industry faces the challenge of how they are going to staff their operations."
Although there was a need for protectionism a decade ago, he says, it is now harming the industry. "We need people to have more skills, to be more competitive. The policy needs to be really looked at. Tourism is a political issue, but it should be looked at more scientifically."
For example, there are 23,000 Macanese casino dealers and, McCartney says, this is a significant number of people locally employed at entry level.
"They need to be promoted, but that means they need to be qualified, so they need to have executive training and knowledge. Ninety per cent of Macau's revenues come from the gaming sector. I don't see it changing in the next five years."
In his November 12 policy address, Macau Chief Executive Dr Fernando Chui Sai-on promised stronger supervision of the casino sector to expand job opportunities and boost upward mobility for Macau residents in the industry.
Although he did not specify how this would be done, the Human Resources Office says the government is encouraging casino operators to adopt social responsibility measures such as providing professional training programmes for their local employees to improve their skills and career prospects.
Presumably, working in a casino is not every Macau resident's ideal profession, but the work can come in handy.
"Casinos are hiring university students who are permanent residents to work as casuals, as long as they are 21 years of age and over," Ho says. "They can work as promoters who give out fliers and approach players about joining loyalty programmes. Housewives who cannot commit to a full-time job work as waitresses in the restaurants."
Ho says she recently came across a new development. "Today, I took a taxi to work and the driver asked me the route. He explained he was a part-time driver. I asked him what his regular job was.
"He said he was an engineer technician at one of the casino hotels," Ho says. "He said he only works five days a week, so he uses one of his days off to drive a taxi part time."
This article appeared in the South China Morning Post print edition as: Labour pains