LIFE
Get more with myNEWS
A personalised news feed of stories that matter to you
Learn more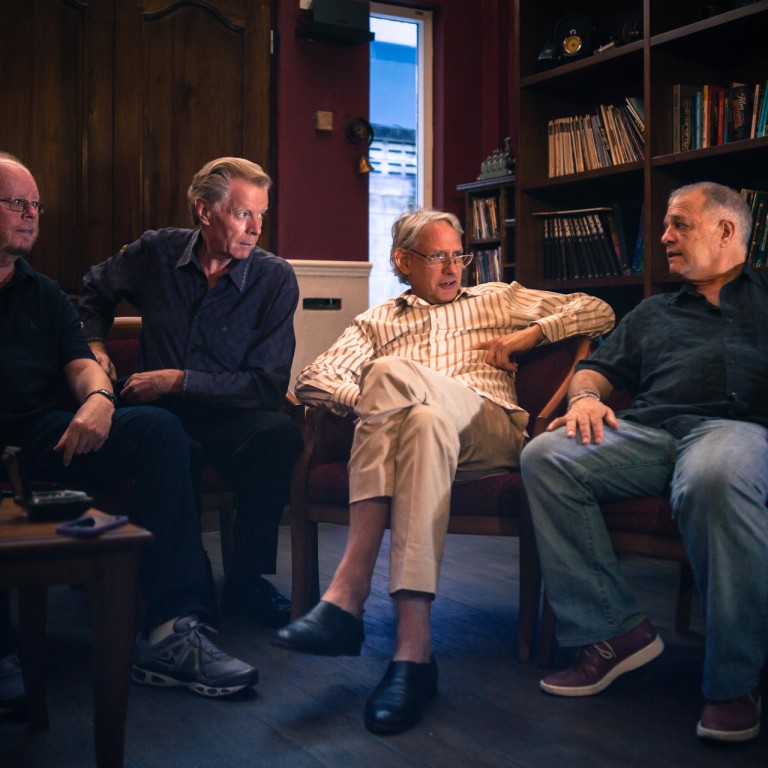 Four Hollywood figures with impressive CVs have set up shop in Thailand. They talk about the future of Asia-Pacific entertainment with Jason Gagliardi
Six Degrees of Kevin Bacon was a game that captured the popular imagination for a time. The universal law that underpinned it was that you could link any celebrity back to Kevin Bacon in six moves or fewer, illustrating the incestuous and tangled web that connects the entertainment world, or perhaps just the ubiquity of the star.
But among the four men recently gathered in Bangkok's Friese-Greene Club, a private cinema club, one or perhaps two moves would do the trick.
Collectively, the fellows sipping iced water and exchanging the latest showbiz banter have done just about every conceivable job in the film, television and theatrical worlds in the course of four very different but equally colourful careers. They have mixed with the best of Hollywood and European cinema, but choose to base themselves in Bangkok, at least when their peripatetic work schedules allow.
All are true believers that the Asian century upon us marks this part of the world as the place to be for opportunities, challenges and buzz, bullish that the best is yet to come for the silver screen in the Land of Smiles. And each has a well-stocked supply of anecdotes about his life in entertainment that would enthrall the most casual cinephile for hours.
Greenlight Films boss Les Nordhauser, SoHo Films owner Mark Hammond, special effects (SFX) wizard Kevin "Big Nuts" Chisnall and production designer, published author and self-professed "blues shouter" Jim Newport have the easy camaraderie of men who have been in the trenches together.
Because they have. The careers of the four intersect and entwine, but only on one notable occasion were they all on the same set: a 2011 horror film titled , shot in Thailand and starring William Hurt and Cary Elwes. The tale of a demon-plagued car crash victim was widely regarded by critics as a good idea that, when executed, wasn't scary enough - although it won the award for best film at the Bram Stoker International Film Festival and best horror film at the Fantasy Horror Awards in Italy in 2012.
The growing coterie of international film and television experts living and working in Thailand is accelerating the learning curve for the already excellent Thai production crews and post-production houses, says Nordhauser, which have already carved out a global reputation as cost-effective and as good as their American, British or European counterparts.
"I've been coming to Thailand for a long time and I liked it, so I moved here about seven years ago to start Greenlight Films," Nordhauser says. "My company is primarily in production services. We do a lot of international television and some film. Shows like and , various , programmes for Animal Planet, Food Channel, with pretty well-known characters including Anthony Bourdain and Jeff Corwin.
"Thailand has a great combination of the locations, the people and climate. But mainly it's the people. I can now say with confidence to any producer from the US or Europe that I will put together a team whose skills are the equal of anyone you'd find in LA or New York."
Nordhauser's roots in the US go back to the birth of reality television. "I worked on and . was the first reality dating show. My career is a bit different as I really did a broad span of every genre of TV, I did talk shows, sitcoms, dramas, series, features, and I worked in just about every job from actor to producer to director."
Nordhauser admits his television credentials are first rate, his feature film credits less so. He cites his finest celluloid moments as , a skin-fest for the Playboy Channel with a plot as flimsy as its stars' lingerie, and , a straight-to-video Michael Dudikoff sci-fi flick.
Then he recalls: " , that was a hell of a film I worked on. Bonnie Bedelia and Beau Bridges, about drag racers. Bonnie should have won an Oscar for that performance." She was nominated for a Golden Globe for playing Shirley Muldowney.
"One great show I worked on in the US was . That was great fun," Nordhauser says. "It was a drama series, , I called it. One of the executive producers, Adam Rifkin, had an incredible network from growing up in Beverly Hills, and we had the second tier of everyone. We didn't have Tim Burton, but we had Tim Burton's brother on art direction. We didn't have Danny Elfman on music but we had his brother Rick."
Hammond - who has worked as a director, producer and writer of film, television and theatre for the past 30 years in Europe, the US and Asia - is collaborating with Nordhauser on Hammond's counterfeit medicine thriller , one of several planned joint projects. Another standout is , a sprawling series on the Opium Wars in which Hong Kong and Guangdong loom large, now in pre-production.
Hammond is the least forthcoming of the four when it comes to discussing past credits or divulging brushes with greatness or discussing why he chooses to call Bangkok home. "It's not about our personal credits," he says. "The story here is what's going on in the region, what's in development, why producers come here and where the industry is going.
"To me, 40 years after first coming to Asia, it's old-fashioned thinking to frame my life as some kind of lifestyle choice. This is irrelevant. I am doing what I do, developing Asian-themed content for the international marketplace, because it's a good business model for today."
Hammond cited HBO Asia's first international English-language TV series - , a co-production with the Australian Broadcasting Corporation - as a groundbreaking development in this direction, setting a precedent and a harbinger of great Asian-produced content. Joan Chen and rising Indonesian actor Ario Bayu are the stars of this 10-episode noir-ish detective drama set in the heady days of 1960s Singapore, awash with internecine intrigues between the island's traders, expats, gangsters and secret societies.
Hammond is a leading authority on the finer points of the European Convention on Cinematographic Co-production, a document drawn up to "minimise the differences and to harmonise multilateral relations between states" when they do a film together.
He sees a similar agreement as inevitable in Asia, and he believes co-production of films involving countries in the Asean region will become more popular as a way to get projects greenlit. And he sees himself playing an important role in facilitating such a trend, given his experience at SoHo Films, where he helped put together co-funded projects such as , a French-language feature starring Isabelle Huppert and Greta Scacchi.
When Chisnall is asked about the best film he has worked on in the special effects sphere, he replies: " , without a doubt." Like the trilogy, much of the film was shot on location in his native New Zealand, and Chisnall was in the thick of the action when big bangs were required.
Chisnall's career started in broadcasting in 1971. In 1978 he studied special effects at the BBC studios in London. In 1980 he was special effects supervisor and armourer on New Zealand's first big international production, , starring George Peppard and Donald Pleasence, and three years later he was the New Zealand special effects co-ordinator on the feature film starring Mel Gibson and Anthony Hopkins.
His connections to Hong Kong are strong. He travelled to the city in 1985 for his first Southeast Asian feature before returning to New Zealand as SFX co-ordinator on .
Based in Bangkok for the past 10 years, Chisnall says he "wouldn't want to be anywhere else" for a great lifestyle and an easy hopping-off point to Asia-Pacific destinations. Other credits include (2012), (2011), (2010), (2004), (1998) and (1989).
Newport, a Phuket-based New York native and erstwhile Los Angeles habitué, is the group's true renaissance man, an Emmy-nominated production designer for both film and television, author of six books, four of them comprising the popular series, the others recounting the underbelly of life in Hollywood ( ) and a year in the life of Jimi Hendrix ( ), as well as a blues "shouter" under the name of his alter ego, Jimmy Fame, who has toured with artists including Eric Burdon & The Animals, Jimmy Witherspoon and Robben Ford, and played more recently at the Phuket International Blues Rock Festival.
"My job - well, my 'day job' - starts when someone says 'Let's make a film'," Newport says. "Production designers have one of the key creative roles in making motion pictures and television. They are responsible for the overall look. Working directly with the director and producer, they must select the settings and style to visually tell the story."
Film credits include , the Nicolas Cage vehicle that packed every "hello hansum man" cliché into one actioned, flimsy-plotted romp; , with Claire Danes and Kate Beckinsale banged up in the "Bangkok Hilton" and Cheech & Chong's .
In television, Newport set the look for , and , designing the pilot episodes for each of the successful series. In 2007, he took over design of the J.J. Abrams cult-spawning series for its fourth season. "I was not a fan," he says. "I had deliberately avoided the show as I knew that you had to commit to it and watch it in sequence. Well, the first task assigned to me was to watch all previous episodes - all 72 of them. I did that in one marathon week, so I was up to speed when I arrived in Honolulu.
He called working on a trip. "The outgoing production designer warned me to be careful. You see, the fans go over everything with a fine-toothed comb, digital zooms and every single prop is studied for significance and meaning."
Newport's fondest LA memories include spending nights on the Warner Bros lot on the set, even though a rival production designer had got the gig. "Some nights Ridley [Scott] wouldn't even film; he'd just spend the whole night lighting and rehearsing his moves," Newport says, still awestruck.
He also cherishes his time working with comedy legends Cheech Marin and Tommy Chong. , he says, had a marijuana section, a cocaine section and an LSD section, and the pair got "very much into character", loading up on the appropriate drug before filming.
Newport was in the car with Chong when news came on the radio that Peter Sellers had died in 1980. "Tommy pulled over to the side of the road and proceeded to sob. Eventually, he told me that Peter Sellers was Cheech & Chong's No1 fan in England." He had learned their routines by heart.
Then Newport smiled and added: "Being a part of something like that can restore your faith in Hollywood - if only for a fleeting moment."
This article appeared in the South China Morning Post print edition as: The Bangkok boys' club