LIFE
Get more with myNEWS
A personalised news feed of stories that matter to you
Learn more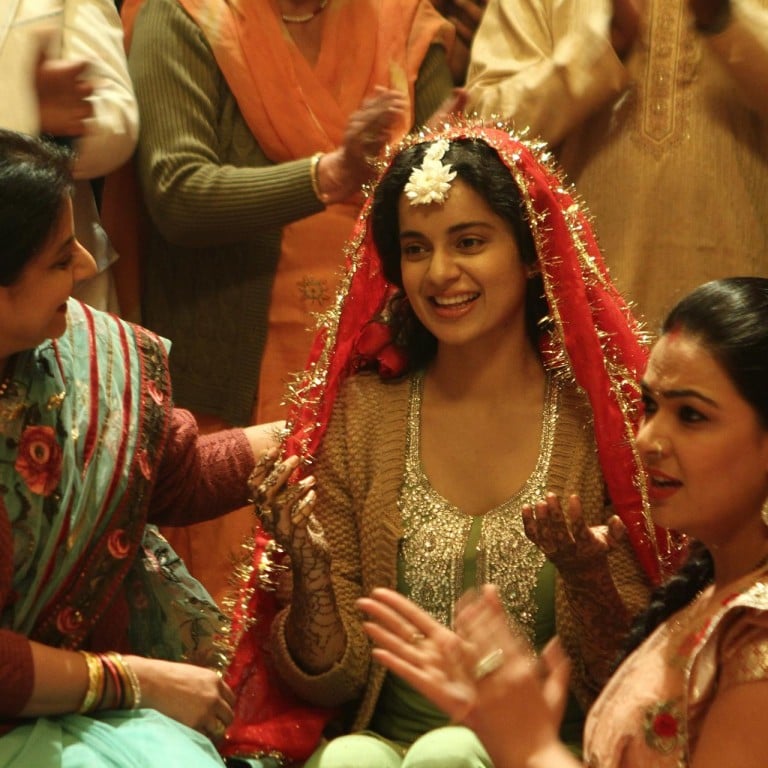 Bollywood film about a jilted woman's coming of age proves a winner
Bollywood film about a woman who goes on honeymoon alone after her fiance dumps her is a surprise hit, writesBhakti Bapat Mathew
Bollywood film tells the coming-of-age story of a young woman named Rani (which means "Queen" in Hindi) who, after being dumped by her fiancé Vijay a day before their wedding, decides to go off on a European "honeymoon" by herself.
Shot on location in Delhi, Paris and Amsterdam, the film has been a hit with audiences both outside and inside the usual Bollywood movie markets.
The multicultural crowd-pleaser with Kangana Ranaut in the lead role had its world premiere at the Busan International Film Festival last October; it has so far been screened in the US, Britain and Canada as well as in India and Pakistan. Due to open in Hong Kong on Thursday, there's already talk of remaking the largely Hindi and English-language film in Tamil, Telugu and, possibly, Putonghua.
Director and co-scriptwriter (along with four others) Vikas Bahl has a good idea why Rani's story has struck a chord with audiences at home and abroad. "The film talks about self discovery and liberation, which are such universal themes," he says. "A person anywhere in the world could have his or her own reasons for not being able to lead the life they want. I think that is what resonated with audiences in different parts of the world."
More surprising for Bahl has been the domestic reception of the movie. "We knew we had made a good film and were very excited to put it out there. But we simply didn't anticipate this kind of box office, or critical, success," the director says.
Despite getting off to a slow start after its domestic release, the critically acclaimed film came close to joining the prestigious "100 Crore Club" of movies whose box office takings exceeded one billion rupees, an elite list that includes and . But Bahl - whose only previous directorial outing was as co-director of the 2011 children's movie - says 's domestic takings have already far exceeded his expectations. "We would have considered even one-third of its current success as having done extremely well."
Rani is an amalgamation of the women he saw around him while growing up. "Rani wanting to get married to Vijay and then living as per his terms and conditions is something I saw a lot in real life. No one specific, but it made me wonder what would happen if she didn't," the director says.
In Paris, where she initially feels overwhelmed - to the extent of contemplating cutting short her trip and retreating home to India - the timid Rani finally finds a friend and confidante in the bohemian Vijayalakshmi (Lisa Haydon), herself of Spanish, French and Indian parentage.
One of the film's choice scenes involves Rani meeting Vijayalakshmi at a French bar and, after getting drunk, proceeding to let it all hang out by uninhibitedly dancing on the bar counter (dancing being one of the many things Vijay frowns upon).
Arriving in Amsterdam, the sheltered young woman is initially shocked at having to share her hostel room with three men. But Rani and the Japanese Taka (Malaysian-born, Britain-based actor Jeffrey Ho Chee Eng), Russian Oleksander (Mish Boyko) and Afro-French Tim (Joseph Guitobh) soon become good friends, with Rani developing a soft spot for the vertically challenged Taka.
's story has been hailed for its feminist resolution and message, but Bahl says he didn't set out to make a feminist movie. "For me, the film is the story of a character. It could easily have been about a nice but shy man getting dumped too."
The director credits his wife, Richa, one of the key people who read and critiqued the script, for giving valuable suggestions. In fact she had recommended Ranaut for the lead role.
There have been rumours that Ranaut wasn't the first choice for the role, but Bahl is quick to deny them. "Kangana was our only choice for the movie. I cannot imagine any other actress doing the kind of justice she did to the role. She always manages to convince you that the character she plays in a film is the person she really is in real life too."
Like the Bollywood star who plays her, Rani is a simple girl from a conservative family. But that's where the similarity between Ranaut and her character ends. "Rani is a timid, conventional girl. Kangana, on the other hand, is brilliantly confident," Bahl says.
Sadly, another person key to the film, cinematographer Bobby Singh, died in an accident when was about 90 per cent complete. "Bobby was such an integral part of the film. He was the life of the film," Bahl says. "[So] we took it upon ourselves to honour his last work by completing the movie on time. It was a challenge, but we tried to maintain the same energy he had created on the sets."
There's a scene in that brings home Rani's heartbreak, confusion and alienation in a new country. She is sightseeing on her own in Paris when she comes upon the Eiffel Tower, a tourist spot she had hoped to visit with her new husband. She attempts to run away from those unhappy memories by fleeing from the tower only to discover she can see it everywhere she goes.
"I wanted to show how even something beautiful was now haunting her. Here was one of the world's most beautiful creations, but instead, it became her personal demon that she was trying to run away from. It was a very satisfying scene to create," says Bahl.
There are no plans for a sequel to but fans can hope that its success in India and beyond will entice the filmmakers to think about that possibility.
Queen
This article appeared in the South China Morning Post print edition as: Jilt trip