LIFE
Get more with myNEWS
A personalised news feed of stories that matter to you
Learn more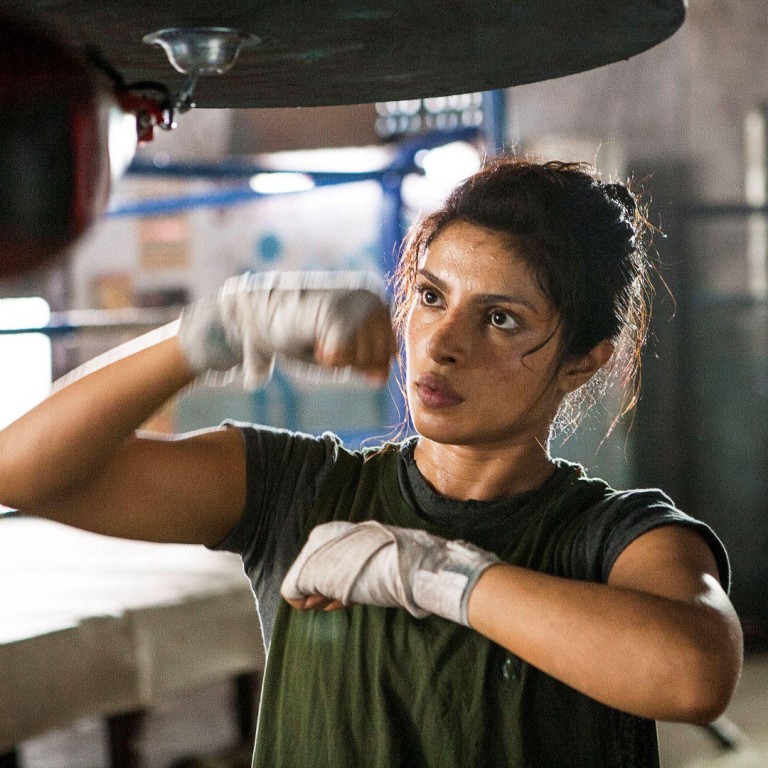 This past Thursday saw the world premiere at the Toronto International Film Festival of a biopic based on the life of five-time World Amateur Boxing champion, Asian Women's champion and 2012 Olympic bronze medallist Mary Kom.
Starring Bollywood actress Priyanka Chopra, it tells of the poor village girl's rise to become a world-class athlete and a global celebrity.
has since opened in countries such as Australia, France, Kenya and Singapore as well as India. Director Omung Kumar's movie is unusual not only because it's an Indian production that has attracted international attention but also because it's a Bollywood sports film - and one with a focus on a female athlete to boot.
Although sports movies are a relatively nascent genre in Bollywood, the Hindi-language film industry has had its share of sports dramas that were box office and critical successes: cricket movie (2001), for example, was a domestic hit and shortlisted for the best foreign language film Oscar.
An epic film set in the days of the colonial British Raj, featured co-producer Aamir Khan in the lead role of Bhuvan, a spirited youth who inspires his fellow villagers to form a cricket team to play against one comprising British military officers. The stake? If they win taxes on the impoverished village will be cancelled for three years.
Another cricket film, 2005's , took in 450 million rupees (HK$57.4 million today) at the domestic box office, a huge return for a film made on a budget of just 7.5 million rupees. Helmed by actor-director-scriptwriter Nagesh Kukunoor, the drama about a determined deaf-and-mute boy overcoming huge challenges to make it to the national cricket team was lauded for its engaging storytelling as well as inspirational tale.
So, why have Bollywood filmmakers traditionally been wary of sports dramas? "I think it may be because there has largely been just one sport dominating the collective imagination in India - cricket - and we haven't been able to see beyond that, though that is slowly changing in real life and in films too," says Advaita Kala, who co-wrote 2012's critically acclaimed commercial hit, . "Also, sports are not as big a part of the social life in India as it is in countries like the US."
Bollywood has also seen many sports films fail miserably at the box office: 11 years before , Khan also played a cricketer in late actor-director Dev Anand's (1990). An attempt to combine a terrorist plot with a cricket theme, the film flopped.
More recently, 2009's was a resounding bust, with superstar actress Rani Mukerji's wattage unable to power the tale of a young woman wanting to play in the national cricket team, to box office success.
What does a sports film need to be successful? Kala believes the "human" angle of the story needs to stand out to make any film connect with audiences. "We love our sporting heroes. They occupy a special place in our hearts for the pride they bring us across all superficial divisions. But it's the human story that truly makes a film memorable," she says.
As an example, Kala cites the 2007 Shahrukh Khan starrer . Inspired by India's 2002 Commonwealth Games hockey win, the film delivered a message calling for the nurturing of all parts of society - from women to players from the country's marginalised states in the northeast, to minority religions to hockey, a game often ignored in favour of cricket.
In recent years sports biopics appear to be finding favour: 2012 saw the release - and box office success - of , about the eponymous athlete-turned- (armed bandit); 2013's box office super-hit is based on the life of Milkha Singh, an Olympic and national sprint champion. And there are reports that Emraan Hasmi will star in a biopic on former cricket captain Mohammad Azharuddin that will begin filming in January 2015.
Like Hollywood, Bollywood churns out movies according to the genre that's popular at the moment. So it's likely more and more sports dramas are going to see the finishing line in the near future.