LIFE
Get more with myNEWS
A personalised news feed of stories that matter to you
Learn more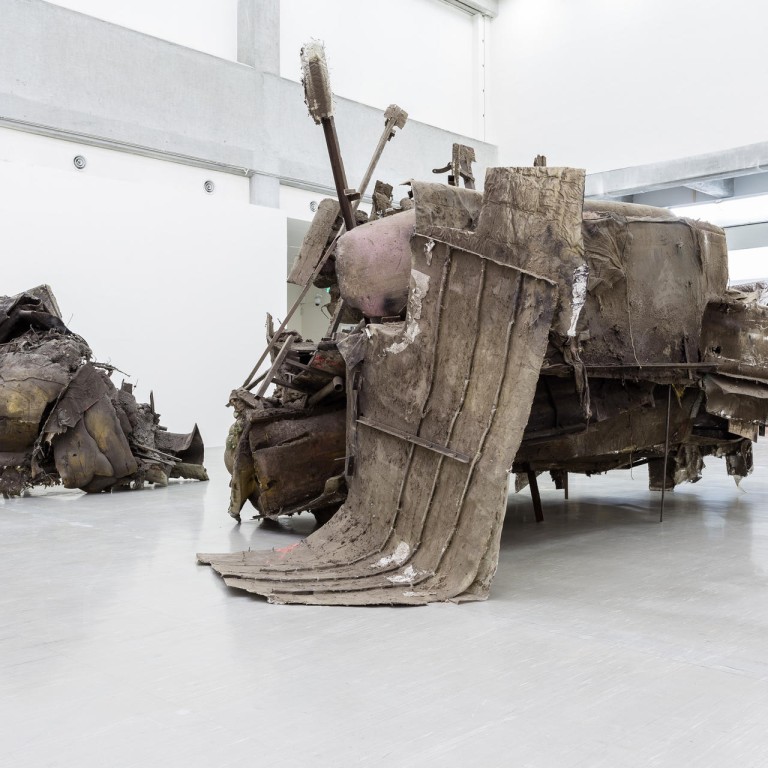 Taipei Biennial sounds a warning about our treatment of the world
The 2014 Taipei Biennial wants us to change the way we deal with the earth before our impact becomes irreversible, writes David Frazier
In choosing Nicolas Bourriaud as curator of the 2014 Taipei Biennial, which opened last weekend at the Taipei Fine Arts Museum, the art establishment of Taiwan selected an immaculately credentialed European critic and ardent educator to head its most prestigious event.
Bourriaud, the director of France's top arts university Ecole des Beaux-Arts in Paris, has served as a curator at London's Tate Modern, and has in recent years helmed biennials at the Tate, in Moscow and in Athens.
Although famed for top-flight exhibitions, he is even more widely respected in academic circles for his idea of "relational aesthetics", which over the past 15 years has become one of the most influential theories for describing the difficult, hybrid art forms that have appeared in the art world since the 1990s.
These include performance art, installation art, interactive art, and other diverse and experimental forms of contemporary art.
Bourriaud wrote in his 1998 book that art was no longer only about paintings, sculptures and traditional types of "objects". Instead, "meetings, encounters, events, various types of collaboration between people, games, festivals and places of conviviality" were declared to be "fully fledged artistic 'forms'".
Some artists were at that time already making art based more on interactions than tangible objects so Bourriaud's text was compelling justification for redefining art as "a state of encounter".
The Taipei Biennial, titled "The Great Acceleration", is Bourriaud's first biennial in Asia. Although the event includes some "relational" artworks the theme specifically refers to the accelerated pace of change in the world today, including industrialisation, globalisation, environmental degradation and technological shifts.
The biennial intends "to reboot the ideas contained in . For example, our environment is more and more robotic, automatic, " Bourriaud says. "We are more and more machine-driven. When I wrote , cellphones were not really present in our everyday lives. We did not have apps for everything."
The ideas are straightforward if progressive, and they struck a chord with Taiwanese Vice-President Wu Den-yih and Taipei Mayor Hau Lung-bin. Both officials readily riffed off Bourriaud's propositions.
"We have exploited the natural resources of the earth without limit," Hau said at the opening ceremony. "We are experiencing rising sea levels and climate change. I hope this biennial will inspire us to think about this situation."
The exhibition fills three floors of the Taipei Fine Arts Museum and includes works by 52 artists from five continents. Among them are Laure Prouvost, who won the 2013 Turner Prize, and contemporaries such as South Korea's Yang Hae-gue, the Saigon-born, US-based An-My Lê, France's Neil Beloufa, Josephine Meckseper from Germany, and Argentina's Mika Rottenberg.
There are also 12 Taiwanese artists, the largest-ever contingent of local talent at a Taipei Biennial.
Artworks are by turns colourful, dour, intuitive and surprising. Galleries on the upper floors have been carved into hobbit holes and secret passages, and works are seldom bogged down by theory or the need to read wall captions.
They include a living giant tortoise, a yucca plant that places orders on the stock market (through a computer that reads its electrical impulses), a factory worker sitting in the midst of the museum stitching garments, and even a few flat wall-hangers - as paintings are now called in post-relational slang.
For the most part, one can approach this youthful view of the world with either naive fascination or theoretical interest. As an exhibition, it is both heady and fun.
One of the most popular works is by Surasi Kusolwong. The Thai artist has filled a gallery with five tonnes of yarn, turning it into a soft, colourful playpen where more than a few visitors have felt free to lounge in the tangles of soft string. But Kusolwong has also hidden a dozen golden necklaces inside the yarn and anyone who finds one can keep it. So the installation is also a treasure hunt, and a statement on human greed, colour and texture - and probably Marxist dialectical materialism as well. Most notably though, it inspires visitors to interact with it, even if just by walking through the ankle-deep cushy strands.
may be a shining example of "relationality", but even so, Bourriaud believes that an exhibition's artworks and its curatorial ideas should never be more than complementary.
"Artworks are never here in my exhibitions to illustrate what I do," the curator says. "You have to make the ideas bounce from one place to another. It should be possible to just look at the artwork without really caring about the text. It's always important to have this possibility of a double reading."
A strong segment of work focuses on "materiality", or the physical matter of the world. Belgian artist Peter Buggenhout has contributed three large sculptures that look like remnants of disasters. These five-metre-tall grey mounds are assemblages of foam, metal, plastic, wood and other waste materials that are coated in household dust. They look like machines that have been mangled by bombs or destroyed in a factory catastrophe. Titled , they are spooky monuments to a weird beauty in industrial decay.
Roger Hiorns, a British artist, used a chemical process to pulverise an aircraft engine and convert it to granules of dust, which sit in a sort of puddle in the middle of one gallery; the piece is called .
For , Dutch artist Marlie Mul created fake puddles of plastic resin and litter, and these are strewn around the first floor galleries.
In the installation , Taiwanese artist Wu Chuan-lun exhibits a selection of objects he found at the beach that look for all the world like rocks, but are actually plastics or industrial byproducts that blur the boundary between natural and artificial.
The objects remind the viewer that humanity has largely lost its direct relationship to the earth and the materials of nature, so much so that we can't always tell the difference.
This is why Bourriaud calls the exhibition "a tribute to the coactivity among humans and animals, plants and objects"; it is a reminder to deal gently with nature - and not just to the art crowd.
"Aside from the coactivity in this exhibition, there is also another kind of coactivity that exists between politicians, artists and scientists, and this is the coactivity that can change the world," he says, in a plea to take these ideas seriously.
This article appeared in the South China Morning Post print edition as: World of a difference